About Geeetech 3D WiFi module
We hope you would feel excited about our 3D WiFi module. We are more excited about the new possibilities it brings to your 3D printer~  
Geeetech 3D WiFi module, a thumb-size box, is an affordable and easy-to-use Wi-Fi module designed to connect your 3D printer to your phone or tablet and enable you to direct real-time control over your printer remotely. What's more, with it, you can enjoy a large amount of 3D models and enlarge your 3D printing community in seconds.
You just need to connect the USB port of 3D WiFi module to your printer, download our self-developed App -EasyPrint 3D, complete simple configuration, choose your favorite 3D model and start to print with a swipe of your fingers.
Why are we developing 3D WiFi module?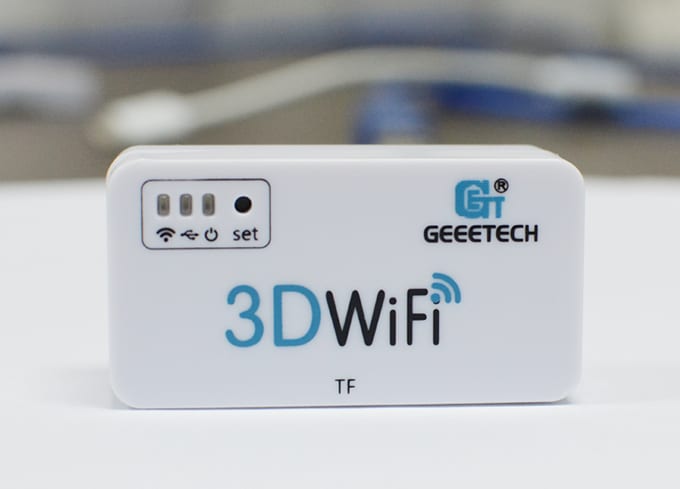 We developed 3D WiFi to bring great convenience to all the 3D printing hobbyists. If your printer works only when tethered with your computer or reading 3D model files in micro SD card, our 3D WiFi module and EasyPrint 3D App makes it a reality for you to remote control your printer, have access to a cloud gallery and share your terrific printing moments with others.
We have produced 3D WiFi in small batches. If the campaign is funded, we would put it into massive production as scheduled.
How 3D WiFi module Works
3D WiFi moduleis very user-friendly and all you need to do is following the four main steps to go on your 3D printing journey.

1. Connect 3D WiFi moduleto your 3D printer with USB cable.
2. Download EasyPrint 3D APP.
3. Bind EasyPrint 3D APP with 3D WiFi module.
4. Finish Wi-Fi configuration for 3D WiFi module.
Then you can control your printer and start to print on EasyPrint 3D App.
Now you're connected! 3D WiFi module makes it so easy!
For detailed instruction of how it works, please visit our wiki page.
Can I use 3D WiFi module on my 3D printer?
We designed 3D WiFi module to connect as many 3D printers as possible to your phone or tablet. After extensive testing and iterations, we confirmed that 3D WiFi  module is compatible with most 3D printers.
One of the compatible conditions is that the USB to serial chip of your printer falls into the three chips: CH340, FT232 and PL2303.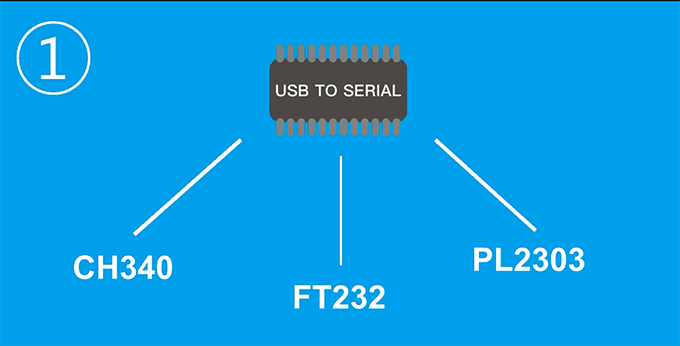 The other one is that your printer runs with G.code as its control instruction.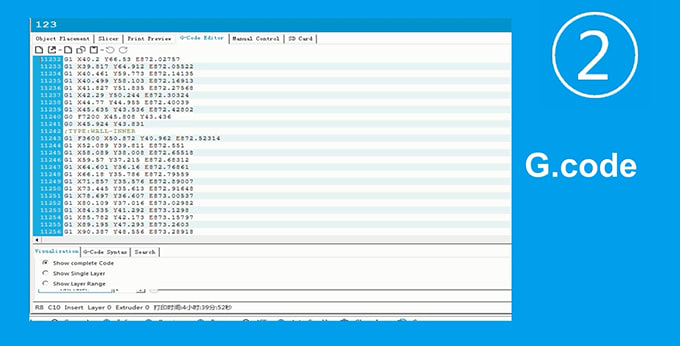 3D Printers  compatible with  3D WiFi module:
Geeetech 3D printers





Geeetech Rostock  series like G2,G2s and 301.



Third party 3D printer
Creality CR-10 

Mono price Select

Anycubic I3 Mega
Anet A8

More 3D printers are being tested... stay tuned!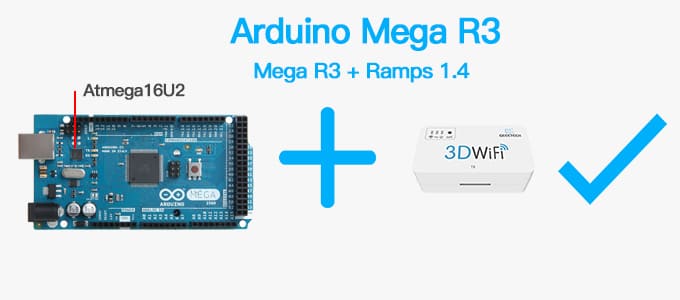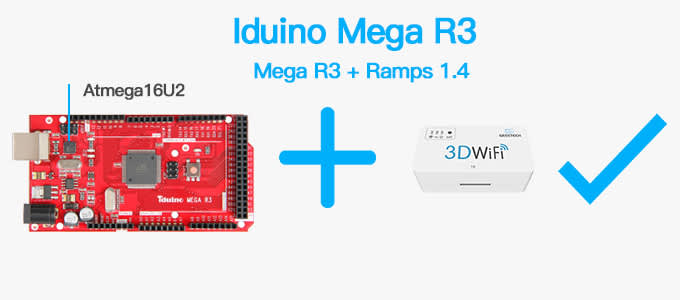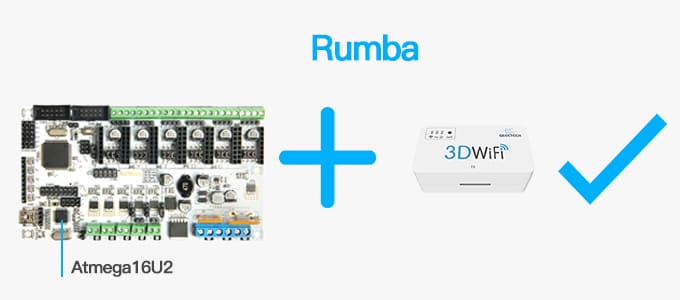 Share this project to  more 3D printer users to upgrade their 3D printers!



Key Features  
1. 3D WiFi module is ready to use right out of box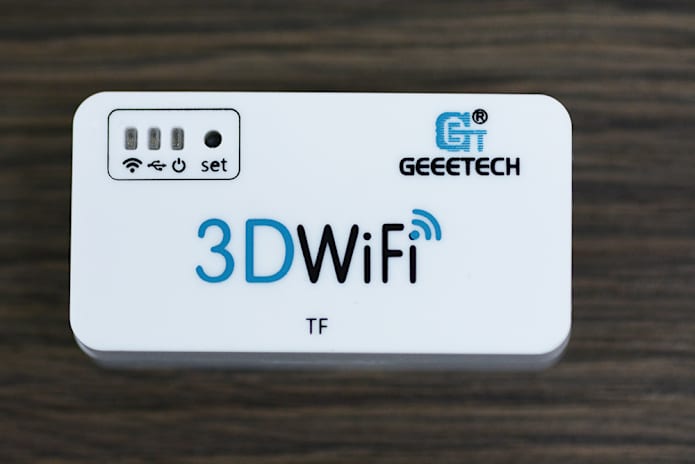 3D WiFi module comes fully-coded and is ready to connect your 3D printer with our EasyPrint 3D App. Just several simple configuration steps will add your printer to the list of smart home appliances.
2.  3D WiFi module is cloud-based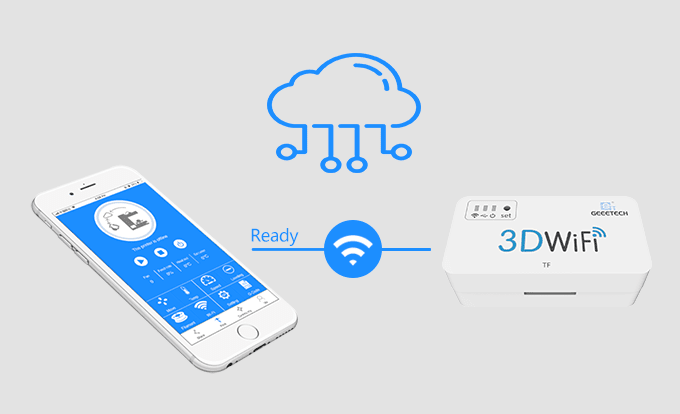 3D WiFi module is cloud-based, able to seamlessly connect your 3D printer to our network servers. Via EasyPrint 3D App, you would remote control your 3D printer, have access to a large number of 3D models, enjoy the convenience of cloud slicing and share your fantastic printing moments. Just imagine that your creations would be accessible to people all over the world in just a few seconds.
3. 3D WiFi module is of high compatibility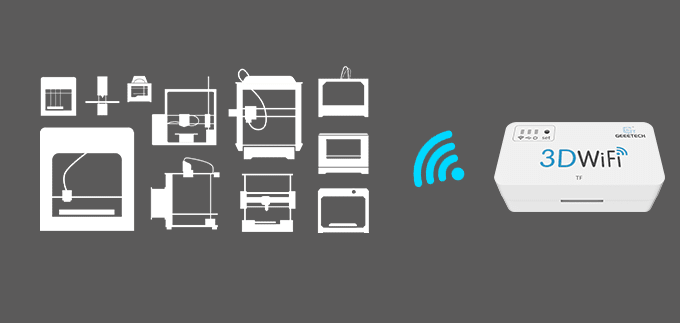 The popular USB to serial chips of 3D printers on the market are listed above. As long as your printer belongs to one of these three chips and is controlled by G.code instructions, our 3D WiFi  module can upgrade your machine as WiFi module enabled and make it comparable to other prohibitively expensive WiFi module connected 3D printers. What's more amazing is its simple and efficient configuration process.
EasyPrint 3D App
Our 3D WiFi module comes with its good companion EasyPrint 3D App. While a large amount of 3D printing and control software has cropped up in recent years, for beginners, to find an easy-to-manage one is still a hard nut to crack. Nagged by difficult 3D modeling knowledge or confused with setting suitable parameters.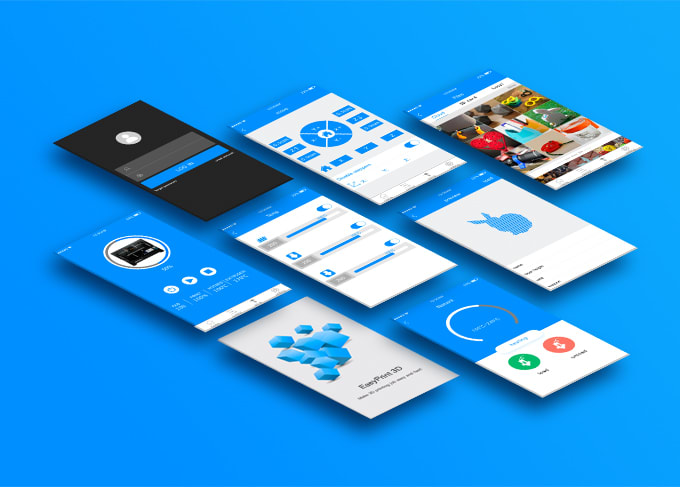 Our WiFi module enabled EasyPrint 3D App comes with intuitive UI, orderly workflow, remote control capability, social sharing function and a cloud gallery of free 3D models. All are developed to provide convenience and joys for you!
Remote control
After plugging 3D WiFi module and pairing your printer with EasyPrint 3D App, you could set the relevant printing parameters on your phone, for instance, moving and adjusting the X/Y/Z/E axis, the temp for heatbed and extruder, fan speed, leveling, loading and unloading filament etc.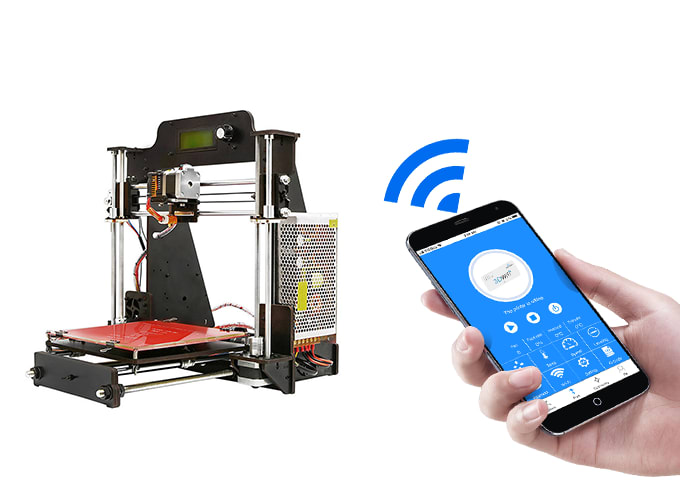 Record and Share
When you're charmed with your unique prints, why not share them with other 3D printing hobbyists? On EasyPrint 3D App, you can upload your print picture, get Likes and comments, make like-mined friends and help others.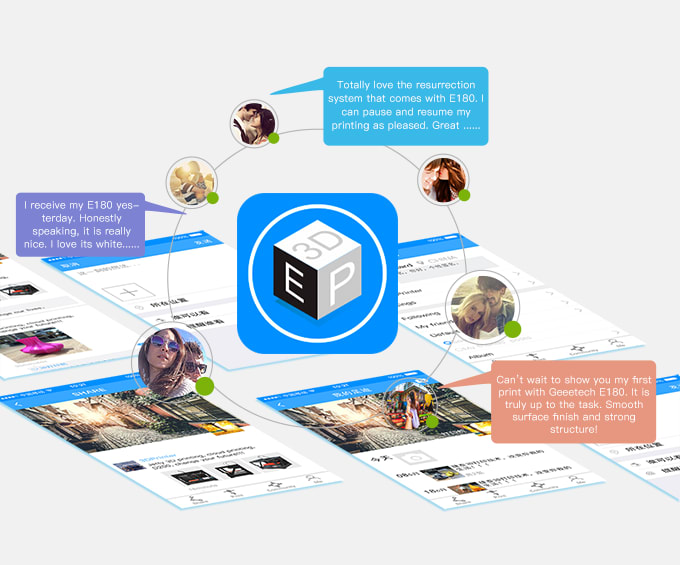 Cloud gallery
In the "community" interface, a gallery of free 3D sliced files are available to you, ranging from 3D print, art, education, fashion to gadget, hobby, household, tools and toys and games. It is at your fingertips to start printing. In the next version, cloud slicing will be added.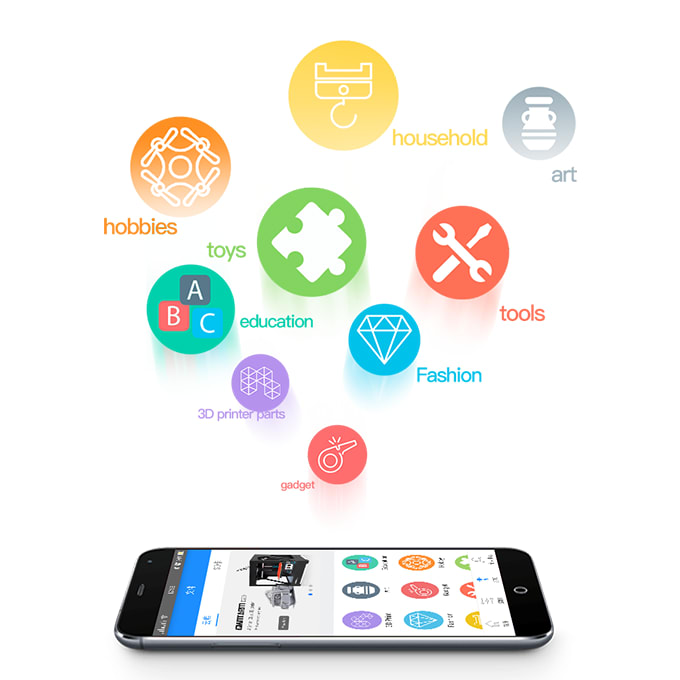 Find the EasyPrint 3D APP on Google play and APP Store.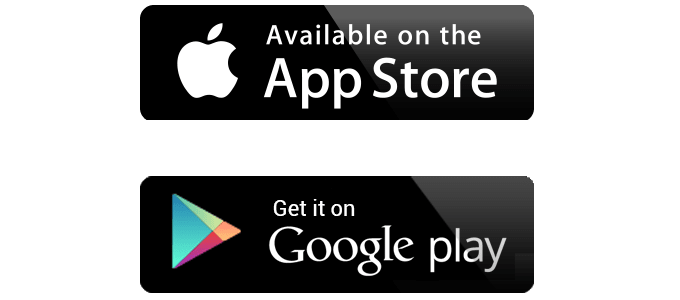 Videos
3D WIFI module work with Prusa i3 PRO B
3D wifi module print with geeetech mecreator 2 3d printer
Design & Electronics
We have checked its performance and redesigned 3D WiFi module for numerous times, with the only aim of providing you with stable network connectivity and convenient operation. 
The final version, light, simple and reliable, keeps Geeetech's developing notion of delivering quality and easy-to-use products.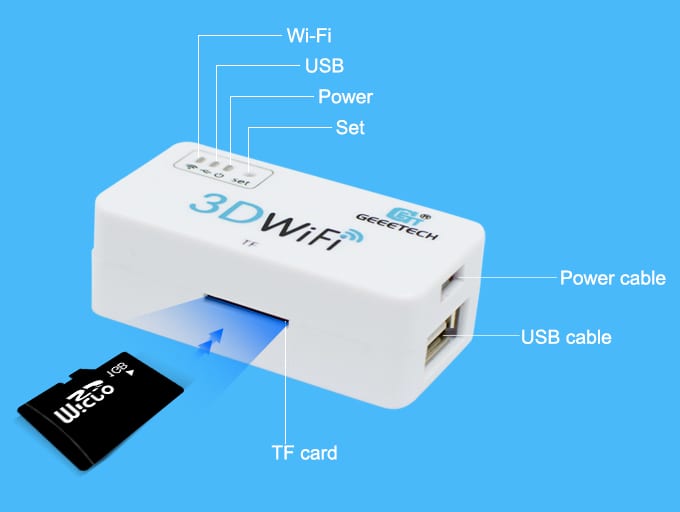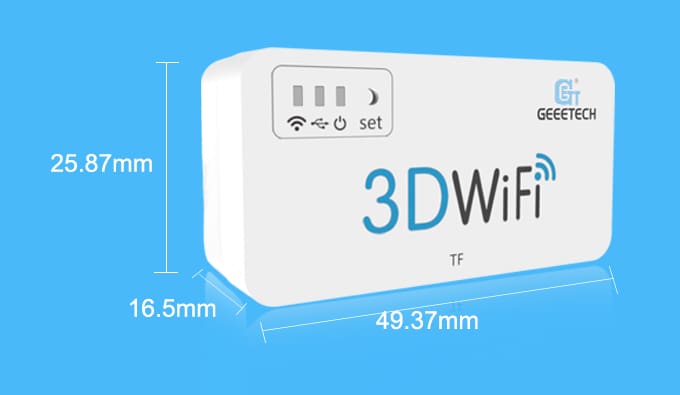 Rewards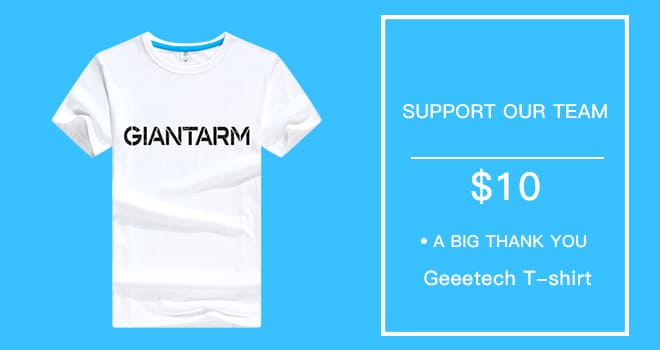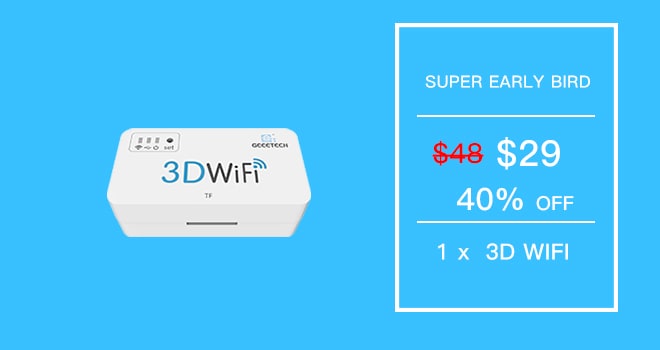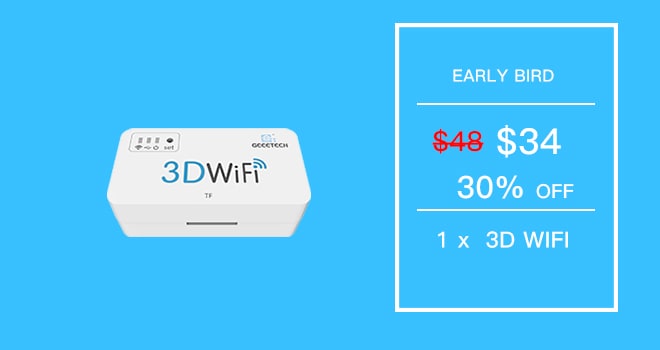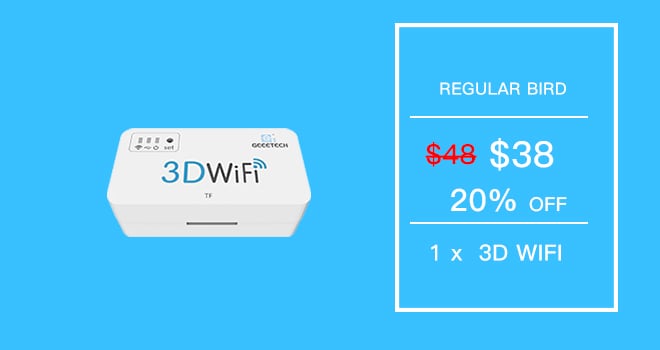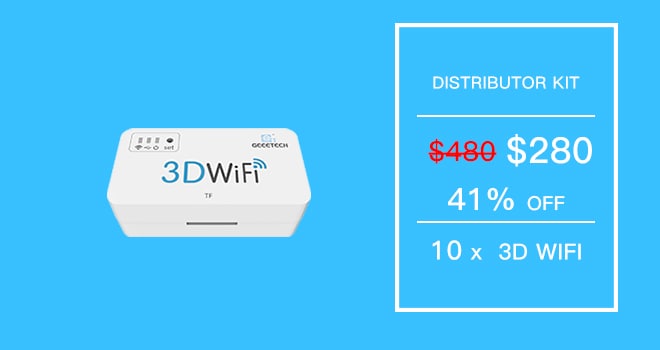 Tech specs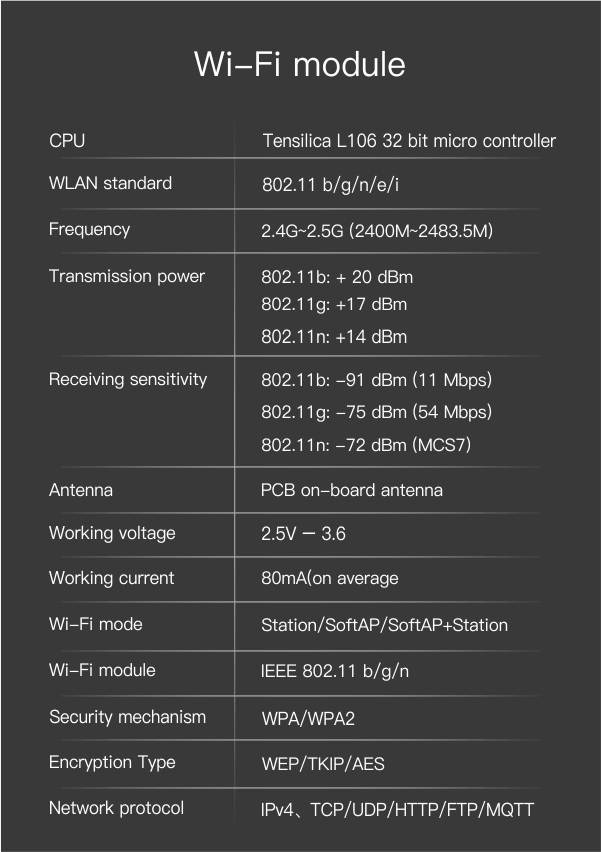 Timeline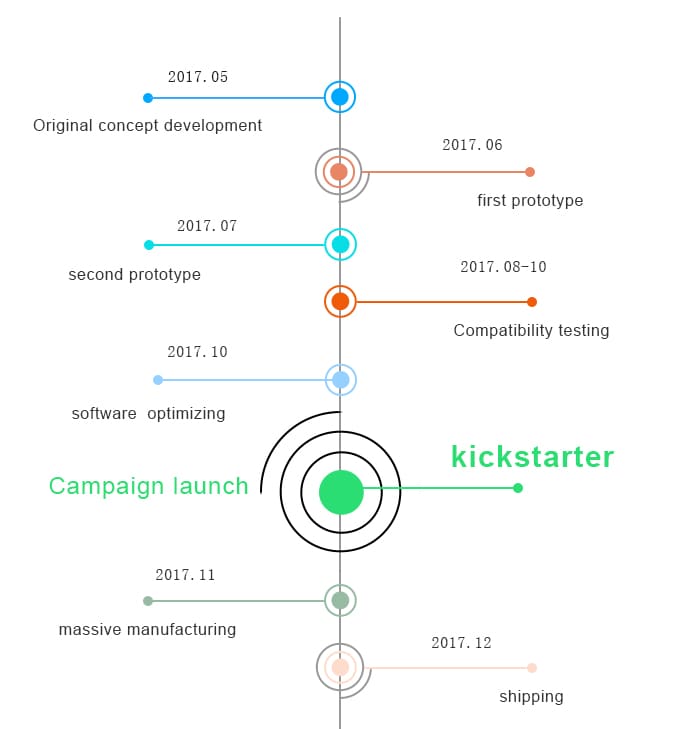 Risks & Challenges
Having launched a Kickstarter campaign before, we are more than confident that this one will succeed with your consistent trust and support. 
We have tested the compatibility of 3D WiFi module on different printers and are professional enough to solve any potential software bugs.
We've cooperated with our suppliers on many different products and they could ensure on-time delivery. Besides, we have a systematic logistics chain to ship 3D WiFi module to you timely. 
However, if any unpredictable circumstances arise causing any sort of delays, we will inform you immediately. Sincerely thank you for helping us bring 3D WiFi module to more and more 3D printing hobbyists like YOU!
Other Ways You Can Help
Our 3D WiFi modulefeatures high performance at affordable price. If you believe this is a great option for upgrading your machine and would like to help us to bring this project to life, please 
help us hare this project to  more 3D printer users to upgrade their 3D printers!
Your support is highly appreciated!