FUTURE IS TODAY
We dreamed about levitating DeLorean TIME MACHINE from Back to the Future II in the 80's.  And it happens now...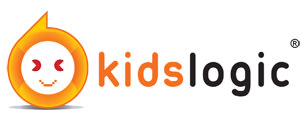 Who are we?
Kids Logic Co Ltd is a Hong Kong based collectible toy manufacturer.  Our goal is to bring collectors incredible representation of characters from animes and movies.  Established in 2009, we have made high quality official collectible toys from titles such as Transformers G1, Saint Seiya (Japan Anime), Arale (Japan Anime), Transformers: Age of Extinction, Street Fighters etc.  We have more than 680,000 fans at our FaceBook Page (www.facebook.com/kidslogic) around the world so far.  Many of them are our satisfied fans/customers and the community keeps growing.
Dream comes true
In 2015, through a licensing agreement with Universal Partnerships & Licensing, we are excited to share our 1:20 Scale Magnetic Floating DeLorean Time Machine with Back to the Future II fans and collectors.
Magnetic Floating TIME MACHINE Collectible
"Roads? Where we're going, we don't need roads."  Dr Emmett Brown, Back To The Future II
Based on the 1989 "Back to the Future II" movie, we want to build the 1:20 DeLorean Time Machine for all serious collectors.  Not only does it in high detail level, but we also want to make our dream comes true…  A Truly Levitating TIME MACHINE.
It's NOT a toy, it's a collectible
Magnetic Floating Base 
Magnetic field coming out from the base and push the DeLorean Time Machine to float in the air 
Blue LED Lighting around the base when it is turned on
An external battery box is included in the pack.  16 pcs of AA batteries is required
(Optional) AC/DC adapter could be applied.  Input: AC 100-220V; Output: DC 12V/2000A.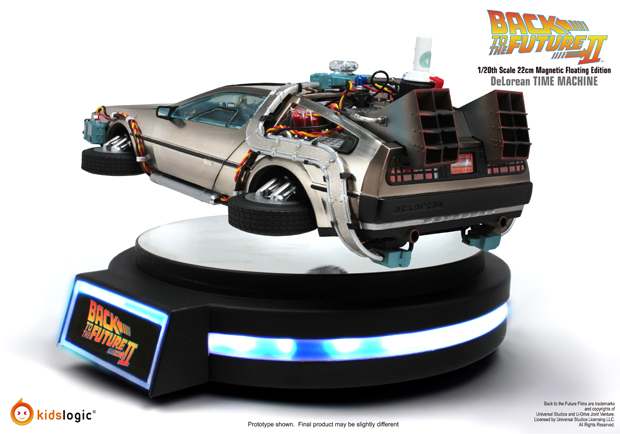 Magnetic Floating Base with LED light up signal

Magnetic Floating Base comes with two power options
Battery Box include (16 pieces of AA batteries sold separately)

(Optional) AC/DC Adapter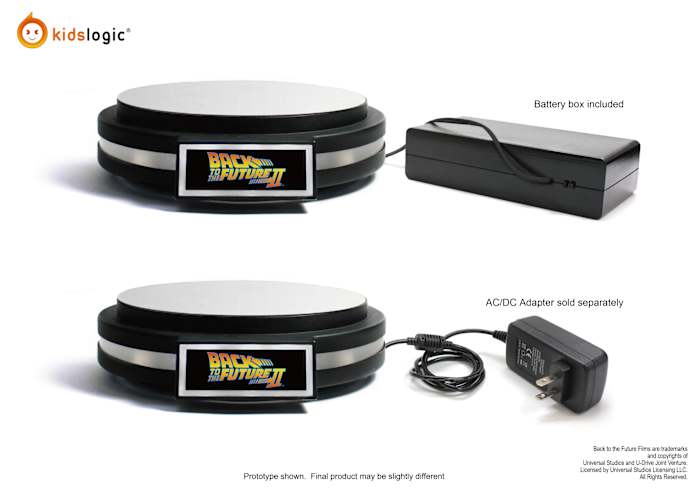 Painting and Finishing at collectors' level

Brushed stainless-steel finish effect

To replicate the same effect and texture in a scale model of DeLorean TIME MACHINE,  we take much time on trying different kind of nickel-chrome plating effect.  The surface is then polished with a special formulated cloth roller to create the very fine hairline texture.  Brushed stainless-steel finish effect shown below. 

Prototype (Photo taken by mobile phone. Dec, 2015)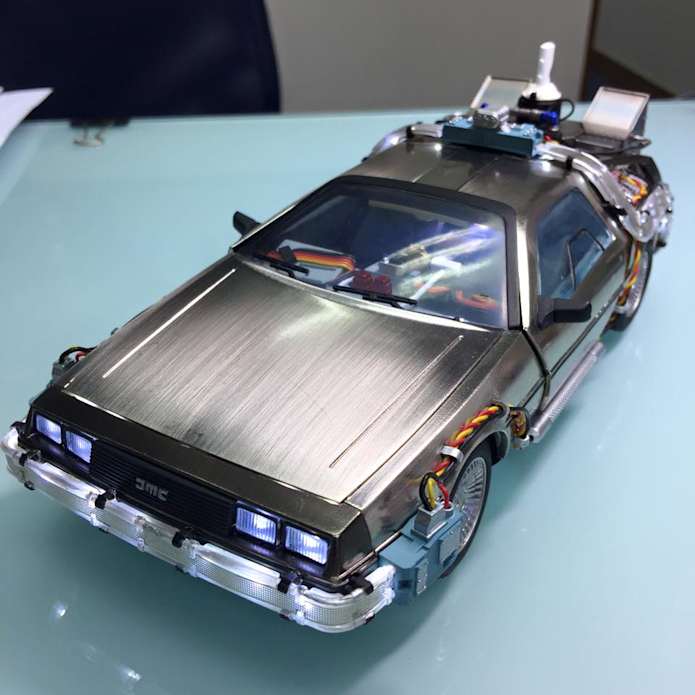 High Detailed Design
With over 200 pieces of assemble parts in this 1:20 scale 22cm figurine, it is the most detail DeLorean Time Machine in same scale in the market.  Detail d
esign and accurate sculpture has already finished and approved by licensor.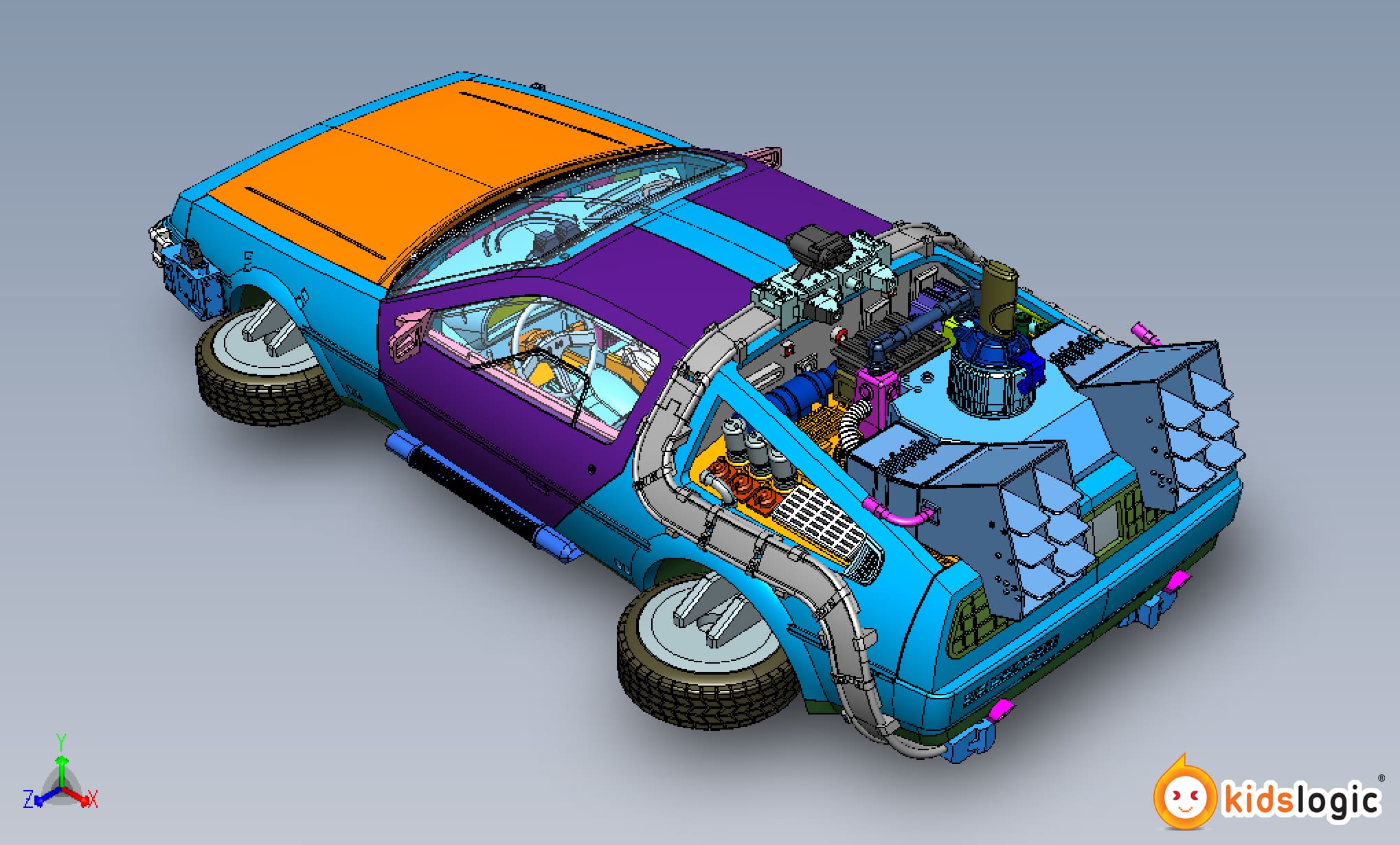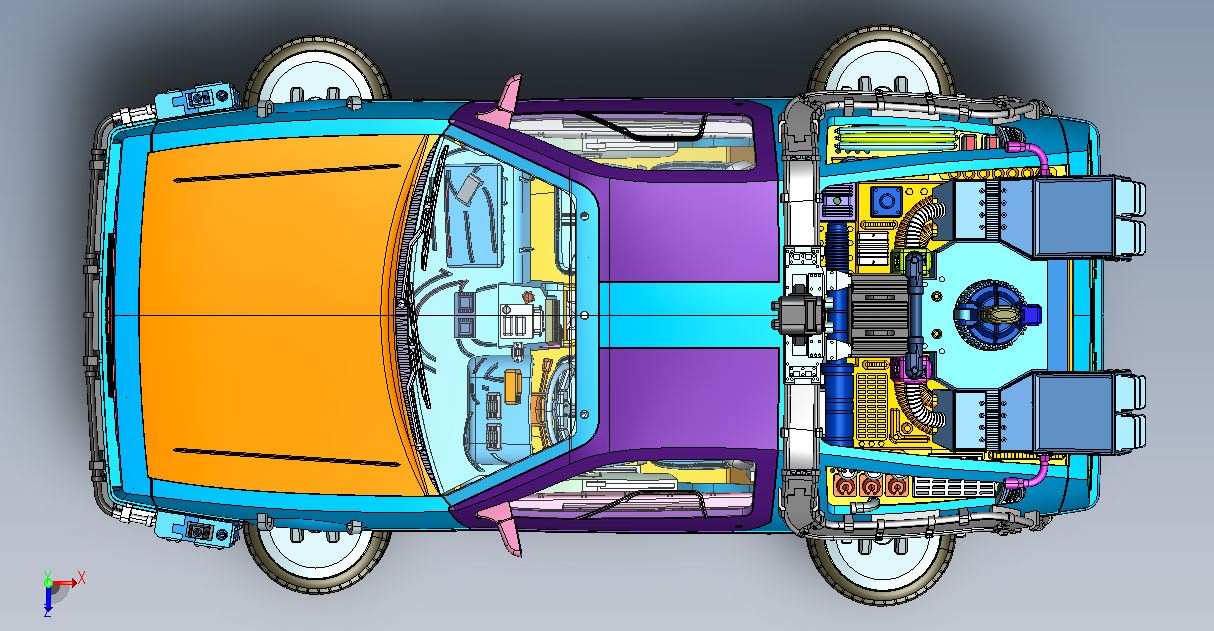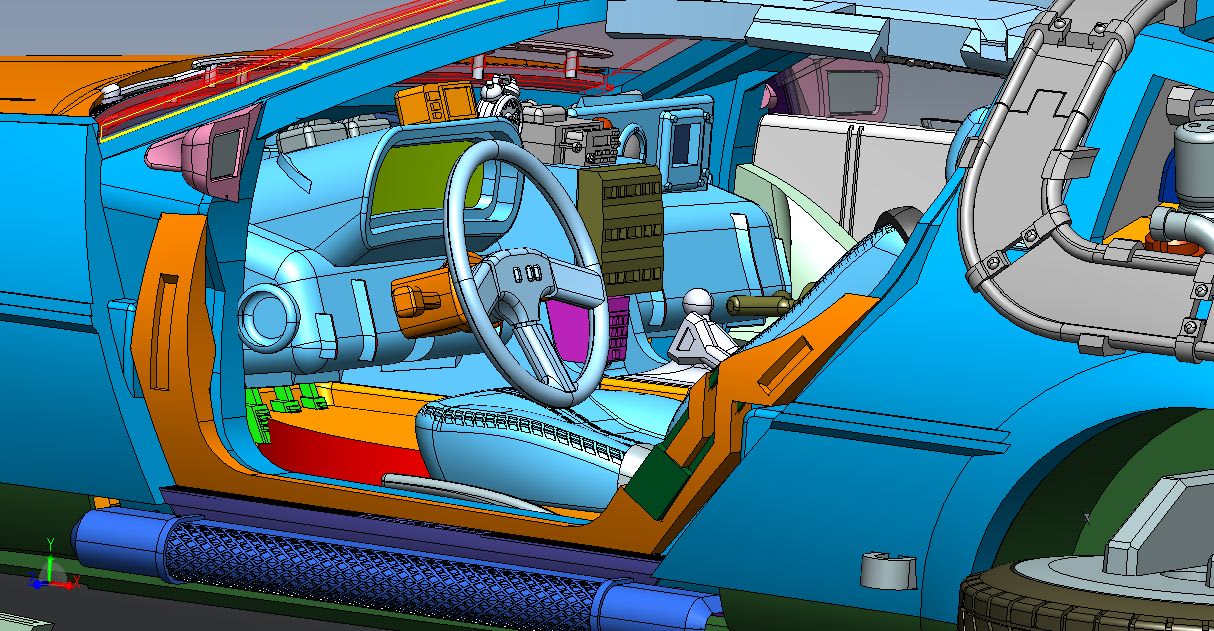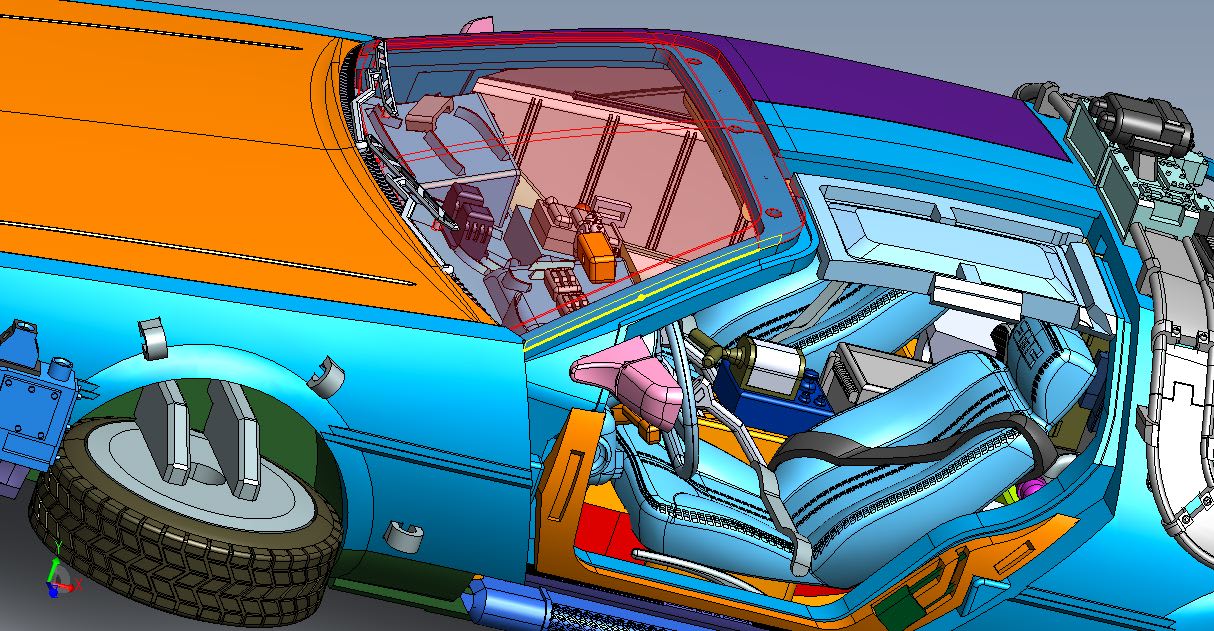 Over 200 pieces of assembly parts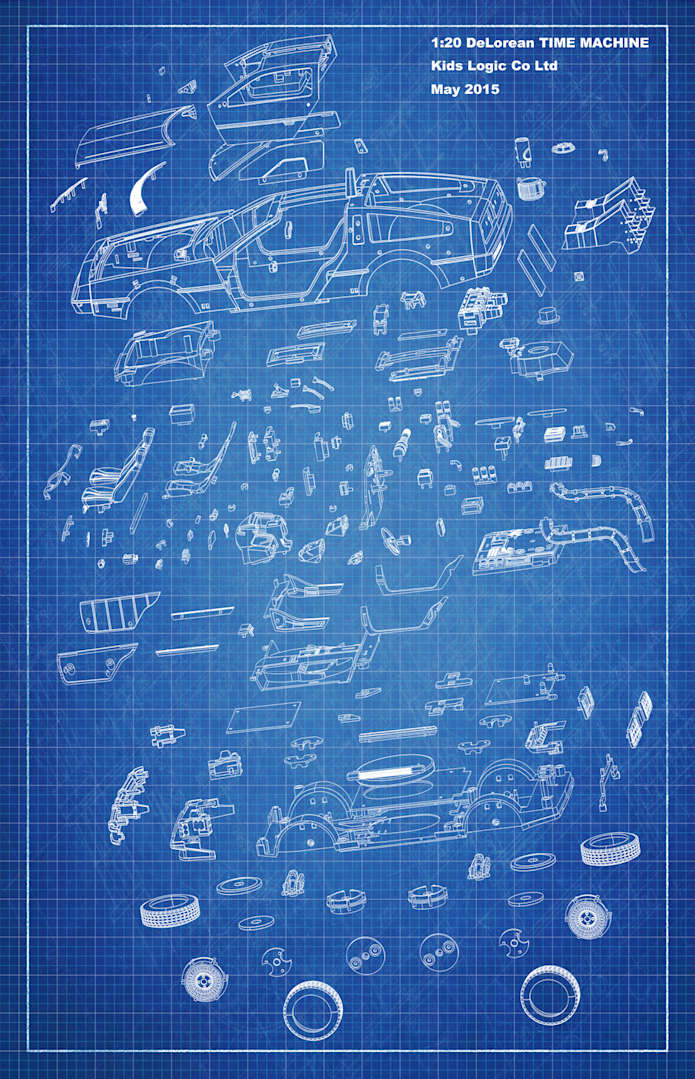 LED Light Up Functionality
Over 30 LED light up points.  4 pieces of AAA battery is required.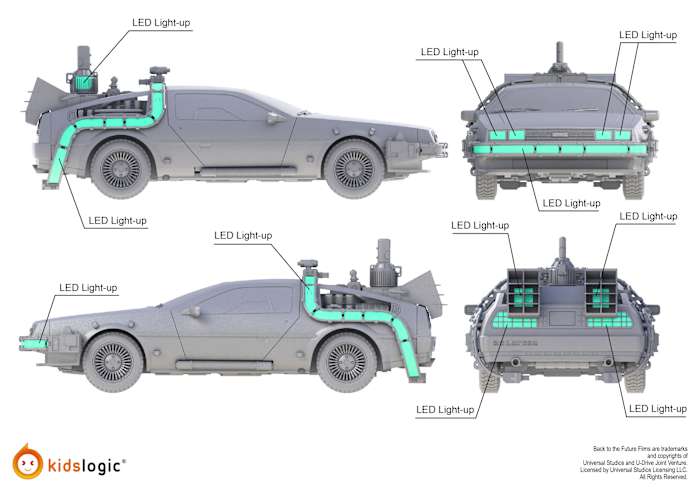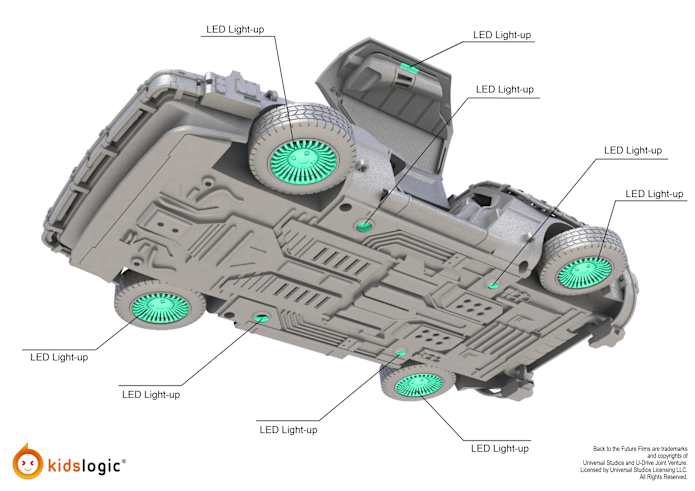 Two Display Mode
Four exchangeable wheels are included so that it can be displayed in two modes:
Normal mode



Flight mode (4 wheels comes with LED light up function)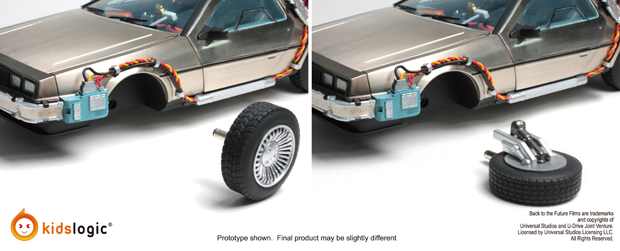 First painted prototype (Sept, 2015)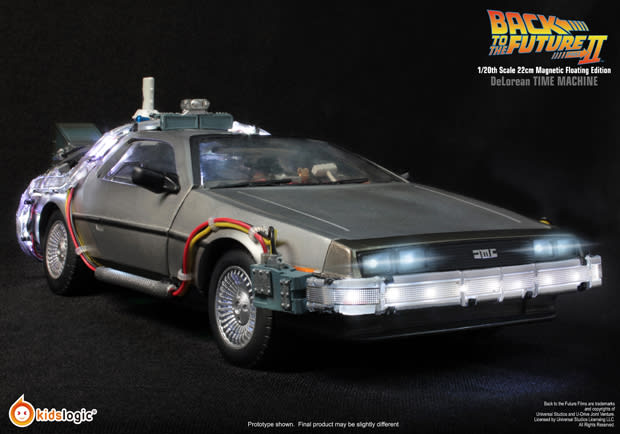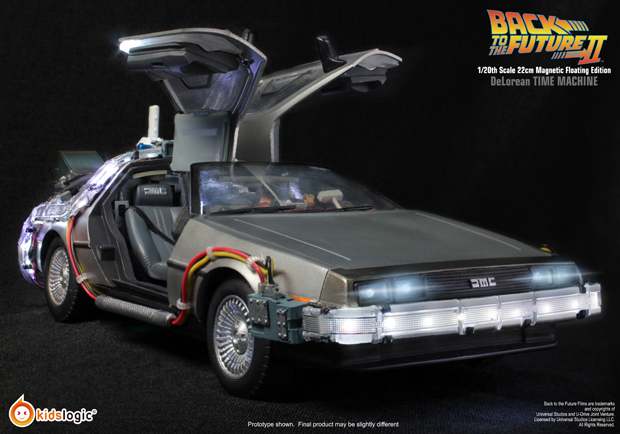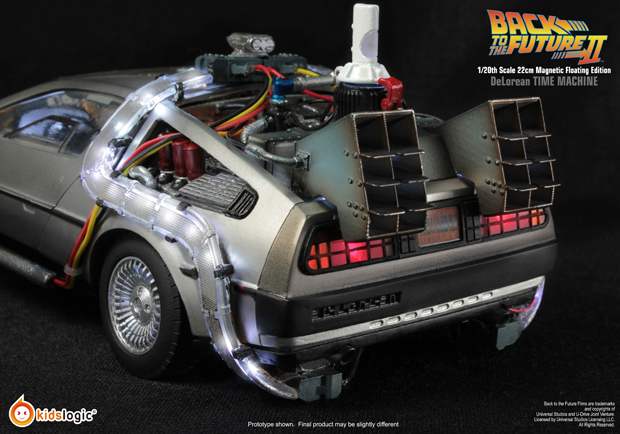 Second prototype, chrome finishing effect applied (Nov, 2015)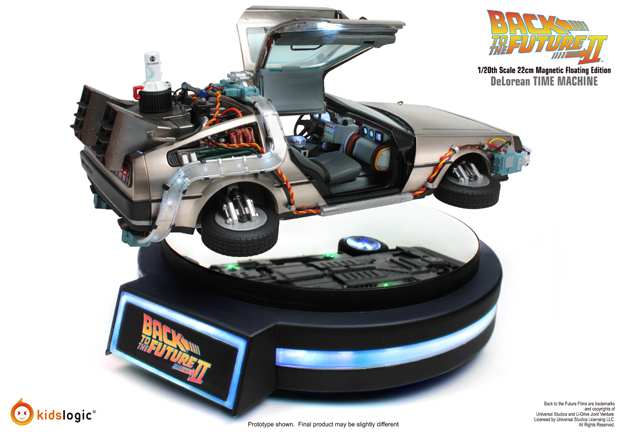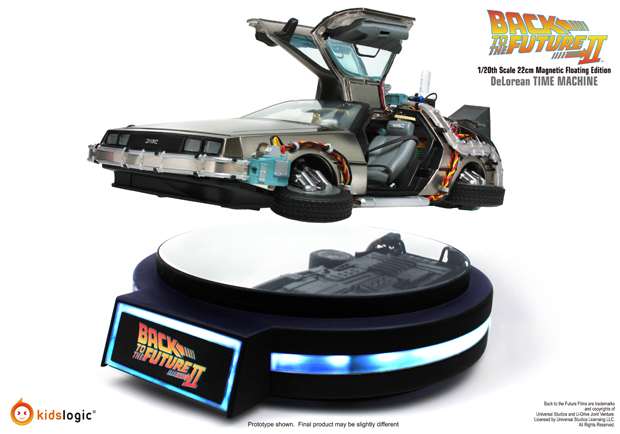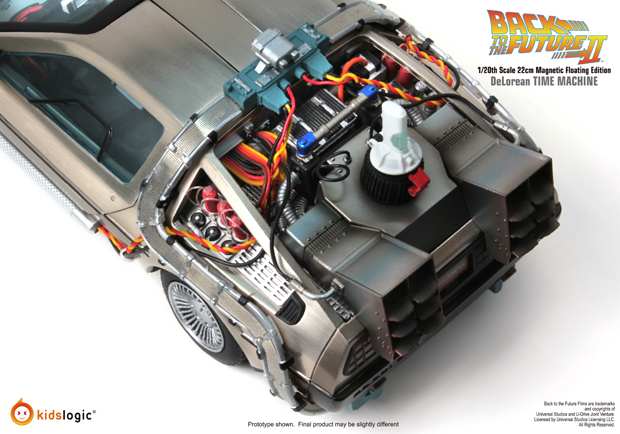 Accessories
1 X Static Mirror Stand Base




2 X Flame parts




1 X Mini Grays Sports Almanac



1 X Mini Pink Hover Board (about 35mm long)

(Concept Design in July, 2015)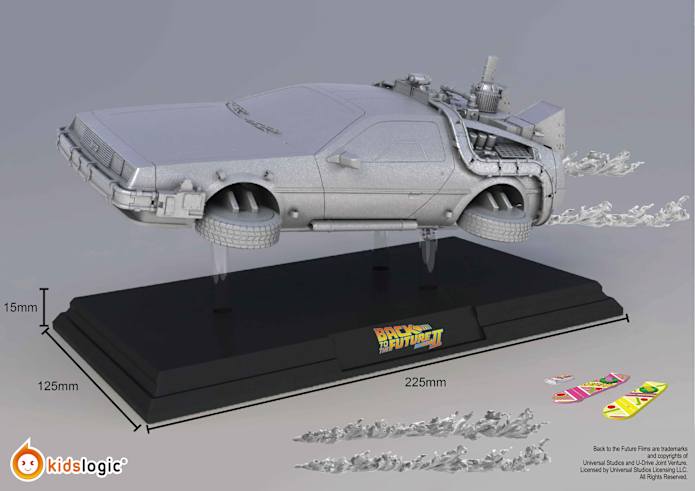 (Prototype in Dec, 2015.  Exhibition at Toy Soul 2015, Hong Kong)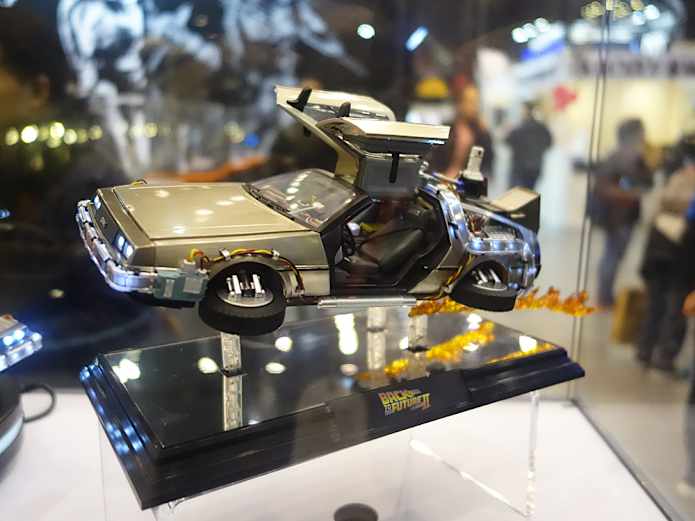 Measurement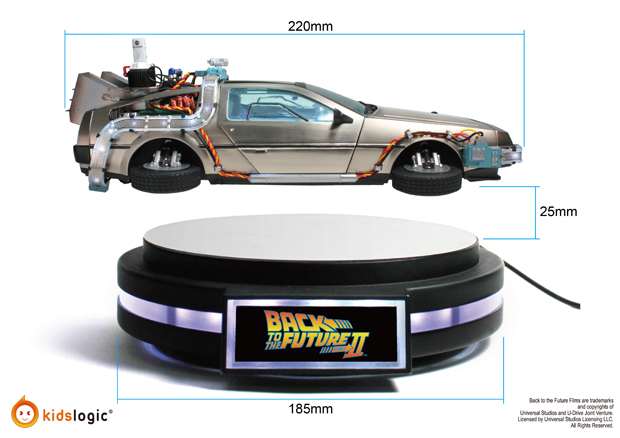 Exclusive Gift to Backers
Do you notice there is a yellow Hover Board appeared in the movie?  An exclusive mini yellow Hover Board will be rewarded to backers here.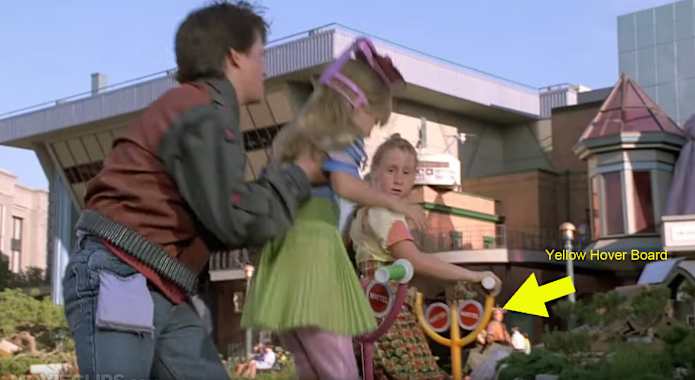 (Reference: Photo captured from Back to the Future II movie)
35mm Yellow Hover Board design.  A special gift to all backers.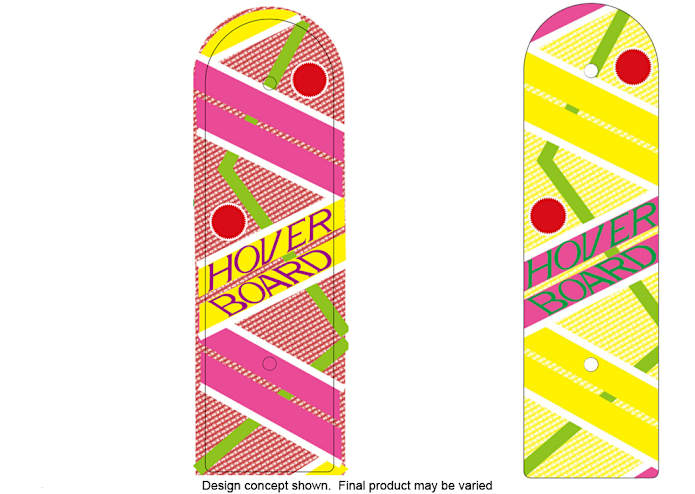 NOW, We need your help...

We've just completed product development and we are now beginning to tool for mass production.  We need your help to build the molds, production... and make this revolutionary levitating TIME MACHINE collectible a reality, especially to the fans of Back to the Future around the world. 


Even though we've been doing good in Asia, we're still a small company in the world.  We believe that this is the best and most efficient way for us to get our latest product to global market.  We need your help to let us get into overseas market, and we need your help to build more creative and quality collectibles.

Project Plan
2015 April: Merchandise license acquired
2015 April - July: 3D Design and prototype making
2015 July - Oct: Licensor Approval and Paint Master
2015 Oct - Dec: Molding
2016 Jan - May: Production, Painting and Assembly
2016 May - Jun: Quality Control Testing
2016 July - Sept: Packing and Shipping
What you will get

TIME MACHINE Pack:
1 X 1:20th Scale (22cm)  DeLorean TIME MACHINE, Magnetic Levitating Version
1 X Magnetic Levitating Base with Battery Box (Output: 15V)

1 X Static Mirror Stand Base
2 X Flame parts
1 X Mini Grays Sports Almanac
1 X Mini Pink Hover Board (about 35mm long)
1 X Exclusive Bonus Item: Mini Yellow Hover Board (about 35mm long)
1 X FREE AC/DC Power Adapter (Input: 100-220V; Output: 12V)


Risks and challenges
We are located in Hong Kong, and is close to factories in China geographically.  We have good communication with factories which have worked with us since 2009.  We take the responsibility for delivering on our targets and promise to always be transparent in informing you of any potential delays along the way.
PRODUCT TESTING 
The tone of the colors may differ from photos depending on the choice of the final paint material and coating process.
SHIPPING DATE 
We have built in extra time for the testing and manufacturing process and are confident we will ship by the projected dates. We will keep you informed of any unforeseen delays.
Production Team
Product Designer & Sculptor: Q Leung
Painting Controller: Mick Lee
Engineer: CM Wong
Contact
For questions related to the Indiegogo campaign and technical issue, please contact
email: indiegogo@kids-logic.com
More about Kids Logic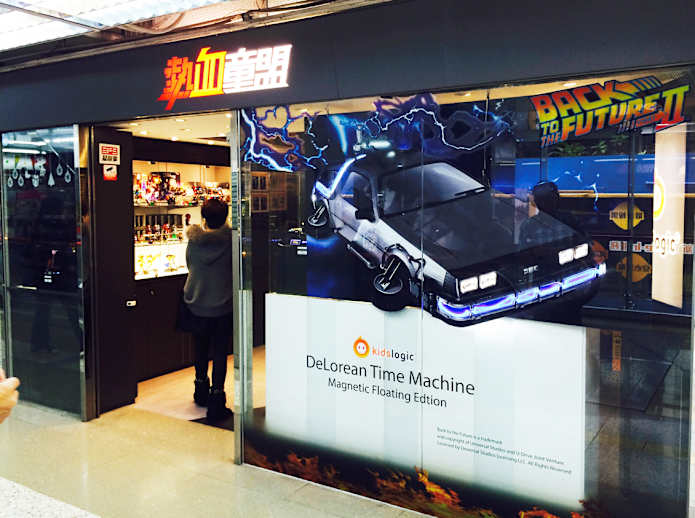 Kids Logic Retail Store, Shop 210-211, CTMA Centre, 1N Sai Yeung Choi Street South, Mong Kok, Hong Kong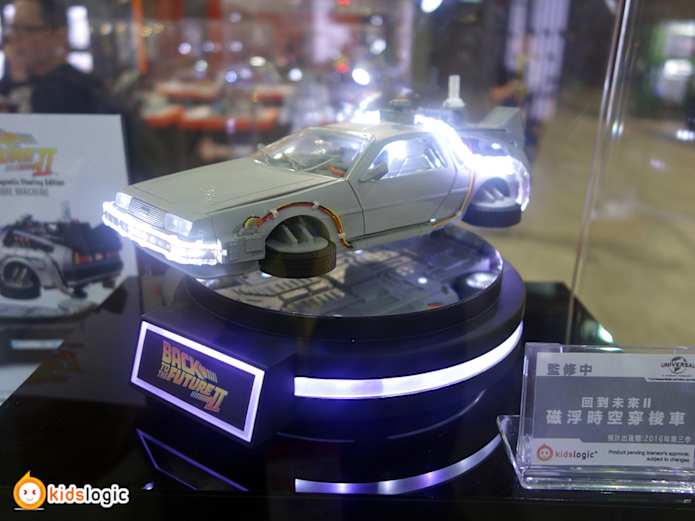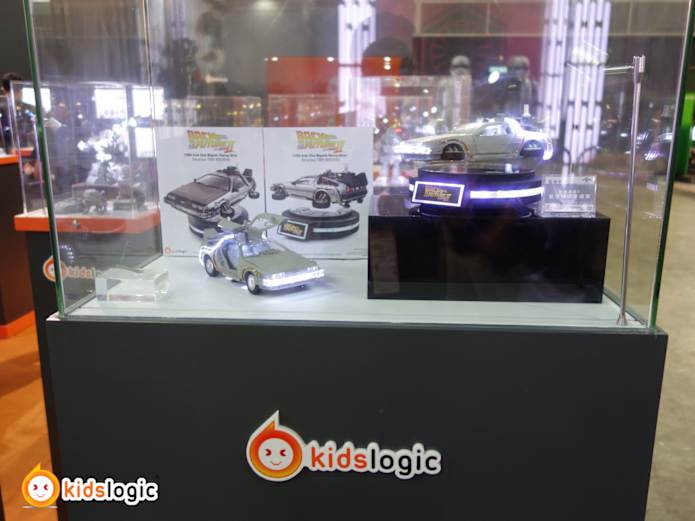 First prototype shown to public at Ani-com in July, 2015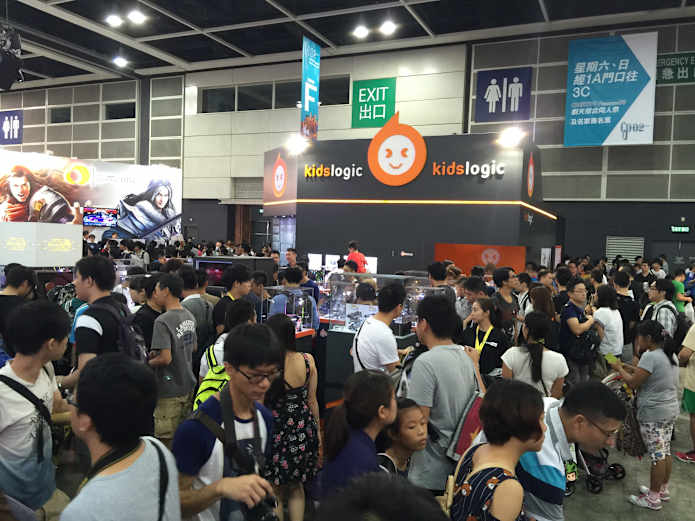 Kids Logic booth at Ani-com in July 2015, Hong Kong.  Over 700,000 visitors within 5 days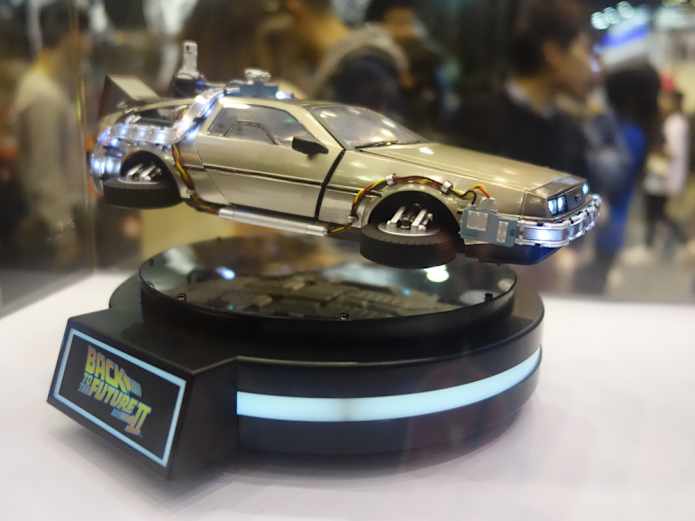 Kids Logic booth at Toy Soul 2016 (12/18/2015 - 12/20/2015, Hong Kong)

------------------------------------------------------------------------------------------------------
Back to the Future Films are trademarks and copyrights of Universal Studios and U-Drive Joint Venture. Licensed by Universal Studios Licensing LLC. All Rights Reserved.

©2015 Kids Logic Company Limited. All Rights Reserved.