WeLoxx® - easy to use, no medication, no surgery! No registration required. 
Pre-order your WeLoxx® device until 15th March and catch our early bird prices! You can choose to stay anonymous after your order. Paypal and credit card accepted.
The countdown begins!
WeLoxx is unique in its proactive approach to changing behaviors. Featuring sensors executing patented algorithm, WeLoxx records and recognizes your hand`s plate-to-mouth movements and counts down to indicate with its traffic lights system how long you still have to chew until your next bite.
How does it work?
The WeLoxx device suggests a predefined healthy interval between our bites during meals resulting in extending chewing time. Consequently with fewer bites we consume less food during the first 20 minutes of the meal. The first 20 minutes of the meal are scientifically proven (clinical trials below) to be the time needed for the human body to send a satiety confirmation to the brain.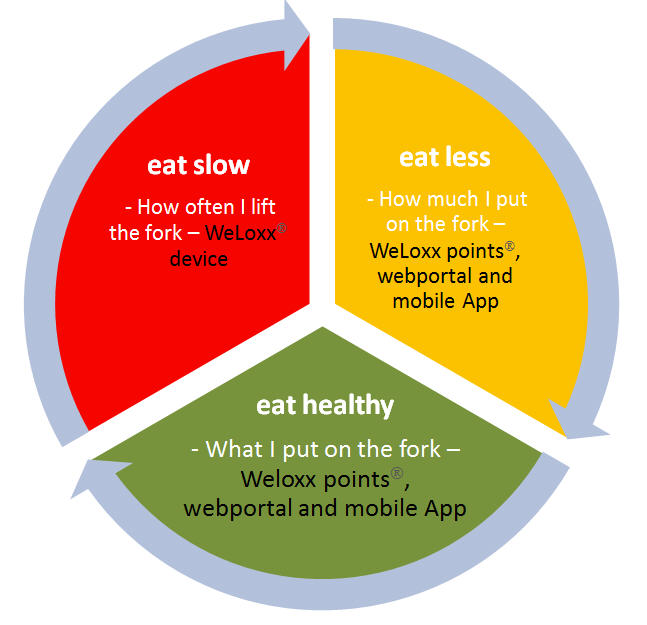 The WeLoxx® device
The WeLoxx bracelet and watch are available as prototypes. The third form-factor, the WeLoxx clip is in the pipeline for 2H 2013.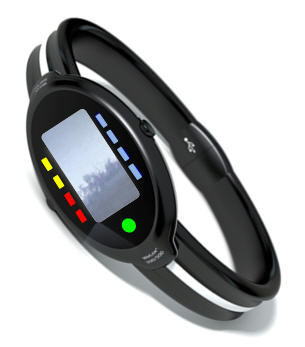 WeLoxx® 300: Designed as our sporty and robust bracelet, featuring the eating habits traffic lights system, USB, memory to help you lose weight. Available colors are silver and black. USB to mini USB cable included.
WeLoxx® 900: Our sleek flagship model accommodates our patented eating habits functionality technology, rechargeable battery and Bluetooth to help you lose weight. Available colors are black and silver.
Aiming to address the three elements of the eating habits that affect weight
loss – eat slow, eat less and eat healthy -  we developed the first eating habits management system, comprising a patented device WeLoxx®, an incentive system WeLoxx points® and a WeLoxx platform® (in the works).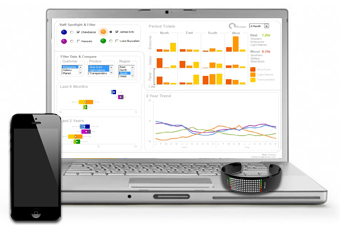 To be accessible via web, iOS and Android Apps, the WeLoxx Platform® is set to provide users personal goal achievement dashboards, social and sharing capabilities, next to broader nutrition, wellness and sports resources. Via desktop or a mobile device, you sync your WeLoxx device using USB or Bluetooth, analyse your eating habits using the WeLoxx dashboards, trade or spend WeLoxx Points, as well as share your progress towards your goals.
The WeLoxx platform access is free of charge for all Indiegogo supporters.
The WeLoxx Points® incentive currency rewards users for regularly recording, synchronizing and sustainable improvement of your eating habits. WeLoxx points will buy users partner products and services, ranging from food, drinks to events or sports goods.
What are eating habits?
How fast you eat, how much you eat and what you eat – observing these three
elements can bring significant and sustained benefits to your metabolism and
health.
Reference! 
Dear Friends,
Let me begin with my personal story. I have always been a sort-of-a-nerd, never practiced sports in my youth and thought I will anyway live short, therefore I indulged food, a lot and quick.

At the age of 23 and 85 kilos(190 lbs) and a BMI of 25.5 (overweight), I was diagnosed with type 2 diabetes.

Eversince I take insulin shots at every meal. 5 years later my BMI is 22.2, same height, 10 kilos less, in good shape and mood. How I did that? I changed my behavior.

I always imagined I had a coach following me every day, at every meal, to watch my eating habits and to stop me when I had too much or eate too quick. This gave me the feeling I am accountable to my coach. This helped me change my behavior to normalize my eating habits: how quick and what I eat.

My personal wish is that you never gain my diabetes experience, you never get familiar with insulin shots and the likes. Therefore, I believe in WeLoxx - the eating habits manager that helps you change your behavior.

Sincerely,
Yvan
WeLoxx team-member
How are eating habits influencing my health?
Scientific studies and/or clinical trials below show that how much you eat in 20 minutes has a direct impact on your metabolism. Your metabolism is integral to your weight and health.
01 Masticatory performance in children and adolescents
05 Influence of Mastication on Gastric Emptying
05.2 Postprandial whole-body protein metabolism after a meat meal is influenced by chewing efficiency
07 Effect of Texture of Plastic and Elastic Model Foods on the Parameters of Mastication
08 Individual Differences in Reward Drive Predict Neural Responses to Images of Food
09 Characterization of Food Physical Properties by the Mastication Parameters
10 Preventing Chronic Diseases 2009 WHO
11 THE ART OF CHEWING
12 The digestive system is designed to break down food m15919
13 Weight Control Can Cut Women's Diabetes Risk, Study Shows
14 Obesity and the brain
15 Can a Novel Treatment Using a Technology Improve Weight Loss
Satiety in 20 min?
Scientific studies No 14 above shows that the effect of change the eating habit occurs in the body by intensifies the flow of saliva in the mouth and leads to chemoreceptive process flows as an earlier feeling of satiety through prolonged chewing process. The satiety-confirmation signal between saliva and our brains has a duration of approximate 20 minutes of chewing activity. Yes, it is critical how much you intake in those 20 minutes.
Who we are? 
A Swiss start-up, based near Bern, we are a team of energetic and passionate professionals with years of scientific research, marketing and sales experience at leading multinationals in med-tech, nanotechnology and devices under compliance regulations.
The executive team behind WeLoxx includes Erwin Richard (experience in Novartis) as technology lead, Yvan(experience in personal consumer devices under regulation) as business driver, as well as Anil Sethi (founded and grew a successful company in cleantech), a serial entrepreneur. The team is also supported by other partners to deliver quality engineering and Swiss watch-making expertise.
Why Indiegogo?
We would like to prove demand for our products and get fresh new ideas of what you like to see in our products.
We appreciate your support and will use the raised funds to:
Put our devices in production and get them to you
Collect feedback
Finish our clip form-factors in the pipeline
Complete our WeLoxx platform, accessible via web-portal, iOS and Android
Begin roll out in selected key markets
Comments and recommendations are welcome!
Many thanks for your support!
__________________________________________________________
More Press Coverage
NEWS - Press Release - Swiss Start-up Revolutionizes Weight Loss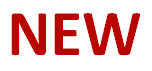 Daily News:                             Press Release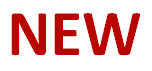 BIGNews Network:                 Press Release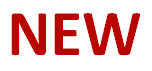 EETimes:                                 Press Release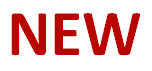 Market Watch:                        Press Release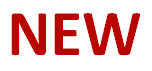 Search Diet:                            Press Release
News Blaze:                           Press Release
instantphotonews:                Press Release
SiloBreaker:                           Press Release
YaHoo!Finance:                     Press Release
CORDOBA:                              Press Release 
digitaljournal:                         Press Release
ITbriefing:                               Press Release
PRNewswire:                          Press Release
Weight & Diet Intelligence:  Press Release
healthgauge:                         Swiss watches for weight loss
RedOrbit:                                Press Release
MarketWatch:                         Press Release
VentureCapital Ulitzer:          Press Release
Opensource.sys-con:            Press Release
- LIFEHEALTHONLINE:     Million Tips
- INFOMATRIX:                 The first wrist-worn device that helps...

- TOKIO TALES:               News from Japan

- PINTEREST:                   Social Health
- WEIGHTLOSS:               Weightloss news beet
- FIRSTPOST:                  Topics
- HEALTHInIT:                   Health Weloxx
- RSSHOG:                       Focus Health
Eating slow and diabetes
- FAST EATERS MAY HAVE HIGHER RISKS Of Type 2 Diabetes: Fast eater
- JCEM: Eating Slowly Increases the Postprandial: Eating Slowly
- INDIANEXPRESS: Eat Slowly
- SCIENCEDIRECT: Significant impact of pace of eating
eating slow & metabolic risk
- CAMBRIDGE JOURNALS: Public Health Nutrition
- JOURNAL OF ACADEMY OF NUTRITION: Dietary Intake, Eating Habits
Eating slow & overweight
- WILEY ONLINE LIBRARY: Selected eating behaviours/body weight
- PUBMED: Role of dietary factors and food habits
- BMJ: reported behaviours of eating quickly and eating until full
- WEBMD: Eating More Slowly May Help Overweight People
- JOURNAL OF ACADEMY OF NUTRITION: Eating Slowly Led to Decreases in Energy