Please follow us on http://Fb.com/TinaTamale or http://Twitter.com/TinaTamale

to find out where we will pop-up next and for final sales of this limited edition t-shirt!
Gracias,
~tina tamale
~~~~~~~~~~~~~~~~

Our Previous IndieGoGo Campaign

We did meet our goal for our first campaign and have used that funding to get our permits, insurance, supplies and special events for our Tamale Push-cart & Transporter going. We are thankful for the support!

Why Another Campaign?

The actual design byForrealism for our new transporter is close to being finalized and then we will have a t-shirt design ready!  This will be a limited edition t-shirt, once this batch is printed there will be no more! ¡No Mas! We want to give a final chance to make a purchase. All sizes will be available and we will ship your t-shirt to you if you are not currently near us.

We're keeping this as local as possible.  Oakland Tamale Vendor.  Oakland Artists. These t-shirts will be screen printed by hand in West Oakland by Team Print Shop.  Local, indie & community are not just buzzwords to us; it's a way of life!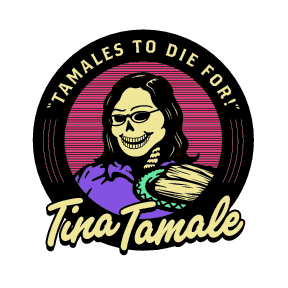 About Tina Tamale
Rosa Lopez founded our family's business, La Borinqueña Mex-icatessen, in Old Oakland back in 1944. In 2009, third generation family member as well as co-owner/manager, Tina Tamale Ramos, Rosa's granddaughter, began serving tamales at special events just a handful of times a year.

Tina Tamale then commissioned a painting of herself by local artist, Joaquin Alejandro Newman, as a calavera (skull) in homage to Rosa who was born on Day of the Dead/Dia de los Muertos yet passed away before Tina existed. Tina Tamale then became the branding for the pop-up stand and catering arm of the family business. By 2011, weekly events and catering became part of her day to day life.  In 2012, Tina upgraded her mobile set-up to include a push-cart & transporter.


About Forrealism
A portal to contemporary indigenous American art.  Forrealism is a collective of artists, activists, and educators who view art as education and a key to a peaceful and prosperous future.  The artists represented make paintings, murals, films, animations, and installations as they seek to beautify the world through these creations.  Joaquin Alejandro Newman & Eduardo Pineda are designing & producing the scenes on the Tina Tamale transporter & t-shirt.
About Team Print Shop
Team Print Shop is a small, independently owned screen printing company in Oakland, CA specializing in high quality screen printing on apparel and paper. The Tina Tamale logo was designed and screen printed by this Oakland Grown member.