We're Doing Fine is a sponsored project of Fractured Atlas, a non-profit arts service organization. Contributions for the purposes of We're Doing Fine must be made payable to Fractured Atlas and are tax-deductible to the extent permitted by law.
Missed the campiagn?  It's not too late!
We're Doing Fine is sponsored by Fractured Atlas, which means we can accept tax deductible donations any time.  Read up on our project and visit our Fractured Atlas profile. We appreciate your contributions and will put all funds to good use making a great film!
We're Doing Fine on Fractured Atlas
SUPER HUGE THANKS!
We want to say thanks to EVERYONE who has contributed so far!  We had no idea we could achieve our original goal in 1 day and raise almost twice that!  We are grateful for your help in making it happen and look forward to keeping you up-to-date on our project.
---
ABOUT THE MOVIE
We're Doing Fine is a feature film written and directed by Djuna Wahlrab that will begin shooting this fall in Dayton, Ohio.  It's a personal film with broad connection to anyone who has been forced to become an adult.
We are reaching out to YOU for the final funds needed to shoot this fall.  The $15,000 we are asking for is the last piece of our funding puzzle.  It will be used in all areas of the shoot - paying the crew, renting our equipment, feeding our actors - and is a key part of making the best movie we can make. We've been fundraising for over a year now and want to offer you the chance to become involved in the film, before production, and follow us through the process for the next year and beyond.  We want to keep our fans up to date through the stages of production and release, and of course, share the film as soon as it's ready!
SYNOPSIS

Dayton, Ohio: the birthplace of controlled flight, once the inventors' capital of the world, the city of three rivers. We're Doing Fine is a film about two people from this city.




Gertie sees the world around her in a kind of glowy light. Dayton is her city, and its streets, rivers and people are beautiful. Her mother is a protector, a source of comfort and acceptance. Pain and suffering can be explained by Bible stories and by the Latin American folktales of her youth. But lately, cracks have opened in Gertie's world. Her mother, Rosa, is newly remarried and has put Gertie's childhood home on the market. Her pastor has advised her to leave the church, to strike out on a new spiritual journey. And Gertie's great project—a collection of hundreds of stories and drawings tying together Christian theology and ancient folktales— is growing longer and longer–a project without end. Gertie is at a crisis point. She wants to stand still, but her world won't let her.




In many ways, John is the opposite of Gertie—he fled Dayton as soon as he could to create a brand new life. John now works and lives in a "real" city, San Francisco. His one lingering duty drawing him reluctantly back to his hometown is his father, Ray--ailing, alcoholic and depressed. His visits are brief, only long enough to set his father back on a discernible path to health. When news of Ray's admittance to the VA Hospital brings John home again, he dives into this trip with a cold and practiced precision, prepared to stay only as long as necessary. But this trip is different. Ray is dying.




At the VA Hospital, John observes Gertie reading to a group of catatonic veterans. She's secretly reading her folktale project, which John mistakes for bible stories. It's one of many pieces of evidence for him that this place he is from is woefully backwards and hopeless. Blinded by both his grief and his sense of superiority, he navigates his environment carelessly. John finds himself reverting back to a version of his angry teenager self and sets off on a path to alienate all those that both care for him and also call Dayton home. In a chance encounter at a convenience store, John, drunk and reckless, confronts Gertie about her "evangelism," who is frightened by this accusation from a stranger.




A day later, hungover and depressed, a small gesture from a an old family friend snaps John back to reality and he attempts to make amends where possible. He seeks out Gertie at the downtown library, endangering her job there, as he offhandedly references her Bible reading at the VA in front of her boss in the midst of an "apology." Gertie finds herself in great distress; the thought of losing her job and her home, for sale and underwater, her relationship with the church and her mother constantly shifting–the weight of all the change in her life is bearing down on her. Gertie loses her temper and calls him out on his selfish behavior. Though her words are painful to hear, John is drawn to Gertie.




Their starkly different voices somehow manage to cut through the din of their own expectations. They click.




John and Gertie wander the city together, arriving at various places of significance for each of them. In each of the places they visit, both of their perspectives are present--for John, bad memories, a city in decay, and for Gertie, a place full of magic and unlikely beauty. As they move together, their perspectives shift, ever so subtly. They challenge each other, and their prodding causes them to question what they want for themselves as they grasp for meaning in their peculiar, shifting landscapes. It's only a tiny sliver of hope, but they find it together as they open to their common experience; a glimmer that there could be more to who they are. Dayton, their hometown, is that thread–the second parent that shared raising them to be the people they've become. The town drapes over them like muslin to soften the edges of their individuality and for a moment, they know what it feels like to share origins, to recognize themselves in others, and to know that as a welcome embrace.


Their time together is brief, but they connect when just a little push, a little show of support and compassion, holds the possibility to redirect the course of their lives ever so slightly. Together they gain just enough confidence to hear, "Just keep going. You've got this. You're doing fine."
DIRECTOR'S STATEMENT

The idea for the film focuses on this pivotal decision: When you begin to make your way in the world, what are your terms? Do you reinvent yourself somewhere new, or do you build off of the foundations that you and your family and your community have all invested in? The question makes the statement: I believe this is a choice.
The experience I'm most trying to communicate in We're Doing Fine is that of people noticing themselves in transition. This self-awareness can be more interesting than the event, and underscores a post "coming of age" era of our lives where we might discover more room for humility and calm--an opportunity to enact real distinctive changes in the trajectory of our lives.  When our characters get closest to transition, I hope to inject a little bit of the fantastic perspective into what we experience as the "real" environment, filmed at numerous public and private locations in Dayton. What we will see will be magical enough to beg a second glance, but will blend subtly so that we might all just appreciate the experience of something common with softer eyes. It'll be just a hint, a gentle invitation to consider our lives--and our communities--in a warmer light.

In order to create a space to foster this process, I've chosen a story that lives and breathes in a real city, Dayton, Ohio. I've begun with real people, and tried to structure the story of their lives in this town, with histories and futures, and families and friends, and hopes and fears. It is not a movie about the concrete happenings, but about how the characters experience the internal changes taking place. It is through their eyes that I hope to illustrate a bit of the magic that occurs when that shift happens.

MUSIC
Dayton has a strong history of indie rock, partly due to the city's size and encouraging local scene, but most importantly because of the quality and enthusiasm of its musicians.  We're Doing Fine will showcase this important piece of Dayton culture with an incredible score by R. Ring.
R. Ring is Kelley Deal & Mike Montgomery. It is voices, guitars and keys. It is sparse, chaotic, abrasive and lulling, often within the same song.

Kelley Deal is also the lead guitarist of The Breeders, a seminal alternative rock band from Dayton that also featured her twin sister, Kim. Kelley recorded two albums in '95 and '97 with her other band, The Kelley Deal 6000, before returning to The Breeders and starting a new collaboration with Daytonian (Kentucky) Mike Montgomery, a band named R. Ring.  Mike is also a member of Cincinnati's Ampline, a band with a strong DIY history of making honest, heartfelt (mostly instrumental) music.

ART


Our production designer, Cecile Dyer, will be creating an entire body of work that will represent that of our character Gertie, who is a prolific artist. In the opening of the movie, we drift through her bedroom, taking a close look at her drawings on a wall. Her pictures seem to be telling a story, as some of them animate before our eyes, and they serve as the introduction to Gertie's magical take on the world. Over the course of the film, as we are exposed to her body of work, we come to see her illustrations as a visual timeline of a folktale her mother used to tell her as a child. The folktale can be thought of as an allegory of her own life, and serves as an introduction to her imaginative and open character, full of vivacity and curiosity.


EFFECTS

An underlying theme in We're Doing Fine is the effect of perspective on our perception of place--the exploration of how one place can be seen from so many unique and even contrasting vantage points. Our view of a place is very much colored by our own foundational beliefs. In Gertie's view, Dayton, Ohio is magical. Her Dayton was a haven, a refuge from a very harsh life; her mother laid the foundation for seeing the fantastic in an otherwise average world. For John, Dayton is all gray skies and lackluster industrial vistas. John's experience growing up in poverty with his cynical father made life in Dayton seem like a pointless struggle.
ABOUT DJUNA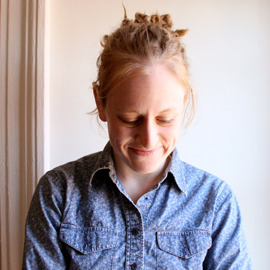 Djuna Wahlrab grew up in Dayton, Ohio, nurtured by artists throughout her life. At four she began formal instruction at the Dayton Art Institute, where she first got the inkling that creative work could be a life path. She attended Stivers School for the Arts, winning numerous local, statewide and national awards in visual arts, and several of her shorts were screened at the Wexner Center for the Arts (Columbus). While Stivers did not yet have a film program, her teachers supported her passion for film through independent studies where she self-directed her learning, drawing on the mentoring of others in the wider community. She cut her teeth on the local film scene, helping Steve Bognar edit his short Gravel, which went on to premiere at Sundance.

Djuna studied at NYU and returned to Dayton to start the video program at Stivers, where her students taught her to animate. Eventually finding her way back to NYC, Djuna began freelancing as a visual effects artist for film and TV, and has worked on such HBO series as Treme and Mildred Pierce.




In 2006, she produced her first professional short, the stop-motion film Falling Up, at an award-winning animation studio in Brooklyn, Charged Studios. This film was selected and awarded at the Sarasota Film Festival and the Brooklyn Film Festival, where she received the Audience Award for Best Short Film. The film went on to play at her favorite art house, The Neon, in Dayton.  Most recently she directed Phosphorescent's music video Song For Zula, which premiered on NPR's First Watch and was featured on Pitchfork, Spin, Stereogum, Paste, Filter and many other music publications, garnering over 300k hits on YouTube.


While based in Brooklyn, Dayton has never been far from her. She shot the only live action segment of Falling Up in downtown Dayton and felt the love. She hopes to return the love with We're Doing Fine, a film inspired by her own formative years in Dayton and the community that has supported her.

CREW

MIKE LANDRY - Executive Producer

Mike Landry is an award-winning filmmaker whose latest film, The Lifeguard (starring Kristen Bell and Amy Madigan), premiered in the "US Competition" section of The Sundance Film Festival in 2013 and will be distributed by Focus World and Screen Media Films late summer this year. Previous feature films, The Last International Playboy (2009) and Rosecrantz and Guildenstern Are Undead (2010), were released theatrically in the U.S. and abroad.  Mike's work has been featured at dozens of international film festivals including Slamdance, Tribeca, Cannes, Newport, Strasbourg, and Oxford, where he has won awards for comedy, art direction, acting and documentary filmmaking. Mike is also an actor who has appeared on several network television shows including Law & Order, SVU, Rescue Me, NYC 22, Damages and the award-winning Tribeca film Supporting Characters.  




JANE RENAUD  - PRODUCER


Jane Renaud is a freelance writer, producer and filmmaker based in Brooklyn, NY. After graduating from the film program at NYU's Tisch School of the Arts, Jane produced segments about public education for PBS NewsHour. Her 12-part series about school reform in Washington, DC earned first prize in documentary reporting from the Education Writers Association. In January 2013, Frontline (PBS) aired The Education of Michelle Rhee, an hour-long film based on that series. Jane's first narrative film as director, Damn It, Andy, premiered at the Sidewalk Moving Picture Festival in Birmingham, AL. Her most recent project was Rebirth, a feature-length documentary about the charter schools movement in New Orleans, coming to Netflix this fall.


We're Doing Fine presents an opportunity to bring her documentary production experience--always with a tight budget, always with a tiny crew, always aiming to tell a nuanced story about people and place--to an independent feature. Jane's goal is to ensure that the We're Doing Fine set is positive, efficient and economical, allowing Djuna to bring the intimacy and magic of her script to life.

ANDY HARMON - PRODUCER

Andy Harmon is a producer and editor living in Brooklyn. Over the last five years, Andy has worked as a producer, editor, set dresser, wardrobe and prop stylist, assistant camera and DP for commercials and web content.  His clients have included MoveOn.org, DISH Network, Saveur Magazine, Jones New York, Macy's and UPS. He hopes to use his jack-of-all-trades knowledge and experience to foster the collaborative attitude of this film's production.  He grew up in Florida.

ELLENMARIE CRONIN - PRODUCER

Ellenmarie Cronin currently works in higher education as a curriculum and faculty developer and teaches writing courses. She was a lead designer and implementer of a bachelor degree in integrative studies at Miami University Regionals (Ohio), which has attracted more than 500 majors in its first three years.  Her publications include articles and a book chapter in the academic press as well as creative non-fiction in the popular press.  In addition to her graduate studies in composition, rhetoric and humanities, she has studied accounting and has kept the books for several entities. 

Ellenmarie likes to unravel knots, ask questions and figure things out. She is most at home working in the intersection of creative and critical thinking and in making things, whether texts or fiber art or conceptual models. She is excited to bring her respect for detail and a sense of the whole to the medium of film in We're Doing Fine. 

ADAM MILLER - DIRECTOR OF PHOTOGRAPHY

Adam Miller was born in a small, unheard of town in the cornfields of west central Ohio and slowly gained street cred in the (sometimes) grimy city of Dayton. He studied visual arts at Stivers School for the Arts, and sculpture and photography at Ohio Wesleyan University, where he earned a BFA. Djuna convinced him to move to NYC to help her create Falling Up, launching him into the world of indie and commercial media production.  Most recently he was the DP for the feature film Jack, Jules, Esther, and Me.  

As DP, Adam draws on his diverse experience and his unique perspective as a native Daytonian to bring Dayton to life, giving the city a voice in the conversation that is We're Doing Fine. He looks forward to continuing his 15+ years of visual narrative collaboration with Djuna in this film.

CECILE DYER - ART DIRECTOR

Cecile Dyer's energy and commitment to creative collaboration has generated a body of work as varied as her collaborators. Since moving to New York City in 2006, she has worked in styling, and prop and art design for the Rachel Ray Magazine, Esquire, Better Homes and Gardens, Macy's, and Moschino. She has also illustrated a set of nine children's books.

With props and wardrobe, art and design, the goal for Cecile is always the same: to tell a story and make the most meaningful connections for the viewer. She looks forward to working closely with the creative team of We're Doing Fine, translating the film's story into clear and striking images that help audiences connect.

ERIC ROTHMAN - EDITOR

Eric Rothman is a film editor based in Brooklyn, NY. Inspired by the animated feature films of his youth and by the burgeoning film scene of the early Internet, Eric studied film and animation at the Rochester Institute of Technology in upstate New York. Since then he has worked on a number of short and feature films as an editor, animator and compositor, including Falling Up, Djuna Wahlrab's 2010 short. In between movies, Eric freelances as an animator and editor in the commercial world for such clients as Nintendo, Nickelodeon and UNICEF. He most recently edited and post-supervised Jack, Jules, Esther & Me, a feature-length independent film.

Eric thinks of the audience as a good friend. When we converse with someone in real life, we communicate ideas or feelings, or just something interesting that happened--and that's the same thing that happens when we make movies. Though the medium is different, and the filmmaker gets an uninterrupted 90-minute turn to talk, Eric sees We're Doing Fine as a conversation that will continue.