"We few, WE HAPPY FEW, we band of brothers" (and sisters!)                                                     King Henry in Henry V by William Shakespeare.
A feature length documentary giving a deeply personal insight into the intellectually disabled community in today's fast paced world – filled with inspiring first-hand accounts of achievements (against all odds) and frank discussions on the struggles facing this community today and into the future. 

The story of the project 
In the summer of 2011, a group of intellectually disabled acting students were given speeches from Shakespeare to learn and perform. They had never spoken Shakespeare out loud before. The results were remarkable. 
This provided an inspiring platform to begin a unique story about this often over looked community.
How has this community been represented through the history of Film and Television? Think about Leonardo DiCaprio in 'What's Eating Gilbert Grape?' and Sean Penn in 'I Am Sam' - incredible performances, but examples of leading Hollywood actors taking the role of a disabled person. An exciting move forward is taking place where people with disabilities are playing roles written for them, instead of being played by their 'able' counterparts. There are currently three actors with downs syndrome in recurring roles on international prime time television series - Lauren Potter on 'Glee', Jamie Brewer on 'American Horror Story' and Luke Zimmerman on 'Secret Life of the American Teenager' (all of which were interviewed for this story).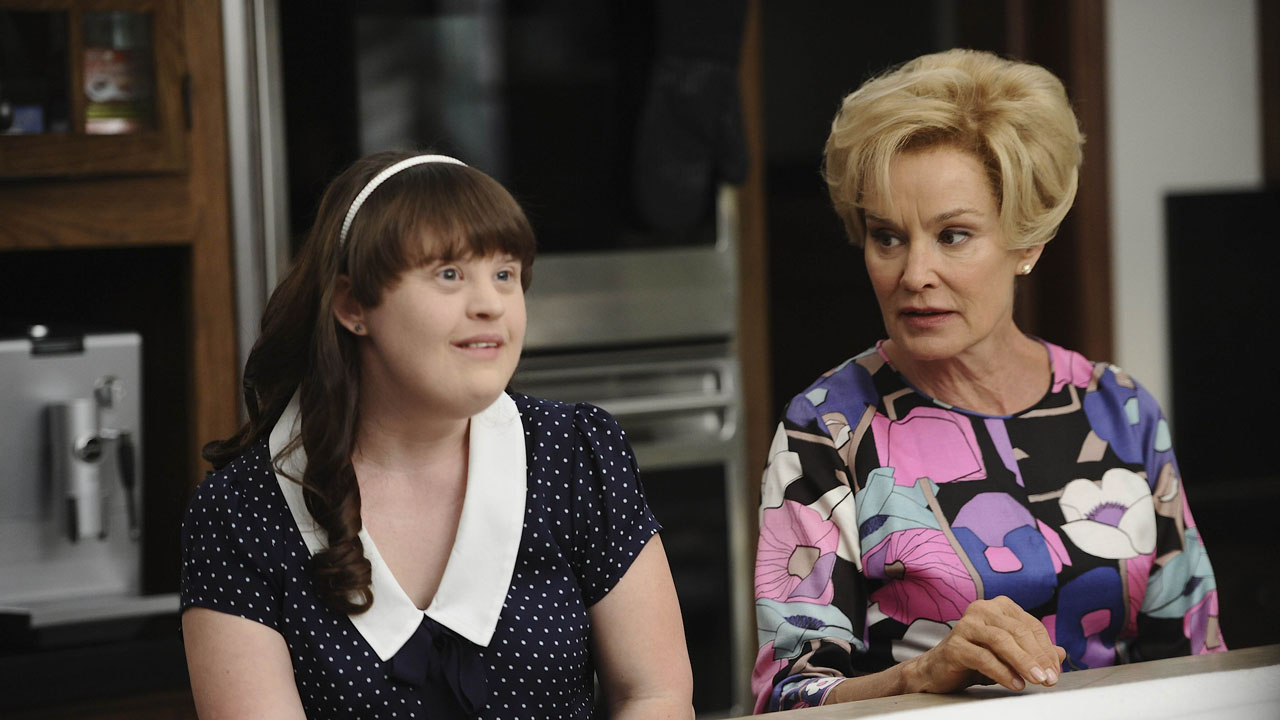 There is much to celebrate, but there is also much more to overcome. Bullying, leaving home, and work opportunities are just a few of the daily issues facing this community. WE HAPPY FEW celebrates a few success stories, while shining a light on the struggles that impede their success in society
Also consider this. In 1988 the number of babies born with chromosomal deficiencies like downs syndrome, fragile x and spina bifida was 1 in 10,000. In 2012 that number was 1 in 920,000 thanks to nuchal translucency scanning and fetal ultrasound.* What will that figure be in 2020? Is this community a diminishing population?
(Statistic from Kings and St Thomas Medical School, London 2012)
Interviews include - 
Robert Ulrich – casting director of GLEE and AMERICAN HORROR STORY
Lauren Potter – lead cast of GLEE and her mother Robyn Sinkhorn
Jamie Brewer – lead cast of AMERICAN HORROR STORY
Luke Zimmerman – lead cast of SECRET LIFE OF THE AMERICAN TEENAGER
Petite Constantine – founder and director of LA Goal and consultant to Sean Penn for his Oscar nominated performance in I AM SAM.
Ron Baker - special needs therapist LA Goal
Ray Bradford – equal opportunities lawyer at SAGG and founder of I AM PWD.
Gail Williamson – president of DSIAM (Down Sydnrome in Arts and Media)
Dr Simone Barry – physician
As well as some amazing Shakespeare students and their families. 
                             JOIN US!!! Be one of the happy few!!! 
Our Goal
Currently the film has been made for zero budget. We have begged and borrowed filming equipment and labor. The money raised on indiegogo will go towards covering some of those production costs. It will also go towards our post-production, which we are excited to say BEGINS NOW!!! We have hours of incredible footage, which needs editing, color grading, graphic design, studio recording for voice over narration, and a musical composition (we have approached some talented muso's who we are hoping will say yes – stay tuned!).
Upon completion of post-production we will also use any additional money from indiegogo to cover entry fees for festivals in 2013 - and towards creating further drama workshops like the one featured! 
The Impact
"There is a lack of availability of images, and the more images that are put out there the more acceptance overall in our world." Gail Williamson. ___
Awareness creates acceptance. Our hope in telling this story is that it will dispel some of the fears that are out there – we hope it will get people talking – and maybe next time you come across a person with an intellectual disability you might let them into your life a little more – you will be glad you did.
Other Ways You Can Help
No cash? We know what that's like. No problem – you can still be one of the happy few. Spread the word – tweet, facebook, email our link around.
It is so so appreciated! 
LIKE US ON FACEBOOK - http://www.facebook.com/wehappyfewfilm
Who is involved?
Director
Matthew Walker
My name is Matt Walker - I am a Sydney and Los Angeles based actor and filmmaker. I studied acting at NIDA - Australia's premiere drama school.
My older brother Paul has a condition called Fragile X - an intellectual disability.
This film is a happy meeting of two things I am very passionate about – Shakespeare and my big Bro.
Producer
Rob Marsala
Rob Marsala is a Perth-born Los Angeles based manager and producer with over a decade of experience working in Hollywood.
He produced the acclaimed Australian feature 48 Shades based on the award winning novel 48 Shades of Brown by Nick Earls.
Rob is also on the Board of australians in film, a not-for-profit organization designed to promote Australians and the Australian Film Industry in the US (Ambassadors to the organization include most of the prominent A-list Australian talent including Nicole Kidman; Russell Crowe; Naomi Watts and Hugh Jackman). 
In addition to monthly screenings and events, Australians In Film hosts its annual prestigious 'Breakthrough Awards' and 'Heath ledger Scholarship'.

Camera 
Gavin Lyng, Matt Walker, Russel Kilby, Catherine Terracini
Development Producer
Amy Scully
Workshop Producer
Katy Alexander