'WATERPARK' Score And Sound Design is a sponsored project of access4artists, a global talent discovery platform that works for all artists.
// *UPDATE* // New Goal $5000.00 CAN 
At the time I created this Indiegogo, I had absolutely NO idea of the level of support I was about to recieve. I thought "hey, maybe I'll make a couple hundred bucks". To my absolutely amazement, I've recieved a lot of love, kind words and donations over the last few weeks. The support is absolutely incredible, and what it tells me is that YOU the viewer really want to see the film finished! What an honor.
Now — As many of you probably know, Indiegogo takes a small percentage of the money I raise to cover paypal fees and so on. Because of this, I'm hoping that I can raise enough to cover the fees and add a little extra on top to squash my original goal of $3500.00... Doing so allows me more time and freedom with a sound designer to perfect the film, something desperately important to me. To those that have already funded, THANKYOU! You're literally making my dreams come true. To those that are seeing this for the first time or haven't funded yet, please consider helping my project :)
Who are you?
Hi! I am a filmmaker currently based between Montreal, Quebec, and Edmonton, Alberta. As of now I spend my time as a cinematographer on local music videos (please check out my recent Grimes video here http://www.youtube.com/watch?v=JtH68PJIQLE) and as an assistant editor at Isuma Productions (responsible for Atanarjuat The Fast Runner http://www.youtube.com/watch?v=u30kkn3FUHo).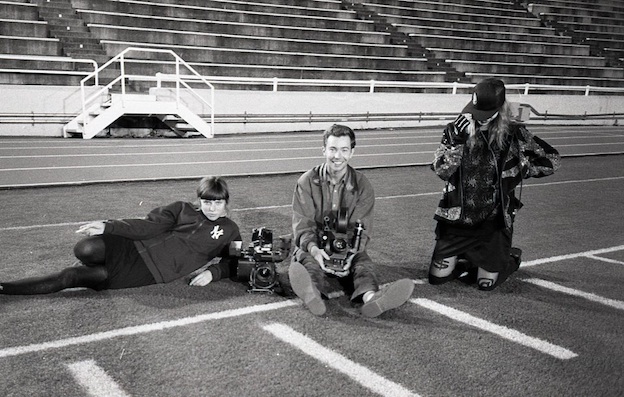 What Is WATERPARK?
WATERPARK is my dream project; beginning when I worked at the mall as a teenager and would spend my breaks in awe of the park and it's effect on people. It is a film I have been working on for over two and a half years, shooting when I had the money to do so. It represents my first foray into semi-narrative/documentary filmmaking and a break from music videos. It is an audio/visual exploration of West Edmonton Mall, roughly 20 minutes long, scored by the talented Alex Zhang Hungtai of Dirty Beaches (http://dirtybeaches.bandcamp.com/).
TRAILER: (http://vimeo.com/19381568) ALSO AVAILABLE AT TOP OF PAGE :)
MY WEBSITES: (www.evanprosofsky.com) + (http://vimeo.com/user179492)
DIRTY BEACHES PRESS: (http://pitchfork.com/news/41738-rising-dirty-beaches/)

The Impact
As we all know, sound is a huge part of film. In WATERPARK, sound features heavily to influence the dramatic atmosphere of the environment and ultimately, the way the waterpark is perceived by the viewer. I want you to feel the humidity of the room, smell the chlorine, hear the screaming children, the intercom announcements, the palm trees blowing from the massive electric fans, and the waves rolling like the ocean. For me, portraying these small details as accurately and as beautifully as possible is the make or break of my film. Fortunately, the visuals I shot turned out exactly as I want them... I feel so close! I believe that completing this one last thing will really transform my project into something of value :)
What I Need & Why
Currently I have spent $8000.00 out of my pocket on WATERPARK. This isn't even counting the cash my incredible family has lent me to complete the film, as well as some grant funding I have received from the Albertan Government. Unfortunately at this point, my debt has accumulated so far that I simply can't afford to finish paying for the film myself. Until recently, those funds have been going towards buying film stock, processing it, and scanning it so I can edit the film digitally (very expensive). Now that the editing is complete, all funds accrued will go towards the final sound design, soundtrack, and mix to be done in Montreal, Quebec.
As of March 27th, 2012, I still need $3500.00 to pay for the completed sound design and original soundtrack. Your contribution helps me to pay a professional sound designer, someone infinitely more talented at producing soundscapes than I am, to create the vision I originally heard and intended. The rest of the capital will go towards paying Alex Zhang Huntai of Dirty Beaches an honorarium amount we have agreed upon previously. Until then, the soundtrack will remain unfinished. Alex is an incredibly talented artist and deserves to be paid for his hard work.
Completion Date?
My intention is that WATERPARK can secure a premiere in my hometown for the Edmonton International Film Festival in 2012 this coming fall. To do so, the film needs to be completed late spring/early summer. Without further funding, this would be impossible, and more likely than not, I will have to put the film on hold for an entire year while I work to pay off my debt. It would be to my great pleasure and honor to premiere my first film in my hometown this fall, please help me make that happen :)
Please help in any way you can! Obviously, sharing this page via twitter, facebook, etc. will help generate interest and would be greatly, greatly appreciated. If you've read this far, thanks so much for checking out my dream project, WATERPARK!
THANKYOU!
I feel lucky to have found a project, and more importantly, a medium, that I'm passionate about. Finishing this film to the quality both artistically and technically that I desire would be a dream come true... I would be putting a vision I had four years ago on screen exactly how I want it, how incredible would that be...! Finishing the sound design and score is essential to fulfilling that dream, so for those of you that donate, thankyou from the bottom of my heart.
Sincerely,
Evan Prosofsky
 *Note*
I've had a couple potential donators express concern before funding because they weren't sure whether I had permission to make this film or not. Just to confirm, I had complete access and permission to film in West Edmonton Mall Waterpark :) , thanks!