What we are trying to do:
Walk in love. clothing has been in business for five and a half years. We've slowly been building our business and brand to the place it is now.  Our holiday kiosk has been very successful the last three years and we're ready to take it to the next level! We've just been given the opportunity to open a store in the Park City Mall in Lancaster, PA.
What we need:
The store isn't in the best shape.  The last tenants left holes in the walls and ceiling tiles dirty and missing.  The space needs all new flooring and paint. We also need to purchase shelves, fixtures, mannequins and all the technology to run the store.  Basically, the store needs a serious overhaul! Because we are at such a young stage in our business, we need your help!
Why help?
Walk in love. clothing is in business because of the loyal support of our friends, family and fans.  We can't exist without you.  By helping us open a store you are giving us the ability to develop new products, meet more people and widen the impact we have on this world.  Our goal is to remind people of the love of Jesus - and there's no better way to do that than by being where people already are: the mall.
If you give, you get! Be sure to check out the list of perks in the sidebar!
We will use every single cent we raise toward fixing, furnishing and stocking the store. 
Other Ways You Can Help
1. Tell your friends you gave to our campaign.  By doing this you will inspire them to do the same!
2. Post this page to your facebook, twitter and blogs.
3. Wear your walk in love. shirts and apparel.
4. Click the feature it button on the bottom right sidebar.
"Be imitators of God, therefore, as dearly loved children and walk in love, just as Christ loved us and gave himself up for us as a fragrant offering and sacrifice to God."-Ephesians 5:1 and 2

Mission Statement:
Walk in love. clothing is simple. We are dedicated to selling well-designed, high quality clothing with a positive and inspiring message. That message is a reminder to imitate God by loving others every chance we get - no strings attached. We believe that Jesus came and showed us how to be that message. We want you to walk in love.
How It Started:
In July 2005, T.J. Mousetis started walk in love. clothing. At that time it was just called walk in love. and it was started with one goal. That goal was to raise money for a mission trip to Russia with T.J.'s dad to set up Christian sports camps. T.J. purchased 100 blue shirts and sold them to friends, family members, his church's youth group and a couple online.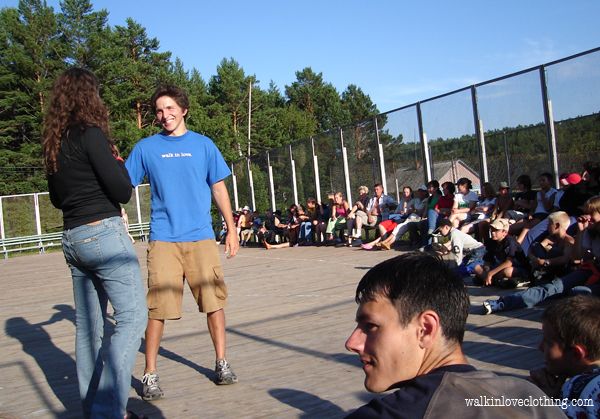 In July 2006 T.J. was able to go to Russia and has been back two other times. Above is a photo of T.J. giving his testimony about God's love and faithfulness to campers in Irkutsk, Russia. After returning from Russia T.J. had a passion to sell shirts so he upgraded the quality of shirt and screen printer. He also decided that he wanted some professional photos of the shirts so he asked a starting photographer at his church if she would be willing to do some photos. Her name was Brooke. Two years later they were married. Over the years walk in love. clothing has not changed the way it sees business, it's purpose and it's future. The desire of walk in love has always and will always be to remind people that God loves them and because of that love we can love others.