Thank you very much for contributing to my campaign.

As you can see I came nowhere close to my goal, so with great sadness I must face the fact I will not be able to manufacture my candles, nor open a small store.. Its literally impossible without investment funds.

Back to the drawing board! My future is a mystery now!

However, after the Indiegogo and Paypal fees and conversion charges have all come out of what was raised thanks to your kindness, I will use the funds remaining to purchase a few perfume oils so I can at least pop these beautiful and extremely expensive perfume oils into some handmade soaps and bath salts and make some rollon perfumes and Eau De parfum, all in teenie weenie quantities. Please visit www.virginiahey.com "Perfumery" to order.

Thank you again for your well wishes and contributions.

I will now be fulfilling the incentives, writing the 100 thank you letters and recording the answer machine message for Jaymes and making some product for Richard. Obviously I will not be able to give Richard a luxury Virginia Hey candle, they will be no more now, gone.. so I will substitute the candle with other products.

Thank you again, and much love

xxxxxxxxxxxxxxxxxxxxxxxxxxxxxxxxxxxxxxxxxxxxxxxxxxx
x

_______________________________________________________________________________

Hello, my name is Virginia Hey, I'm an Australian actress well known across the globe for my roles in Mad Max 2, James Bond Living Daylights, Prisoner Cellblock H and Farscape. www.imdb.me/virginiahey

I've been designing and hand making perfumed products and candles for eleven years now for friends, private customers, for my personal Appearances and Autograph signings..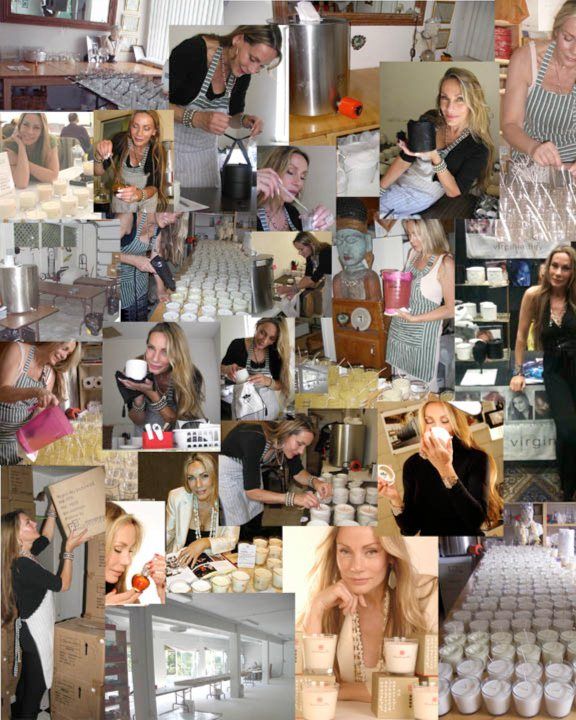 In the last 2 years I designed and developed and trialed the best of my designs to date.. the most exquisite objet d'art signature natural soy candle in extraordinarily beautiful luxurious embroidered satin and porcelain packaging. Eco-Couture candles with a Conscience!
 Virginia Hey Couture is a stunning example of art meets

commerce

and heart!
It's time now to leap forward with your help and jump into professional manufacturing, and in doing so, be able to offer the perfect gift that keeps on giving!
                              Virginia Hey Couture
        The Perfect Gift .. When only the best will do!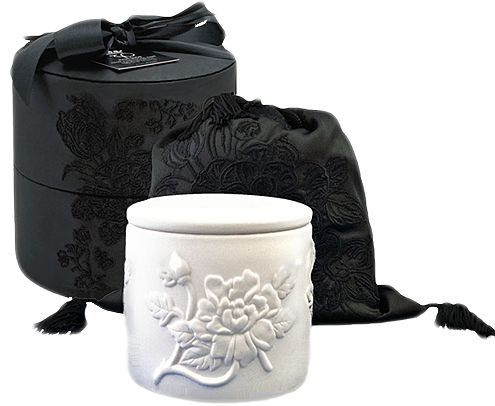 Via Indiegogo and with your marvelous help I can outsource manufacturing and have 5,000 candles made for me, and launch my first very own small Virginia Hey Couture store that I will man and operate myself.

             _______________________________________________
I'm sure you're wondering why I don't fund myself?
Unlike USA actors, Australian actors and actresses do not receive residuals, royalties or merchandizing percentages from their acting work within their own country.

Funds coming in every time one of my films or TV series appearances re-plays anywhere in the world go straight back to the producers, so, unlike US actors, there has never been any ongoing royalties rushing in to push large projects forward.
           _______________________________________________
Be a friend of my project and let's help this beautiful work of art leap forward!

My goal is a minimum of $220,000 (including Indiegogo/paypal fees). Brief financial breakdown at the base of this page.
My Virginia Hey Couture candles will not only create jobs, stimulate the economy, and help farmers, but will also help the environment and lives by being a candle that is eco-friendly, kind, charitable, natural and clean.
The only by-product is that my candles bring beauty and joy into lives and homes and hearts!
Those who have loved my handmade creations in the past will tell you that they make everyone smile, they are so gorgeous in every conceivable way.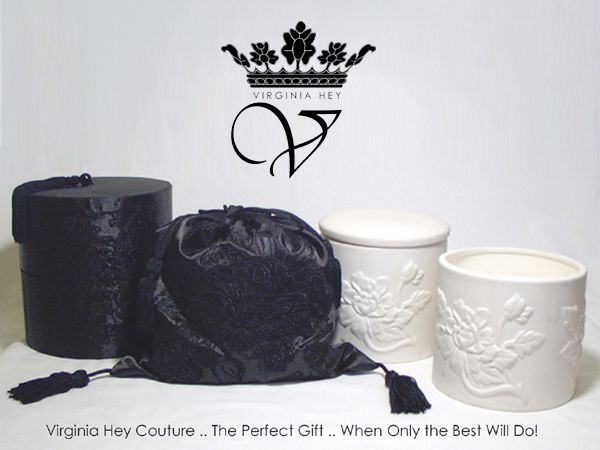 This Indiegogo campaign will enable the most luxurious objet d'art candle line that is based on all things good and beautiful and conscious to leap forward into its very own, very first signature store!
Most natural candles are sold in jelly jars, mason jars and plain glasses with no box, or a flimsy cheap flip top box. Their inner beauty remains, but their outer appearance almost never reflects the stunning nature of an all natural organic soy wax candle..
For some reason it seems that "natural" has a prerequisite toward dowdiness or lack of style and lack of attractive packaging.. "Natural" seems only for the bare no frills look of a dated simplicity.. until now..
Virginia Hey Couture natural Soy candles will not only show their inner beauty and qualities, like all other natural candles do.. but they will also break free of the stigma of plain basic packaging, and reveal an extraordinary outer beauty and elegance, that equal and match their inner beauty!
My candles delight and ignite all the senses.. They are gorgeous to look at.. sensational to touch.. Heavenly to smell.. simplicity to burn.. and kind to Mother Earth!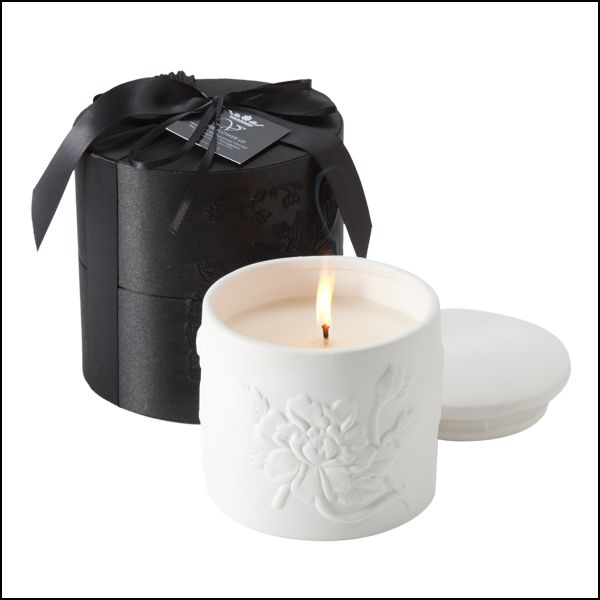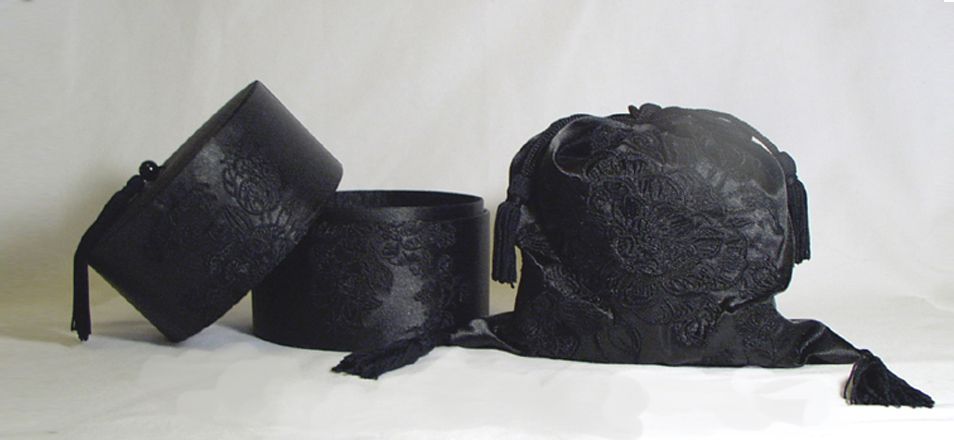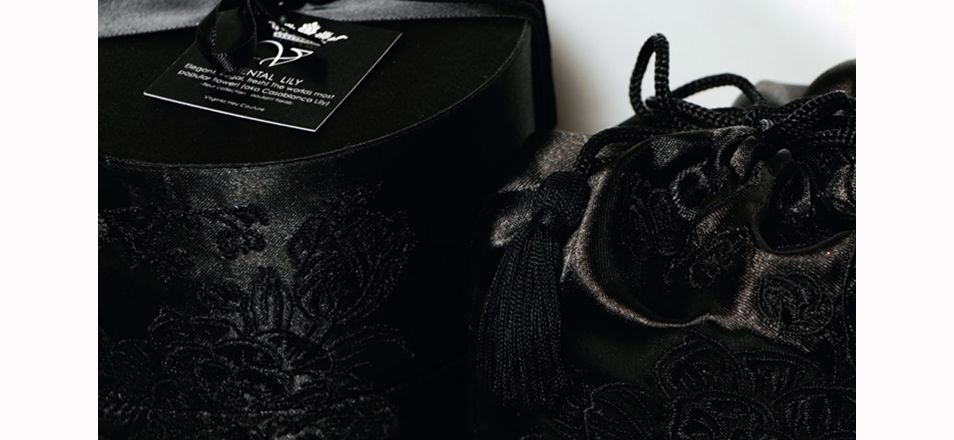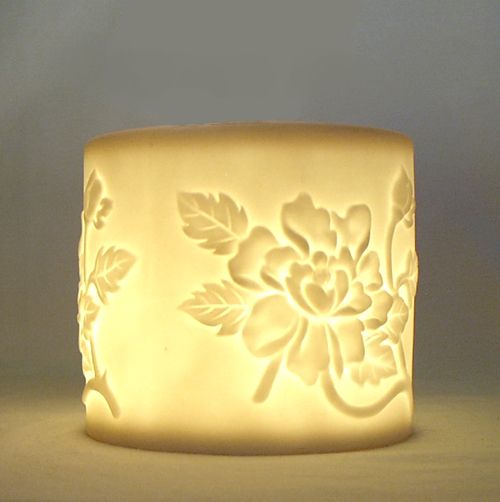 A luxury hand crafted Eco-Couture Soy

candle with a conscience..

Respect:
The utmost respect for life and the life of our planet is in the entire creation of my exquisite candles: 
No animal products or by-products are used, nor is any animal harmed or hurt or tested upon.

Ecologically kind and intelligent.

100% organic Kosher soy wax grown on USA farms that use sustainable farming methods.

No Paraffin by-products are used.

No carcinogenics.

Non toxic.

Lead Free Cotton wicks.

Each candle will be individually handmade in the USA or UK using the finest exquisite luxury ingredients.

USA and UK grown ingredients.

Jobs are created to assist and generate a more stable economy balance.

 We will only use factories that offer special shifts for mothers and single parents.

No middle man, candles will only be available at the Virginia Hey Couture store, via direct marketing, and via the www.VirginiaHey.com website.

Direct relationship with manufacturers and suppliers.




Virginia Hey Couture offers a unique sensual experience for the connoisseur of finest perfumed candles and fragrances! Exquisite luxury soy candles with all important natural and ecologically intelligent qualities we crave.
Virginia Hey Couture .. Aromatherapy for mind body soul
8oz net.

6 candle fragrances to begin.

64-72 hours burn time.

Each candle contains extravagant exclusive perfumes designed and blended by candle designer/perfumer Virginia Hey.
_______________________________________________________________
Video:
Good friends Tom Konkle & Thor Melsted shot this video for me to show you a detailed overview of the candles: 
Virginia Hey Couture candle video
________________________________________________________________
"It has been a longtime passion and fever of mine to launch luxury decor products that are respectful of life, body and soul, whilst providing sensual elegance and well-being to inner and outer environments. This makes perfect sense, after all, I come from the world of intelligent beauty." Virginia Hey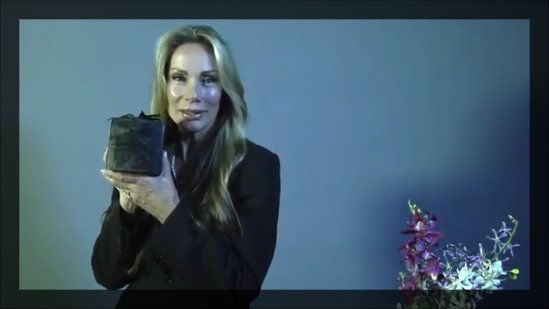 Virginia Hey Couture candles and perfumes are designed by Australian ex model, actress, fashion editor, natural therapist Virginia Hey. 
Virginia's designs have been compared to a marriage between Alchemy and Elegance!
One is born with the gift to alight all senses via the magic of creation.. Pure art!  Virginia's couture fragrance designs are crafted and infused with delicious blends of fresh, opulent blossoms, magical resins and jewels from Mother Earth!
Virginia Hey's signature line is a reflection of who she is.. Regal in stature, stately, quirky, creative, sensual, elegant, exotic and romantic with a love for all things Mother Earth!..  

Figures Brief Breakdow
Retail candle $58 USD Luxury packaging. 
No middle man, so I can keep prices as low as possible considering the very exclusive expensive packaging and fragrance oils.  (This candle would sell for double at any luxury department store).

The Virginia Hey Couture store will act as a showroom and retail space and as a marketing tool to attract press. Worldwide web sales and direct catalogue marketing will be a strong tool.
Indiegogo Goal $220,000.00
$220,000.00 is the absolute minimum possible, really I need double that.
$ 8,800,00 +   Indiegogo Fees 4% (19,800 9%  if I dont meet goal)
   8,800,00 +   Indiegogo 4% Merchant Transaction Fees
   6,600.00 +   Paypal 3% fees                                                                                
=$24,200.00
$220,000.00  
    24,200.00 -
=$195,800.00  

36,000.00+ store lease. 3000 x 12
20,000.00+ minimal store fittings and decor
12,000.00+ Publicist $1000 x 12
5,000.00+ PR giveaways (handouts to press, TV and celebs etc)                                           42,000.00+ Indiegogo Incentive candles 
=$115,000.00

$195,800.00   
  115,000.00 -
= $80,800.00 for manufacturing 5,000 candles, direct sale catalogues and building a website for the candles.
5,000 embroidered satin pouches, 5,000 embroidered satin boxes, 5,000 embossed porcelain candle containers, perfume oils, soy wax, cotton wicks, labels, shipping cartons and packaging. 5,000 candles hand poured and assembled.
I will manufacture 2500 candles now and 2500 at restock time.

(6 candle fragrances = 406 candles of each fragrance only for each manufacture run) (Not enough, but the minimum to begin with)

  Let's all band together to finally get these gorgeous candles into a Virginia Hey Couture store, publicized and selling!!
Virginia Hey Couture is a stunning example of commerce meets art and heart!

 There's a saying.. "Good things come to those who wait".. Shouldn't it be "Good things come to those who work DAMN HARD and NEVER GIVE UP!!  :)
Thank you so much for believing in me all these years!
Virginia
_____________________________________________________________________

What happenss if I dont meet the $220,000 goal!
If I dont meet my goal I wont be able to manufacture the candles or purchase their very expensive packaging, containers and oils. It all has to be bought in bulk. So the candles will have to go on hold.

If I dont meet my goal of course there will be no tiny store either, I will just retail from my website and complete the cart so I can do so.

If I dont meet my goal I will use any investment funds raised from Indiegogo to engage a publicist if there is sufficient, to promote my current handmade soaps and perfumes, and hopefully be able to purchase small amounts of generic packaging for those products so that I can generate sales and work my way slowly toward being able to get the candles manufactured.
www.virginiahey.com (cart coming)

______________________________________________________________________