NEW:  MEN'S FITNESS
VERT Fitness jump measurement device! NOW every JUMP gets MEASURED! 
1.  FITNESS JUMP ROPE:  How many jumps did you do in your jump rope routine?  Challenge yourself, challenge your friends!
2.  TRYOUTS / Combines:  NO NEED for slap stick machines anymore.  With VERT you simply attach VERT to your waist and get immediate vertical jump measurments without the hassle and time wasted with traditional vertical jump tests.
3.  VOLLEYBALL:  How many times did you jump during practice or a game?  VERT counts all that for you to make sure you stay in peak performance as well as prevent injuries.  (It also measure how high your Spike, Block or jump serve is so that you can perfect or game!)  See below for full coaching player management system
4.  BASKETBALL:  What's your VERT?  Now you know.  Compete, challenge, compare, and share your results with your friends (or competition).
5.  EXTREME SPORTS: in your own Backyard!  Attach to your BMX bike and see how high your bunny hop was without guessing.  It's like being in your own Xgames!
WHAT CAN YOU DO WITH YOUR VERT MEASURMENT?
VERT is a fitness jump device worn near the waist of an athlete that measures every leap and transmits the data to a smart phone or tablet.  You can see all jump measurements immediately on the VERT device and simultaneously on any smart phone or tablet with the downloadable VERT SKILZ app or VERT coach app.  What was traditionally available with special stationary equipment to determine jump measurement, can now be done anywhere, anytime in real-time.

VERT unit in hand.  Measurements: length 1.96" x width 0.31" x height 0.86"
Designed to be small and discreet, the VERT device is worn by an athlete and allows the user to know his or her vertical measurement right on the device via OLED, or wirelessly in real-time from the sideline via a smart phone or tablet.
VERT SKILZ app for smart phone.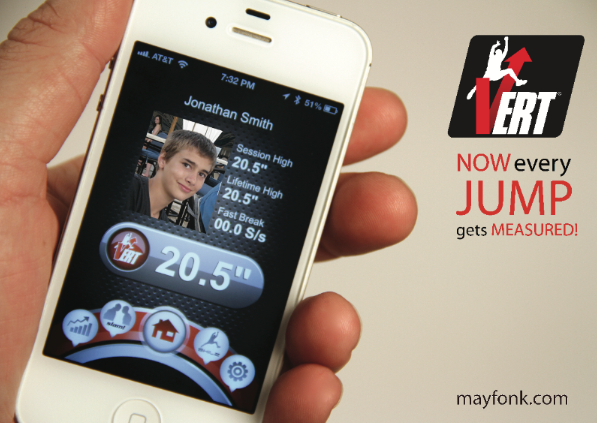 Why should athletes have all the fun?
Spectators can follow an athlete's performance as it happens on their smart device. Coaches can monitor the athlete's performance, fans can follow their favorite players and parents can better enjoy their kids' games…it's fun for everyone!
VERT COACH app for smart tablets.
VERT coach app player management system designed for smart tablets.  Multiple player data analysis including: Amount of jumps, average jumps, time in game, last vert and highest vert.  Volley VERT coach app also has player analysis tab including game graphics, season analysis tab, top 10 team rank tab, and coach note tab.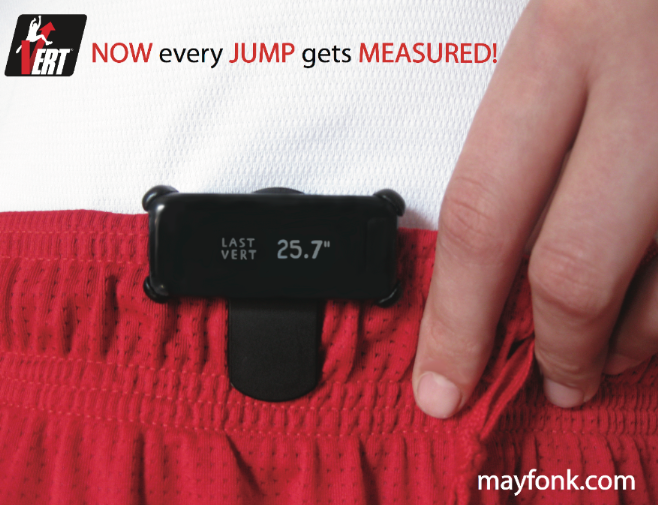 VERT SPORT MODE releases
We are planning on releasing free updates and different modes for all vertical jump sports. VERT 1.0 is for any activity that involves jumping like basketball, volleyball or health & fitness such as jump rope.  Additional modes on the app will be released such as skateboard, BMX and cycle sports, football, track & field, etc.  If you want to know how high or how often you jumped – the VERT device will tell you in an instant.  Skateboarders will know their VERT on a ramp and freestyle BMX athletes will know their VERT on a bunny hop.  Whether the athlete's objective is better fitness or performance, VERT's feedback will have a more accurate measurement that was not previously available.
VERT unit will be available with different attachments including clip, active waist band and we are working on partnerships with apparal brands to have special pocket in active wear.
VERT TECHNICAL DATA
VERT is a wearable miniature inertial measurement unit (IMU), with a very high precision 3X gyroscope and high precision high rate 3X accelerometer.  VERT unit calculates motion in all direction using a built-in ARM Cortex M3.  The VERT unit has a proprietary algorithm that has over 53 simultaneous calculations to measure vertical height to within 96% accuracy.  VERT is smaller than a matchbox and can be worn or mounted virtually anywhere.  VERT has a built-in OLED display for instant display. VERT also has built-in Bluetooth 4.0, which communicates with proprietary VERT SKILZ app in iOS and Android device. VERT SKILZ app syncs with VERT and displays results in real-time.
Requirements:
iOS devices with Bluetooth 4.0 (iPhone 4s, iPhone 5, new iPad, New Touch, mini iPad) 
Android devices supporting Bluetooth Low Energy, running Android 4.0 and newer.
PRESS
MEN'S FITNESS:  http://www.mensfitness.com/gear/workout-gear/the-coolest-health-and-fitness-gadgets-at-ces-2013?page=8
CNET:  http://ces.cnet.com/8301-34441_1-57562607/how-high-can-you-jump-measure-with-vert/
COOLTHINGS.COM  http://www.coolthings.com/health-and-fitness-gadgets/
PTC.COM  http://blogs.ptc.com/2013/01/09/best-8-off-beat-gadgets-from-ces-2013/
COMMENTS?  QUESTIONS? would like to discuss business partnerships with Mayfonk Athletic?  Please contact us at info@mayfonk.com