Un-American Chronicles
"Dreams don't die, we kill them"… or sometimes, we simply let them fade away into oblivion. Either way, it's our duty to change that. We can stand idly by and forget about our dreams or we can do everything we can to make them come true.
For as long as I can remember, I was one of those 'dream killers', if such a term exists. I was reading comic books when I was 4 years old. And I became a serious collector when I was around 11. For over a decade all I did was buy more and more comics. And I would get them by the bundles. But I was never satisfied. Until one day I realized I had to do something else. I needed to create my own stories. That has always been my passion, my dream.
And in 2010 I published my first 2 page story in the first volume of The Gathering, GrayHaven's indy anthology. And in 2011, 2012 and 2013 I wrote and illustrated many other stories for The Gathering. I've been fortunate enough to do pretty much everything: scripts, pencils, inks, even the lettering. And that has taught me two things: 1) how to recognize good art when I see it and 2) a collaborative effort is always something special… watching your artist give life to your script is always a magical moment.
With the collaboration of artist extraordinaire Juan Alarcón, I've written some of my best stories to date and I have decided this is the right time to put them on the spotlight. This is a very impressive 24 full-color page comic and you are going to love it.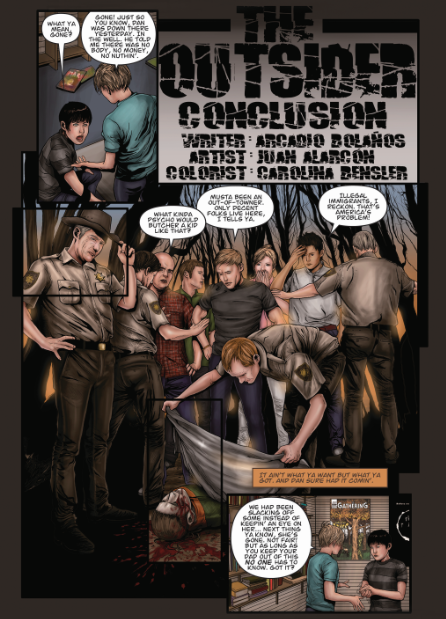 Half of the money raised in Indiegogo will go to the creative team (writer & artist), and the other half will help offset printing costs.
I want everyone to be a part of this, so no matter how small or big your budget is, you will find a reward especially made for you. And remember, even if you don't have a couple of bucks to spare, help me pass the link around. Thank you everybody. Bye.
UN-AMERICAN CHRONICLES includes:
• The Outsider (originally published in B&W in The Gathering # 14)
• The Outsider Conclusion (originally published in Tales From the Abyss # 1)
• Who Said It Was Easy? (originally published in B&W in The Gathering # 16)
• Park (originally published in B&W in GrayHaven's Erotica One Shot)
• It's Always the Statue of Liberty (to be published in The Gathering # 23)
By the way, keep in mind that UN-AMERICAN CHRONICLES is "Suggested for Mature Readers", there is nothing here that you wouldn't see on an issue of Garth Ennis "The Boys", but still this is definitely NOT an All Ages book.