"The past never dies." Zita Valanguerra Spinelli, Marchesa of Scalea (1794-1882)
HISTORY is full of ghosts, particularly in Sicily where the truth is often buried alive. This book campaign, organized by Guernica Editions and sponsored by the Italian Cultural Foundation at Casa Belvedere, exhumes a forgotten heritage and challenges official narratives about the past.
Before reading further, however, watch:
This video will introduce you to our author and his characters, while the sections below will background our campaign and detail fundraising.
The photograph on the right, Marco Lanza's La Cripta dei Cappuccini, is available as a poster. For other donation gifts, browse our gallery catalog.
Background
Guernica Editions, an independent press based in Toronto, Ontario, wishes to publish Trinàcria: A Tale of Bourbon Sicily. Like Giuseppe Tomasi di Lampedusa's The Leopard, Federico De Roberto's The Viceroys, and Susan Sontag's The Volcano Lover, this historical novel deals with the Kingdom of the Two Sicilies in the decades leading up to the Italian Revolution.
Dedicated to promoting new works of global literature and shattering old stereotypes, Guernica considers Trinàcria "a timely book." Last year's Sesquicentennial of the Risorgimento stirred controversy in Italy and abroad. Did unification benefit or ruin the Mezzogiorno, the ancestral region of most Italian immigrants?
Publishing Trinàcria, Guernica believes, "could contribute significantly" to the ongoing reassessment of the Italian Revolution on both sides of the Atlantic. By implication, however, the book also examines the limitations of modern commercial democracies and warns about the dangers of nation-building in the developing world.
Fundraising
Because Guernica's government funding does not extend to non-Canadian authors, the Italian Cultural Foundation at Casa Belvedere is sponsoring this fundraiser. Such patronage reflects Casa Belvedere's ongoing mission "to preserve and promote an appreciation of Italian language, arts, literature, history, fashion, cuisine, and commerce."   
This campaign intends to raise a minimum of $5,000 between now and December 13. This sum will cover the book's editing, design, production, and distribution. Donations made after we meet this goal will pay for campaign costs, such as printing, postage, promotional expenses, and online site fees. Either way, your money will be put to good use.
Contributors can rely on the sterling reputation of our fundraising consultant Roberto Ragone. With help from Debra Santagelo, president of Sicilian Connections, he brought together Casa Belvedere and Guernica Editions on this international literary project.
Roberto's motto is: "Transforming Vision to Value." As former executive director of the New York's Lower East Side Business Improvement District, Roberto served as marketing director for the Ciao America Film Project and president and publicist for FIERI International, an organization of college students and young professionals interested in celebrating and promoting Italian culture. To learn more about Roberto and his background, review his LinkedIn profile at:
Synopsis of Novel
Set in 18th- and 19th-century Palermo, Naples, and London, Trinàcria: A Tale of Bourbon Sicily revolves around the Marchesa of Scalea, Zita Valanguerra Spinelli, notorious beauty, ferocious wit, secret murderer, and reluctant businesswoman, whose turbulent life mirrors her world's rocky transition from feudalism to capitalism.
Shortly after the centennial of Garibaldi's conquest, a Hollywood film crew invades Palermo to shoot an epic about the Italian Revolution. Researching the past, the director visits the Capuchin Monastery, whose catacombs contain over eight thousand mummies. Preserved among these is Marchesa Spinelli, dead for eighty years but still haunted by memories. Posthumously, she recalls her complicated relationships with Don Alfonso, her scientist father; Benjamin Ingham, a British wine merchant and an honorary Sicilian baron, whom the Marchesa failed to marry; Regina, her patriotic and rebellious granddaughter, who idolizes Verdi and Garibaldi; and Giacomo Leopardi, the doomed Romantic poet.
Drawing on history and family legend, Trinàcria presents a tale of progress and reaction, irony and paradox, in which the splendors of Caserta must yield to the wonders of the Crystal Palace. Both intimate and sweeping, this work questions the price of pride and the cost of prosperity and contrasts illusions of grandeur and happiness with the pitiless truth that kills all hope and desire. As readers will learn, this is the fatal spell of Sicily—an island of loss and change—where death alone is eternal.
A Taste of Trinàcria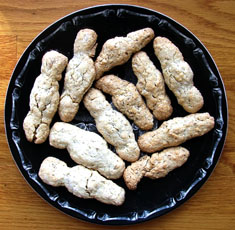 Sicilian pastry expresses the island's Baroque imagination. For generations, master bakers have molded fruit out of marzipan and knights out of sugar. This tradition continues at Villabate-Alba Pasticceria and Bakery in Bensonhurst, Brooklyn.
The Alaimo family, whose ancestral town of Villabate is the novel's main setting, still make traditional cannoli and cassata. During November, the Month of the Dead, however, they also bake ossi di morti, almond cookies resembling human bones.
In the same spirit, Guernica Editions serves you "Eternal Death." Orginally published in Feile-Festa; The Literary Arts Journal of the Mediterranean Celtic Cultural Association, this excerpt from Trinàcria introduces the ghost of the Marchesa of Scalea. "The Latest Invasion," the book's prologue, is posted in our gallery. A $25 donation buys a PDF of the entire novel.
Advanced Praise

Read what critics have to say about Trinàcria:
"History," T. S. Eliot observed, "has many cunning passages, contrived corridors." Anthony Di Renzo's novella Trinàcria: A Tale of Bourbon Sicily demonstrates how cunningly we all contrive to find in history only the lessons we want to. The book's narrator, to our initial surprise, is the mummified corpse of Zita Valanguerra Spinelli, Marchesa of Scalea (1794-1882), who had adopted the nom de plume of Trinàcria, an ancient name for Sicily. But soon the voice of this long-dead wit and salonnière—arrogant, erudite, and vengeful—grows as familiar to us as the thousand little lies we tell ourselves each day.

Donna Zita represents Di Renzo's spirited rejoinder to Giuseppe Tomasi di Lampedusa's classic novel Il Gattopardo (The Leopard), a nostalgic portrayal of old aristocratic Sicily and its privileged world, swept away by Garibaldi's conquest. Less objective than Lampedusa's Prince Fabrizio Corbera, Marchesa Spinelli blames the commercial and materialistic forces unleashed by Sicily's unification with the new kingdom of Italy for ushering in a vapid culture in which the presiding deity is money. But more "things" will never make people better: "We aristocrats have plenty of things," Donna Zita remarks, "and we are proud and vicious."
Di Renzo's writing is vivid and brimful of sardonic humor. He specializes in crisp evocations of outdoor scenes, such as the bustling streets of Naples or the unforgettably cruel festival of the Cuccagna; but the main attraction is the marchesa herself, a force of nature as powerful and inexorable as the Sicilian sun in July.
~Peter D'Epiro and Mary Desmond Pinkowish, authors of Sprezzatura: 50 Ways Italian Genius Shaped the World
"The past never dies," says Zita Valanguerra Spinelli, Marchesa of Scalea, the narrator and protagonist of Trinàcria: A Tale of Bourbon Sicily. Neither does the eternal appeal of Sicily. The Italian American writer Anthony Di Renzo has breathed new life into the glorious tradition of the Sicilian historical novel.
This fascinating book dialogues with literature, cinema, and the figurative arts. Di Renzo not only evokes the history of the Bourbons and the Risorgimento but also captures Sicily's aura as a "paper island," an imaginative world created by Italy's most important modern writers. His novel will remind readers of De Roberto's The Viceroys and Tomasi di Lampedusa's The Leopard, two different and perhaps even opposite works. The first seems to have inspired Di Renzo's love for the surreal and grotesque, the second his lyricism and elegiac melancholy.
Donna Zita is a fascinating character. She is romantic and enlightened, rebellious and ambitious, beautiful and mysterious. Her nickname Trinacrìa, one of Sicily's most ancient names, shows her complete identification with this paradoxical island: wild but cultured, timeless but ephemeral, sparkling but bleak. For Zita, as for Sicily, the present is transient, while the past is eternal. Sicily here is simultaneously myth and reality. While the novel's historical data is accurate and authentic, this book appeals to the eye more than the mind. From the opening scene in which a Hollywood crew prepares to shoot an epic about Garibaldi's Thousand in Palermo, the reader is carried away by a montage of beautiful images. Through sheer witchcraft, Anthony Di Renzo recreates the timeless spell of the Medusa.
~Margherita Ganeri, author of The Italian Historical Novel

Anthony Di Renzo's Trinàcria peels away layers of 19th-century Sicilian history in a way that academic and popular studies of this period cannot. The novel provides an intimate perspective on sweeping public events. Di Renzo tells the story of Zita Valanguerra Spinelli, Marchesa of Scalea, who is a composite of two historical figures:  Antonia Vassallo, Princess of Bellaprima, and Alessandra Spadafora, Duchess of Santa Rosalia. During her long life, Donna Zita meets kings and queens, great composers, poets, and foreign entrepreneurs seeking to make their fortunes off her island's bounty.  Di Renzo's sardonic depiction of the Marchesa's deeply felt cynicism often kicks the modern reader in the gut: the brutality of husbands toward wives; the cruelty of fathers toward children; the impact of a woman's revenge and of her unyielding, unforgiving pride; above all, the lost promise of Italy's Unification to Sicilians This finely crafted novel glitters with polished metaphors and sparking epigrams. It is a marvelous work in the tradition of Dacia Maraini's The Silent Duchess.
~John Keahey, author of Seeking Sicily
A triumph of wit and eloquence, Anthony Di Renzo's Trinàcria: A Tale of Bourbon Sicily displays a thorough knowledge of Italian culture, weaving fascinating historical material with astute commentaries about Italian life, ancient and modern. Di Renzo creates unforgettable scenes sometimes operatic in their intensity.  His confident, beguiling style will remind readers of Giuseppe Tomasi di Lampedusa's in The Leopard and of Salman Rushdie's at his very best.  Like these authors, Di Renzo adroitly dips in and out of magical realism, but never lets technique interfere with fast plotting and vivid characterization.  The novel's brilliant, bedraggled narrator, the Marchesa of Scalea (nicknamed Trinàcria, after the three-legged symbol of Sicily), is always lively, even when speaking from her tomb, full of wisdom, caustic humor and eccentric charm.  Her tragicomic story makes Trinàcria an enormously satisfying historical novel.
~Edward Hower, author of The New Life Hotel and Storms of May
What a great read this novel is, better than a trip to Sicily!  Full of shock and delight, Trinàcria forms a fascinating epic about Bourbon Palermo on the eve of disaster.  In the book's title character, the Marchesa of Scalea, Anthony Di Renzo creates a woman who demonstrates the folly and passion of living life defiantly on the brink.  Few writers are better at showing the intimate, sometimes comic connections between the past and the present, between the old world and the new. If you love drama and discovery, you will enjoy Trinàcria: A Tale of Bourbon Sicily.
~Jeanne Mackin, author of The Sweet By and By and Dreams of Empire
Trinàcria: A Tale of Bourbon Sicily is a completely original look at a long-maligned and misunderstood island—a part of and yet always apart from the modern political construct of Italy. In a work rich with history, Anthony Di Renzo takes the reader into Sicily's pre-unification past by having the mummified dead of Palermo's Capuchin catacombs confront a film crew from Italy's dolce vita era. This fascinating metaphysical and psychological landscape is replete with Redshirts, petty nobility, studio hacks, and two centuries of bitter Sicilian wisdom. "We all have skeletons in the closet," says the Marchesa of Scalea, the novel's narrator and protagonist. "If they must rattle, they may as well dance." And dance they do in a macabre but spirited tarantella.
~Paul Paolicelli, author of Dances with Luigi and Under the Southern Sun
Most historical fiction paints the past in flattering oils. Trinàcria: A Tale of Bourbon Sicily is etched in acid. Goya could have created this novel's caustic characters, particularly its protagonist and narrator, Zita Valanguerra Spinelli, the baleful Marchesa of Scalea, whose crest is modeled after the three-legged gorgon of Sicily. Donna Zita recounts her life from a crypt in Palermo's Capuchin Catacombs. Outrage over lost privilege has given her a posthumous case of acid reflux. But as the Marchesa relives past violations—her land scorched to dust by the pitiless Sicilian sun; her carriage hacked to pieces by Garibaldi's Red Shits; her crest and nom de plume Trinàcria, the ancient name of Sicily, turned into a label for cheap, mass-produced vinegar—readers learn to sympathize with this spiteful banshee.
Anthony Di Renzo's masterful, richly textured and layered narrative never hesitates to challenge its own discourse of storytelling, to question the ways craft transforms history into fiction.  But it also poses an ethical challenge. Like the Marchesa, the author confronts our complacency and demands that we examine our own vanities, political hubris, and fragility. Will we take responsibility for our individual and collective histories or float into oblivion, thinking life was all a trick? This spellbinding narrative leaves us with no answers, only the lingering scent of broom.
~Shona Ramaya, author of Flute, Beloved Mother, Queen of Night, and Operation Monsoon
Features and Articles

Features and articles about Trinàcria have appeared in the following periodicals:
America Oggi:"Letteratura: La Trinàcria del Professore Di Renzo" (August 26, 2012)
Best of Sicily Blog:"Anthony Di Renzo's Trinàcria Casts a Sober Glance Toward Italian Unification" (September 3, 2012)
i-Italy: "Trinàcria by Anthony Di Renzo" (September 25, 2012)
Italiansrus.com: A Guide to Italy and Italian Culture: "A Novel Approach to Two Sicilies" (November 26, 2012)
Italian Voice:"Casa Belvedere Sponsors Historical Novel about Sicily" (August 23, 2012) 
Life in a New World:
Magna Grece Magazine:
New Jersey Newsroom:"Historical Novel about Sicily Breaks Stereotypes" (August 18, 2012)
Sicilian Connections:

Times of Sicily:
Trinacria News:"Casa Belvedere Sponsorizza i Romanzi Storici sulla Sicilia" (September 28, 2012) 
About the Author
A fugitive from advertising, Anthony Di Renzo teaches writing and Italian American history at Ithaca College and has appeared in Alimentum, Il Caffé, Cottonwood Magazine, Essays & Fictions, Feile-Festa, The Normal School, River Styx, Syracuse Scholar, and Voices in Italian Americana. His most recent book Bitter Greens: Essays on Food, Politics, and Ethnicity from the Imperial Kitchen (State University of New York Press, 2010) was praised by Gastonomica: The Journal of Food and Culture.
On a more personal note, Di Renzo on his mother's side descends from Spanish nobility, who settled in Bagheria, Sicily in the early 18th century. He now lives near the West End, Ithaca, New York's former Italian neighborhood, "an Old World man in a New Age town." Trinàcria will be his first published novel.
For more information about the author and his work, visit:
Donations, Gifts, and Orders
"Charity," said the 18th-century Neapolitan economist Ferdinando Galiani, "ennobles the giver and obligates the recipient. The former is noble while the latter is common."
By contributing to this campaign, you will earn a place in our Golden Book of Donors. Based on the aristocratic ranks of the Kingdom of the Two Sicilies, these donor levels entitle you to various gifts. These items are displayed in our gallery catalog.
After pledging money at or near a specific donor level, select your item(s) from the catalog and contact me at the above website. Specify your item(s) and provide a mailing address so I can place your order with the Ithaca College Print Shop. Please allow three to four weeks for process and delivery.
Outstanding Contributors
The following individuals, organizations, or businesses have donated $250 or more in funds or in-kind gifts:
Our Sponsor
This book campaign is made possible by the Italian Cultural Foundation at Casa Belevedere. A stately Italianate villa with a breathtaking view of the Verrazano Bridge, Casa Belvedere hosts Italian language, culinary, art, and music classes, as well as galas, fashion shows, wine tastings, exhibits, and symposiums focused on Italian themes.
These events open a window to the past.
Last year, the foundation capped its commemoration of the Sesquicentennial of the Risorgimento with a public debate on Italian Unification. Moderated by Cavaliere Vincenzo Marra, this lively exchange between Pino Aprile, author of Terroni (Piemme 2010), and Lorenzo del Boca, author of Polentoni (Piemme 2011) touched upon the often painful historical and political issues discussed in Trinàcria. Click the link below to see this debate:
Guernica Editions is grateful for Casa Belvedere's support and hopes this novel will contribute to its mission. Mille grazie to founder and president Gina Biancardi and executive director Louis Calvelli!