About this Project
The Transformable Work to Carry-on Tote is the first bag in a line of bags for professional women-on-the-go, entitled MINIM, to be released by CGC of NYC Accessories, LLC. This production order of 50 to 100 bags will be crucial inventory for the company's first trade show.  This small order will help facilitate PR opportunities and fill immediate small wholesale orders at the trade show.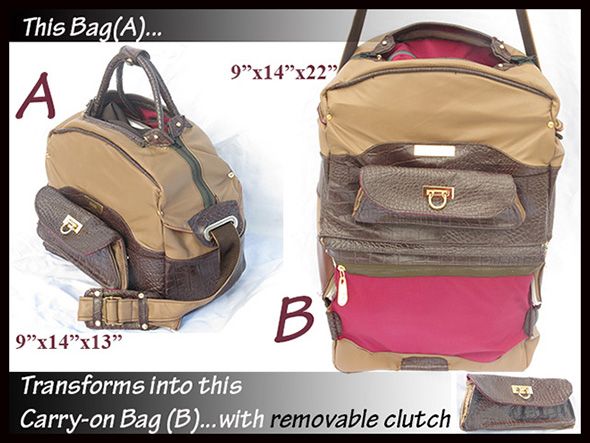 How The Product Came To Be:
Hi, my name is Cheron Cowan and I am the product designer of the Transformable Tote and the owner/CEO of CGC of NYC Accessories, LLC. 
The product came about from my travels as a working woman living in New York City and consistently having to commute out of state. One day while en route in an airport, I was stopped at the airline desk, yet again, and was asked to combine bags or pay a fee. This planted a seed that was further nurtured by the desire to have a bag that would adapt with my needs as a woman living in a small New York City apartment and lacking the appropriate storage space for myriad bags.
After completing four to five iterations of the bag over an eleven month period, testing each iteration for four or five weeks at a time, and vetting ten to fifteen different local manufacturers, I made this final prototype you see here on Indiegogo. (My sewing skills have been honed 10 times over as a result of making the prototype time and again.)
Initially, the goal was to manufacturer the bags here in the US. However, the last two local manufacturers that made a prototype encouraged me to seek a factory abroad as the price point per bag would be more economical.  I am now seeking a final sample from a factory I have well vetted and a small production order of 50 to 100 bags initially  for the Travel Goods Trade Show at the end of February in Las Vegas.
Features Of The Bag:
Overall Features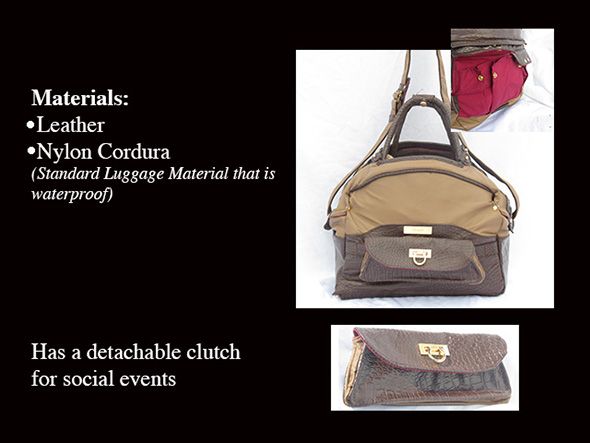 Work Tote Benefits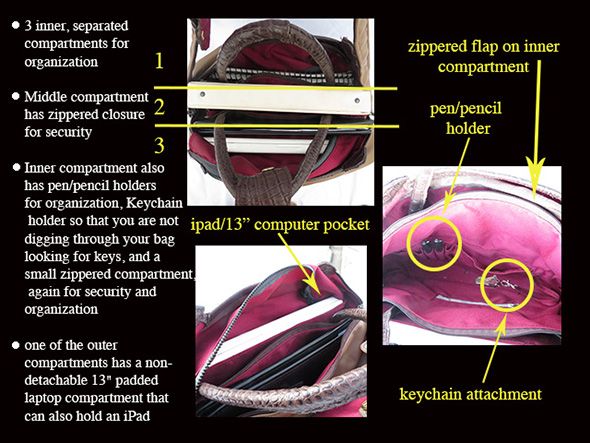 Carry-On Benefits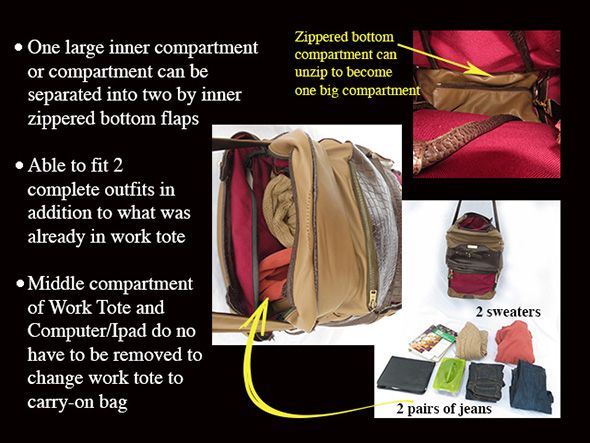 How To Transform The Bag:
First, it is important to note that the bag can be transformed while holding the cross-body strap and while in transit. So, the bag never has to be sat down in order for transformation. Also, the middle compartment, that has the pen and pencil holder and keychain, and the contents of the computer/tablet pocket do not have to be removed in order to transform the bag.
The steps for transformation are listed below.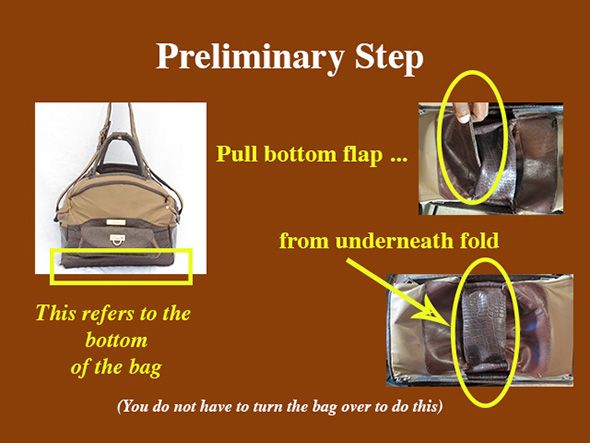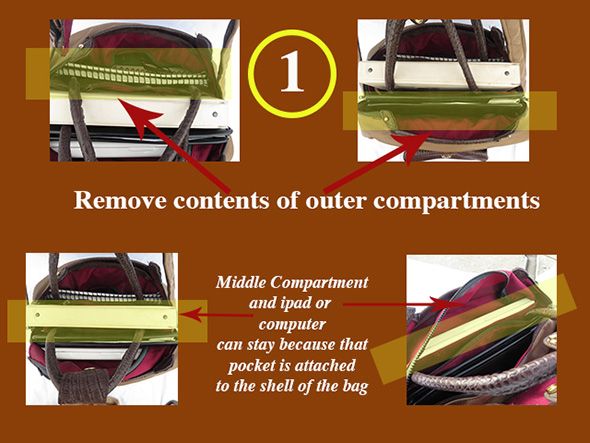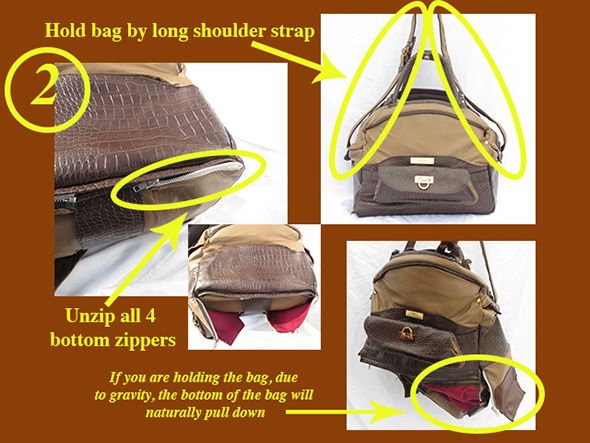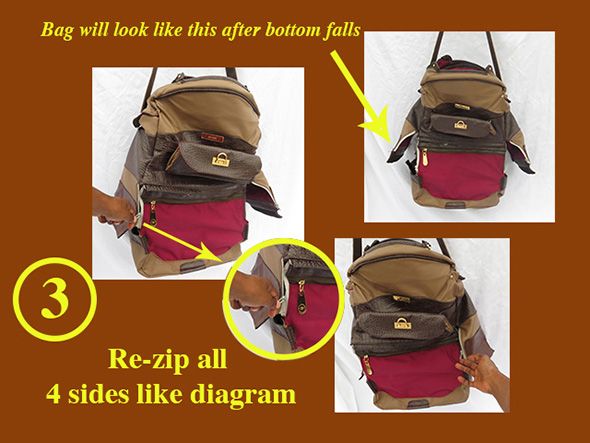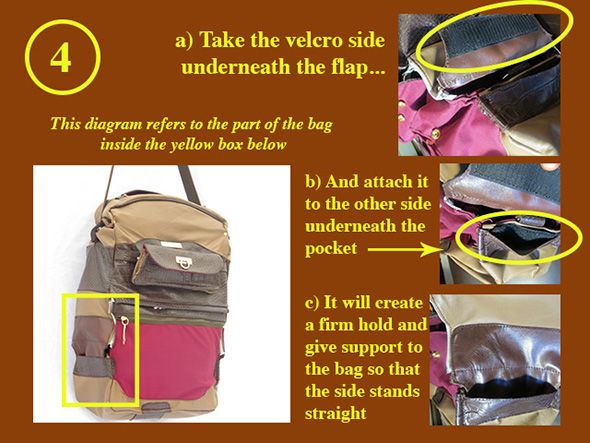 The end result will look like this: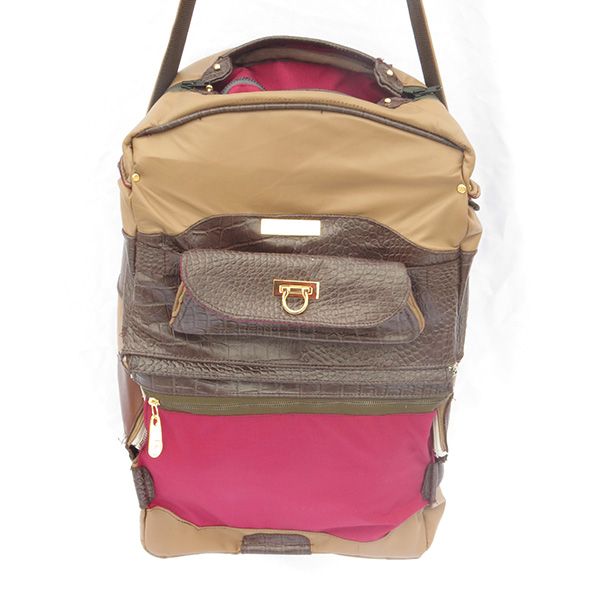 How to transform the carry-on tote back to a work tote: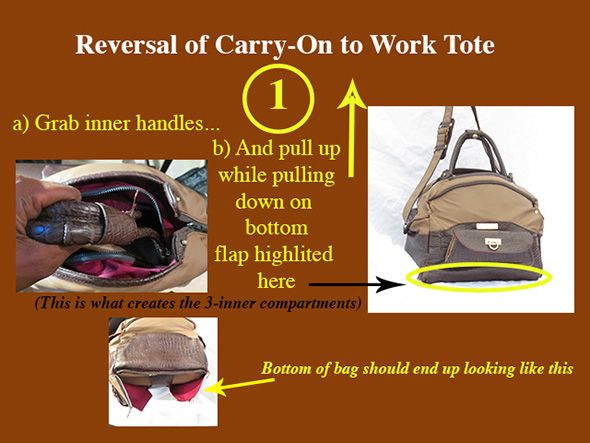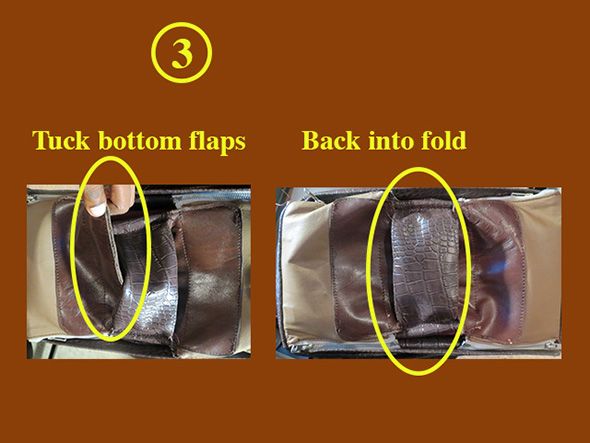 How Will the Money Be Used:
about %7 off the top goes towards credit card fees and indiegogo= $700
$900 will go towards fulfilling the rewards-(excluding  'work to carry-on tote')
%5 contingency fee= $500 (Just in case)
$250 for a sample
$400 for shipping of sample to and from manufacturer (Yes, priority mail, in order to avoid serious delays in customs, though costly, is most advantageous and prompt)
$2100 for materials and moulds for first production run
$4350 manufacturing costs for 'work to carry-on tote'
$800 Shipping costs of first order (not shipped priority mail)
REWARDS
(PLEASE NOTE: Flower and Collapsable bags are already in inventory.  The Transformable Bag and Reversible Tote will be part of the first order after the trade show.  So, those 2 bags will be received in June.)
$1= Thank you!
$5= Post Card + Thank you!
$15= Your name listed in the "how-to" brochure that comes with each bag+Thank you!
$30= 2013 Calendar+ Thank you!
$75= Foldable Bag+ 2013 Calendar +Thank you!
$150= Flower bag (one of first bag designs I ever created-the creativity of it led to exploring transformable bags.  This bag is a limited edition bag and temporarily has been cut from the MINIM line)- go to www.minimnyc.com/flowerbag to see more.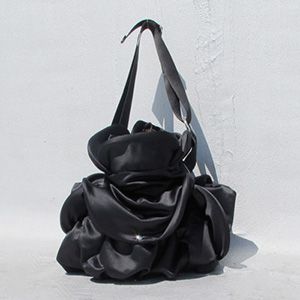 $225-Reversible and Separating Tote (in Black Croc-Embossed leather, Black Leather, and Nylon Cordura)- Go to www.minimnyc.com/reversible to see more.  This is one of the bags in the MINIM line for the trade show.
$275- Transformable Work to Carry-on Tote in Brown&Taupe or Black&Stone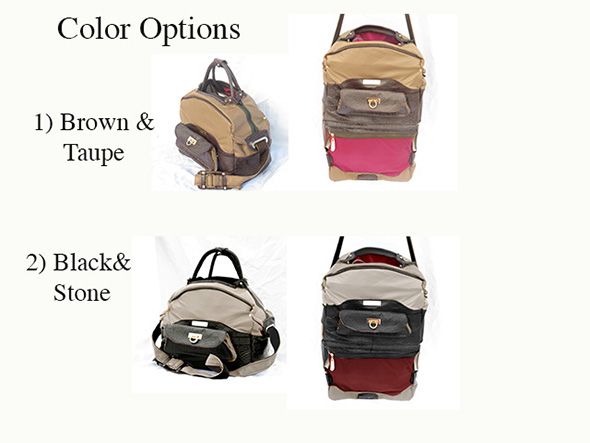 $5000= Well, you get a bag named after you and one each of the bag combo (Brown&Taupe and Black&Stone)
Why this trade show and why have a production order ready?
The Travel Goods Trade show is one of the largest travel and luggage shows.  Originally, this bag was to launch at one of the big fashion trade shows, but as it is geared towards light travel (2 or 3 day trips) and everyday use, it made more sense to spotlight and launch the product there.  (it is also one of the more economical trade shows to participate in.)  Evenmore, while most wholesale orders will be placed in advance, having a small supply will help to have the bag located in various places through out the trade show (for PR purposes) and have a small quantity should someone want to purchase a small inventory for their shop or boutique immediately. As the trade show is in february and the holidays are approaching, their is a 3 week period in which the manufacturer has stated they will be closed.  So, it is imperative that both the factory samples and small production order is placed immediately.

Risks and Challenges of Completing This Project:
1) It was difficult enough to convey the project to local manufacturers (even with technical drawings AND a prototype). But, I have given a similar bag to the manufacturers vetted abroad for this project (with technical drawings) and the results were good. In addition, I have hired a sourcing company(not to be used from the funds I am raising) to execute what I might be missing in communication. This sourcing company went through critical analysis by both myself and my lawyer.
2) Manufacturers do not always deliver on time. I have purposely added a cushion of 30 days to what the manufacturer said they would deliver when they deliver. Also, post the holiday season, the factories are closed for 3 weeks respectively. This means production needs to start before the holiday season.
3) I have spent about $9,000 in research and development of this product of my own money. I would not ask someone else to invest what I would not invest myself.
Why Indiegogo?
Innovative products warrant an innovative approach. To launch this bag in the fashion industry, I have had people in the fashion business insist on 7 different bags for promotion of a line. Evenmore, when some of the people in the fashion industry have seen it, they were uncertain as to whether to categorize the product as a fashion accessory or luggage.... My intent is to bridge both:)
THANKS SO MUCH FOR TAKING THE TIME TO REVIEW MY PRODUCT AND PROFILE!
Cheron Cowan, Product Designer
Team on This Campaign:
Cheron Cowan

Product Designer/Owner CGC of NYC Accessories, LLC