UPDATE 2-13-13: Your donation is being matched by an anonymous donor/bard lover dollar for dollar!  Please donate today and help us make our goal!

What Are We Doing?

Orlando Shakespeare Theater in Partnership with UCF is preparing to do Titus Andronicus for the first time in 24 years. Titus is known as Shakespeare's bloodiest and most violent work. In order to make this production a savage success, we need money to concoct enough fake blood to fill 15 bodies (so we will not have to actually slaughter our actors every night).
Concept
Here is the concept for the play from the director, Jim Helsinger:
"This is going to be a terrific Titus with a small cast in an intimate thrilling space, close-up and personal. The set is basically white and gets completely splattered in blood by the end of the show. Each death is choreographed to be both artistic and horrifying. They start out realistic and get more and more artistic with each death, until we are literally throwing buckets of blood in the last scene. People are stabbed, shot and sacrificed, hands cut off, a tongue cut out and it includes the most murders of any Shakespeare play. Simple, gory, horrific, sick and twisted, Titus was the most popular of Shakespeare's plays during his lifetime!"
How Much Blood???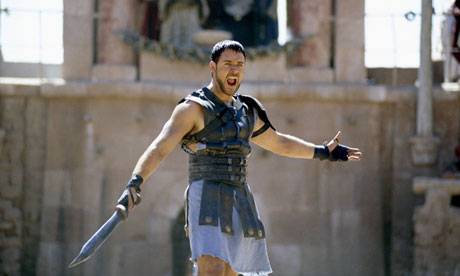 1 Roman General
+

 

4 Martial Sons
+

  

1 Beautiful Daughter
+



2 Imperial Contenders
+

 

4 Lascivious Goths
+

 

1 Evil (volde)Moor(t)
_________________________

15 deaths
x
2½ gallons per performance
x
38 performances
_________________________
115 gallons of blood = GRAND TOTAL: $5000


About the Play
Shocking, savage, and outrageously entertaining – Titus Andronicus is a cataclysmic cycle of revenge between the families of Titus, the great Roman general, and Tamora, the sadistic Queen of the Goths. Each of their barbarous and diabolical acts begets more brutal acts of retaliation. Theatrically vivid and surprisingly moving, Titus Andronicus is what a summer blockbuster would be if it were written by the world's great genius of language and theater.
Performances
March 27th - April 28, 2013
Opening Night Pre-Show Chat
Join us in the Patrons' Room on Friday, March 29 from 7:15 to 7:45 p.m. for a fun and informational Pre-Show Chat with the director and members of the design team.

Opening Night Party
Immediately following the premiere, join us for a party in the lobby at the Lowndes Shakespeare Center. The party is FREE to all ticket holders and includes hors d'oeuvres provided. We'll also have happy hour specials at our cash bar. No RSVP necessary.
About Us
Who We Are
The Orlando Shakespeare Theater is Central Florida's premier professional theater. The Theater serves adults, children, students and seniors, regardless of race, age or economic status, across the Central Florida region and beyond.
Our Mission
With Shakespeare as our standard and inspiration, the Orlando Shakespeare Theater in Partnership with UCF produces bold professional theater, develops new plays, and provides innovative educational experiences that enrich our community.
Web Site
To learn more about Orlando Shakespeare Theater please visit us at orlandoshakes.org.
Other Ways to Help
Help us make this show a "slice" of heaven! Use the Indiegogo tools to share this campaign with your friends, colleageues, relatives, etc. via Facebook, Twitter, and other social media faves.