This campaign is part of Gruender-Garage, a competition for entrepreneurs created by Google, Indiegogo and Stiftung Entrepreneurship. Learn more at Gruender-Garage.
 
Audience first!
Why do distributors and cinemas take needless risks by assuming what we want to see? And if it is wrong they pay an immense price for "box office failures". After this distributors/cinemas are afraid to take any risks at all and we, as an audience, have only "safe" BLOCKBUSTER content rushing at us.
We want to use the "social coordination" capacity of Internet and instead of the "least common denominator" mass distribution model turn to a "per screening crowdfunded license" scheme. Empowered by ticketimer.com website fans would directly influence content distribution and distributors/cinemas would not waste money guessing and have variety. This is is what we go for!

With active audience everyone involved in the distribution win!!
Producers
Directly connected and with crowd fund/borrowing approach their fans can support initial costs for digitalizing, translating or even making the content. Also it becomes trivial for broadcasters and viewers to secure a deposit and organize live/alternative content broadcasts. And because there is no risk of financial loss there are many alternative content screenings at your cinema. Concerts, sport events, theater openings, demo/ presentations broadcasts, you name it!
Distributors          
For distributors this crowdfunding events are not only a way to partly outsource distributing efforts to audience (viral distribution) but also free "test screening" marketing research tool.
Festivals as "distributors" could easily scale all over the world and  increase attendees and revenue.
Theater
Cinemas will get to know their audience and no longer have to guess their tastes as well having secure income. Also with active local fan base it's possible to crowdborrow a technical upgrade of your local cinema. Your cinema pay you back with an entrance later. With ticketimer.com it's all easy!
Audience
Just imagine how many movies were not shown at your cinema because they could not pass the box-office requirements of current distribution model. Mobilized fans using ticketimer.com have a way to workaround those obstacles and get access to any content available and bring it to their local cinema! Regularly!

Lets program screenings at local digital cinema with www.ticketimer.com!
What is this www.ticketimer.com
?
ticketimer.com is a website, a crowdfunding platform that let you choose what will be screened at your local digital cinema. Basically it is a ticket and a timer attached to it.
Ticket shows movie name, copyright holder, the premier date and the movie theater where you and other users from your location crowdfund the screening.
Timer shows the deadline for getting minimal quota of sold tickets to pay to the cinema and the copyright holder requirements. If the quota is met before the deadline, the ticketimer becomes a regular "TICKET" for screening!
But most importantly: www.ticketimer.com it is a part of an ecosystem...That doesn't exist yet.
An ecosystem where moviegoers participate in the content distribution process by funding screening at their local digital cinemas. ticketimer.com directly connects audience choices to copyright holders (filmmakers, distributors, film festivals) and cinemas.This combination allows alternative content broadcast/advanced screening/festival premiere/world premiere at your local cinema with ease!
It sounds right! Right? It sound like it is supposed to be! But no! With digital cinemas and digital content delivery networks, plus the different crowdfunding models out there all of this is still impossible. Digital means are used in old way because it's a convention that everyone got used to.
But now there is a possibility for change and it's up to us. Initiate the creation of ecosystem where the fans are actively participating in the film/alternative broadcasts distribution.
How ?
We collect money to develop the www.ticketimer.com prototype a crowdfunding website/web app/tool.
The main goal for us is to make the ticketimer crowdfunding effective and easy way to get complete "screening on demand" service
Simultaneously we will сreate and put a visual guide on ticketimer.com showing "user based content distribution ecosystem". We will also get a simple counter/aggregator of people's  "likes", "+",  bookmarks, articles and any other forms of approval for the "film distribution run by the audience". All this to lobby and gain momentum for a new "per screening license" distribution. We know it is possible only if you guys find it useful and spread the word!
As soon as we get any form of a ticketimer tool we will put it online for user testing and feedback to make it into beta and start connecting copyright holders and cinemas infrastructures to it
The Impact
With developed ticketimer.com and your continuous support the final connection of audience choices to copyright holders (filmmakers/distributors/film festivals) and digital cinemas infrastructures from "impossible" would become logic!
In 1 year movie distribution managed by fans would be the next new thing coming from Berlin everyone is talking about. In 3 years it will turn into a worldwide routine as it should be.
What are we using this money for?
We collect money to make an alpha version of www.ticketimer.com and with your feedback turn it into a working beta. And we plan to do that in a 6 month period. To keep us going we need: a designer, a content strategist, and a developer. Office space for 3 people in Berlin? We need 140 X 3 = 420 EUR a month. Yeah, 420. Only in Berlin.  And 450 EUR a month per member. This will make us create ticketimer in a "stay hungry, stay foolish" mode. 1350 EUR monthly team payment - is very well hungry & foolish. Half a year of beta development will take 10620.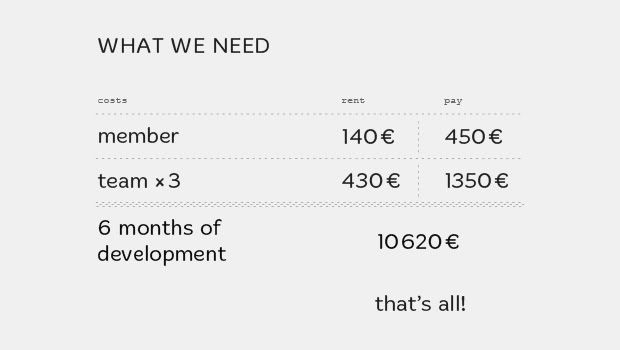 Making a beta "user based content distribution" app for 10K?  Berlin is the only city  where you can take a shot and do it! Also because this project is part of the Gründer Garage initiative. If you help us meet our funding goal before 12th of October, ticketimer could qualify and receive matching funds from Google. And this would double our team's firepower.
Team (in alphabetical order)
Adel - I am an autodidact artist originally from Moldova, now living in Berlin. I am also a programming enthusiast (so i don't have to say I'm a beginner). I love cinema, it can be of any type as long as it's good.
Anna - I am a multi disciplinary graphic designer from Berlin. Having studied at the art academy in Prague as well as the University of Applied Sciences in Augsburg I am working as a freelance graphic designer for cultural as well as commercial clients. I have a passion for senseless machines, experimental printing techniques, generative programming and conceptual driven work. I believe in the strength of unusual but still operable design that emerges from a holistic design process.
Anton - I'm a hacker, musician and writer. I develop software with Haskell, C and C++. I like to write code that not only works but looks good. My favorite paradigm is functional programming.