Hello Handsfree 
The nGroove Snap by Mountek is a revolutionary mount for any mobile device - be it phone, tablet or GPS unit. Its unique design places your phone at the center of your dashboard where you can easily and comfortably see it while driving - right in your CD slot. The effect is a beautiful, seamless, invisible mount that makes your device look like it's "floating."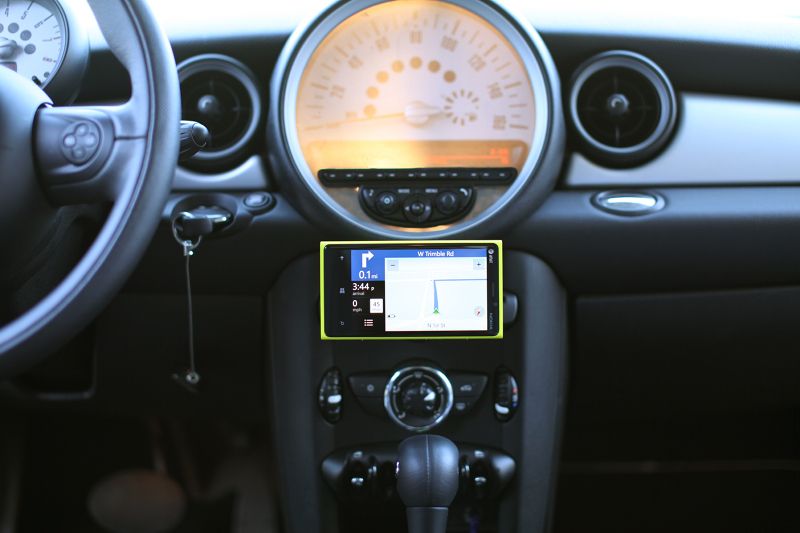 We worked for years to make a mount without any visible or permanent braces, brackets, or clips. The result is a patent pending design with a microblade small enough to fit into the slot of your CD player, narrow enough to hide behind your phone, and sturdy enough to withstand the rockiest of roads.
The way we designed the blade is such that it does not go far enough into your CD slot to activate the CD player mechanism, so that means you can still have a CD in your player while the mount is installed.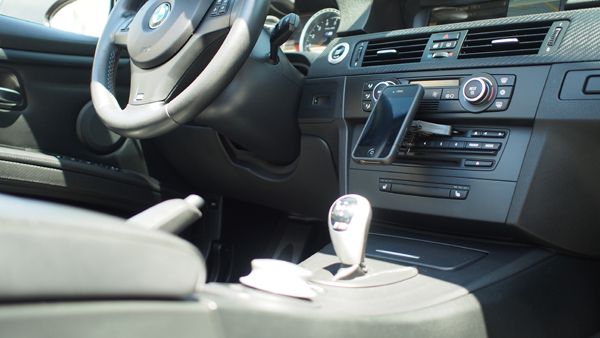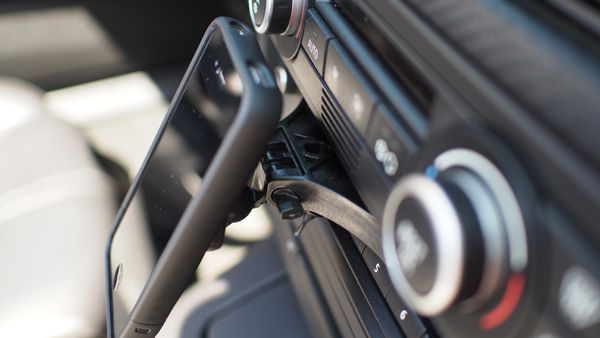 Useful in, Useful out
When we designed the nGroove Snap, we started with the car and aspired for more. The mount doubles as a portable stand that you can take with you out of the car. 
Use it on your desk.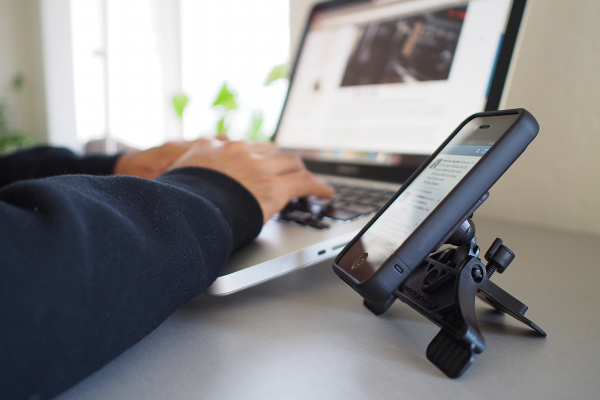 Mount it on a tripod.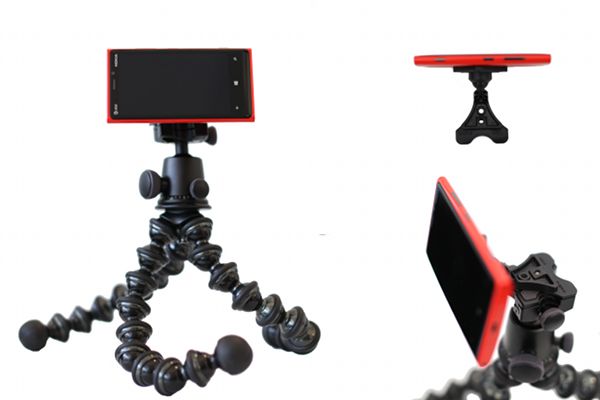 Wedge it into any slot.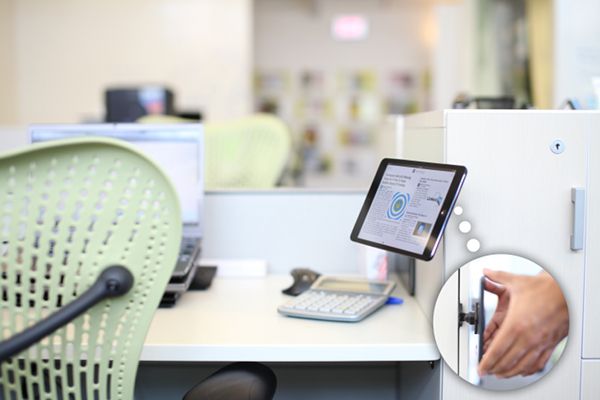 How Does It Work? 
1. The nGroove Snap is a 2-piece removable blade system that expands in and out of place with a simple knob.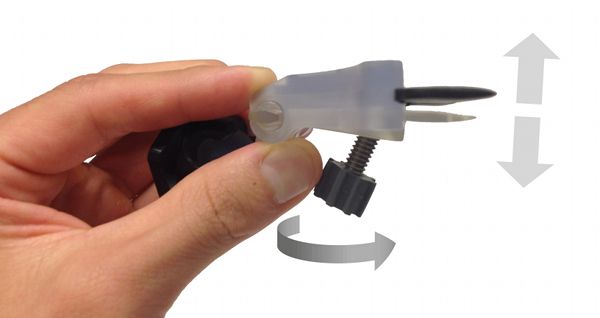 Note: this is an early prototype of the mount, cast in clear plastic. The final version will be matte black, not clear, and the knob will also be a different design.
2. We supply a low profile badge with a removable, non-permanent adhesive backing for your device. It's only 0.55mm thin.

3. The low profile badge snaps to a powerful rare earth magnet that holds your phone or tablet steady.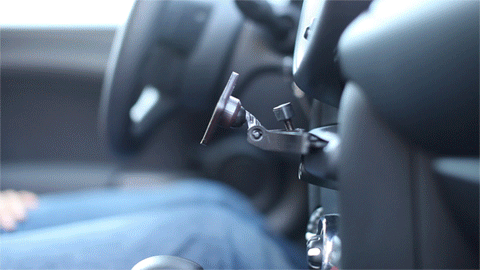 Note: the mount is strong enough to hold any phone and most standalone GPS units. It will hold an Apple iPad Mini safely and securely, but we do not recommend mounting a full size Apple iPad as it can become dislodged during sudden bumps in the road because of its weight. We have tested with the full-size iPad with some success, but not consistently enough to recommend its use with the nGroove Snap. 
The Badge
The low profile badge is what snaps to the magnet on the nGroove Snap. It has a removable, non-permanent adhesive backing that sticks to the back of your device.
If your phone has a case, the badge is thin enough to stick it to the inside of the case for a completely invisible look.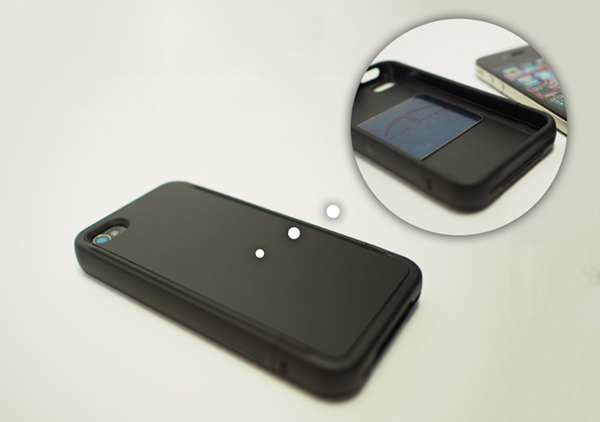 Alternatively, if your device has a removeable battery cover like the Samsung Galaxy S3, the low profile badge is thin enough to stick on the inside of the cover.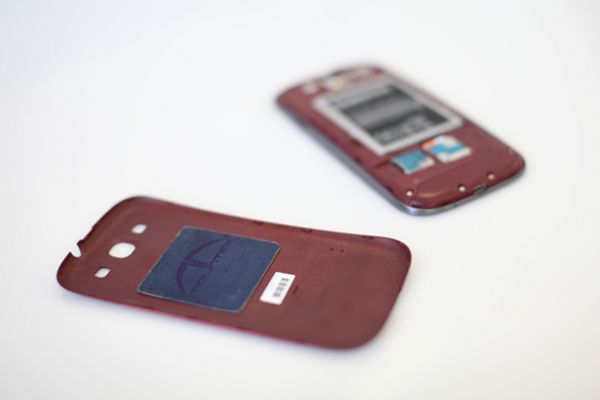 Please note: this is an early testing prototype of the low profile badge and we're close to finalizing the CMF (color, material, finish). It is not the final production version, which will be smaller and may have a different shape. We're very picky - if we wouldn't stick it on our phones, we wouldn't expect you to stick it on yours, either. We will keep you updated on its progress with photos through the sample production run and welcome any feedback and suggestions.
Each nGroove Snap unit will ship with 2 low profile badges to use with multiple devices. 
Please add $2 for each additional badge you'd like to receive. If you have already contributed, simply increase your contribution accordingly. Each unit will ship with 2 badges, but if you need more just increase your contribution.
Additional badges will also be available after the campaign ends on our website Mountek.com.
Who are we?
We are Mountek, a 2-person team obsessed with making the best mounts in the universe. To our surprise, our first product wowed journalists like Dan Frakes from Macworld ("Twenty-one overlooked iOS accessories"), which we sold on eBay. Over the years we've gathered many fans from around the world, and the nGroove Snap is our response to the overwhelming encouragement from supporters of our humble beginnings and our quest to make driving safer. 
Production Schedule and Delivery
We've completed the design for the main blade mount and are ready to complete tooling with a US-based manufacturer. Pending successful funding, we will start production in May with the goal of shipping to backers in July.
FAQ (Frequently Asked Questions)
What is the badge made out of?
The badge is a blue tempered steel and we're working hard to get the size, shape, and thinness just right for a perfect, sturdy, hold onto our magnetic mount. It includes a non-permanent adhesive that is easy to remove with no residue left behind – just warm it up with a hair dryer and peel it off.
Will it work with my case?
We've been actively testing out a range of cases made of different materials for compatibility. In our tests, hard plastic cases, soft plastic cases, and slim rubber cases all work well. You can easily slip the Mountek metallic badge into cases of many different sizes and shapes. The thickest case we've tested is the Otterbox Defender (see photos - Gallery tab). Even with this thick case, our rare earth magnet is able to snap with the Mountek badge placed inside.
Will the magnet damage NFC chips, memory, GPS, etc?
After numerous testing we have not found any damage to NFC, flash memory, gyroscopes, compasses or any other phone component. We have been building and testing this product for over a year and have not come across any issues that we know of.
Can I still charge with Qi or other inductive wireless chargers?
Yes, we have tested with a Qi charger and the badge does not affect the phone's wireless charging capabilities.
Will the badge add any noticeable weight to my device?
The two sample badges we produced only weigh 0.13 and 0.16 ounces, respectively. There is no noticeable weight difference.
What if I don't have a CD slot?
The nGroove Snap was designed to wedge into any slot or seam. Although the primary and recommended mounting location is in the CD slot of your dashboard, you can also wedge it into a dashboard seam.

How do I contribute more for additional badges or to add shipping costs?
Just add a separate contribution if you need to purchase additional badges ($2 each; unit ships with 2) or forgot to add international shipping. We'll see that you added a separate contribution.
What will the retail list price be?
$34.95
Please view the "Updates" tab above the video for the most up-to-date information. Leave comments - we're always listening to feedback!