Getting Started With Arduino The Better Way
What is the Codeshield?
The Diyode Codeshield is an innovative, exciting, and accessible way of teaching Arduino microcontroller programming.  The Codeshield is an add-on board and set of lesson plans, developed to remove the obstacles that typically interfere with the learning process.
The Codeshield provides many common inputs and outputs like those found in the devices we live with every day, in household appliances, automobiles, entertainment devices or even robots.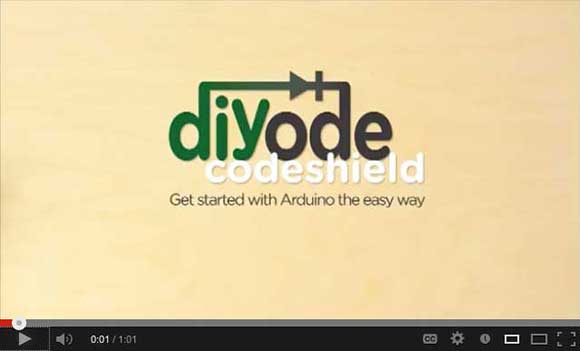 About the Codeshield Approach
The Codeshield curriculum turns the learning process on its head, and provides direct feedback at every stage of the process.
With traditional approaches to teaching electronics, students must grasp several concepts and put them all into practice successfully before they see anything working.  Simply pressing a button to make a light come on requires the successful application of circuit fundamentals, digital electronics theory, prototyping and coding. If any of these is incorrect, the light will not work.  And when the light doesn't work, the student doesn't know why. There is too much to learn and too many things to go wrong for even the simplest of applications.
That's where the Codeshield comes in: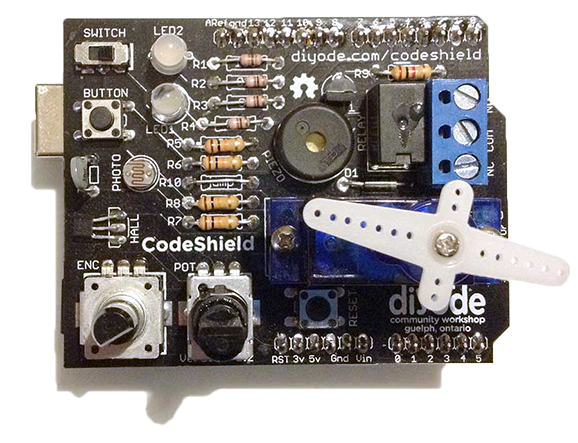 By placing all of the common inputs and outputs on a single pre-assembled board we can get students writing code in the first few minutes of sitting down with an arduino. They can get their button powering the light right away, and if it doesn't work, they know where to look for the problem.
Using the components available on the Codeshield, students can prototype a burglar alarm, laser tripwire, remote camera controller, and a variety of other exciting projects all within the first class. Once they understand the possibilities of the technology, and have a firm grasp of the code, then we can teach the fundamentals of electronics.
Here is a simple illustration of how changing the code alters how your device behaves: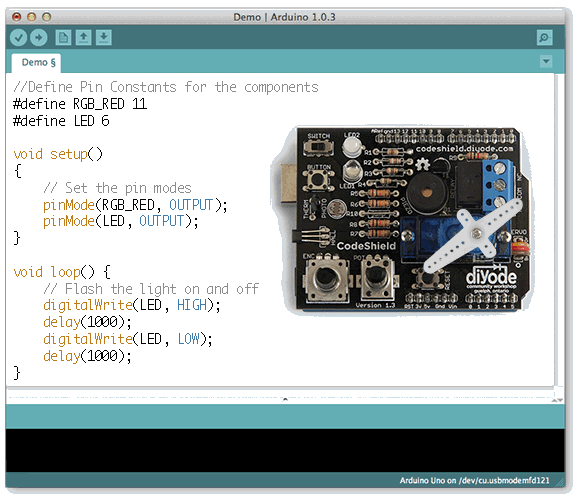 So, What is this campaign about?
At its core, this campaign is about education; increasing the number of kids who can grasp the technology behind today's devices.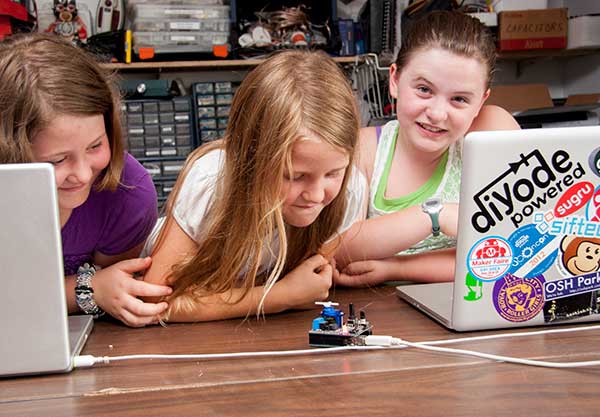 We've been selling the Codeshield for a while now, but only as an unassembled kit. Anyone who wants to use it has to solder it together themselves. While this may be fine for hackerspaces and hobbyists, it's a deal breaker for schools. Asking an over-worked teacher to solder together 20 kits before they can teach is unrealistic. To serve the educational market, we need to offer fully assembled boards. That's where you come in: to help us reach the critical mass we need to make manufacturing possible.
How can you help?
First and foremost we welcome your dollars. Every codeshield we sell helps us reach the point where the Codeshield project become self sufficient.
Second, we'd love your help getting the word out about the Codeshield. If you know anyone who is involved in teaching technology, or is interested in supporting education, pass this on to them.
Pin us, tweet us, throw us on your wall. Help us get the word out so we can get these boards maunfactured and into schools everywhere. Here's some short posts you can use, if you want:
    "A better way to teach Arduino: http://igg.me/at/codeshield"
    "I supported the codeshield indiegogo campaign and all I got was this lousy tweet. http://igg.me/at/codeshield"
    "Turning the arduino learning process on its head: http://igg.me/at/codeshield"
    "The Diyode Codeshield was tested on animals. They didn't get it. http://igg.me/at/codeshield"
What People Are Saying:

"The Code Shield, with all of its different sensor inputs, and outputs, is a really easy and inexpensive intro to learning how to use Arduino for lots of cool projects."
- Mitch Altman, Cornfield Electronics
"Thanks for designing a tool for effectively instructing participants in the Catalyst Summer Leadership Program"
- Gareth Sharpe, University of Waterloo
"The Codeshield is an exciting and effective way to introduce the Arduino's potential to my computer engineering students. It has become a key element of the program."
- Dave Della Croce, High School Computer Studies teacher
"The best tool for my classes to begin microcontoller interfacing."
- Kevin Reid - Computer studies teacher in Guelph Ontario.
"Diyode's Codeshields' bevy of real world devices will jump-start your Intro Arduino programming class' imaginations with all the stuff that they can learn to do!"
- Doug Phillips, HackPittsburgh Makerspace
Who is Diyode?
The Diyode Community Workshop is a non-profit makerspace in Guelph, Ontario. Our focus is on community outreach and support, and education. We were running Arduino classes before we had a home, spreading our excitement for DIY electronics to schools, cub scout troups, community support groups, and local hobbyists. Our 2700 sq/ft facility in downtown Guelph provides wood working, metal working, electronics and prototyping tools to our 75 members, and to the community in general.
Why Arduino?
A myriad of inventive possibilities can come with the knowledge of electronics and coding.  
Do you want to build yourself a device that turns on a fan automatically when the temperature goes up?  Do your kids want to make a sensor that activates a buzzer for detecting when someone has opened the rec room door? Would you like to control a device on the other side of the room by shining a light at it from where you are sitting?
The Arduino, a simple computer, is the gateway to such DIY projects.
In order to understand how the electronic devices work as a whole, a person needs to be able to work with those little bits individually.  Arduino code is the language that lets those bits work, talk to one another, and make a project do it's thing.
Novices (and kids as young as ten) can begin the process of understanding how all of this works with the Diyode Codeshield.  We have a lesson plan and sample code that can, with a few simple changes, make a slow blinking LED start blinking more quickly.
The reward for working on the Diyode Codeshield can also be a light that changes colour, or a servo that turns as a knob is turned, or a buzzer that sings a tune.  Exciting!  Excitement leads to creative ideas.  Imagine a classroom of engaged students who suddenly understand how several electronic components work, and what they could do with the momentum this creates.
For questions about the codeshield, and this campaign, email

codeshield@diyode.com

or check out the website at

http://codeshield.diyode.com