What's Going On Here
Hello, I'm Stacy Hummel the artist behind The Acryden graphic novel
The Acryden was created in 2001 by Art Schiskey and myself. It began as a hobby project but quickly grew into something bigger. We never stopped working on it, and 11 years later, our simple story had grown to over 40 unpublished volumes. Unfortunately, it remained tucked away in the closet, even though it was our dream to see the book in print.
But to achieve your dreams you can't hide in the closet forever...
With the aid of this campaign we can realize our dream and see the book in print!
Visit the official website  Acryden.com to check out our comic get caught up with the story.
Our Goal...
To turn the first volume of The Acryden into a full color 176 page graphic novel.
Our goal is to raise $50,000, with it we can:
Print the first volume of The Acryden in full color
Purchase our ISBN numbers and barcodes
Fulfill all of the cool rewards for this campaign
Pay credit card/PayPal and other fees for this campaign
Stock our online store and participating bookstores
Help promote our book so others can enjoy
Jump start the printing for the upcoming volumes
What if the goal isn't reached?
If the goal isn't reached we will only be able to print a very limited number of books and there wont be enough to have them available online or in bookstores.
What if the goal is reached?
Success! If we reach the goal we will have enough money to print a larger number of books and can stock our online store and participating bookstores. We will also have enough money to print volume 2 which we will begin working on as soon as the rewards are out.
What if we exceed the goal?
The more we make the more we can do and the more volumes we can print. We have over 40 volumes so that's a lot of reading! if we raise $600,000 we can print them all!
What Do I Get Out Of It?
We wouldn't ask you to give away your hard earned money for free, so we've stayed up late putting together some awesome perks for contributing!
On the right side of the screen is the amount we need to raise, under it are different tiers with dollar amounts. Pick the tier you want and get the perk listed for that tier. Contributing is easy and you can pay with your credit card or PayPal! (PayPal is instant and credit cards will be charged when the campaign ends)
We've come up with perks to fit every budget! Here are some of them.
$1- Can only spare a dollar? No problem! You can get this special Wallpaper for your computer.
$10- Gets you a digital copy, with digital comics becoming more and more popular this is the perfect choice for your reading device!
$25- What we're all here for- The Book! You get a printed copy of The Acryden: Vol.1 which contains all of the updated artwork, never before seen chapter art and more! PLUS you get all of the previous rewards!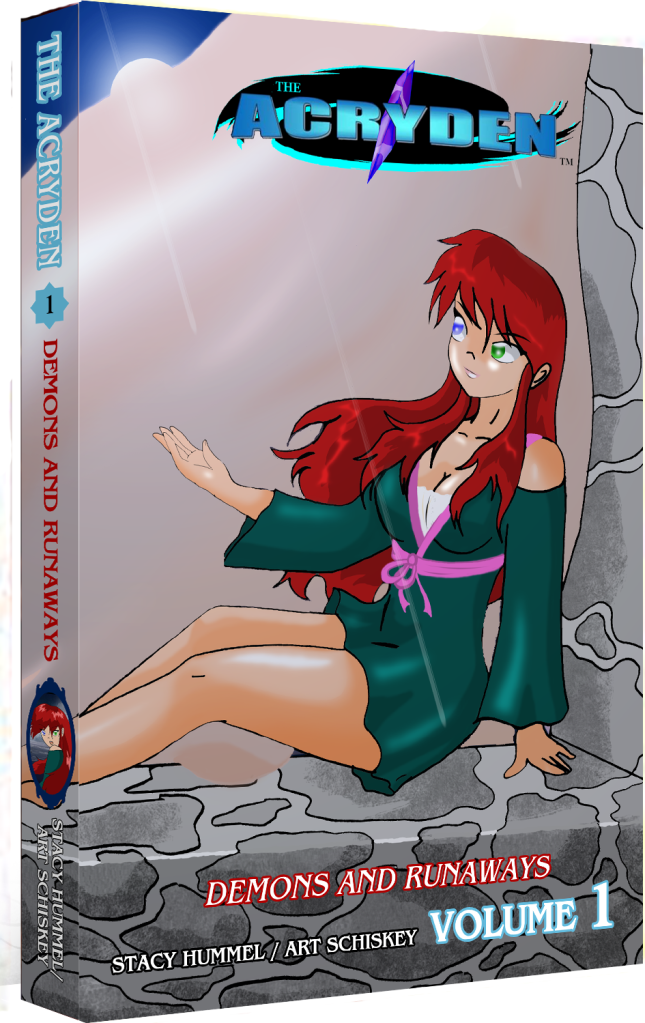 Special one-of-a-kind perks
$1000- Love owning original art? This perk is for you! We're going to throw in all of the original hand sketched art used for the campaign perks, This includes the book cover sketches, posters, desktop wallpapers and more!
$3000- Have you wanted to become part of a comic? How about a rock star featured in a comic? We are offering up a prime spot in the next volume of The Acryden where you and up to 5 of your friends will be transformed (name, likeness, and personality) into rock stars where you will take center stage!                                                  
Other Ways You Can Help
Can't contribute? There are other ways to lend a hand!
Spread the word! Tell as many folks as you can about our campaign, if you have a website you can also link to us here.
You can also use the Indiegogo share tools!
 We will be updating constantly throughout this campign so check back for new photos, perks, and more!