This campaign is fiscally sponsored by San Francisco Film Society and all donations are tax deductible.
Project Summary 
In San Francisco, an unusual coalition of artists, city officials, property owners and residents is working together to reverse a 50 year decline of the once "Great White Way of San Francisco". While many cities have attempted to revitalize neighborhoods through the convergence of arts and technology, few have been successful at doing so while preserving their unique cultures. 
Will this revitalization unwittingly open the door to gentrification and displace the current low-income residents? Will the reality of pricing people out defeat the promise of lifting people up? Can political and ideological enemies put aside past differences and work together to make real change? Our film, 5 Blocks, is a journey through the trials and tribulations of a community struggling to transform itself from "skid row" to the promise and hope of a vibrant neighborhood.
As artists, we are keenly interested in the role that arts can make in transforming lives. This project follows a large-scale attempt to use the arts to transform an entire neighborhood, an ambitious and daunting task. This may be a "once in a lifetime" opportunity to revitalize this gritty neighborhood and, therefore, to document the process. The lessons learned, whether through success or failure, can serve as a model for other communities across the globe.
Through the process, we share the stories of the people who currently live and work in the neighborhood, people whose voices aren't usually part of high-level conversations concerning their fate. It is vital to capture this story now, during the messy, difficult discussions about change, and while tentative first steps are taken.
What We Need & What You Get
Through the generosity of committed foundation grants, we have worked for the past year in filming preliminary interviews with city officials, property owners and business people about the revitalization efforts. In order to present a full picture, we will use funds from this campaign to interview long-term residents affected by any change, both positive and negative. It's imperative that we capture the current state of the neighborhood, before any major changes take place.
Additionally, we want to enlist and empower residents to create their own short stories by creating a Media Mentor program with our non-profit partner, Hospitality House Community Art Program. The mentor will teach the low-income residents how to share their stories through effective use of video, sound and editing.
Our perks for contributing to the cause range across all levels. If you're interested in lending a helping hand, $5 can get you a thank you and the warm feeling that goes along with knowing you are helping to document a once-in-a-generation event or, at the high end, $10,000 will get you an Executive Producer credit and a week in a beach resort in Ft Lauderdale.
But the options in-between are really, really special – we have contracted with a number of artists who live in the area to provide original works for your pledge. These are NOT donated works. We will be purchasing art directly from local artists. So, when you contribute to our project – a percentage also goes to support the local art community. We do not believe that artists should work for free! You can find their bios and images of the work offered below.
OH and did we say it is all tax deductible*? Well it is!! Through our generous fiscal sponsors at the San Francisco Film Society you may claim a tax deduction for all donations made through this site minus, of course, any perk costs!!
If we exceed our goal, funds will go into production costs. This is a long-term project that will follow the revitalization over the next 3-5 years. Whatever you can give is greatly appreciated, and we will use it to benefit our production in every way possible.
Other Ways You Can Help
We know money doesn't grow on trees, so if you can't contribute right now, we understand. You can still help us out by sharing this page with everyone you know! Share it, tweet it, blog it, attach it to one of those forward e-mails your great-aunt Bess sends you everyday. Odds are, you know people who would love to donate to this cause. We'll return the favor and share, tweet and blog out a thank you with your name or business. Think of the followers you'll get!
Where Does the Money Go?
We will stretch your dollars as far as possible but the reality is that we have some fixed costs. 
$5,500 – Crew costs: Our crew is awesome. They deserve every dime and more.
$3,300 – Set-up Media Mentor program (video and sound equipment, stipend for mentor).
$2,500 - Equipment rental (camera, lighting, sound; sound and video sync).
$1,200 - San Francisco Film Society fee for the use of IndieGoGo and to make available the tax-deductibility of your contribution.
$800 - Paying local artists for campaign perks. Again, we don't ask artists to work for free.
$500 – Crew food and transportation. 
About Us
Dan Goldes – Co-Producer/Co-Director Dan is the former Executive Vice President and Chief Stakeholder Officer at the San Francisco Travel Association (formerly the San Francisco Convention & Visitors Bureau), overseeing public policy, strategic planning, public relations and business development. This role enabled him to work with, and receive input from, diverse groups trying to work toward a common goal. The work also put Dan in a position to work with many of the players in the Central Market revitalization effort on a professional level.
Dan is a graduate of the San Francisco School of Digital Filmmaking and his earlier film, ub2, a short documentary about the pejorative language used on gay dating sites and how that language impacts HIV+ gay men, is an official selection of 21 film festivals worldwide including Frameline36 (San Francisco Gay Film Festival) Tel Aviv LGBT Film Festival, KASHISH Mumbai Queer Film Festival, FilmOut San Diego, Melbourne (Australia) Queer film festival, Boston LGBT Film Festival, Provincetown International Film Festival, and the San Francisco Documentary Festival.
Robert Cortlandt – Co-Producer/Co-Director Focused on developing the documentary form for education and social change, Robert's work has received several awards and has been displayed in numerous galleries in the U.S. and internationally including a seminal show with the San Francisco Arts Commission Gallery. He has worked as Assistant Director on the ITVS-funded documentary Follow My Lead chronicling the same-sex partner dance community and is a contributor to community-outreach videos including roles as Director and Editor on films focused on teen bullying and suicide prevention at the It Gets Better Project. His documentary images serve to illustrate the work of the Institute for Trafficked, Exploited, and Missing Persons in Guatemala. Robert holds a BFA in Photography from the San Francisco Art Institute and is a former Human Resource executive with both Apple and Gap Inc.
Erin Palmquist – Director of Photograghy Erin is an independent filmmaker who feels strongly about creating documentary film as a means for community outreach and education. She graduated from San Francisco State University's Cinema Program with an emphasis in visual anthropology and cinematography. Upon Graduation she worked at Lucasfilm on the Young Indiana Jones Project assisting in the final year of a four-year project in which 94 historical documentaries were produced as one body of work. She then joined Bonni Cohen at Actual Films as her associate producer on the National Geographic Explorer documentary The Last Christians of Bethlehem. Erin was the producer, editor, and director of photography for BDSM: It's Not What You Think! which was an official selection at Frameline32, the San Francisco International Gay & Lesbian Film Festival in 2008. Erin was the director of photography for Out on The Dance Floor, also an official selection at Frameline32. She has also worked for PBS and the Leaky Foundation and is currently in the early production stages, as co-producer and director of photography, on Exiled in America, a feature length documentary about Iraqi Refugees in California.
Jackie Grieff - Intern Jackie is a recent graduate, earning a Bachelors of Science Degree from The Art Institute of California - San Francisco focusing in editing. She was the post-production assistant on the documentary, Wonder Women! The Untold Story of American Superheroines, where she organized files for promotional materials, helped run the Kickstarter campaigns, and preped Photoshop documents for the animator. Jackie works at Tiffany Shlain's Moxie Institute, helping to customize films in the new Let it Ripple for non-profits to use from all over the nation. She works on narrative, documentary, commercial and motion graphic projects.
Artist Perks 
Patricia Araujo - Receive an autographed post card from Patricia delivered in your mailbox as our gift at the $50 level.
Ronnie Goodman - Occupy Mid-Market
Linoprint signed and numbered. Edition of 10 and created exclusively for 5 Blocks Project. One of our Thank You gifts at the $500 level. A portion of your donation goes directly back to Ronnie. 
Mark Ellinger - Get a collection of 10 of Mark's custom photographs of Mid-Market Street as our thank you at the $500 level. All art perks also support the individual artists!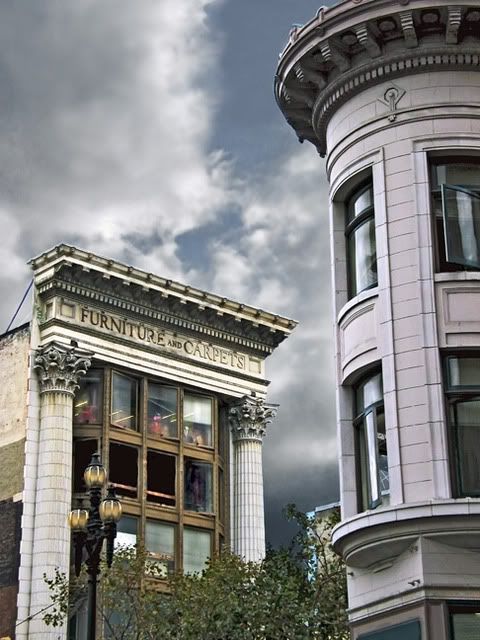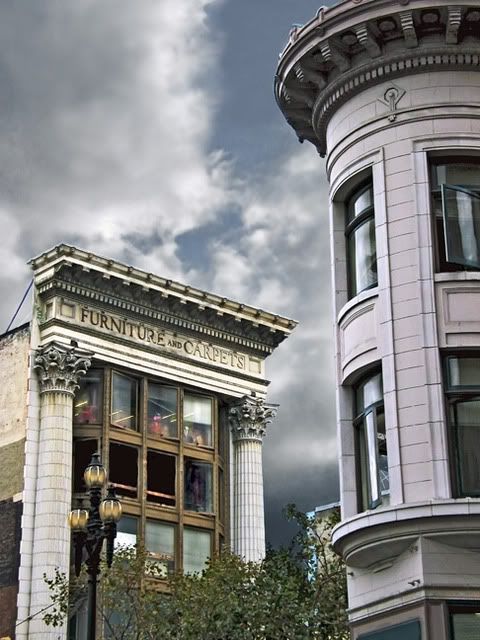 Wendy MacNaughton 
Wendy's drawing of "Bigface" is a classic representation of the residents of the area. You can view the entire installation at Intersection For The Arts and our exclusive signed and numbered print edition of five is our way to say thanks at the $500 level.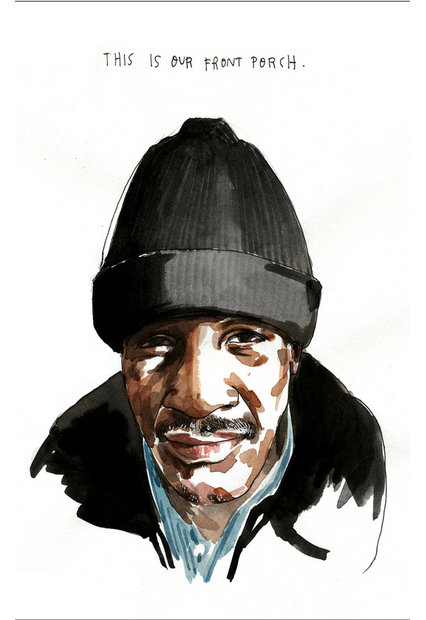 FAQ
Where can I learn more about the project?
Please visit our official website, www.urbanstreetfilms.com. There you can find a full synopsis of the story, cast and crew bios, and all our updates.
If I contribute, when can I redeem my perks?
After our deadline, our artists will start to manufacture and ship all physical merchandise directly to you.
What if I don't want a perk, I just want to contribute?
No problem, there is a button that you can select if you don't want a perk.
What is a "limited availability" perk?
This is a perk that we can only offer in limited quantities, so once they are gone, they're gone! In instances where your pledge level includes "all of the above" from previous reward levels, these will not include limited perks, identifiable by the words "X out of XX Claimed".
Can I increase my pledge once it's been made?
YES! Once you donate to our campaign, you may want to change your incentive perk to a different one, or increase your pledge amount. Go for it!
Can I gift an incentive?
YES!  That's very kind of you. If you would like to donate to the film but give the perk to someone as a gift, go through the normal process of making a donation in your name. For billing purposes, this action must be in your name. After our deadline, we will send a message to you through IndieGoGo to the email address you provided.  We will request your address from you at that time. Please reply with the information of the person who should receive the perk, and we will make sure it gets to them. 
Is my contribution tax deducible*?
If you pay taxes in the United States, absolutely!! Through the generosity of our Fiscal Sponsor, The San Francisco Film Society, all contributions are deducible to the fullest extent allowed by US law. International investors please check with your tax authority.
Why raise the money this way?
We're making this film on the lowest budget possible - any additional funds raised will go right into the film. But most importantly, we want this project to be owned by the artists making the film, and by using crowdsourced funds that is possible.
How do I contact you?
Glad you asked! Please go to our website for the film www.urbanstreetfilms.com. or our FACEBOOK PAGE (https://www.facebook.com/urbanstreetfilms) We will get back to you quickly if you have questions!
* Our fiscal sponsor, San Francisco Film Society, is a nonprofit 501(c)(3) organization and contributions made qualify for tax deductions according to the federal tax laws. Generally, contributions are tax-deductible minus the fair market value of any perks you receive. To receive the full value of your contribution, you may choose not to receive the perk. For questions about tax deductibility, you should contact your tax advisor. 5 Blocks Project will provide the value of any goods/services received in your acknowledgement letter.