The StashBelt:
Handmade in Kenya with 100% natural African leather, StashBelt is the WORLD'S ONLY traveler's money belt with integrated DATA STORAGE.
Your StashBelt is a wearable insurance policy, designed for intrepid travellers in troubled times. Yet StashBelt is versatile and comfortable enough to be worn every day by anyone. Whether you're stuck in a tough spot in Bangkok or hanging out a coffeeshop in New York City, StashBelt is for you.
It's HIDDEN 18-Inch Zipper Pocket is large enough to hide up to $500 in folded bills - enough to get you out of nearly any jam. You can also stash keys, jewelry, medication or any other small, precious items you'd rather keep away from sticky fingers. 
StashBelt is the only moneybelt with a built-in data storage solution: a hidden 4 GB Micro USB Stick. Use this to keep scans of key documents like your passport, travel insurance information, ID cards...or a selection of your favourite tunes to rock out to while on the road.
With our double snap design, you can even customize your StashBelt with buckles of your own.  
       Travel safe. Travel with confidence. Travel with a StashBelt!
 
The StashStory
After spending many years living and traveling abroad, the StashBelt team was fed up with common depictions of Africa, full of starving orphans and "Save Africa" rhetoric. Having actually spent time there, our experiences showed us Africa the proud, Africa the beautiful and Africa the hopeful.
So why didn't more people know about this side of the African story?
Realizing that only grassoots wealth creation can raise individuals and nations out of the cycle of poverty, StashBelt was formed in 2012 as a collaboration between skilled leather artisans in Kenya and young social entrepreneurs in Canada.
How does Stashbelt work?
Every StashBelt is hand-crafted by some of the top leather workers in Africa. All leather comes from indigenous Boran cows that graze and roam freely throughout the Kenyan countryside.
While sizing and styles vary, each StashBelt is equipped with a hidden zipper pocket to store important papers (copies of your passport, bank/credit cards, travel insurance, etc.) and emergency money (up to 10 bills can fit folded up).
All StashBelts are equipped with a small slot for our custom-made 4GB USB jump drives.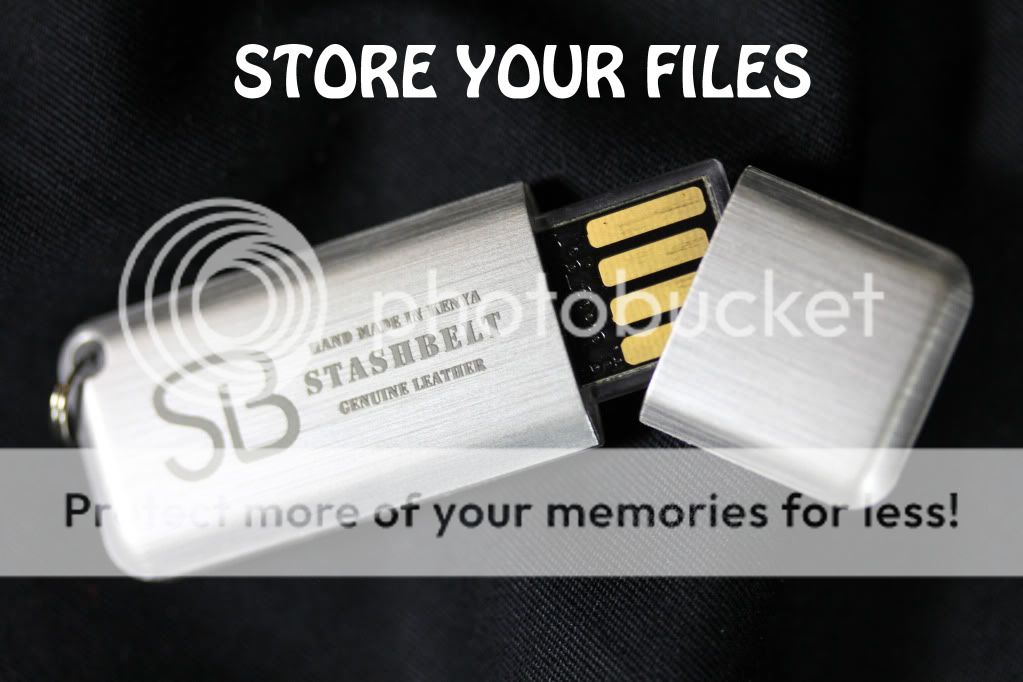 Buckle up and Stashbelt's hidden payload is now safe from prying eyes!
How will we use your money?
Well first of all, $10,000 goes a LONG way in Kenya!
As you can see, our Nairobi workshop is a little cramped even by local standards. Despite these conditions, the team has been able to turn out incredible products and create exciting new designs every time we speak to them. Our first bit of business is to move to a cleaner and larger location just down the road. Your Indiegogo pledge ensures a stable income for our master leather artisans and young apprentices. Together we're creating jobs and putting food on the tables of a lot of underemployed yet talented Kenyans.
The remaining funds will be directed into tooling up the shop for more sustainable and large-scale production, purchasing organic leather and raw materials (always locally sourced) and finally sorting out a streamlined method of getting our belts from Nairobi to your doorstep!
Your support means we can turn StashBelt into a reality. Help us create sustainable jobs and change lives in Kenya. In exchange you'll score sweet gear making you the coolest traveler around.
Check out this killer messenger bag (only 50 available) that our guys recently completed:
What makes Stashbelt different?
A North-South partnership conceived to leverage the complementary skills of African artisans and North American entrepreneurs, StashBelt pioneers a new model of cooperative development and shared benefit. To us, social enterprise isn't a passing fad; the triple bottom line is real and here to stay.
With this in mind, StashBelt pays above-market wages to our workers, sources only free-range Boran cows for leather hides, provides vocational training and certification for apprentices, and donates a portion of all profits to the StashBelt Foundation.
What's the StashBelt Foundation?
The StashBelt Foundation (SBF) aims to address issues of poverty and development in Kenya through the lens of trade not aid, pride not pity. With our first loan, SBF has helped launch the Kibera Gamer's Cafe, a video game hangout for kids in the largest slum in East Africa. 
From the first day, the Kibera Gamer's Cafe has become a hot spot and positive space for youth to hang out after school. Based on its success, plans for expansion into the next shop and more gaming systems are in the works.
SBF will continue to support similar creative projects in Kenya that provide long-term employment opportunities and positive spaces for youth.
Sounds amazing but what should I do now?
Please take a look at the rewards we have to offer. While climbing Mt. Kilimanjaro is obviously the coolest, we sincerely hope that you will consider buying a StashBelt as we are a new social enterprise looking to create a new way to do business while doing good in the world.
Feeling generous? Did you know more than 1/3rd of all Indiegogo donors show their support by donating above and beyond the perk amount? - And you can too!
Feeling frugal? We still need your help! Support us by spreading the word in any way you can: Like us, Tweet us, Pin us, Post us, let your favorite newspaper/blogger know... and for God's sake somebody please tell Ellen!
Thank you in advance for supporting our project.
If you have any questions, please feel free to email us at: info@stashbelt.ca