THIS campaign is all about getting the SECOND STARDROP GRAPHIC NOVEL into print!

For those of you who have no idea who I am. . .  I'm a Self-Published Cartoonist!  I've been writing and drawing my own comic books for nearly 20 years!

My best known title is a fantasy adventure series called, "Thieves & Kings". (You can check it out on my website).

STARDROP is my new project!  (well, sort of new. The first graphic novel launched in 2007 and has become the gem of my studio). Stardrop is about a princess from outer space who has come to live in a small town here on Earth.


The new book is going to be 200 pages, digest sized like the first one, and it will continue Princess Ashelle's adventures, picking up right where the first book left off!

Here's the best part; all the writing and drawing is DONE!  It's a real project.  It's not vaporware or maybeware.
You can see what you'll be getting over on my website where Stardrop is regularly posted.  The 2nd Graphic Novel, however, will include a TON of new material which is not on the site.  -I don't like to put a book out which doesn't offer something unique.
"A Place to Hang My Spacesuit"  (That's the title of the Second Volume), is going to be one of those fun books for a Sunday afternoon.  It contains all of the charm Stardrop carries; the humor, friendship, and adventure.  Everything from making snow-angles in the park to pitched blaster battles in the hanger bay.  Stardrop covers a surprising amount of territory.

And that's what Second Volumes are all about; After having established the premise and the characters in the First Volume, a second book likes to stretch its story legs!  To see what it can do! 



Jenny Mysterious will also make another (several) appearances.  The time-traveling ninja girl (whose own series is in production right now), is given a lot more room to move in this volume.


Want a copy?  Me too!  How can you help?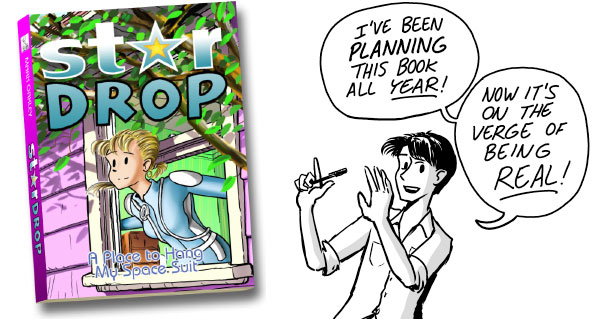 Anybody can help by donating money in any amount. That would be enormously appreciated.  (You can either be mentioned in the thank-you section of the book or you can specify to be anonymous.)
Simply by declaring that you will buy a copy will also help!  If 420 people all decide to pre-order one copy, the whole print run will be paid for.  The books are $10 plus shipping.  (And if you live in my town, then I can easily just hand your copy to you in person!  Look at that very first option in the perks chart!)
I've created a lot of different packages with different perks.  Please go through them and see which suit your taste.  When you select one, you'll be asked for your payment info and a shipping/contact address.
Thank-You!

Retailers of book stores and comic shops!

Want to stock Stardrop on your shelves and support this campaign?  That's wonderful!  I've put together basic packages of 5 and 10 copies.  You get a 40% discount and I pay shipping.  Please see the side bar perks section under the retailer options.  (I apologize; Indiegogo puts all perk packages in descending order based on cost, so the two I designed for you are mixed in with the others.  Just look for the label, "RETAIL")

$30 - 5 copies, Free Ship (Retailers only - copies signed)

$60 - 10 copies, Free Ship (Retailers only - copies signed)

You can also order copies of the FIRST volume of Stardrop.  Simply specify in your order using the above two options.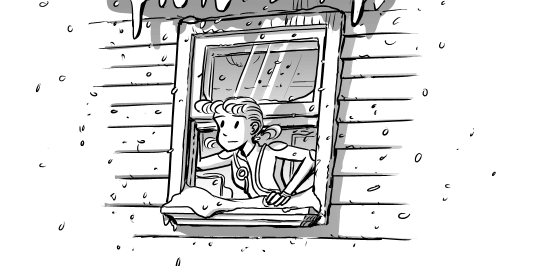 The hard numbers. . .

Here's the project cost breakdown; where those dollars will be going:

$4200 - Printing cost and taxes on 2000 copies. Printing is done in Canada.

$2376 - Rough estimate for shipping costs of individual and retail copies pre-ordered during this campaign.

$274 - Indiegogo takes 4%.

$6850 -- TOTAL
Please note: none of the money raised during this campaign will end up in my pocket; it all goes toward printing and shipping.
How do I pay myself for the hundreds of hours invested in writing and drawing this book? Why, with all the left over copies! I will endeavor to sell these over the next few years on my own. For me, the end of this campaign will represent the beginning of the next stage of my work, but that can't happen without a book in hand. This campaign will make that possible!
Thank-you for your support!