Stretch Goals
Wow! We can't believe we're already funded and burned through three stretch goals! We're upping the ante for these next ones - hopefully you're as excited for them as we are:

$3,100 (ACHIEVED) — "Potter Has It," an Adele parody we introduced in a vlog, will be recorded as a full single and added to the House Pride album we will be putting together! Every donator, regardless of amount, will receive the single for free!
$3,700 (ACHIEVED) — There is a beautiful location just under three hours from where we are based, called Bishop's Castle. With this stretch goal fulfilled, we will be able to utilize this gorgeous location in the video in a way which would have previously been impossible.
$4,200 (ACHIEVED) — We will include a second surprise guest star in the video! The people we have in mind are relevant to Ravenclaw/the Harry Potter fandom, and they are people you would really be excited to see, so let your imaginations run wild!
$5,700 (ACHIEVED) — This additional $1,500 will go towards aiding the editing process for the video, to make the video run more smoothly and thus come out faster! We plan to buy a second greenscreen (and lighting for it) to allow us to create more immersive visual effects, and to hire another editor hourly to aid Erik in the more time-consuming parts of post-production, so you get your Ravenclaw video more quickly!
$6,500 (ACHIEVED) — This additional $800 will go toward funding the launch of our long-anticipated (and much-modified) house-themed pajama sets, so that we can include some Ravenclaw sets featured in the video and launch sales alongside the video release! Here's the concept art:
And check out the newest reward tier — join the Not Literally Quidditch team and get a personalized set!
$6,800 (ACHIEVED) — This money will go toward hiring a real, live house mascot to guest star in the video! We'll get a falconer to work with us and it will be AWESOME.
$8,300 ( ACHIEVED) --- You asked for it! The most popular demand for stretch goals has been more visual effects. We're impressed with the specifics you guys have come up with (and trust us, we're on board with cramming in as many as possible).

Short Summary
We're Ginny, Dana, and Erik from Not Literally, a small, Denver-based production company. We are very passionate about the TV shows, books, movies, and other media that we enjoy, and we love nothing more than to turn that passion into videos and music that we can share with other fans. You may be familiar with some of our other work, which includes the House Pride video series that this film will complete.

Frankly, we can't believe it either -- Ravenclaws is finally here! It's a real thing with a real timeline...and a real fundraising campaign! For our fourth and final House Pride video we want to seriously bring the nerdity, and we need your help to make it a reality.
What We Need & What You Get
As usual, our talented team has given us a streamlined budget to work with. Here's a look at where your money will be going:
$800 — Dance crew
$200 — Costuming
$300 — Audio
$500 — Food (for extras and crew during shoots)
$400 — Sets, props, and locations
$500 — Super secret special guest star!

We've also put together some special reward tiers. Harry Potter is where we started, and we know that many of you have been crucial to getting us where we are today. Check out the sidebar to see the awesome perks we've lined up!
We are using fixed funding for this campaign, which means that if we don't raise the full amount, we don't get any of the money. This is because doing this parody on a lower budget than the one we've outlined would be practically impossible. What that means is that every single dollar counts!
Past Work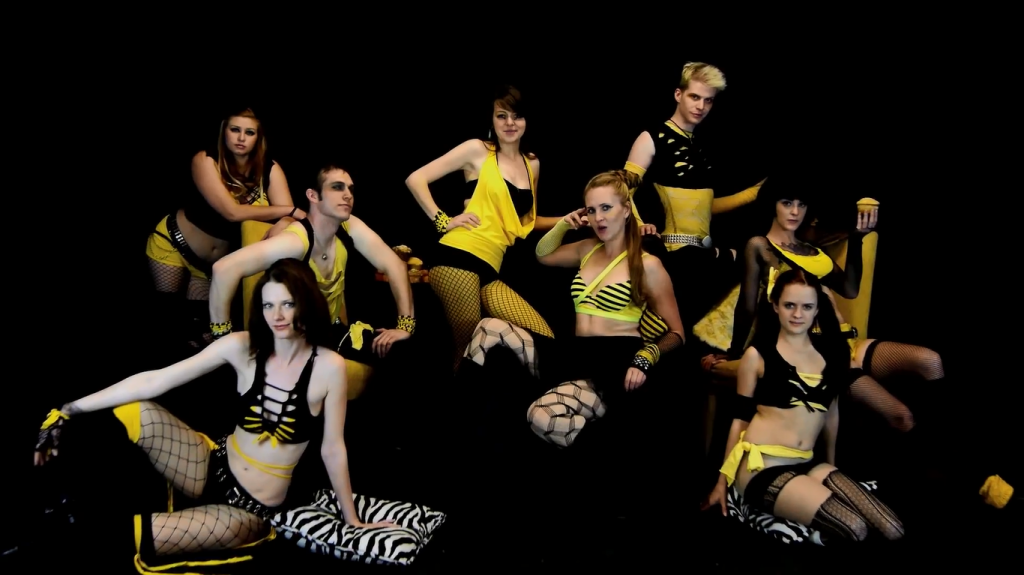 You can see other successfully crowd-funded projects on our Youtube channel, such as "Sorted This Way", "We R Slytherins", and "Gryffindors" from the House Pride series. Also be sure to browse our channel and see videos from other fandoms as we branch out—"Through Time," a Doctor Who parody, and "A Character I Used To Know," a Game of Thrones parody, are our most recent releases.
Other Ways You Can Help
Any amount helps, so don't be afraid to donate a couple of bucks if that's all you can manage! But if you aren't in a place where you can donate, we completely understand. You can still help the campaign by boosting the signal.
Make sure to share the campaign on your Facebook, Tumblr, Twitter, blog, website, etc. and don't forget to explain when you share why you think it's important that people donate to us!