This campaign is fiscally sponsored by San Francisco Film Society and all donations are tax deductible.
Our Story


We are Richard Neill and Lee Schneider - two documentary filmmakers with a strong belief in the power of storytelling to create change in the world. In our film SHELTER were telling the stories of architects and designers worldwide who are using good design to address the shelter issues of the homeless and survivors of natural disasters. We are finding that the "design for good" movement is gathering energy and force and we are reporting on something really exciting.  
Exciting News:  An Angel Donor has stepped forward who will match your contribution! That's right, for every dollar you donate to SHELTER our Angel Donor will put in an equal amount up to $2500. So please read on about the movie, and donate today, knowing that your act of generosity will be doubled.  
SHELTER started as a film about the "pre-fab" movement in architecture and focused on sustainable housing that had a small eco-footprint.  As we did interviews for the project we began to see examples of how good design was making a critical difference in the lives of those in need of shelter - both on the streets of the US and around the world.  
As we filmed those early scenes, we discovered the moral imperative of our film: To tell the story of those in need of shelter, and to chronicle the journey of the architects and designers who have committed themselves to finding inventive solutions.  We're following key shelter stories unfolding right now in the US, UK, and in Haiti, and we're asking you to join our effort now.  
Our Goal 
We want architects, designers and students to see the film and be inspired to create shelter, and we want you to see the film and inspired to become involved with one of the organizations we profile in the film:  Architecture for Humanity, Public Architecture, Habitat for Humanity, and Kleiwerks International. Our goal is to make a great film that tracks the design for good movement and inspires others to help solve the pressing social issues of shelter. 

The Problem Facing the Unsheltered
Worldwide, 100 million people are homeless, and in the United States, more than half a million people are without permanent shelter.

Economic conditions are putting more people out on the street without proper shelter, but economics arent the only reason for homelessness. Scientists all over the world are predicting more severe natural disasters created by more powerful hurricanes, floods and tsunamis. Its a big problem, with millions of people affected.
Impact

The SHELTER project will foster education and provide inspiration. We will educate our audiences about how good design addresses social issues.

 We will inspire thousands of people when we present the film in person, and many more who will see the program on television and in theaters.

 SHELTER is vital because it can light the way to positive social change.
What We Need & What You Get
The next step for SHELTER is to prepare funding applications for the heavy hitters of documentary funding - PBS, the Sundance Documentary Fund, the Ford Foundation and others. We need more footage to make these applications really good, and will use the footage to create a trailer. We have completed part one of that mission - we have made the short trailer that you see posted here and we've applied for a development grant at Sundance.  Now, it's on to part two: a longer form trailer for PBS - and going to Haiti to film.  
Filming a major part of that trailer in Haiti is an important goal for us. We've spent six months tracking key characters there - the architects and designers who are creating the solutions emerging from the rubble, solutions that are being built right now.
We are asking for $5,000 in seed funding to accomplish this. The rest of the $500,000 budget for SHELTER will be coming from foundations, grants and fundraising events. We are fortunate to have received fiscal sponsorship from the San Francisco Film Society, which grants the project non-profit status.

The participation of the San Francisco Film Society makes your contribution today tax-deductible.

SFFS is also providing invaluable assistance to us, reviewing our budget, our grant proposals, our funding appeals, and assisting with project management.  We have gathered a proactive Board of Advisors.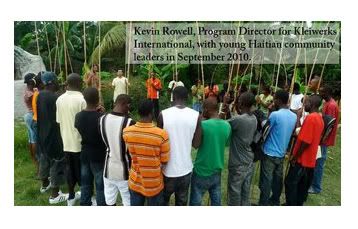 What will we be filming in Haiti? Organizations like Kleiwerks International and Architecture for Humanity have been running workshops for Haitian community leaders, showing how vernacular architecture can be optimized to be earthquake-safe and sustainable. This is powerful, lasting work, and we want to cover what they're accomplishing during a five-day trip to Haiti.  It would be five location days of filming. We can make enough magic with that to create a trailer and contribute mightily to the film. 
What do you get for your contribution?  Check out the perks  to the right! 
Other Ways You Can Help
Spread the word on your social networks online and send a few emails. Join our mailing list and Like our Facebook page.  You can send people to this page to donate or to the San Francisco Film Society's donation page.