The Scanther Kit
Customers carrying smartphones willing to connect to your business' web and social media pages are walking out the door of your business in droves, without connecting. Moreover, walking out the door with the customer are your missed opportunities for sales, loyalty, and profit from that customer and all of their social media friends.
Why?
Signs directing customers to web and social media pages are, to put it kindly, prehistoric. Take a look around at the impossibly long Facebook URL painted on the wall of the coffee shop, or the giant homemade QR code in the window of the restaurant. More importantly, notice how many businesses have no signs at all to direct customers to their web and social media pages.
Best time to engage
The single best time to engage a happy customer on your web and social media pages is when they are at your business.
Now for the kicker - even if you are able to navigate your way to a business' web page with your smartphone, about 90% of business websites are not mobile ready. You probably already know this from your own experience.
The Scanther Kit solves ALL of these problems. Virtually every business needs at least one Scanther Kit. Simply put, if a business has or needs a website or one of the various types of social media pages, they need a Scanther Kit.
What is a Scanther Kit?
Scanther is a retail boxed kit of 5 professionally designed smart signs using NFC, QR, and SMS to drive traffic to your included Instant Mobile Site. (What is NFC, QR, & SMS? - see below). Setup is simple and you can be up and running in as few as 10 minutes. Basically, Scanther is a Smart Sign set, Text messaging campaign, and Mobile Website in a box.

What is NFC?
NFC is the abbreviation for Near Field Communication. NFC is a short-range wireless connectivity technology that uses enables communication in close proximity. When a customer positions an NFC enabled smartphone near or against the "TAP" logo on your Scanther smart sign, it opens your mobile site. NFC has other uses as well. NFC is emerging technology and is currently being adopted by businesses around the world.

What is a QR code?
QR is the abbreviation for Quick Response. A QR code is a two dimensional matrix barcode into which information can stored. When a customer with a QR reader app on their smartphone scans the QR code on your Scanther smart sign, it opens your mobile site on the web browser of the customer's smartphone. QR codes have other uses as well.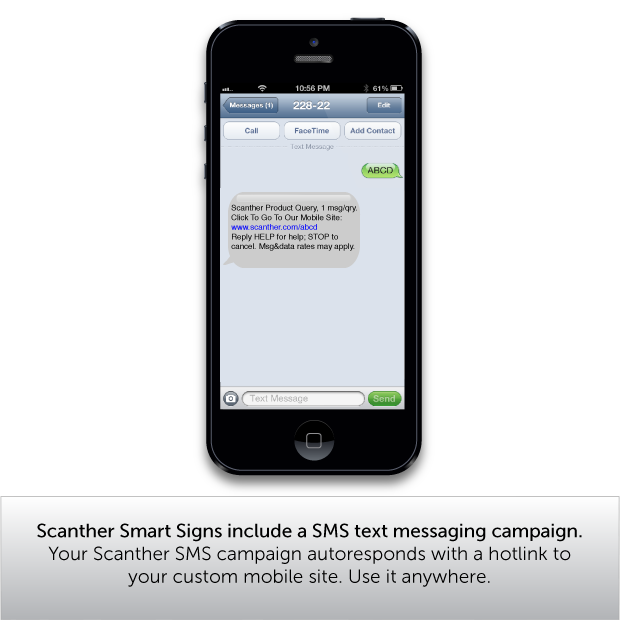 What is a SMS?
SMS is text messaging. When a customer texts from your Scanther Smart Sign, Scanther auto responds with a single text message that contains a link to your Instant Mobile Website. On smartphones with web browsers the link sent by Scanther should appear as a "hot" link so that your Instant Mobile Website will be accessed when the customer touches the link.

What's included with the Scanther Mobile Site Builder?
Your mobile site can include the following elements, in the order you want:
Your logo with an optional text description area
Social Media and Web Buttons each with an optional annotation line
Custom Buttons each with an optional annotation line
Photos with optional captions and your Video
Text Area where you can write whatever you want
Your Address, Location Map, Hours, Events, and Contact Information
Email Signup and Comments so you can connect with your customers
Survey Questions you write so you can get direct feedback from your customers




 
 
 
 
 
Scanther Analytics
Your Scanther site comes with a robust suite of analytics so that you can see what is happening with your Smart Signs and Instant Mobile Website. Our analytics suite allows you to track how customers are engaging so you can get the most out of your web and social media campaigns.

What are the Scanther Accessories?
At this time there are two Scanther Accessories with even more on the drawing board. The Scanther Accessory price point is $59.95.
Scanther Table Top Signs sold in packs of 10 – these are small standalone signs that are perfect for restaurant or coffee shop table tops.
Scanther Decals sold in packs of 20 – these are decals, approximately the size of a business card that can be placed on menus, tables, clipboards, etc.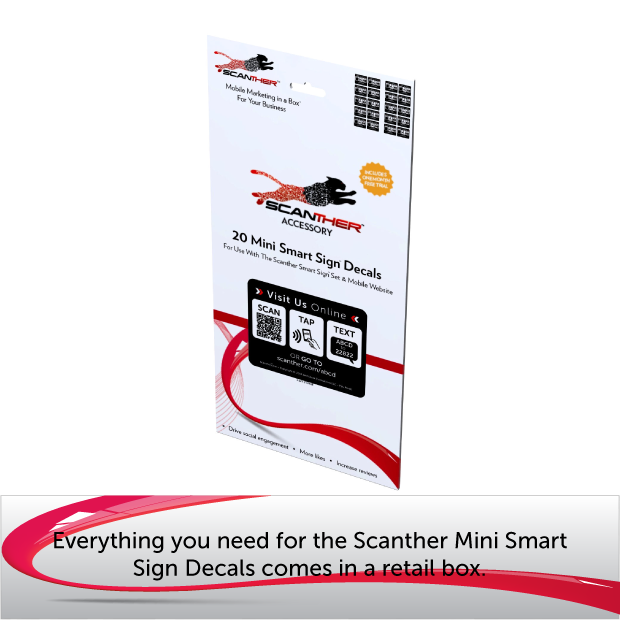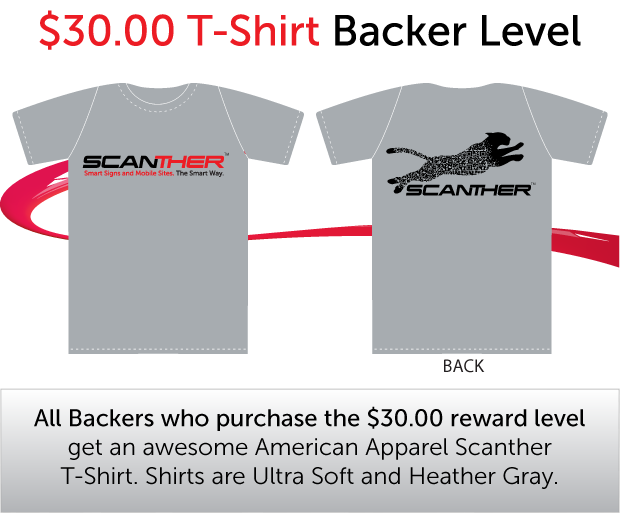 How much will Scanther cost?
Scanther is a retail product, in a box. The initial price point will be $69.95 which includes a one month prepaid subscription.  Each subscription month includes 100 SMS messages.  Additional SMS messages are 4 cents each. Subscriptions are $10.00 per month. There are no long term contracts.
What's in the box?
(1) Scanther Acrylic Counter Sign with NFC, QR, and SMS.
(6) Social media and web icons for application on Counter Sign and on your window glass
(2) Scanther Window Clings with NFC, QR, and SMS
(2) Scanther Decals with NFC, QR, and SMS
(1) Scanther Installation Spray, (1) Squeegee, and (1) Microfiber Cloth 
Important Statistics
Smartphones are used by 50.4% of U.S. consumers. [Nielsen, May 2012] 
The top two uses of Smartphones are browsing the internet (24.81 minutes per day) and using social media (17.49 minutes per day) [O2, June 2012] 
Only about 10% of websites are mobile ready. [Mongoose Metrics, Feb 2012]
Where We Are Now
Prototype: 100% Complete
Sign and Icon Design: 100% Complete
Materials for First Production Run of 1000 Scanther Kits: 100% acquired.
Packaging Boxes and Materials: Packaging Boxes ordered. 
Packaging Artwork: Complete
UPC Codes: Obtained
Intellectual Property Rights: Both Trademark and Patent protection have been filed. All original Artwork has Copyright and Trademark designations. 
Website Development: 90% Complete. Estimated Completion Early March 2013.
Promotional Video: Complete
Marketing Plan: In progress. Plan will encompass mass market in the USA.
Who We Are
We are a father and two sons who love to brainstorm, create, and invent.  Michael Archuleta has a BBA, MBA, JD, and MD degree. EJ Archuleta has a BA and JD degree. Austin Archuleta is a senior engineering student with an expected graduation date of May 2013. Working together over the past 8 months the Scanther idea was hatched, refined, planned, and implemented. 
How will Scanther use funds?
Funds will be used for completion of the website, product launch at SXSW, and opening the mass market to Scanther in the USA. Important secondary goals are to open mass markets for Scanther worldwide.
Spread the word
Dont forget to like Scanther on Facebook and make sure to share it with all your friends!