Hi! Welcome to Rocko Collar
Rocko Pet Limited is a London based startup dedicated to making great products for pets and their owners.
We'll  be donating a portion of our profits to local, independent animal shelters to help homeless pets find a comfortable and loving environment.
Rocko Collar finds the GPS Location of your pet and send it to your Android, iPhone and iPad. (App will be supplied FREE with every collar) Location accurate to approx 3ft (1Metre)
Pet location takes approx. 20 seconds (outdoors)
Multiple collars can be paired with an app
Rechargeable Li-ion battery, which lasts for around 4 days in tests.
Mains charging dock supplied
Extra strong double ply collar supplied, but GPS uni can be supplied
'Moving at speed' alerts enabled via the app
Collar battery status accessed via the app
Water resistant GPS unit
Must be used outdoors
Although we have tested with a cat - we strongly recommended that the first version of Rocko Collar is only used for DOGS.
Free 'locate credits' included with initial purchase (See below)
The collar will come with a 12 month warranty as standard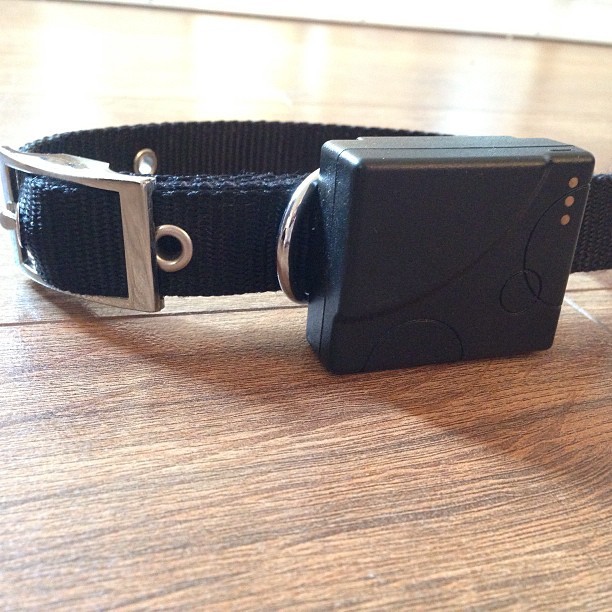 A Finished Rocko Collar in black

In 2012 after moving house, two of Jim Hooker's cats ran away. The first one to run away was Milton, he busted through the cat flap and we never saw him again... We'd like to think that he found another home.
Then Rocco ran away... unfortunately  after a few days of being lost, he was hit by a car a few streets away.
Being geeks who develop mobile apps, we thought it would be great to create an app to find our pets, should they get lost.
Although this has been tried before, we noticed there was no fully integrated, end to end, affordable and elegant products in this space. After receiving great reactions from friends and family  we knew the rest of the UK would love it too.
So - we decided to start a business
The Product Brief
The product had to meet the following points;
Easy to use out of the box.
A fixed unit, water resistant and comfortable for the animals.
Long battery life
As accurate as possible, with almost full coverage of the UK.
Used with a smartphone app (iOS and Android)
No monthly fee
Fairly priced
Had to use GPS
Had to include an accelerometer to alert when the collar was removed/dropped.
Use mobile phone networks to communicate back to our servers
A great product that's done right.
The Hardware & Software
It may not be popular knowledge, but pets can't naturally communicate their location with smartphones over long distances. Who knew!? So we needed a device to attach to the pets.
We first contacted some electronic manufacturers and ordered a standard GPS tracker that worked over the GSM (cellphone) networks... just to get a prototype working.
The prototype was much bigger than we envisioned, but we were able to learn how it works. We spent a few months writing software and the phone app beta.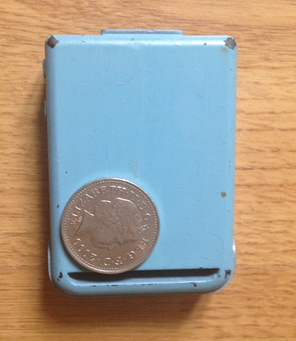 Our first try... waaay too big!
Once we knew we could make this product work, we went back to the electronics manufacturer with the aim of halving the size of the GPS unit, so it would be animal friendly.
The prototype version also needed a USB cable to charge it... we wanted a more elegant way to charge it. Each Rocko Collar will be supplied with a charging dock.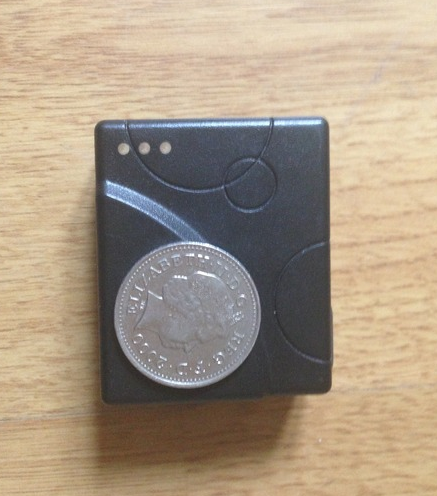 The final prototype unit... much better and smaller!
The Collar Material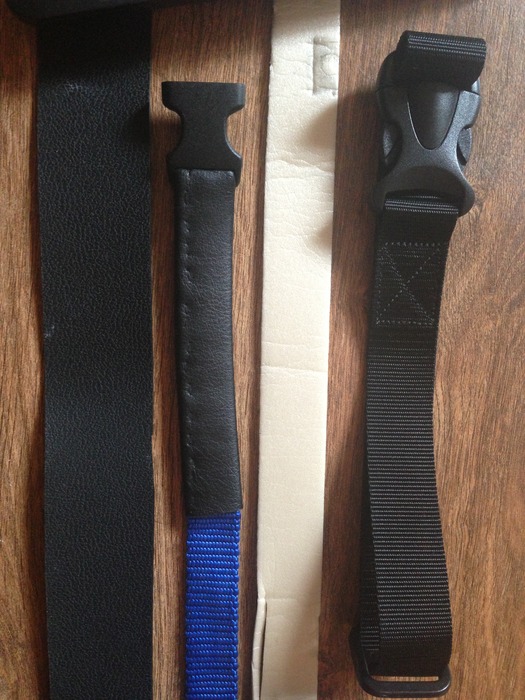 We tested lots of diferent materials...

Leather was our immediate candidate to provide style and stength, but we felt it was a tad weird to start a company to save animals, and use animal skin to make the collar. 
We tested a few synthentic materials, and hybrid solutions - but couldnt get it quite right. 
We then contacted Hem & Boo, a popular UK based collar designer, and found the perfect balance of strength and style with their duo-ply polyester collar, with metal buckles. 
Although tested with a mid sized male cat the first version of Rocko Collar will be onlyrecommended for dogs. For cats, we would reccomend that you put the GPS unit on your cats current collar.
After negotiating with UK based mobile networks and manufacturers  we were able to organise a stable supply chain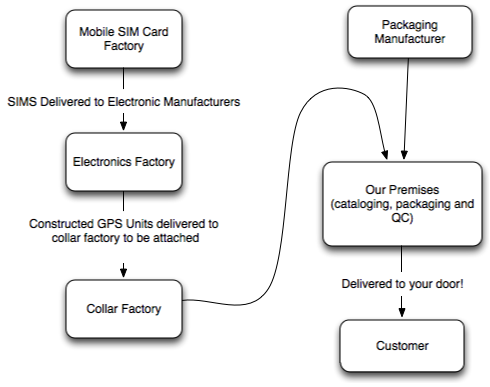 The first version of the app, working with collar!!
The delivered version will ship in green (The Rocko Collar Green)to act as a deterrent against pet theives.
We already have a working prototype of the end to end solution,  partnered with a major  mobile network to provide 99% coverage of the UK. We have designed a great looking, strong and 'animal friendly' collar that your pet is going to love.
Our app is also in the final stages of development and working well with prototype units
We have partnered with specialised collar and electronics manufacturers, and the product is certified for use in the EU.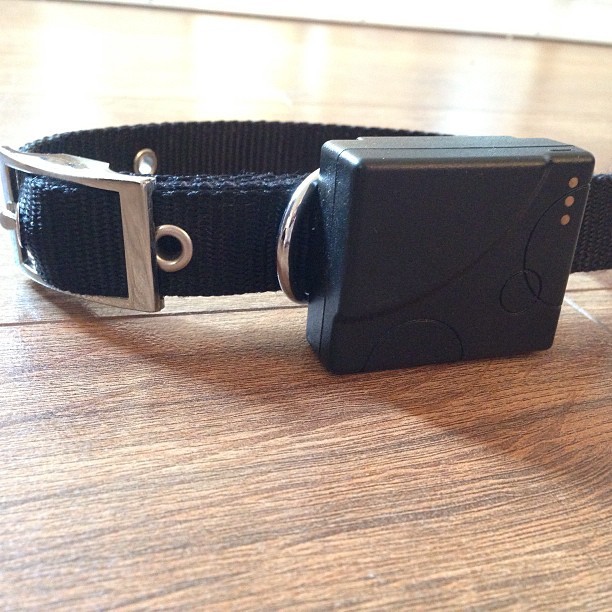 A Finished Rocko Collar in black
In order to get our electronics at a price that is low enough for you guys to buy them, we need to place a massive order. Rather than give away a significant amount of our company at this early stage, we thought we'd let the market decide how successful our project would be. We'll be using any profit raised to promote Rocko Collar for retail using real world print and advertising, as well as funding somewhere for us to work

Other people have tried to market this type of product, and have not been very successful because of mobile usage fees.
We've found that other low cost pet tracking devices are subsidised by a monthly mobile contract that comes with it. Some companies have tried supplying without a monthly contract, but charge way too much for the collar (£150-£200 mark). 
In app purchases have been widely accepted in the mobile gaming market, and we hope it will here too.
We did some research and found a middle ground. Each request to find the location of a pet will cost 'credits.' These credits will be available through in-app purchase via iPhone, Android and the website. They will be priced very competitively, and the collar will come with a bundle of free credits to get you started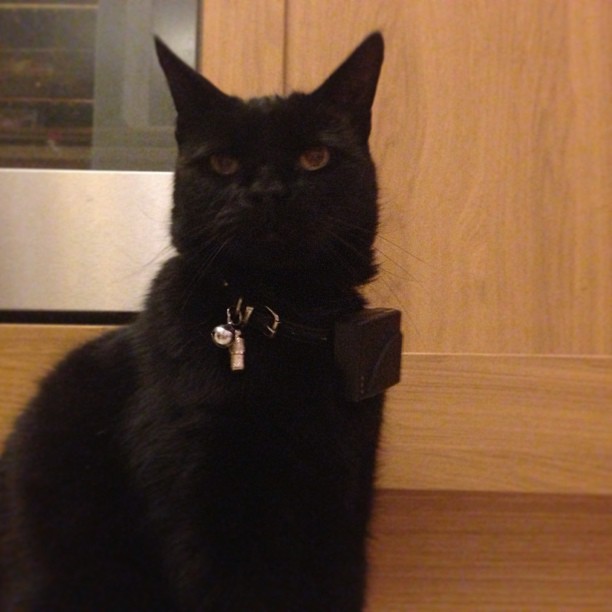 'Pugwash' sporting the prototype GPS unit

Once we have successfully brought Rocko Collar to market, we hope to release version 2 in Q2 2014, which will be smaller and designed specifically for cats. Our aim is to take our product to the USA by the end of 2014. We already have arrangements with cell carriers to do this.