THE CREATION
What is a EuroWrap?  A EuroWrap is a vehicle wrap...the sexiest thing to happen to the automotive industry since leather seats.
To take that a bit further, a EuroWrap vehicle wrap is a protective 3M vinyl finish that, when installed on your vehicle, gives it a unique, exotic look. EuroWraps are available as full or partial wraps, or as accent packages.
A few of our most popular vinyl wraps include Matte Black finish, Black Carbon Fiber, Brushed Metal finishes and various colors of Matte and Carbon Fiber.
THE COMPANY
EuroWraps is a Denver-based custom vehicle wrap company. We are small-but-mighty team of six full-time people who wear a lot of hats and we have just finished developing a line of affordable vehicle wrap products for the retail automotive accessory market.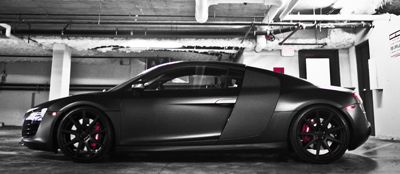 Since our inception, we have built an excellent reputation in the wrap industry with high quality work, service and support. We have the absolute best warranty in the business and are the only vehicle wrap company in the world whose warranty is backed by Lloyds of London.
We also provide project-based contract jobs for a couple dozen graphic designers, photographers and wrap installers around the country.
For the past five years, we have sunk almost all of our profits back into the company in order to build on our reputation and insure our future.
All of these things have helped build EuroWraps to where it is today.
THE CAUSE
So where is EuroWraps today? Well, all that hard work is finally beginning to pay off.
We have just celebrated the signing of a huge retail distribution deal with a major automotive accessory retailer. How major are these guys? Is 50 locations in four states considered major?
This distribution deal will make EuroWraps the first wrap company in the nation to bring affordable vehicle wrap products and services to retail stores and car dealerships.
A small challenge has presented itself however; this particular retailer wants EuroWraps to roll out in all 10 Colorado stores within 60 days and then...all 40 of its remaining locations around the country within 10 months!
We know, it's definitely a great problem to have...and that's why we are here. We need your help!
THE CAMPAIGN
In order to do this retail distrubution deal right, we need a lot of fancy retail stuff that stores require their vendors to provide in order to actually sell the vendors' products.
In our case, we need to provide each store with an engaging, interactive point-of-sale display that will educate customers about vehicle wraps and show them why a EuroWrap is an awesome thing for their car.
Part of that display is a 32-inch flat screen TV that shows a promotional video showcasing our products. That video runs on a loop – all day long – so it has to be a good quality video complete with music, graphics and professional narration. We also need to have the video produced by "professional-video-production-type-people".
Another part of that display is an 18-inch touch pad tablet that allows customers to select their car and the type of wrap they want so they can see what their car will look like with that particular wrap installed.
The last part of the display is a materials book of vinyl swatches that allows customers to see and touch the material that will be installed. That part we have covered...thanks to 3M and the thousands of scraps left over from previous wrap installations we've done.
And finally, we need product brochures and pricing sheets to be designed and printed.
Here is the breakdown of what all of that will cost:
10 LCD flat screen digital display monitors @ $219 each = $2190
10 18" point-of-sale kiosk tablets (touch pad model with stand) @ $1097 each = $10,970
1 promotional video – includes script writing, 2-cameras, lighting, 15 hours editing, voice narration = $2800
1 Still photographer – Product photography for brochures and retailer website - one full shoot day = $500
Graphic design – 8 product brochures and pricing sheets = $860
We currently have just over $3000 to put toward all this, so our remaining need is $14,320...and in order to raise that amount – we have put together some very sweet perks!
THE CARROT
This is your chance to grab some sweet wraps before we actually place them in the retail market. We have created an awesome list of perks based on our retail product line we will be introducing to the public through our new retail partner. The perks range from a carbon fiber vinyl wrap for your laptop for $25...
all the way up to having us and a video crew fly to your city and wrap your car in a finish of your choice AND star in our national promotional video that will be airing in retail stores throughout the U.S.
There are lots of affordable perks in between as well, from spoiler and mirror wrap kits to hood wraps, roof wraps and even rocker panel wraps; and every contribution makes a big difference in our campaign.
THE CARMA (oops, we meant KARMA)
The minute we landed our distribution deal, we knew we had our work cut out for us, but we knew we could handle it. We also new the biggest hurdle would be funding our transition into the retail market.
It took us all of about two minutes of discussing our fundraising options to realize that IndieGogo was the answer. We at EuroWraps have all contributed to other campaigns and love watching other small businesses reach their goals here. It's incredible that there is an option for people and for companies like ours to come to with a great idea or worthwhile cause and raise capital without having to give away our companies to investors.
Know this, that with your contribution, you are helping a wonderful team of people reach what was once just a pipe dream. And when EuroWraps launches in the first ten retail stores and then the next 40 and however many more from there, there will be jobs created for graphic designers, photographers, wrap installers, project coordinators, shipping managers and others. And you will have made it happen...
THE CALLING
Besides contributing financially, you can also help by liking the EuroWraps Facebook page and by sharing the link to this campaign. Indiegogo has built-in tools to help you share our campaign via social media including Twitter, Facebook and others. Even if you can't contribute financially, a share would mean the world to us.
Are you a graphic designer? Interested in designing or installing vehicle wraps?  We are going to need a few people as soon as we launch our retail product line. We'll be looking for graphic designers, project coordinators, photographers and wrap installers in several cities throughout Colorado, Texas, Washington and Oregon. Give us a call or email us your resume if you have an interest in EuriWraps!
Our deepest thanks,
The EuroWraps Team
Rob Reese, Rob Ligon, Chris Lee,
Jeremy Mills, Steve Wood & Steven Bayliss