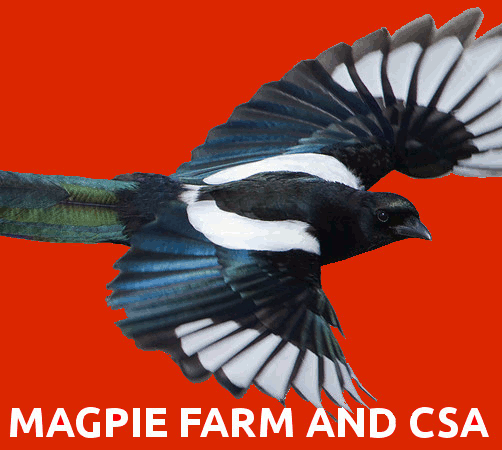 Magpie Farm LLC has failed at raising their goal and we believe it would be a miracle if we had enough last minute funders t reach our goal. This became evident early on in this campaign so we diverted our efforts on finishing our offer to 40 individuals to become co-owners in our farm and share in its future profits. We invite you to look over our offer and see if it is right for you and your investment. You can find it at the following link: http://bit.ly/13OTPEn

Our investment model is taken from the ideas and practices of the Slow Money USA Initiative; Slow Food USA initiative, and the Community Supported Agriculture models. The premise is small investment, 3-5 years of no dividends, slow growth to a resilient profit plateau in 10 years. 
To all contributers to this project have no fear your funds will go to our construction and aggregation of the Aquaponic 4 Season Greenhouse. Thank you for your support and consideration. Bless Todd Cleckner 
                                                        CSA
COMMUNITY- It takes a community to make a farm! What good is a producer if there is no one  to feed? As more and more of the food supply is imported, grown by multi national corporations, and distribution centralized individuals have become more detached from the origins of their foods. In a CSA the individuals of a community chose a farmer or collective of farmers to produce their food on a weekly basis. The farmers and communities agree on the practices to be used, the crops to be grown, the locations for delivery, and a fair price. This form of community involvement with their farmers and farms brings back the days of community barn raising when consumers knew and supported the farmers and farms their food came from!

SUPPORTED- A farmer has their biggest needs at the start of the year, when seeds, soils, irrigation fixes, feeds, propagation supplies, nutrients, tractor fuel and fixes, and a host of other stuff is needed all at once to get the year rolling. This requires great support of the producer by the community or banks at the start of each year to fund all these expensive endeavors. The farms that chose to use sustainable practices and cutting edge technologies like aquaponics, face even harder time getting the resources needed as conventional sources have yet to support these efforts in any kind of viable and achievable way. The use of these needed methods will only come by financial and labor support from the communities to the farmers and farms that they trust to grow their food.

AGRICULTURE- Modern agriculture is eroding not just our top soil but our pallet. There are       thousands of edible plants and fish in the world each with their own flavor. By supporting a local producer you can have influence on the diversity grown by the farm and supplied to you. Often the crops from small farmers that use progressive methods will have unusual offerings of traditional vegetables and unique new things for you to try. Agriculture as it has been known for thousands of years has taken its toll on the earth and it is know time, by choice and by force, we must begin to change our methods to regenerative forms of agriculture that no longer mine the resources of the earth but conserve and build them.