UPDATE: March 29, 2012 - NEW GOAL $10,000
We reached our initial funding goal early.  Thank you to everyone who donated and spread the word.  Please keep the momentum going! The amount $5500 is to cover our basic costs. With a higher budget we can capture more stories in Japan and produce an even better film.  
Watch a video update from Michael Stone here
A short film about the reawakening of the Boddhisattva in the wake of the Japanese nuclear disaster. 
My Story
When I was 8 years old, I started visiting my uncle Ian at the Mental Asylum where he lived his entire adult life. He taught me about meditation and spirituality. He always said: "everyone is asleep. Don't fall asleep. Spiritual Practice is Action. It's helping."

When The Tsunami hit the coast of Japan last year, the devastation was tragic. The failing nuclear power plant, in a country totally reliant on nuclear, is a crystall ball for all of us who rely on nuclear to power our modern lifestyles.

One of the core teachings of the Buddha is that our lives are dominated by stories. Sometimes they help but habitual stpries tend to cause us suffering. Stories are a kind of addiction.

Our culture is addicted to a way of life that is not sustainable. Personal stories need to change. Anyone involved in contemplative practice knows this. But cultural stories must change too.
The meltdown at the Fukushima Daiichi Nuclear Power Plant is showing us that we need to find a way to change what we think of as a meaningful lifestyle because our biospehere can't handle it. The promise of safe nuclear to power our lives is turning out to be a failure.
The Bodhisattva Vow

The Bodhisattva Vow is a commitment to see one's spiritual practice as one of service.

When I recognize that all living things are interconnected, how can I be free if others are in pain? So instead of pursuing my own enlightenment, I see that my freedom is bound up with the freedom of others. I roll up my sleeves and see how I can serve.
What are the creative ways the Japanese are responding? How is it instructive to us? How can cultural stories change? What if we replaced our current idea of enlightenment to a distant "nirvana" with a social awakening?
The same solutions that will solve our ecological problems, our economic uncertainties, and our social imbalances are the very same solutions that will help us psychologically and spiritually. Social actions and spirituality go together.
The Short Film
Filmmaker Ian Mackenzie (Occupy Love) and I plan to go to Japan to learn how the Japanese are responding to the melting Fukushima Nuclear Power Plant. How are the old Zen traditions and cities of beautiful temples responding? How are the young rethinking the stories of their lives? How can we embody the Boddhisattva vow in this time? 
What We Need
Our plan is to shoot over a 7 day period, traveling from Kyoto to Fukushima Prefecture, and finally to Tokyo. The team will consist of Michael Stone and filmmaker Ian MacKenzie.  
Here's a general breakdown of costs: 
Flight: Michael Stone (covered)
Flight: Ian Mackenzie (Filmmaker)      $1400
Transportation around Japan: $800 
Meals & Accommodation:  $1000
Translator $200 
Film Equipment rental & insurance: $1000
Post-production + music licenses:  $600
Indiegogo + bank fees: $500
TOTAL: $5500
Other Ways You Can Help
If you are unable to give money at this time, please consider sharing our video, blogging about the project, tweeting, emailing friends and fellow spiritual communities. Anything to spread the word helps!
The Team
About Michael Stone

Michael Stone leads Centre of Gravity. He is a psychotherapist, yoga teacher, Buddhist teacher, author and activist, committed to the integration of traditional teachings with contemporary psychological and philosophical understanding. His research and teaching explore the intersection of committed spiritual practice and social action.
His yoga teaching method is to slow down the traditional Ashtanga Vinyasa Krama sequences in order to bring deeper awareness to the subtle aspects of postures, balancing attention to alignment with meditative awareness. His meditation teachings integrate traditional Vipassana and Zen forms with insights from Yoga and Mahayana Buddhism, without losing the integrity of each tradition.
About Ian MacKenzie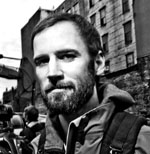 Ian MacKenzie is a media activist and filmmaker from Vancouver, BC. His first feature documentary was One Week Job (2010), about a guy working 52 jobs in 52 weeks to find his passion. Ian next joined veteran filmmaker Velcrow Ripper to co-produce the upcoming feature Occupy Love (2012).  Ian has also produced numerous shorts, including the viral video The Revolution Is Love, and Sacred Economics. 
Image of the bleeding Sun via Bienvenido Cruz