The Problem:
Americans throw away 40% of their food, most of which which ends up in landfills where it takes up space and releases greenhouse gases.
The Re-Nuble Solution:
Re-Nuble collects the food waste from restaurants, schools, and food courts and uses proven technology to turn it into organic fertilizer and renewable energy that are then delivered right back into the community.
Re-Nuble is a socially minded enterprise dedicated to redefining how the world generates energy, cultivates food, and manages the waste it produces.
We specialize in developing local, community based recycling facilities that turn organic waste into renewabele energy and all-natural fertilizer for sustainable farming.

We use anaerobic digesters to recycle organic waste into renewable energy and green fertilizer. 
Located in urban centers, these environmentally friendly digesters are about the size of a small truck.  Unless you're looking for them, you'd never even notice they were there.

Although the digesters are relatively affordable, the environmental permits are not. 
And thus your contributions will go towards air, solid waste, and waste water permits granted only after an arduous review process performed by local, state and federal environmental resources departments.
Though expensive, these permits are necessary for enforcing judicious rules that ensure natural, public resources are not being exploited and ill-managed.
Below is a breakdown of costs for our first launch in the Washington, DC area.
With the permits in place, Re-Nuble then applies its Green Back Approach at the community level, by: 
Building centralized anaerobic digester facilities to replace toxic landfills and decentralized composting plants.
Partnering with local organic waste producers (restaurants, hotels, caterers, landscapers, farmers, etc.) to help them properly sort their discarded food and clippings for environmentally safe recycling.
Enlisting organic waste food haulers to ensure the safe transportation of any organic food waste collected within each community.
Recycling this organic material to remove contaminants and extract both renewable energy and compost for continued use.  Odorless, localized, and 100% green, this anaerobic digestion period takes 18-22 days.
Distributing the newly created organic fertilizer to local farmers who are committed to sustainable agriculture.  And sending our renewable energy to utility companies interested in incorporating greener power sources into their portfolios.
Every $1 that you contribute moves us closer to this goal. 
If you share our vision of a cleaner world with healthier food, less waste, and greener energy, consider donating to our campaign and sharing Re-Nuble with all your friends.

But first a little background on why we launched Re-Nuble in the first place.

As a species, we destroy precious ecosystems to extract fossil fuel (oil, gas, and coal) for our cities and highways.  This constant deforestation and energy consumption carries a terrible cost for the planet.
A portion of this fossil fuel goes to agribusinesses that create synthetic pesticides and petro-fertilizers.  Not only does this further harm the planet, but it also makes the food we eat incredibly unhealthy.


However, we don't even eat all of this unhealthy food.  33% of all the crops grown worldwide (1.3 billion tons) never makes it to our bellies.  Instead, it gets sent to landfills to rot and produce greenhouse gases.
No part of this system is sustainable. 
It is a linear model of waste that offers nothing but disadvantages at every stage.

Rather than continue relying on a linear model of waste, we champion a very different approach – one that is sustainable and yields continuous positive benefits in terms of environmental protection, healthier food, and economic growth.
Instead of discarding uneaten food, we collect this organic waste and recycle it into all-natural fertilizer and renewable energy.


The fertilizer goes to local farmers who grow healthier, more natural crops.  Any food that doesn't get eaten, gets recycled again.
The renewable energy goes to local utility companies, reducing their reliance on fossil fuel.


And we repeat this sustainable loop indefinitely in a process we've dubbed the Green Back Approach.

What are the benefits of contribution to Re-Nuble?
Well, in addition to healthier food, less waste, reduced reliance on fossil fuel, cleaner air, and a greener planet, you also receive:

Tinia Pina, CEO & Founder
In 2011, Tinia founded Re-Nuble with a mission to "Redefine Waste" within local, urban communities.  A finance professional for 4 years and long-time community activist, Tinia launched Re-Nuble as an extension of her volunteer work in sustainability.
What began as an "overly ambitious" dream quickly evolved into an active, community based enterprise dedicated to changing wasteful habits around the world.  Tinia received her B.S. in Business Information Technology from Virginia Tech and is currently studying at the Center for Environmental Research and Conservation at Columbia University's Earth Institute.  She is a Solid Waste Association of North America Certified Composting Systems Technical Associate. 
Dave Bidwell, VP of Business Development
As Re-Nuble's VP of Business Development, David has a sustainability focused B.S. in Business and the Environment and will be completing a Finance and Real Estate MBA at American University in the spring of 2013.
Prior to joining Re-Nuble, David worked for renewable start-up companies, NativeEnergy and Draker Solar, in administrative and business development capacities.
Austin Brentley, VP of Online Marketing & Branding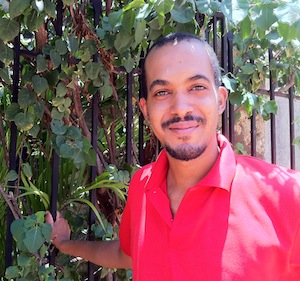 A Washington, D.C. native and Harvard University graduate, Austin Brentley is Re-Nuble's VP of Online Marketing and Branding.  With more than a decade in Web development, search engine optimization, and inbound marketing experience, Austin remains an enthusiastic supporter of environmental protection and global sustainability.
After completing his MBA at Nottingham Business School, he worked with a number of solar PV firms, providing communications and marketing support.  Previous clients include SunPower Corp., US Solar Institute, and Jinko Solar.  An Eagle Scout, avid camper, and world traveler, Austin is thrilled to be joining the Re-Nuble team.


Check out this cool interactive slideshow to understand the process a little better.





Check out some of our media coverage about Re-Nuble and this crowdfunding campaign.
Food Waste In, Renewable Energy Out: Startup Is Crowdfunding the Local Green Economy 

As the memories of rationing and victory gardens fade from its collective consciousness, the United States has become a nation of supremely wasteful eaters. A recent report by the NRDC found that....


Re-Nuble Wants to Repurpose Your Organic Waste Into Renewable Energy and Green Fertilizer

Re-Nuble has just launched a crowdfunding campaign to finance its mission of greening the planet one community at a time. The DC-based company specializes in recycling organic waste to produce green fertilizer.....
Re-Nuble's Crowdfunding Campaign-There Are No Insignificant Acts

We're thrilled to announce the launch of our newest crowdfunding campaign on IndieGoGo.com – an initiative we hope will raise $25,000+ as we unroll ourorganic recycling services to cities across the country....
The Green Revolution Will not Be Televised. It Will Be Crowdfunded

Top down solutions and political action are critical to the long-term survival of the planet.  But at Re-Nuble, we champion grassroots involvement from the bottom up.  Our very business model depends on local action to combat....


Green Crowdfunding Our Way To a More Sustainable World

American opinion about climate change has moved a few steps closer to the global scientific consensus – a view shared by most, if not all, of the international community....


Co-Creation: Community Input to Design Our Organic Recycling Services

Throughout much of the industrial revolution, controlling the means of production represented the surest way to long-term business growth.  And after decades of social progress and innovation....


Can Social Entrepreneurship Protect Us Against Future Climate Disasters?


In How to Change the World: Social Entrepreneurs and the Power of New Ideas, David Bornstein defines social entrepreneurs as those who effect meaningful, positive change without having to compromise the basic tenets of good business....


Re-Nuble Offers Odorless Organic Waste Recycling

Most people hear the word "recycle" and think of paper, plastic, or aluminum. What they don't always consider is organic waste recycling. The people over at Re-Nuble have what they're calling a net-positive closed-loop system to get useful stuff out of organic waste....




Thank you for donating.  Even $1 makes a huge difference.
But also.
Thank you for simply reading and sharing this campaign.  Raising awareness is critical to the success of Re-Nuble's mission of greening the planet.
If you have any questions (or ideas) on how you can help us clean the planet one community at a time, please don't hesitate to contact us directly at media [at] re-nuble.com.   
And be sure to connect with us via Facebook and Twitter.
The Re-Nuble Team

www.Re-Nuble.com