Hi, I'm Kevin. Thanks for visiting our fundraising page for my thesis film, POOR PUSSY!
About the film
I began attending Columbia University's School of the Arts MFA Film Program over three years ago, and knew then this would be the story I was building up to tell. I make films that are told from the heart, that are driven by complex characters set against the guise of an unfamiliar world, but take us on an emotional journey that is sometimes all too familiar.
POOR PUSSY is a tragic love story set in late-1960s Chinatown. Mai, a proud but impoverished seamstress discovers that she may be pregnant with the child of her boss and lover, King. Over the course of a night on the town, Mai challenges King's love, putting their relationship and her own future on the line, discovering a truth about him that changes her perception of him forever.
Oh, there's also frogs, mannequins, an underground lounge, and people pretending to be pussy cats! What?
It's so important to me that underrepresented voices find their way into the American narrative landscape, so we can say "Hey, we're here too! And we have been for quite some time!" It just so happens that I want to shout this out, to convey this sentiment with excitement, intrigue, and curiosity so that our voices can't be denied from the conversation.
I'm want to tell a universal story, one that appeals to the very basic human needs of love and safety, but explore what happens when those necessities are violated at our most desperate times. I want to set this against a backdrop that takes a slice of Americana and filters it through an unexpected cultural lens so that it comes back to us wholly new, yet oddly nostalgic. I want to do all this, in the hopes that an audience will be lured in by the magic of an unfamiliar world, then come to realize that these complicated characters are very much like themselves.
Who we are
We have some amazing people working on this project, donating their time and energy to bring this vision to life. Here are just some of the talented people involved:
Elaine Kao, as 'Mai' (www.elainekao.com)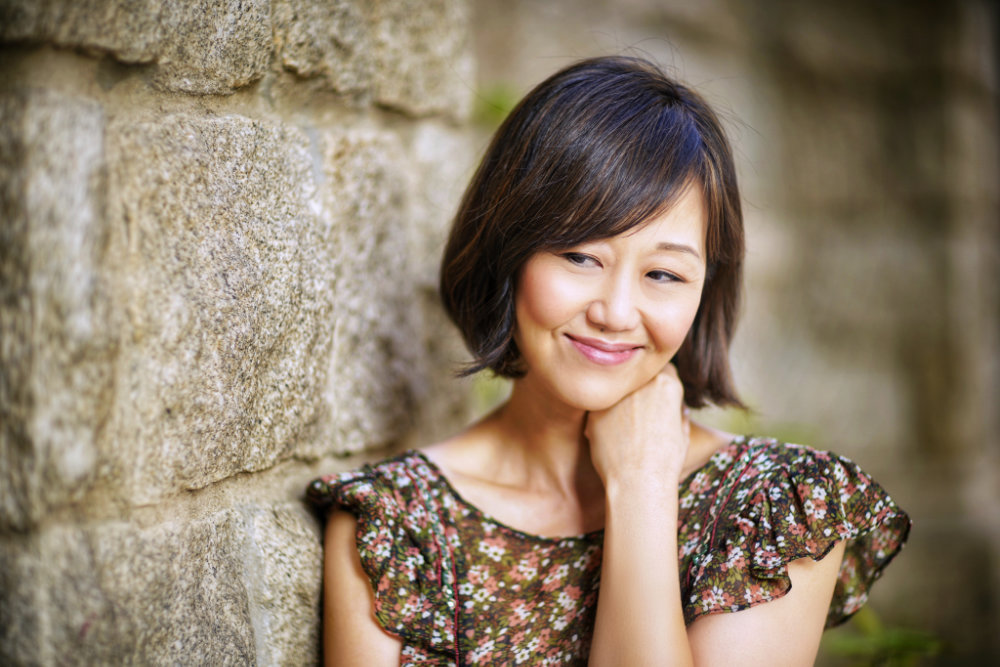 Elaine Kao is a valley girl who grew up in the San Fernando valley of Los Angeles. 
Upon graduating with a BA in Economics from UC Irvine, she decided to pursue her true passion in acting and theatre and went on to earn her MFA in Acting from CalArts. Since then Elaine has worked steadily in theatre, television, and film. Elaine has appeared in numerous national commercials such as Target, Microsoft, Mastercard, Dell, Capital One, Walmart, Travelocity, Hartford, and many others. 

She was a long-time company member of Lodestone Theatre Ensemble and has also performed at East West Players, Company of Angels, Sacred Fools, The Met Theatre, South Coast Repertory, and Cleveland Playhouse. 

In film and television, Elaine has guest starred in a variety of roles including an assassin on NCIS-LA, a massage parlor madam on ENTOURAGE, a beauty queen on feature film WEDDING PALACE, and part of a happy couple in BRIDESMAIDS opposite Kristen Wiig. 

In her free time, she loves to travel to exotic countries, do kundalini yoga, and eat delicious food!
Tim Chiou, as 'King' (www.timchiou.com)
Tim Chiou is an actor in Los Angeles (SAG, AFTRA, AEA). He has appeared in numerous television series, such as 2 BROKE GIRLS, HOUSE, and GREY'S ANATOMY. His film work includes the upcoming MOVIE 43, THE PEOPLE I'VE SLEPT WITH, and SEVENTH MOON. Tim is also a student of the stage, appearing in both the Chicago and Los Angeles productions of Michael Golamco's original play, YEAR ZERO. A proud gamer and cycling enthusiast, Tim advocates increased awareness and outreach for both communities.
Javian Le, Producer
Javian Ashton Le is an independent writer/producer based in New York City, where he began his cinematic foray as a development intern at Anne Carey and Ted Hope's This is that Corp (Martha Marcy May Marlene, The American, 21 Grams). In 2009, his screenplay "Men Like Me" was shortlisted for production in a three-way deal between Killer Films (One Hour Photo, Boys Don't Cry), the Ace Hotel in Manhattan, and Massify. His most recent work as a creative producer includes writer/director Christopher Stetson's MOLLY, Rachel Israel's Columbia University MFA thesis film THE PLAYBOY, and an associate producer position on Rose Troche's sci-fi short film ELLIOT KING IS THIRD; scheduled to premiere on ITVS' Futurestates series in 2013. Javian is a graduate of New York University. 
Leonard Wu is a native of Washington D.C. and currently resides in Los Angeles. An actor by trade (credits include "Veronica Mars," "Bones," "NCIS"), when he is not in front of the camera, Leonard enjoys working on all facets of filmmaking behind the scenes. In his spare time, he enjoys painting and writing, and is the co-creator of the online comic book "Yong & Wilde".
 Cameron Duncan, Director of Photography (www.cameronduncan.net)
Born and raised in Thousand Oaks, CA, Cameron discovered his passion for photography as a kid flipping through the pages of National Geographic magazine. Cameron pursued photography in high school and through college, at which time he began to focus on cinematography at California State University Northridge. After college, Cameron worked for the world leading camera house, Panavision, and went on to camera assist for some of the top DPs in the motion picture industry, all while shooting independent projects. In 2007, he was honored with the International Cinematographers Guild's Emerging Cinematographer Award for his work on the short film YEAR OF THE DOG. In 2010, he was honored again with the award by ICG, nabbing the Grand Prize for his work on MR. MARCEAU. Cameron has been shooting a variety of projects from feature films to documentaries, including work on the television series LONGMIRE and SOUTHLAND. He strives to bring an energetic and motivating vision to every project he collaborates on.
Rayna Savrosa is an artist and freelance Production Designer based in Brooklyn.  She studied photography at Parsons the New School for Design where she received her B.F.A in 2007. Shortly after graduating, she crawled back and received her M.F.A. in 2010 from the Parsons Fine Arts program.  She views production design as an extension of her artistic practice, and has more fun making movies than she does doing anything else.  She can turn your living room into an airport and your office into a snake pit.  
Kevin Lau, Director and Co-Writer
Filmmaker, photographer, musician, Kevin Lau is a graduate of UCLA and is currently finishing a MFA degree from Columbia University in New York. A former theatrical film distributor, Kevin has made numerous shorts that have screened on the festival circuit, including KIN, BUTTERFLY, and YEAR OF THE DOG. Whether set against fantastical backdrops or intricacies of day-to-day life, the stories that come from the heart, stories that explore the complexities of human relationships, stories that inform our view of the world, are the stories that matter to him the most. Kevin currently lives in Brooklyn, NY where he dreams of a larger kitchen.
How you can help
I'm not going to lie, this is my most ambitious project to date! To fulfill this vision, we need resources to support the amazingly talented cast and crew we've already brought together. The more resources we can raise, the more ammunition we have to create a dynamic and visually immersive world that is so important to the success of this story.
We have more than half of our funding in place and are seeking your help to make it to the finish line! 
Our budget has been carefully planned. We've already received generous donations in the form of locations, equipment, food, time, and energy. But we need a little bit more to take us down the home stretch. Much of our resources will go towards:
Taking care of our talent and crew, from feeding them, to transporting them.
Insurance and permits, to make sure everyone involved is safe and the locations we're borrowing are protected.
Wood: we'll be building a bathroom that's large enough to fit a camera and crew.
Fabric: we'll be transforming an industrial warehouse into a dimly-lit speakeasy lounge with vibrant curtains and fabric.
Furniture rental: we'll be populating said lounge with plush Victorian couches, armchairs and tables.
Wardrobe: we'll be renting suitable period dresses and suits for our cast of 15 and numerous extras.
Location Fees: so far, all of our locations have been generously donated to us (garment factory, industrial warehouse, apartment, and offices), except for two: a diner and a laundromat. We'll need a little bit of money here to help acquire these last two locations.
And much, much more.
Wondering how we're going to do all this on a limited budget?
Anyone who backs our film will be granted access to our private Instagram feed, detailing our day-to-day progress so you can follow us from location scouts and building sets, to casting decisions and live on-the-set stills. You'll be let in on the creative ways we'll be able to visualize this world with the resources we have and hopefully get a sense of what it takes to get a film made!
And, if you want to be even more involved in the process, we have perks that'll give you a sneak peak into various stages of the process, such as access to select dailies from the shoot, viewing rough cuts of the film, to even you giving us your feedback on the first edit!
Your donations are invaluable to us and we want to include you in as much of our process as we can!
Thank you so much for your support!
Principal Photography begins the last weekend of October, so we're pretty close to production (yikes!). Anything you can do to help would be amazing. Every donation counts. Even if you can't back us, help us spread the word! Sending this campaign to friends is just as helpful as a donation. And for those that are interested in a tax-deductible donation, please email info@kevinlaufilms.com for more information. Thanks so much!
*Our campaign video could not have been made without the LA/NYC footage of Cameron Duncan, the camera work of David J. Lee, and the music of Paul Smith. Thanks!