Short Summary:
Hello, 
My name is Anton Orlov and I am a photographic artist based out of San Diego, California.  I love traditional photography and have been printing my own black and white images for the past 23 years.
2012 saw the birth of The Photo Palace Bus - traveling darkroom and gallery.  This was my dream for the past 15 years and I am very happy to see it come to life. 
The aim of The Photo Palace Bus is public education about the beauty and importance of traditional printmaking methods with the goal of inspiring the use of analog photography. While traveling Photo Palace offers the following programs:
• History of the Photographic Medium Exhibits
• Magic Lantern Slide Shows
• Worshops in Darkroom Techniques
• Alternative Printing Methods Workshops and Demonstrations
• Portrait With Instant Imaging Technology
• Darkroom Consultations
and more....
You can get a good idea of my personal dedication by taking a look at the BLOG, which I kept during construction and the inaugural 9.300mi journey from California to Maine and back.
During the second journey I would also like to compile a comprehensive survey of the state of analog photography today.  This will be done by conducting interviews with people associated with fine art photography focusing on traditional means of printmaking.  The interviews will appear on the blog and eventually published in a limited edition book.
The first of the interviews are already being conducted in San Diego area. 
Your support means a lot to me.  Any amount that you are comfortable with contributing will indeed make a big difference.
What We Need & What You Get:
The $10.000 goal will go toward the following:
• Construction of a foldout portrait studio mentioned in the kickstarter campaign - to make it RIGHT it's going to cost in the range of $3500-4000 (while converting the bus my personal funding simply ran out just short of being able to do that)
• Fuel and other traveling expenses
• Limited edition book publication
• Printing supplies such as paper and chemistry
• The rest will go to indiegogo and Paypal fees and expenses of printing and shipping the perks
Perks:
After the end of the campaign you will receive the wonderful perks that you chose.  The list is on the right so feel free to take a look and see what you feel tickles your fancy.
Books will be printed at the end of the project (I project that to happen at the end of the summer) .  Please read through the list carefully and make a selection (or two or three -  nothing says you can't contribute more than once, right?)
Are you in Continental United States?  One of the perks involves Gilli swinging by your town and giving a private lecture on historic processes illustrated by my collection of prints. 
The $700 Perk - Unique Gelating Silver Mural Prints.
Here is a link to the gallery of prints where you can chose one for yourself:
http://orlovphoto.com/galleries/guetemala/
The first two prints (Self Portrait and Incense Seller have been sold and are NOT available)
The rest of the imges are printed in edition of 1 each (except for Lake Atitlan which was printed in edition of 2).  These 30x30in fiber base silver ptints are truly beautiful and were printed on Foma Chamois Cream Tone paper giving them a wonderful old-world feel.  They were all captured on Rolleiflex TLR cameras and have stunning detail and clarity.  These are some of the best prints I have ever made (definitely the best mural prints by me).  It is impossible to reproduce them as the paper manufaturer has switched paper base and it no longer has the luster and texture that it used to have.
As soon as a print is sold I will post a note about it here so you know what you have left to chose from.

Here is an example of the amazing detail of these prints.  Take a look at the image called 'Memory' and then take a look at this little close-up which is still not really as sharp as the real print.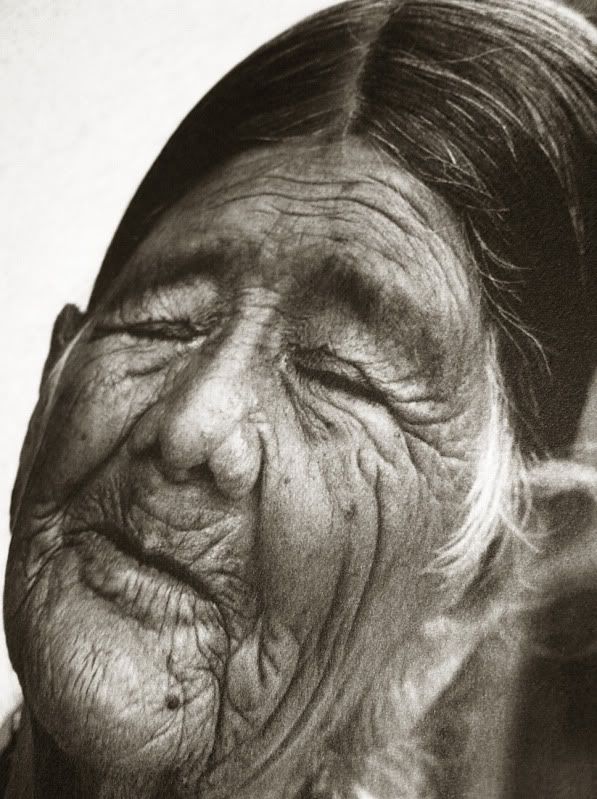 The Impact:
My blog has been getting an ample amount of hits from all over the planet.  Readers come from all over the planet - North and South America, Europe, Asia and occasionally Africa and Australia as well.  Along with enjoying the adventurous and raw style of my writing I hope it inspired them to pick up that old Brownie, dust off their fathers Leica or invest into a 4x5.
By exposing the passion and the impetus of the artists working manually I hope to inspire a new generation of printers and innovators.  By providing folks with a list of both photo educational facilities and manufacturers of analog products I aim to give more business to them in the long run. 
In the age when digital technology is expanding and changing faster than any one person can keep up with I hope to inspire people to discover the rewards that are brought by devoting their time and labor to making a print via analog means.  The magic of seeing a print emerge in a developer still touches many hearts.
As I pointed out my dedication to this cause is 110% - did the unsuccessful end to the kickstarter campaign stop me from investing every dime of my savings into this unique project?  No way!  I labored for months and spared no expense in making the presentation area and darkroom into an inviting and pleasant place to be in.  After that I took Gilli-the-Gillig on the road. Thousands of people were exposed to and educated about the history of photography though impromptu lectures and demonstrations.  The warm reception I received along the road inspired me to keep going and now I need your support.
Other Ways You Can Help:
There are a few ways you can help other than financial support (though that is what this project needs most)
• Let me know who you think I should interview.  Do you know someone who makes exquisite photo gravures?  Maybe you are friends with the manager of the film division of Kodak or Lomography?  Perhaps you know a high school or university photo teacher who has been inspiring young minds for decades now and loves what they do? 
• HUGE help would be you posting this campaign on your Facebook page, in photo groups there or on other sites or just e-mailing the link to it to a good friend or family member who you know is in the fortunate position to be able to offer financial support to a dedicated artist.