Summary
In the late 1950's, a system of satellite tracking cameras was commissioned by the U.S. Air Force and the Smithsonian Institute. These cameras were stationed around the world and provided invaluable data to both the military and scientific communities throughout the cold war and beyond.

One of the few remaining cameras has been located in Arequipa, Peru for more than 50 years. In cooperation with the University of Arequipa, we are proposing the refurbishment of this unique instrument so that it can be used as a near-Earth object (the things that could make for a bad day on Earth should they impact) search telescope. Using our team's extensive experience with similar Baker-Nunn refurbishments in Canada and Spain, we plan to return this very capable instrument to it's rightful place in the scientific/educational community.

Ultimately, this project will accomplish a number of things...
It will help find and catalogue a large number of, as-of-yet, undiscovered and potentially hazardous near-Earth objects
Create an open data archive allowing anyone with internet access to download images and work on them at home

It will provide a platform for educational outreach in the Arequipa region of Peru and beyond
With it's incredibly wide-field of view and respectable imaging capabilities, the refurbished Baker-Nunn at Arequipa will be an ideal platform to search for potentially hazardous asteroids and comets.
For more details, check out the links at the bottom of this page and the documents on the gallery tab...
What is a Baker-Nunn and what happened to them?
 Built in the late 1950's as satellite tracking cameras, the Baker-Nunn cameras were a feat of mechanical and optical engineering at the time. The optical design was truly impressive. A 20" aperture on an extremely fast f/1 system was (and still is) a difficult undertaking that required James Baker to push the limits of what could achieved for a production telescope. The 3-element corrector elements were made from rare (and hygroscopic) glass types which allowed for the effective correction of aberrations over a very large field of view. This corrector then projected onto a large (31"), f/0.75 spherical primary mirror which reflected back onto an aspherical 5x30 degree focal surface. The cost of all of this? About $200,000 in 1960.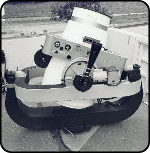 Although 15 of these impressive instruments were, at one time or another, in daily operation, very few remain in existence today. Many were decommissioned and scrapped, or given to their host countries. At present count, we are aware of 4 BNCs that have been refurbished to current standards, 1 that is undergoing refurbishment, 2 that were lost in a brutal fire at the 'Spruce Goose Museum', 2 that are sitting at American museums, 1 in Canada that was partly scrapped, 1 at a Brazilian museum, 1 that sits in at the Hemiji Science Museum in Japan, another that is in private hands in the U.S., and then, finally, the one in Peru that this proposal centres around. The remaining cameras, we know very little about.

Two of the known refurbishments (

U of Calgary & Telescope Fabra ROA Montsec

) will serve as guides for the work to be undertaken in Peru. Two of the team members, who were heavily involved with this earlier work, will bring their learnings to the table to ensure that this next refurbishment is completed efficiently, in a time and cost-effective manner (see for example the recently published article Fors et. al (2013)).
Refurbished BNC Specifications
Aperture: 20"
Optical Design: modified Schmidt with additional field-flattening and corrective optics
Focal Ratio: a bit under f/1
Corrected Field-of-View: up to 20 sq. degrees
Camera Type: off-the-shelf with custom front-end
Area per Image: 7-18 sq. degrees
Plate Scale: 3.9"/pixel (for 9um)
Limiting Magnitude: 17-19
Number of stars per image: up to 10's of thousands!
Typical Exposure Length: 15-30s
Image Rate: 60-80 per hour
Control System: The Bisque TCS or ASCOM-/INDI-compliant Arduino-based - we haven't decided yet...
Why Arequipa?
Founded in 1540, Arequipa is the second largest city in Peru with nearly one million inhabitants. The city is located in the south of Peru at altitudes of between 2000m and 2800m and has a good climate for observing.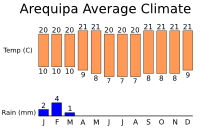 During the summer months there is a 'rainy' season when the afternoons are cloudy and a low amount of rain falls. For most of the year (April-December), however, the climate is dry with around 300 days of sunshine. Temperatures range from about 10C to 25C. This moderate, dry climate is perfect for the project as, not only will it allow us to image 300+ nights per year, but it also means that we do not need to engineer the observatory for extreme conditions (which is costly).

The Baker-Nunn at Arequipa is situated at the Observatorio de la NASA which is SE of the city in the shadows of the Andes. At an altitude of 2450m, the observatory is currently home to a TLRS-3 satellite ranging station (the only one in Latin America). The site is also fairly close to the Universidad Nacional de San Agustin so would be a place where local students could get hands-on experience with an instrument capable of making significant discoveries.
What Is Needed
In order to complete the refurbishment project, we'll need a total of about $200,000 (plus IGG campaign fee) to get started. Given our experience with past Baker-Nunn refurbishments, we expect the money to spent (roughly) in the following way,
$75,000 - Mechanical refurbishment of the camera and enclosure. This includes modifying the existing mount, regearing, and refinishing

$50,000 - Control system retrofit
$75,000 - CCD camera, housing, and optical modifications
As this is a passion for the team members, we will be donating a great deal of time to this project to make it happen. This, along with our use of off-the-shelf systems where possible, will help keep the costs down to a manageable level. Even so, the goal that we're setting is ambitious and it will take a lot of hard work to make it happen. 

When setting up this campaign, we decided that it would be 'all-or-nothing.' In other words, if we don't reach our goal, we will not be able to start the project. So, we encourage you to spread the word far and wide to help make PHASTTER a reality. And, if we exceed our goal, we'll use the amount that is above and beyond our final costs to fund ongoing operations and astronomy education for local students.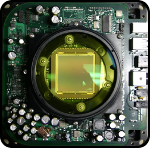 Assuming that we reach our goal, the project will begin in earnest with an assessment and teardown of the instrument in January/February of 2014. This crucial step will allow us to assess the condition of the mechanics and, most importantly, optics so that we can set a firm plan for the road ahead. The primary mirror will also be sent for recoating at this time and the mid-tube section delivered to the machine shop for modification to accept the new camera assembly and field-flattening optics. The field-flattening optics (2 elements) will, hopefully, be delivered by the end of May 2014 which is roughly when we expect final assembly of the CCD camera. Required site modifications should be completed by fall 2014 which will allow for reassembly of the camera in late 2014. Testing will be carried out for the first 6 months of 2015 with routine robotic observations beginning soon thereafter.
Perks
Aside from the obvious perk of feeling like you're helping to save the planet (or at least give us some warning of an imminent light show), there are other benefits to helping us out. Check out the sidebar on the right for more details!
The Impact
Although our solar system is, for the most part, fairly sparsely populated, it is far from empty space. Along with the major bodies that we're familiar with, there are countless smaller objects making their way around the sun. The vast majority of these are in harmless orbits that take them nowhere near Earth. This, is good news. The bad news, however, is that there are still a large number of objects whose orbits do cross the Earth's. Many of the big ones (those that would make for a 'really' bad day on Earth) have already been discovered. This is good. Many more small ones have not. This is not so good...

At the present time we're doing a good job of discovering most of the NEOs larger than 1km in diameter. As of mid-2013, 862 had been discovered. Since this represents more than 90% of the expected population greater than 1km, astronomers have been doing a very good job with this population. The problem is that even an object 100m or less can cause significant damage should it impact with Earth. So, the goal, generally speaking, is now to find 90% of the population greater than 140m in diameter. How are scientists doing in this regard? Well, take a look at NASA's NEO stats for some clues. The short of it is that, although nearly 10,000 small (>140m) objects have been found with near-Earth orbits, there are plenty more to be found. This is evidenced by the increasing growth rate of discoveries in the small sizes compared to the decreasing growth rate of discoveries in the >1km sizes. And, what this means for us, is that a lot of good work can still be done.

Currently, the proposal is to use PHASTT as, primarily, an NEO search instrument for a 5-year period. Due to the incredibly large field of the instrument, however, it is best to think of it as a synoptic survey instrument. Not only will it discover asteroids and comets, but the acquired images can also be analysed to search for variable stars, supernovae, and monitor exo-planets.

Since the telescope will be capable of fully robotic and remote operations, not only will we be able queue observations from around the world, but we'll also be able to bring real-time astronomy into the classroom.

One of the most exciting aspects of this project for us is the concept of providing an open database of observations so that anyone can access them and work on them at home. Generally, the workflow might look something like this... As observations are made, the images will be archived on a processing machine that will automatically perform the necessary corrections, do the required astrometry and try to identify moving objects. As objects are identified they'll be cross-checked against known objects then submitted as a batch to the Minor Planet Center. The images will then be archived and shortly afterwards be made available for public download. Users will then be free to download the archived images and perform their own analyses.

Bringing this wonderful instrument into the 21st century through crowdfunding will be an achievement to be proud of. Too often, instruments like this sit, unused with little hope of being funded through more traditional channels. The Baker-Nunn is such a wonderful design that, even 50+ years after it's birth, it can still (with a bit of TLC) make significant contributions to the field of astronomy. Together, let's make it happen!
Key Risks
As with any large projects like this, there are risks that need to be carefully considered. The Baker-Nunn is a large (more than 2 tonnes!) and complex instrument that is more than 50 years old. Although the components have aged, the BNC was so well built that we don't see any problem with the mechanical bits lasting another 50 years.
The key risk to this project is the condition of the corrector optics. Since parts of them are made from a hygroscopic glass, we expect to see some pitting on the outer surface. In simple terms, the glass will possibly have a milky appearance which will reduce the quality of images that we can acquire. In the worst case scenario, the corrector will be unusable and we'll need to come up with a workaround solution. In the best case, the dry conditions at Arequipa have preserved the optical quality of the corrector so that it only needs to be 'dusted off' and put back in the telescope. Although we are optimistic (due to the climate in Arequipa), we are allowing for the possibility that we may need to have the front surface of the corrector reground and coated to restore most of the lost throughput. Since this has already been done at TFRM for a reasonable cost, we don't see this as a deal-breaker.
Since the project tries to use off-the-shelf components where possible, there is very little risk of not being able to retrofit the required mechanics and electronics to the BNC. We're currently leaning towards a proven commercial observatory control solution that would include motors, drives, and a complete observatory control package. That being said, the decision hasn't been made yet and we might consider an INDI-compliant solution if were convinced that the cost-performance benefits were better than the competitors. Even so, the risk would be minimal to the success of this project.
The camera design that was used in both the U of Calgary and TFRM refurbishments has proven itself to be both cost-effective and perform well. The key risk associated with the camera is shutter reliability. As we have seen at TFRM, the large (90mm) commercial shutter is prone to failure when exposed to extreme observing conditions. To help mitigate this risk, we will possibly use a smaller area CCD sensor and, as a result, a smaller diameter, more reliable shutter.
Other Ways You Can Help
If you think that you have some special skills that could be of use to the project, feel free to send us a note telling us how you could contribute. Maybe you're good with CAD or fabrication and would like to help us design a compact filter changer (traditional wheels and sliders are out). Maybe you have connections with a manufacturer and would like give discounts on some of the items that we're going to need to procure. Maybe you'd just like to spread the word by using the share links on this page. It's up to you.
Team on This Campaign:
Michael Mazur

Campaign organizer, mechanical/optical design, and collimator

Octavi Fors

Researcher, observer, and Baker-Nunn expert