Aaron and I are very excited to be chosen participators in the Wings of Kilimanjaro (WOK) project. We both love paragliding, mountaineering, traveling and helping to make the world a better place. When you can combine all of those things into one project you've got a winning combination as far as we're concerned!
The goal is to collectively raise $1,000,000 as a group of 200 paraglider pilots, who will hike to the top of Mt Kilimanjaro and fly off the top together. 100% of the funds raised from this event will go directly to 3 selected charities, Plant With Purpose, One Foundation, and WorldServe, who focus their efforts on community, environmental and humanitarian aid, and who were carefully chosen by the WOK team for their successful efforts empowering communities in Tanzania.
The proceeds from this event are expected to fund literally hundreds of micro-finance savings-and-loans groups, plant in excess of two million trees around the foothills of Kilimanjaro, and bring clean water and educational facilities to tens of thousands of people in extremely impoverished areas of Tanzania. 
Pilots with sufficient paragliding and mountaineering experience were chosen from around the world to participate and Aaron and I were among the lucky 200 to be accepted to take part in this once-in-a-lifetime event. So that part, at least, is taken care of. Now comes the hard part... fundraising! Each participant must raise $5,000 for charity to be allowed to take part. So far we only have $4,000 (out of the $10,000 we need for both of us) so we created this site to try to come up with rest.
This is a huge dream for us and like most big dreams it takes the help of others to achieve so thanks in advance for every nickel, dime or dollar you contribute to this very worthy cause. You're making a huge difference to us and countless others! 
---
Press Coverage
XC Mag: Wings of Kilimanjaro - The Experience of a Lifetime
National Geographic: Prepping to Paraglide Down Africa's Tallest Mountain
Flying World: 200 Paragliders Will Fly Off Mt Kilimanjaro for Charity
Doug Satre: Wings of Kilimanjaro - Already Making a Huge Impact in Tanzania
---
Summary 
On January 27th 2013, adventurers from all over the globe will assemble at the foot of Mt Kilimanjaro in Tanzania. The team, the largest ever group to attempt the world's tallest free standing mountain, aim to ascend the 19,340 foot volcano and fly from the summit. The climb and paraglide mission, something traditionally banned by the Tanzanian Government, has been granted this one-time exception in exchange for raising over $1 million for 3 charities making a difference on the ground in Eastern Africa: Plant With Purpose, WorldServe International and One Difference. The project has been aptly dubbed Wings of Kilimanjaro.
We believe it's important to be making a difference in the world, especially since we both have been lucky enough to be born into such opportunity and privilege. Of course all change starts at home so we're very interested in conservation and awareness right here in our own communities. Some people say that one person can't make a difference, but every time you make a better choice for the world, people see it and will begin to follow suit.
The target goal is a high one but most things worth doing are difficult. Realizing we had some fairly unique things to offer, rather than expecting something for nothing, we wanted to work for our donations. To start, we'll be raising funds by donating all proceeds of Aaron's paragliding school, Stellar Paragliding, as well as Laura's dog training business, Pet Peeves Training, to the cause.  We created this site to help with the rest. Any help you can provide will be tremendously appreciated and we will make every effort to make it worth your while with one of our many perk options.
---
Purpose
Providing Access to Safe Water
In Tanzania, only one out of every two families has access to clean, safe drinking water. Poor water infrastructures and a lack of funds to develop existing water sources are compounded by limited natural resources. 
WorldServe International will be working together with the WOK team to provide sustainable and community led water and sanitation programs in 2013.Together, the teams will work through local partners to ensure that the most appropriate and lasting clean water solutions are implemented in the communities most in need.
Get an overview of WOK's partnership with WorldServe here.
Learn more about WorldServe at their website: www.worldserveintl.org
Environment Restoration
Tanzania's natural-growth forests are in trouble. So much so that Tanzania could lose it's entire forest cover in under a century if more is not done to reduce the current rate of deforestation – estimated at around 1 million acres each year and growing.
By reversing deforestation, Plant With Purpose helps the poor to restore productivity to their land and to create economic opportunity out of environmental restoration.
Since 1984 they have helped thousands of people in nearly 250 villages around the world to lift themselves out of poverty and reinvest in their future.
Get an overview of WOK's partnership with Plant With Purpose here.
Learn more about Plant With Purpose at their website: www.plantwithpurpose.org
Education & Empowerment
Tanzania is one of the poorest countries in the world. It has over 1,000,000 children who have been orphaned as a result of the HIV/AIDS pandemic and many thousands who live on the streets.
These orphans are often malnourished and at times go hungry due to a lack of adequate food supplies (nutrition) and access to clean water. Others have stopped attending school due to a lack of the money to pay for tuition or basic school supplies or in the case of older girls the cultural requirement to care for their younger siblings. The One Foundation will be working together with the Wings Of Kilimanjaro team to assist in identifying key areas of need in local education programs in the Kilimanjaro region.
Get an overview of WOK's partnership with One Foundation here.
Learn more about One Foundation at their website: www.onedifference.org/us.
---
What We Need & What You Get
Every single cent raised is going directly to the charities involved, not to the Tanzanian government nor to our personal piggy bank:
1. One Foundation - Providing local schools with resources, infrastructure and skills to improve education
2. Plant with Purpose - Creating sustainable farming and agriculture
3. World Serve International - Working to create clean drinking water for communities
We will be paying our own costs for the trip which are considerable in and of themselves (plane tickets for two to Africa = $3000, cost to hike the mountain for two people = $7000+). The donations we need are completely separate from our personal expenses and will be used strictly for these charities. By helping us reach our goal you'll be helping us achieve the adventure of a lifetime and be a part of this historic event. But more importantly, you'll be helping the communities of Tanzania develop in a positive and sustainable way. We've tried to brainstorm as many ideas as possible for some gifts we can give donors and we've come up with some really exciting things including:
A vial of sand from the top of Kilimanjaro - $25

You may not get to the top of Kilimanjaro but we are willing to bring a small bit to you. Place it on your shelf as a conversation starter or as a reminder of the good things people are doing all around the world. Alternatively you can hang it from a necklace as a unique piece of jewelry.
A postcard from Kilimanjaro - $25
We will send you a personal greeting from Kilimanjaro or dedicate the postcard to someone special for you. This is a great item for stamp collectors or postcard collectors. Alternatively it's a thoughtful way to send a greeting to someone special (and longer-lasting than dedicating a song on local radio).
A personal video greeting from the top of Kilimanjaro - $25

We will record for you a personal greeting or a dedication for you from the top of Mt Kilimanjaro, giving you an unprecedented view of the top of Africa. Any special requests are welcome. We'll sing you a song or make funny faces, or just send you our heart felt thanks as we try and breathe air 50% as thin as at sea level.
A mounted 8"x10" photo - $40

The perfect addition to any house is a beautiful photo that has been professionally mounted. We have several all over our house and we promise you won't be disappointed in the quality of these prints. Choose from a selection of existing photos at the link below if you want something right away, perhaps a special gift for the holidays. Alternatively, we will host a special album upon our return with some of the best photos we took available for you to choose. Or for a simpler option just request the photo of the launch of 200 gliders from the top of Kilimanjaro, easily a safe choice. Can't decide on just one? Just order this gift several times and request all the pictures you like!  Here is our current selection of photos, more will be posted after the trip if you can wait!
https://plus.google.com/photos/115207349834129804339/albums/5817611694027926065
A gift from Tanzania - $40
During our time off the mountain we will visit the markets of Moshi where unique local crafts can be purchased. We will pick you up 1 of several different possibilities based upon your request. Some common choices are:
- Jewelry
- Animal Carvings
- Sarongs (called Kangas)
You won't find anything more authentic than this, plus your donation will be helping out the local community in more ways than one!
Official DVD - $60
We don't have final details on the production of this DVD yet but we want to make it available to our donors. The only consideration is that it's production schedule is outside of our control so we can't promise any delivery dates. In any event, it will be a great way to experience the reality of this adventure from the comfort of your living room.
Personal Experience DVD from Team Rice-Price - $60
We'll be shooting our own personal video of our progress up the mountain and how it all comes together. We'll be using a variety of filming equipment to document it all as best as possible, including our GoPro cam. Obviously this will include our own perspective on the launch and flight from Mt Kilimanjaro down into the town of Moshi. Experience it all with us!
T-Shirt - $60
Everyone needs a t-shirt and what better way to support our project and spread awareness than by sporting the logo on your back. Choose any size in either men's or women's. T-Shirts are white with black text and colored logo on back.
Dog Training Consult - $60
Laura will talk with you over the phone for up to an hour about training issues with your dog or other animal. Laura runs her own dog training business but she also went to exotic animal training school so she understands the principles and mind sets of most creatures that you might find in your home. We currently have 3 cats ourselves and a couple of large snakes. Laura specializes in fixing problem behavior and dog psychology. Chances are your dog isn't broken, you just need some help in speaking more fluently in dog language!
Poster of the Flight - $80
Choose a stunning scene of the record-setting launch of 200 gliders from the top of Mt Kilimanjaro or other scene of your choice from our adventure photo album. We will have the 18"x24" poster professionally printed and mailed to your house.
Private Dog Training - $100
Laura will come to your house and work with you for an hour on any problem issues you are having with your dog. She's a dog psychology specialist and can help with any problem behavior you are seeing. Donors must be in the Los Angeles are and are subject to a pre-screening phone call before Laura comes to your house. Don't have a dog but want to train your cat, bird, or hamster? We can do that too!
Paragliding Training - $100

Come out for a day lesson with Aaron's paragliding school. He and Laura are out most weekends in San Bernardino, home of one of the country's best flight parks, teaching students to fly. In your first day of training you'll learn the basics of launching and get to experience training hill flights where you'll be 30' to 50' in the air!
Tandem Paragliding Flight - $200

What better way to support this endeavor than by experiencing paragliding for yourself with Aaron safely in the pilot's seat! We will launch from a local paragliding site in Southern California and fly for about 30-45 minutes. Aaron will teach you everything you need to know and you'll even have a chance to fly the glider yourself if you are up to it. Alternatively you can let Aaron crank it up a notch and experience a thrilling acrobatic flight. Donors must be located around Southern California for the flight. If you live elsewhere, Aaron may be able to get a local tandem pilot to donate some time to this cause and hook you up with a flight in your hometown! We'll do our best to make it happen for anyone interested.
Canvas Wrap Package - $500

This special package rewards the generous donor with a photo that has been professionally printed and mounted on a canvas wrap. This stunning mount will be the highlight of any wall. We have a large printed canvas wrap in our home and it truly is our favorite piece in the house. The photo can either feature the record-setting flight of 200 gliders from the top of Mt. Kilimanjaro or it can feature any image of your choice from our photo gallery upon return. Along with the canvas wrap you will also receive the official DVD, a personal video greeting from us at the top of Kilimanjaro, a small vial of sand from the top of Mt Kilimanjaro and a small souvenir from the markets of Tanzania.
Adventure Tandem - $1,000
This special adventure is a very limited option for only the most generous. There are a few options here but they include: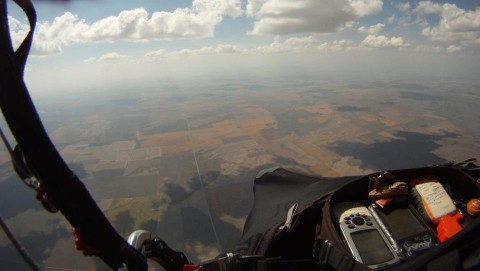 1. A cross-country flight with Aaron, either flying an open distance route or flying in a competition or league event with dozens of gliders flying all around you as everyone jockies for the best position. As a passenger you'll be an integral part of the flight, helping Aaron weight shift to fly more efficiently and looking for signs of thermals based on Aaron's instruction. Very few people have ever had the opportunity to fly with a top ranked cross country pilot like this. Passengers should be comfortable with roller coaster like feelings and not be prone to motion sickness.
2. Hike up a mountain with Aaron and fly from the top, just like it was Mt. Kilimanjaro. Aaron, an experienced mountaineer, will be your personal sherpa and guide for the day but you must be in good enough shape to easily climb the mountain yourself and with about 20lbs of weight. We will launch from the top together and fly down to the valley bottom.
This adventure tandem requires careful planning and preparation so scheduling the correct day may take time (best conditions are in Spring and Fall). All donors will be screened first to ensure suitability for undertaking such an adventure. Donors must be able to meet Aaron at a location in and around Southern California to participate.
---
The Impact
Your contribution will make a direct impact in the lives of Tanzanians:
$1 = 1 tree planted
$5 = clean water for one person for 20 years
$25 = desk and chair for one child to attend school
Far beyond merely purchasing needed items, your contribution will help our three proven charities make the coordinated investments in community infrastructure needed to empower impoverished Tanzanians to provide for themselves sustainably.
---
Other Ways You Can Help
We understand that not everyone can donate money to our cause. But you CAN help us reach our goal by sharing this page and helping us get the word out about our campaign! We truly appreciate any help you can give us, whatever form it may come in. THANK YOU for making this dream possible for us and for the Tanzanians whose lives it will benefit.