All donations to OUT RUN are tax deductible because Walking Iris Media is a 501(c)3!  
The Story: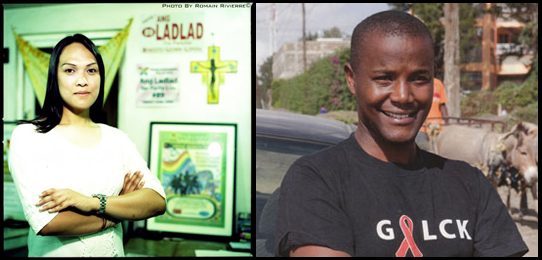 OUT RUN (working title) is a feature-length documentary that follows LGBT activists in conservative parts of the world who choose to seek highly visible positions as elected politicians. Bemz Benedito, a transgender candidate for Congress in the Philippines, and David Kuria, a gay activist running for the Senate in Kenya, campaign to become the first openly-LGBT elected officials in their respective countries. Hostility from the government, discrimination from religious leaders, and persecution by vigilante homophobes are just some of the obstacles David and Bemz will encounter. Will putting a public face on their largely silent LGBT populations move these societies in a positive direction, or will their efforts provoke backlash? What will David and Bemz's stories reveal about the current condition of the global LGBT community?
The Impact:
OUT RUN
aims to compel audiences with character-driven storytelling that is infused with both humor and poignancy. The film will foster and inspire future LGBT rights leaders around the world by illustrating how courageous activists can run their own political campaigns despite living in homophobic environments. 
Where We're At:

Currently, we are in the early stages of production on OUT RUN. Last fall, we completed an initial research/production trip with our Kenyan principal character, David Kuria, and we just finished a 7-minute "character sketch" video of David for fundraising purposes. On March 19, we will head to the Philippines for our first shoot with Bemz.

What We Need:
Your donation will go directly to our production expenses: the equipment, travel, and local fixer costs that are required for us to capture this story. The more we raise, the better we'll be able to document Bemz' journey. When we return from Manila at the end of March, we will create a comprehensive fundraising trailer that interweaves footage of Bemz with our existing footage of David. Funds will be used to translate and transcribe the footage shot in the Phillippines, as well to pay for a week of editing. From there, we will use the trailer to submit to major funders, such as Sundance, Tribeca, BritDocs, and ITVS.
Who we are:
S. Leo Chiang (Director/Producer):
Born in Taiwan, I'm an Emmy-nominated filmmaker based in San Francisco. My earlier films include: A VILLAGE CALLED VERSAILLES (Independent Lens 2010), about the rebuilding and transformation of the Vietnamese American community in post-Katrina New Orleans; TO YOU SWEETHEART, ALOHA (PBS broadcast 2006) about 94-year-old 'ukulele master Bill Tapia; and ONE +ONE, a documentary about mixed HIV-status couples (CINE Golden Eagle Award '02).  My latest film, MR CAO GOES TO WASHINGTON, has its world premiere this month.

Johnny Symons (Director/Producer):
I am an Emmy-nominated Bay Area filmmaker with a passion for using documentary to reveal the complexities of gay people's lives. My films include the Sundance hit DADDY & PAPA, about the personal, cultural, and political impact of gay men raising kids; BEYOND CONCEPTION, which follows a lesbian surrogate and a gay male couple on a journey to parenthood; and ASK NOT, an inside look at gays and lesbians serving in the US military under the "don't ask, don't tell" policy.  My films have shown on PBS, Discovery, on 20 international TV networks, and in 200+ international film festivals.  

Other Ways to Help:
In short, donate and spread the word!
If OUT RUN moves you, you can help by reaching out to your networks - your friends, family, and community - and tell them why you think they should tune in; you can connect with us on Facebook or Twitter; and you can stay engaged with us so that when the film is complete, we can share it with you and your community. The average documentary takes three years to make, so please donate today and help us make this film a reality! Also, do you have connections to other out LGBT candidates running for political office in more conservative parts of the world? If so, please send tell us about them: info@walking-iris.com