Thank you so much!
To everyone who contributed and shared the campaign, thank you!
We spent about $7,500 on the first ten ads. You can see photos and a map of locations at our site.
Keep in touch on Facebook and Twitter for news on our plans for the rest of the funds.
You can also chip in through Paypal and get the same perks listed here.
[Note: you do not  need a PayPal account to donate through PayPal. You can use any credit card. Click "Donate", then look for the "Don't have a Paypal account?" section at the bottom left of the page.]
Questions? Tweet to @talkbacktohate.
Poster #1 is now live!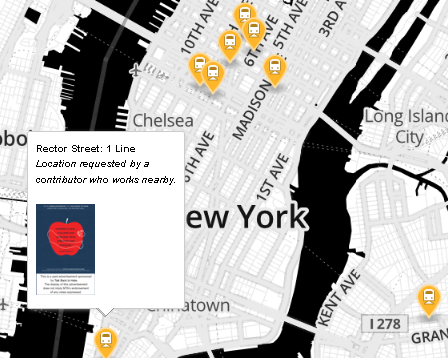 About the campaign:
Have you seen these subway station ads?
These ads attack our most basic communal values: they try to exploit the city's grief and anger over 9/11, and they demonize and intimidate members of a particular religious group. 
That's not how we roll. Everyone has a right to feel at home in this city, and that includes our Muslim neighbors.
Don't let

hate

get the last word.
If you

chip in

, 
We'll buy

our own

ads—
and run them in as many stations as we can
.
In just two weeks, we raised $7,500, to get started with ads in ten subway stations. We've gotten great press to amplify our voices, so the whole world will hear our response. 

Official design for the first poster! 
How can you be a part of it? 
We need your help to pay for the ads. You can also contribute your message to the campaign. See the perks on the right-hand sidebar.
Other ways to help: Even if you can't pitch in, you can help spread the word by telling your friends, family, and anyone else you know!
Join Us Online: You can Follow @TalkBackToHate on Twitter and Like us on Facebook.. 
If you're really serious, you can print this page and hand it out on the subway if you want! But please don't litter :)
What will it take?
Just $7,500 will get us started with ads in 10 stations. Here are the costs including IndieGogo and Paypal fees:
This is a "Flexible Funding" campaign, which means that as soon as we have enough money to print the ads, we can have them produced and sent to the MTA. We'll post the receipts and invoices for all campaign-related costs on the "Transparency" section at TalkBackToHate.org, which will launch in the coming weeks. 
After another $500 to cover project costs (poster perks, domains and hosting for TalkBacktoHate.org, and buying equipment needed to create the video), each additional $6,500 will pay for another ten ads—so keep it up, and share this with everyone you know! 
If we're between funding milestones when the campaign ends—i.e., we raised $13,400 and were able to run the first ten ads, but we're $600 short of running the next ten—we'll raise enough via PayPal to put us over the top. If there's any leftover money, we'll set up a vote that lets donors choose an NYC-based charity to receive the money. 
Wait, who's behind this response campaign?
You are. The campaign is being run by regular New Yorkers. We're not connected to any political, religious, or nonprofit group. Anyone can join us.
No, seriously, who set this up? OK, from the guy who created the IndieGogo page and the video: My name is Akiva Freidlin and I'm a thirty-year-old white guy who lives in Manhattan. I'm also the grandchild of Holocaust survivors who came to the United States looking for freedom, tolerance, and prosperity—and found it in New York. 
The New Yorkers I know are proud to share this city with neighbors of all cultures, nations, and religions, and we reject hateful attacks that target Muslims or anyone else—so I asked my friends to help me put together this campaign.  (I happen to work at a nonprofit, but this effort is completely independent from any organization, and any views expressed are mine alone.)
Want to ask me a question? You can reach me on Twitter via @akivaf, but please follow @TalkBackToHate for campaign-related news and tweets.