What it's all about!
This event is being created by the fans, for the fans.
My name is Billy Zimmmerman, and I am one of many wonderful people that are putting a tremedous amount of love and effort into making this FREAKOUT a reality; this is no doubt a collective endeavor! Fans and bands from around the country are coming together to create our own happiness![eat your own spaceship] 
We have designed this event to pay an homage to The Flaming Lips. Because, sadly, they are taking their magical show to Australia this New Year's Eve, my family of freaks have taken on the challenge to create our own Freakout in Austin, TX at Hotel Vegas!!! Our goal is to concoct an event that holds the same glorious, flamboyant intensity of a live Lips show. It will be a vivid, beautifully powerful psychedelic experience for all involved!!!
Among the five extremely talented bands playing, we have the honor of having three bands that have toured and recorded with The Flaming Lips join us: New Fumes (Dallas, TX), HOTT MT (Hour of the Time Magesty Twelve) (Los Angeles, CA), and Linear Downfall (Nashville, TN)!!! Joining them will be the talented The Black Tabs (Austin, TX), and Matt Owen & The Eclectic Tuba (Birmingham, AL). Everyone involved in this event, from the musicians to the organizers, are incredibly enthusiastic, which will most certainly carry over into every aspect of the show!
Linear Downfall
HOTT MT
New Fumes
Matt Owen and the Eclectic Tuba
Black Tabs
What your support will help us accomplish?
With your support, we can make this dream a reality: an amazing event filled with top notch performing artists, and beautiful people that intend to make this as fantastical as possible! The bands will be performing their own incredible music, as well as some fabulously fitting covers. We will bring to life a collective dream for a moment in time that will live in the hearts and minds of all involved for years to come, inspiring each person who attends to be as free and happy as possible! We will completely transform Hotel Vegas into a dream world with lasers, disco balls, lights, skeletons, freaky balloons galore, and many other fantastical suprises!! Here are the details of the event!! Bring your finest dancing shoes and get ready to FREAKOUT!!!
Doors open: 5:00 pm
Matt Owen and the Eclectic Tuba: 6:00-7:00
The Black Tabs: 7:15-8:00
!!! Costume Contest !!! (more details to come)
New Fumes: 8:45-9:30
HOTT MT: 10:00-11:30
Linear Downfall: 12:00- 2:00
What we need from you!
All money received will go to the musicians and the venue. Any excess proceeds will go to the volunteering musicians. This event would not be possible without the talent of the musicians and artists involved, and while we appreciate them donating their talent it would be fantastic to be able to compensate them monetarily!!! 
The minimum funding needed to make this event possible is $2400, including ticket and merchandise sales and merchandise sales at the venue. We have faith that $200 can be raised at the show, so we are setting a goal of $2200 for the fundraiser. We can do it!!! 
All perks offered in this fundraiser are original, and handmade by one of our many talented collective family members!!! Posters will be prints of the original, numbered and signed by the talented artists. 
How incredibly appreciated your help is to us!
Not only are you helping to fund an amazing event, you are helping many people achieve a collective dream. You will find harmony on earth within this event, an incredible amount of love and excitement all under one roof! It will be something to talk about from years to come; if you attend this, will be something to carry in your heart forever!!! 
We strongly believe that we can reach our fundraising goal, so we have chosen the 'all-or-nothing' option to raise the money. If, by chance, we do not reach our goal this event will tragically not be able to take place. We want you to know that every dollar we receive is a blessing, and we are very extremely grateful for any help to reach our goal. Join us in making this dream a reality!!!
We can do it!
This has not been the only successful concert experience we have put on; we are have gained valuable experience in each event we have created, which has only caused our passion and dreams to grow larger. The first event of this kind was a wildly successful house show in Austin, TX during SXSW in March 2012. That night we were honored to host: Holy Wave, local ATX psychedelic rockers; New Fumes, who we are excited to have on our lineup again; and the fabulously freaky Stardeath and White Dwarfs, who have toured and recorded for years with The Flaming Lips. Our second, extremely successful event was a house show in Gulf Shores, Alabama during Hangout Fest. Stardeath blew the roof off once more at our beach house following The Flaming Lips' performance at the festival; it was a raging success, and the unofficial after-party for those who had just performed Dark Side of the Moon in front of thousands at the festival!!!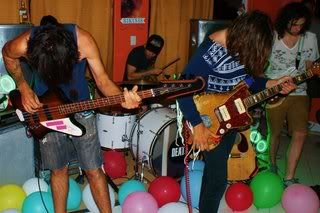 Stardeath and White Dwarfs in Gulf Shores, AL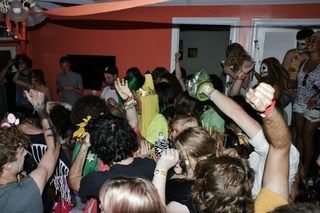 Freaks raging to Stardeath and White Dwarfs in Gulf Shores, AL
 New Fumes gettin' weird in Austin, TX
Help us in any way possible!! 
For folks who can't manage to support us financially, please make an effort to promote this beautiful concept!!! Below listed are a few ways you can help! Tell your friends, tell your mom, and be sure to tell your grandparents!!!!
Be sure to use the Indiegogo 'share' tool to easily link friends and family to this fund raiser! 
Let's make this happen! In the words of Yoko Ono. "A dream you dream alone is only a dream. A dream you dream together is reality."
Thank You for your love and support!!!
ALL HUMANS ARE URGED TO ATTEND!!!