Why NeuBrew
We are passionate tea and coffee drinkers who have found a way to truly enjoy our beverages!, mess-free and on-the-go
*Did you also know that you can use the NeuBrew for coffee bags and pods.  Who says you have to like tea to be a part of something great?
An idea for the NeuBrew came about when watching a friend of mine drink her tea at work as she had to manually remove the bag before consuming.  This meant putting her hands into HOT water and dropping the teabag into a plastic baggy to be discarded.  Why should all of this be necessary?  
Upon research, I was amazed to see a lot of negative comments about so many of the hot beverage tumblers available within the market.
"Tea becomes over steeped because I cannot remove the teabag until I have finished the drink"
"I always seem to spill hot water on myself or my work"
"Would like a way to enjoy my drink without the clean-up"
and the list goes on... 
Plain and simple - this product solves three major problems and creates the ultimate user friendly on-the-go tea/coffee experience.
1)  The brewing compartment is in an air tight bottom lid, rather then the top.  This eliminates the need to remove the tea bag until you are ready to clean.
2)  This same bottom brewing design allows you to brew your tea bag more than once, getting the most of your drinks while creating less waste.
3)  The bottom brewing compartment is on a rotating switch that allows you to start and stop the steeping process at any time, leaving you with the drink the way you want it.  This also means you can drop in a bag, pour in the hot water and take off to wherever without having to brew your drink until you are ready for it.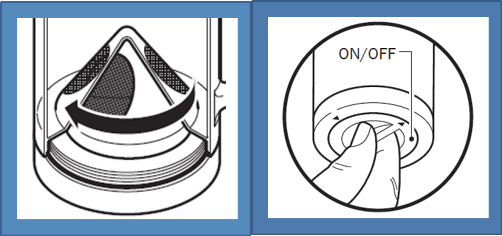 What We Need & What You Get
We have a physical prototype, but we need a final (finished) product and our first production order.  This first production order will allow us to share the NeuBrew with investors, companies and store owners.  It will also allow us to sell the product through our website www.NeuBrew.com
Our goal is to raise $20,000.  This will allow us to fully develop and produce the product, as well as give back to you.


The founder, Erik Boettcher, has made a promise to his family and friends that once we surpass the $10,000 mark he will wear a pink leotard and tutu for the 39 mile Avon Breast Cancer walk in our nation's capital this May.  We can't let this opportunity pass us by!
The Impact
Our company will be donating 15% of all contributions to the Avon Breast Cancer walk in Washington DC, 4-5 May 2013.  We have registered as a team with a $3,000 fundraising goal.
By donating you will receive individual perks from us, ensure that this great product is launched and enjoyed by all.  Most importantly, help in the fight against breast cancer through research and awareness. 
Your contributions, whether through giving, sharing or even praying will have a lasting impact on this product and our team.  We may have a great product, but our mission is to have the greatest customers; dedicated fans and a loyal audience. 
Other Ways You Can Help
If you cannot financially give to this project there are still many ways in which you can contribute and be a part of our success!
Ask folks to get the word out and make some noise about our campaign.  Use your social media skills, blogging power and vast networks to spread our story.  "Teamwork makes the dream work."
Pray.  Simply put, if you feel deeply about this product and would very much like to see it succeed then please spend some time in prayer.
Thank you so much for taking your valuable time to consider partnering with us.  Feel free to contact us at anytime at info@neubrew.com