*UPDATE 12/04/2013*

We successfully reached and went beyond the goal!
Many thanks to all the people who contributed and supported the project so far. More update soon!
LOVE AND FIRE


Clicca qui per andare alla versione italiana

INVERNOMUTO
We founded Invernomuto in 2003 and since then we have been working as a duo. We make works without a set format, with an emphasis on the collapse and subsequent mixture of different languages. Our research ranges from the production of single-channel videos and installations to the staging of events and site-specific projects.
www.invernomuto.info


NEGUS - Abstract
The ongoing Negus project is a series of films exploring the metaphor of the Negus and retracing the Jamaican tradition of versioning (creating multiple versions of the same song). The project involves some of the godfathers of dub music and Sound System culture.
Negus was inspired by a historical event dating from the Italian Fascist period: in the colonial era, after the conquest of Abyssinia, effigies of the last Negus of Ethiopia, Hailé Selassié I, were burnt in the square of our hometown Vernasca, a small village located between Milano and Bologna. This episode coincided with the return of one soldier from the colonial war.
Hailé Selassié I became the Black Messiah for the Rastafarian belief, which was – and still is – much diffused in Jamaica, where the Sound System culture was born in the 1950s.
This way, an event that happened a few kilometres from where we were born and raised enters in resonance with a wider cult developed in the opposite side of the planet, something that cannot pass unnoticed.
A first version of Negus, titled Negus – Duppy Conquerors, was recently realized and presented in Bologna in the occasion of Premio Furla 2013. This version summoned the Duppy Conquerors – hunters of malevolent spirits, recurrent figures in Jamaican musical tradition – to seize the square of Vernasca.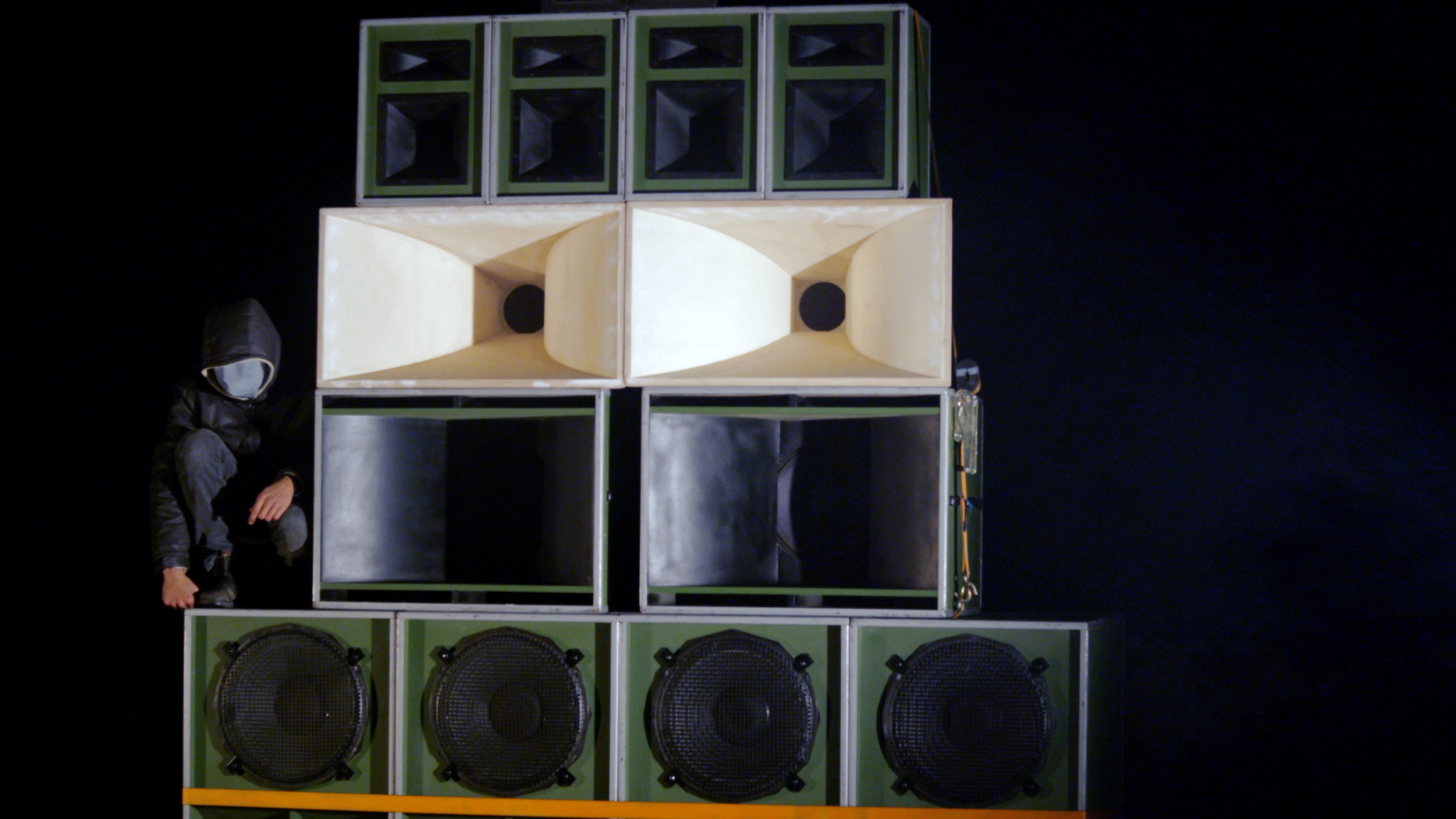 NEGUS - LEE "SCRATCH" PERRY
The second version of Negus will features the legendary Lee "Scratch" Perry as the master of ceremony. Born in Jamaica and living in Switzerland, Perry is a key-figure within the whole history of music – primarily, but not exclusively, dub and reggae. Lee Perry built his own personal universe of sounds, symbols and attitudes; his deep and private relationship with Rastafarian culture lead us to consider him as the best figure to involve in the project. His impressive qualities of performer play a central role in the work, freely reacting and improvising through our set in Vernasca.

WHERE DOES YOUR MONEY GO?
We are asking for money to let Lee "Scratch" Perry come to Vernasca and fulfill his requests, pay his fee and all the production and logistic costs (equipment, operator, technicians…).
The shooting is already planned for the second half of March, while this campaign will still be running. We trust our funders.
Updates regarding the shooting and the project in general will be released regularly.



INVERNOMUTO
Abbiamo fondato Invernomuto nel 2003 e da quel momento abbiamo sempre lavorato come duo. Ponendo l'accento sul collasso e la commistione di linguaggi, la nostra ricerca si concretizza in produzioni fuori formato, ricerca che si espande nella produzione di video, installazioni, nella curatela di eventi e progetti speciali.
www.invernomuto.info

NEGUS - Abstract
Negus consiste in una serie di film che esplorano la figura dell'ultimo Negus d'Etiopia, Haile Selassie I, e ripercorrono la tradizione giamaicana del versioning (creare versioni differenti della stessa canzone). Il progetto coinvolge alcuni padri della musica dub e della tradizione dei Sound System.
Negus è ispirato ad un fatto storico che risale al periodo fascista: durante l'occupazione italiana in Etiopia, un soldato ferito fu costretto a rientrare nella sua città natale, a Vernasca, un piccolo paese tra Milano e Bologna. Fu accolto da eroe, e in occasione dei festeggiamenti fu dato fuoco a un fantoccio raffigurante l'imperatore Haile Selassie I, ultimo Negus d'Etiopia, nella piazza del paese.
Il racconto di questo avvenimento ha dato origine ad un'espressione del dialetto locale, secondo cui il termine "Negus" designa una persona dal ridicolo aspetto vistoso, trasandato e goffo.
Haile Selassie I fu proclamato il messia nero dal culto Rastafari, nato in Giamaica negli anni '30.
Il fatto che questa icona fu incendiata a pochi metri soltanto dal nostro paese natìo, giustifica la volontà di rendere omaggio all'immagine del fuoco, un bruciare simbolico, fervido e sacro.
Una prima versione di Negus, intitolata Negus - Duppy Conquerors, è stata recentemente realizzata e presentata alla mostra del Premio Furla 2013. In questa prima versione la piazza di Vernasca è popolata da tre Duppy Conquerors, cacciatori di fantasmi maligni nella tradizione giamaicana.



NEGUS - LEE "SCRATCH" PERRY
La seconda versione di Negus vedrà il coinvolgimento del leggendario Lee "Scratch" Perry come maestro di cerimonia. Giamaicano di nascita ma residente in Svizzera, Lee Perry è una figura controversa nella storia della musica (reggae ma non solo); il suo personale universo di suoni, simboli e umori, la sua ambigua e profonda relazione con il culto Rastafariano, ci hanno portato a considerare essenziale il suo coinvolgimento in questo progetto. La sua impressionante fisicità giocherà un ruolo fondamentale nella narrazione della vicenda che verrà sicuramente arricchita di fatti biografici e, presumibilmente, deliranti divagazioni.



COME UTILIZZEREMO I VOSTRI SOLDI?
Chiediamo aiuto per riuscire a portare Lee "Scratch" Perry a Vernasca e soddisfare le sue richieste, pagare la sua fee e tutti i costi logistici e di produzione (noleggi, operatore macchina, tecnici…)
Lo shooting è già pianificato per la seconda metà di Marzo, quando questa campagna sarà ancora in corso. Crediamo nei nostri supporter.
Update riguardanti le riprese e gli sviluppi generali del progetto verranno pubblicati periodicamente.