Televison programs are an effortless way to discover and explore new cultures and what better way is there to do that than through music. Then, with DVDs or with VOD (Video On Demand) the opportunity to enjoy the music continues.
The Inspiration:
My love for world music began as a way for me to discover new cultures through their music. I felt that it was through their music that I was meeting the very essence of a people. My interest and love became deeper as I realized that their folk music - passed down through generations - was telling us the story of their past through music, songs and dance. I became convinced that folk and spiritual music were the bridge to a culture's past and the way to feel the beauty of their legacy. Music changed how I see the world and I felt it was very important to share this with the world the only way I knew how, by making entertaining documentaries that explore the beauty of ancient cultures through music.
I invite you to join me on this adventure as we discover the beauty of the exotic Georgian and Armenian cultures through their amazing dances unique songs and instruments.
This is my passion and life mission: to explore and present the music of the world.
My inspiration stems from my passion for folk music.
http://www.HagopGoudsouzian.com/
My next journey is to Georgia to explore the folk and spiritual music of that country. I will travel throughout the country from urban to rural areas to find unique musicians, singers and dancers.
So much of a people's identity stems from
the songs they sing,
the music they play
and the spirit of their dance.
Armenian Echoes, "Haunting and exotic… "
Los Angeles Times, April 22, 2012
Scenes from Armenian Echoes Part One
Scenes from Armenian Echoes Part Two

Scenes from Armenian Echoes Part Three

Scenes from Armenian Minstrels

The Films:
It is important for me that my films are entertaining yet also a learning experience, while we discover the beauty of an ancient culture through its music.
I am now consulting with Georgian folk music specialists to prioritize my areas of interest. Travelling through Georgia will inevitably lead me to uncover other musicians and establish a rapport with them. Each film will have several segments featuring musicians, dancers and singers. Their performances and interviews will give us a glimpse of their unique life.
A special segment will be devoted to Georgian Spiritual music.
I will film three documentaries over two months. Two will be on Georgian Music and in addition I will film a documentary on Armenian Music of Georgia. Each film will feature four to six segments, highlighting, an individual, a group, or a village. The final number of documentaries will depend on the people I find. Some segments in the documentaries can take 8 minutes while others over fifteen minutes.
I will release the first documentary in mid-January 2014. The releasing order will depend on broadcasters' interests. The second documentary will be about fourteen weeks later and so on.
The driving force in my films is the music heightened by intimate encounters with the musicians. The logistics in this journey are different for me than filming in Armenia yet in my experience, it is not an unusual situation in filmmaking. I will have a driver and a translator with me daily. The raw footage will be subtitled on an ongoing basis, in Georgia, by those who understand not only the language but also regional dialects.
In the past I have travelled by car throughout Central America and several countries in South America as well as Haiti. I have also travelled throughout the Philippines and Middle Eastern countries.
I hope you find my past films inspiring enough to help me produce my new documentaries.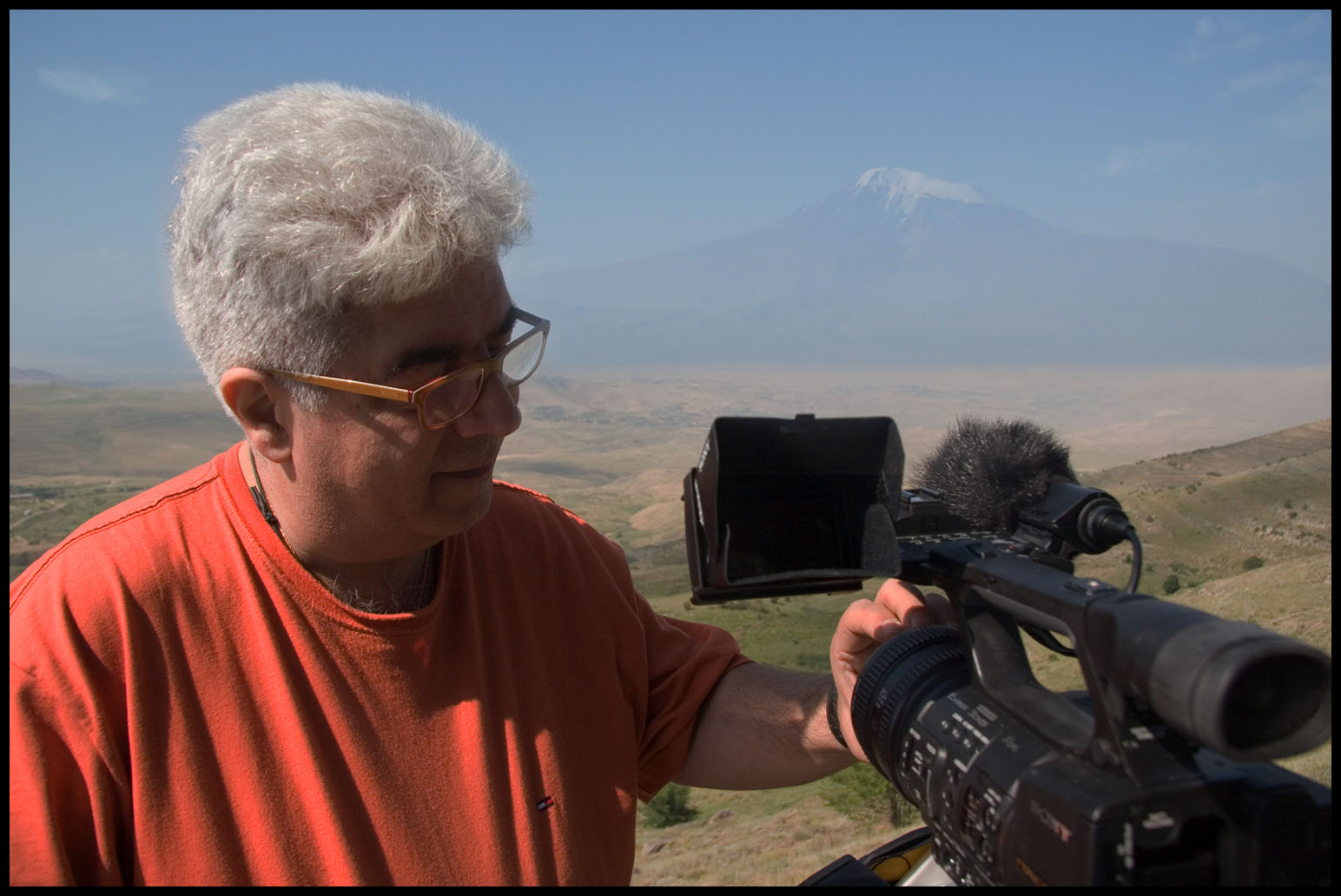 The Producer / Director:
Hagop Goudsouzian has over 250 Television credits as producer and director for TVOntario, as director of a feature length documentary for the National Film Board of Canada, and independently produced, directed and self-financed five one-hour documentaries. All my films have aired on TV and have a very long shelf life. For example one of the films I directed has aired dozens of times in Europe over the last eight years.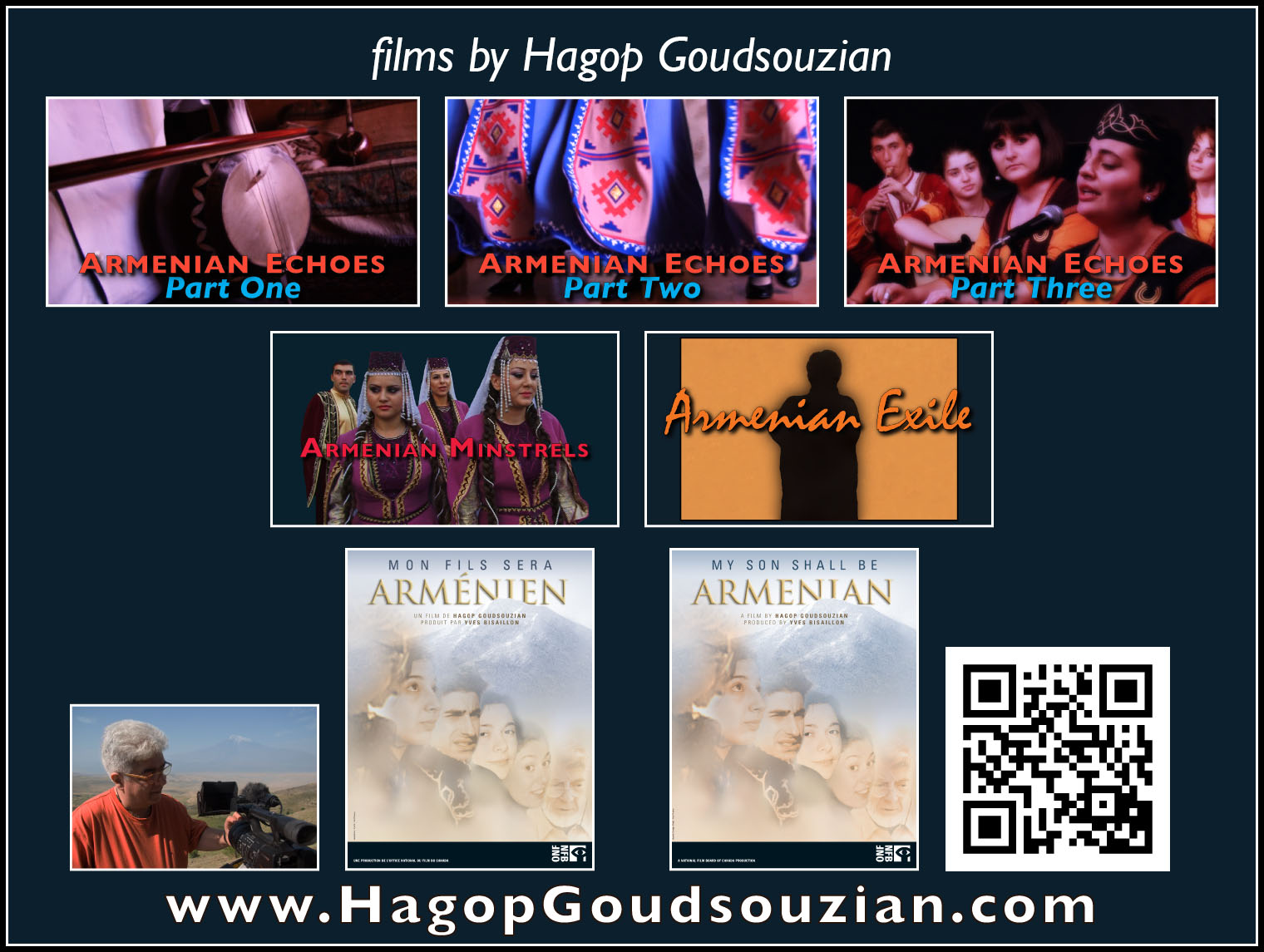 In the last two years I have produced, directed and self-financed four music documentaries filmed in Armenia. All have aired on PBS stations and KCET-HD Los Angeles.
see also: http://www.hagopgoudsouzian.com/text/about/bio.htm
The Budget:
The budget is $58,850 and includes, all travel expenses, on-location research and development, production to post-production, to final release including web presence for three documentaries. While I have all the necessary equipment, the budget also includes some equipment purchases. It is a strict minimum budget, yet it is broadcast quality filmed in 1080i.
Breakdown: 8-10 weeks Travel
Post-Production: 12-14 weeks per film x 3
Perks for Contributors:
Perks are listed on the right and they include wallpapers, photos from the films and on film executive producer credits.
Methods of contributing to the project:
The contribution categories are to the right of this page, but if you have a special request we advise you to contact the director.
Alternate methods of contributing to the project:
You can also choose to contribute your social networking talents to the project and by using the Indiegogo share tools. Please contact us for details.