UPDATE 5/21/13 - 
Thank you to everyone who has supported and spread word of Mosden! Thanks to everyone's continued efforts we have successfully achieved our goal on Indiegogo for our pre-production budget! We intend to unlock a new perk or two within the next day that is intended for our production campaign. Anything we earn extra now goes directly to the next portion of our budget. And as promised by our pitch video, we will unlock new stuff with 6 days left to spare!
Thank you x 1,000,000!
~SBFilms
UPDATE 5/12/13 - Check out a new interview with Writer/Director Curtis James Salt about Mosden and learn more! 
"Trust me, when you love something you don't need motivation." 
WHAT IS MOSDEN?
Mosden is an experimental short fantasy film about the human spirit; but more importantly it tells us that we can never go through life perceiving things as just black and white. 
SBFilms' has set out on an adventure to create an original, unique story that will push the limits of telling a narrative in experimental film. In order to achieve this, we're opening the doors into our imagination and inviting all those who believe in unconventional art to join us on our journey! 
THE STORY
Taking place in a fantasy world of a white room with no exits, Canvas (Matthew Eriksen) wakes up and sets out on a journey to find his Mysterious friend on the other side of the wall. Mysterious leaves Canvas a gift prior to disappearing; a box of colored pencils. Canvas soon discovers whatever he draws on the walls, becomes a reality. Through his artistic abilities, Canvas creates a series of colorful characters who in return help him search for his Mysterious friend and learn there is more to life than meets the eye. 
UPDATE: (4/30/13) LEARN MORE PLOT DETAILS HERE::
http://withfivequestions.blogspot.com/2013/04/meet-curtis-james-salt-independent.html?m=1
WHAT MAKES MOSDEN AN EXPERIMENTAL FILM?
Absolutely none of the characters are human and no one speaks english. The title "Mosden" refers to a fictitious language that the characters speak. SBFilms' goal is to merge various story telling techniques including song, dance, and even stop animation to help bring this fantasy to life. Canvas encounters a cast of characters that all represent not only a color (Red, Black, Green, Blue, Purple, Orange, & Pinkish-Yellow) but also a particular emotion or persona of our human psyche (Love, Hate, Envy, Sorrow, Arrogance, Strength, & Beauty). The artistic approach to costumes, makeup, and hair is to utilize and expand upon various cultures around the world in order to help make this universal short story more approachable for everyone; both young & old.  To polish it, SBFilms' will merge live action with both practical and special effects to create a visionary, emotional, and heart warming story; that with your help, will become a new chapter in successful experimental film and submitted into Festivals. 
                                                            PHASE 1 (of 3)
Mosden's been cast and has acquired it's core developmental crew. The project now has entered it's Pre-Production phase. In order to move forward into phases 2 & 3 (Production & Post-Production), SBFilms needs your help! Your donation and helping us spread the word about Mosden will help contribute to our Phase 1 costs: Art Department Budget (costumes, makeup, hair, & more), rehearsal space & venue fees, and concept art. 
     THE CONCEPTUAL MOVIE
SBFilms' is going one step further than having a table read. We're going to bring Mosden to life by not only audio recording the cast read through the shooting script (in the Mosden language), we're also going to create live storyboards by photographing and recording the entire script shot by shot! In return those looking to learn more and discover the story of Mosden can claim the Green & Red perk to see the first 5 minutes; those who claim the Pinkish-Yellow, Black, & Canvas perks literally get to SEE IT PREMIERED in Boston, MA; PLUS PARTICIPATE IN A Q&A with the CAST & CREW!
The "Canvas" perk also allows 3 individuals to get their hair & makeup done by our team and styled to resemble one of the colored characters of their choice; including having their own personal illustrated poster of their completed transformation by Mosden's poster artist, Sarah Taylor.
*Those who redeem behind the scenes access will receive links to private online videos taking you every step of the way in SBFilms' process including getting to see footage from casting, rehearsals, filming, and more! 
*Those who redeem a perk with a digital poster of Black & Pinkish-Yellow will not receive the e-mail until after June 1st, 2013. 
*Those who redeem the Canvas perk will receive their illustrated poster in the mail  & e-mail by the end of September 2013.
*Those who redeem a perk that allows them to see the first 5 minutes of the conceptual movie online, will not receive the link until June 9th, 2013. 
*Those who redeem the Black perk, should not expect to acquire all digital posters of the cast until the end of Summer 2013. 
*Those attending our June 9th event of the Conceptual Movie and Q&A will be asked to sign a non-disclosure form upon arriving in order to keep the secrets of Moden and the short film's integrity intact. Also, we are unable to provide transportation & accommodations to those traveling to Boston, MA who have redeemed either the Pinkish-Yellow, Black, or Canvas perks to view the Conceptual Movie. 
WHAT HAPPENS IF WE HIT OUR GOAL?
Don't stop spreading word or making contributions as you're able to; if we surpass our Phase 1 goal by a specific amount, we'll be able to unlock new perks to redeem that we have aimed for our Phase 2 (production) campaign. Including being able to visit the set, get autographed props from the cast & crew, receive costumes, and even be an "Executive Producer!" 
                                       WHAT HAPPENS IF WE DO NOT HIT OUR GOAL?
If for the unfortunate reason we do not make our goal, all the perks are still redeemable as the cast & crew are already locked in to filming and creating the conceptual movie to make it easier for all those interested, investing, and supporting to better understand the vision and story of Mosden. If you claim the RED perk and we do not succeed, you will be allowed to have the script sent to you, upon signing and sending back to us a non-disclosure form via e-mail.

HOW CAN YOU HELP?
This is more than just a fundraiser, it's a collaboration of support for both short and experimental film. After you've contributed, please be sure to share this campaign with other folks who share a passion for unconventional storytelling.
   WHO ARE WE?  
SELECTED CREW
(Director, Producer, Writer) Curtis James Salt is an independent filmmaker in Boston, MA. His credits include Directing/Producing the New England Film award winning documentary "The Reality Behind Closed Doors", the psychological thriller "The Patient's Repertoire", and most recently adapted his feature length script "Adonis" into a conceptual trailer to help pitch it. Adonis is currently in the top 100 scripts (for Drama) at the Filmmaker's International Screenwriting Awards.
(Producers) Jordan McCormack & Shannon Muhs
Jordan McCormack is a public relations specialist who is also an actress in community theatre. This summer she will be traveling down to Washington D.C. to perform the original pay Ouside the Wire at the Capital Fringe Festival. McCormack also produced SBFilms' "Adonis" trailer and is looking forward to bringing elements of theatre to Mosden. 
Shannon Muhs makes her first credit as a Producer, but will also be sharing the duplicitous role of Lady Blue in Mosden (with actress Elisabeth Anne Hughes: Good Will Hunting, The Proposition). Equally comfortable on screen, Shannon has starred in numerous award-winning TV and film productions. Her likeness and voice can be seen and heard in ads for Hasbro, National Grid, Partners Healthcare, BJ's Wholesale Club, Amica, 99 Restaurant and many more. Film credits include Paige in the CINE Golden Eagle award winning short Just Like It Was by Will Lautzenheiser, Mary in the Fresh Films production The Long Way Out, voted Best Action film by a Hollywood jury. Shannon's last stage performance was as Luisa in Nine [Longwood Players], where she earned a Best Actress nomination from EMACT.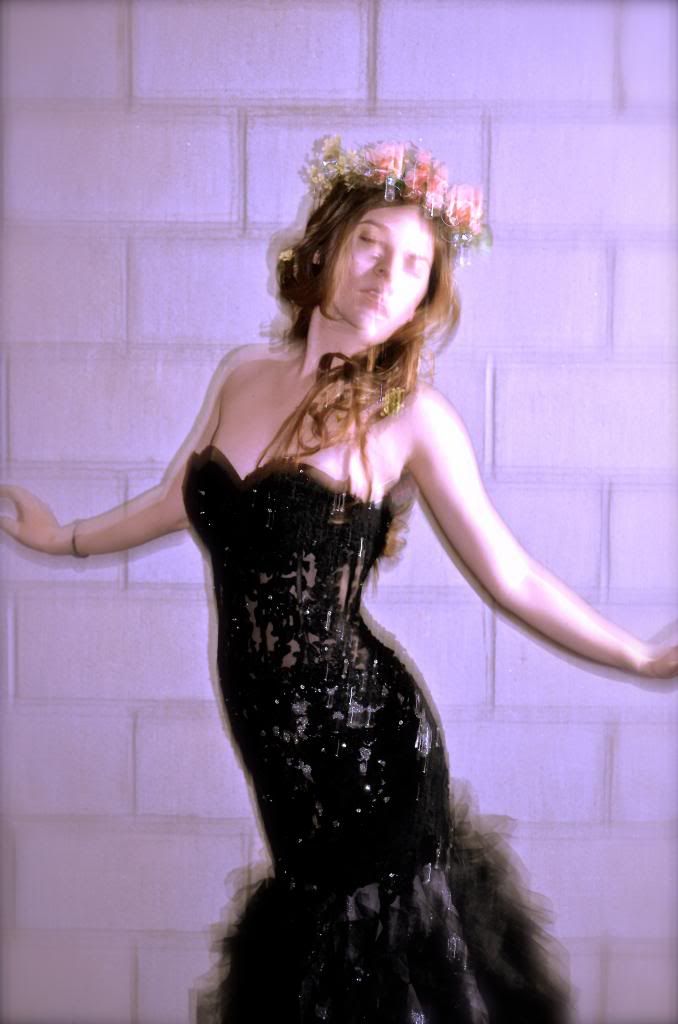 SELECTED CAST
(Canvas) Matthew Eriksen can be seen in the upcoming Grown Ups 2 and the independent short film "Quarantine" by director Joe Marine. Previous titles include: "The Safe Maker", "That's My Boy", "Ted", "Crooked Arrows", and Boston Playwrights' Theatre production of "Johnny Ramirez Really Wants to Kiss Me." Eriksen is currently earning his Bachelor of Science degree in Advertising at Suffolk University.
(Pinkish-Yellow) Halee Bernard began taking ballet classes at the San Antonio School of the Performing Arts. Her training led to her junior membership with the Alamo City Dance Company. Halee was an alto member of Jo Scurlock's TMEA selected Kantorei choir and received the opportunity to sing in cathedrals in Munich, Budapest, and throughout Austria. After receiving her B.S. in Communications at Boston University last May, Halee was lucky enough to receive a prestigious internship at the Cannes Film Festival and will return again to the red carpet this May (2013). She has spent the last year working various internships, writing, and acting in student films.
(Green) Harry Aspinwall grew up in Scotland but has been living in New England for almost nine years. By day he works as a historical reenactor at the Boston Tea Party Ships and Museum, then goes home to his life in the distant future. He graduated from Brown University in 2011 with a degree in Linguistics and Literary Arts. For some reason, Aspinwall is now a theatre and film actor in Boston, as well as a graphic designer, composer, writer, gamer, and history nerd.
Additional Cast: Cezar Constantine (Black), Olivia Moriarty (Red), Elisabeth Anne Hughes (Lady Blue), Raphael Roy (Orange), Catherine Lee Christie (Purple)
Additional Crew: Shelby Catteau, Jillian Leveorne, Amy DeMar, Sarah-Katarine "SkooJ Core-O", Patrick Dennen, Ashley-Sarah Price
Twitter & Instagram @mosdensbfilms