MEN OF THE CLOTH is a sponsored project of Fractured Atlas, a non-profit arts service organization. Contributions for the purposes of MEN OF THE CLOTH must be made payable to Fractured Atlas and are tax-deductible to the extent permitted by law.
A million thanks to the 93 funders of MEN OF THE CLOTH's campaign! (If we include those generous individuals who mailed in checks, our total is over 100 funders!) Our campaign has concluded, but we are still accepting credit card donations through our fiscal sponsor, Fractured Atlas.

U.S. residents can also make a tax-deductible donation by check: Make the c
heck out to

Fractured Atlas

, with

Men of the Cloth

in the

memo

line. Include your mailing address and send your check to the following address:
Vicki Vasilopoulos
MEN OF THE CLOTH
34 Appleton Place
Glen Ridge, NJ 07028
If you prefer to make a contribution with

PayPa

l, please go to our

Men of the Cloth

Contribution Page.

If you have any questions, please email

info@menoftheclothfilm.com

or call Vicki at 973-743-1045.
Thank you
for your generous support! Your contribution is incredibly meaningful and will have a direct impact on getting the film edited.
ABOUT THE FILM
I'm
Vicki Vasilopoulos, producer and director of

Men of the Cloth

,

an inspiring documentary film about

Italian master tailors.

Men of the Cloth

is currently in post-production, and so far we've completed an initial rough cut of the film (a rough draft in the editing phase).
Now I need to raise $20,000 to finish editing my film in time to meet the fall deadline for several important film festivals and launch it on the world stage. So I'm

turning to my fans, supporters and new film friends to ask for contributions. In exchange, I'm offering some amazing perks.
Your contribution will help us finish this independently produced film so that I can share the story of the
pride and passion

of these amazing Italian master tailors

.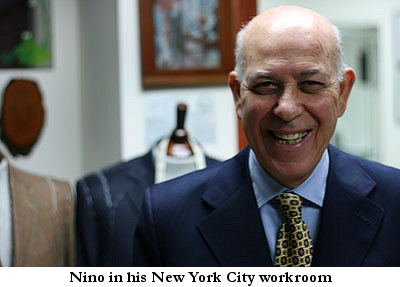 Men of the Cloth
weaves together the stories of three Italian master tailors: Nino Corvato, Joe Centofanti and Checchino Fonticoli. These humble men make truly exalted clothing. My film unravels the mystery of their artistry, and reveals how their passionate devotion to their craft sustains them in the face of mass production and the decline of the apprentice system.

 
The whir of the sewing machine, the clank of the steam iron, and the sharp slicing of the tailor's scissors create an aural symphony in

Men of the Cloth

. A visual feast is provided by these master tailors working in studied concentration: sewing, pressing, cutting, marking and pinning. Scenes of the construction of a suit and multiple fittings on customers unravel the complexity of the tailor's artistry and how he crafts a garment in such a way that it moves and breathes with the person who's wearing it. (Watch the film trailer). Read an interview with filmmaker Vicki Vasilopoulos on Styleforum. Visit the

Men of the Cloth

Web site and read more about my characters.

THE IMPACT

There are very few funding sources for documentaries that are not social issue films. Apart from a few small grants from the National Italian American Foundation and The American Society of the Italian Legions of Merit, most of the funding has come from

dozens of individuals around the world who care about this subject or feel a kinship with my film's characters.
My goal is to create a nuanced and complex portrait of these master tailors. I hope that my film will spark an inter-generational dialogue on the value of artisanship, and what we're losing as our society moves increasingly to a globalized economy devoid of a personal connection between the creator and consumer.

Men of the Cloth

has a mailing list of individuals from all over the world. And so I know that my film's

engaging characters and visual artistry will resonate with a culturally diverse audience.
The distribution plan for

Men of the Cloth

includes screening events, film festivals in the U.S and Europe, a television broadcast, a DVD release, and educational outreach through universities and cultural organizations.

WHAT WE NEED & WHAT YOU GET
The goal of this campaign is to raise the funds to finish editing the film, which will take about three months. The money will pay the salary for my editor, Sandrine Isambert, who recently resumed her work on editing the film.
One of my most generous donors has already pledged the post-production finishing funds that will pay for having the musical score composed and recorded, the graphics and titles created, and other finishing steps such as the color correction and sound mix. Once I submit my completion date to him I can then access those finishing funds. When we have a final cut of the film I will submit it to some important film festivals and begin the distribution phase for

Men of the Cloth

.
We have some wonderful perks or incentives for making a contribution; many of them are donated by like-minded companies that make fine fabrics and high-quality hand-crafted clothing and accessories.

Some of the perks (the postcard, poster and DVD) will be mailed out as soon as they are created when the film is in distribution.

OTHER WAYS YOU CAN HELP
By helping me fund this film and getting the word out, YOU GET TO BE A PART OF OUR COMMUNITY.
There are great SHARE TOOLS below the video window: Please take the widget -- the icon that represents my campaign -- and put it in an email message, on your Facebook page, your website or your blog. Or you can simply copy the link to this campaign and post it on Facebook, on Twitter, on an online forum -- or send it out in an email to your friends and family.
If you sign up and log in to IndieGoGo, we'll be able to

track

the referrals -- which fans, friends and contributors are helping us spread the word and drive contributions. (But you can simply use the Share tools as is, without creating an account.) The more people who know about this campaign, the closer we can get to our goal!
I encourage you to leave comments as well. Lastly, check out our Facebook page and Like it. Join in the discussion and read updates.

MY CAMPAIGN SPONSORS
TAILORS:
NINO CORVATO DESIGNS
(Based in New York City, Sicilian-born master tailor Nino Corvato is second to none)
ADRIAN JULES LTD.
(This firm was founded in 1964 in Rochester, NY and was described by the magazine Robb Report as the only American suitmaker that still does most of its tailoring by hand.)

CENTOFANTI TAILORS (
Based in Ardmore, Pennsylvania, m
aster tailor Joe Centofanti and his daughter Helen run this Old World tailor shop which is nationally renowned)
SHIRTS:
MEL GAMBERT SHIRTS
(Based in Newark, NJ, its custom shirts have been handcrafted since 1933)
IKE BEHAR
(Ike Behar
shirts are made from the finest, most luxurious materials, and crafted in America with a patented, diamond quilted collar construction and sturdy single needle stitching)
TIES:
CARROT & GIBBS
(Carrot & Gibbs bow ties are individually cut, sewn and pressed by hand in the U.S. and created from specially selected imported 100% silk fabrics)
CLOTH MERCHANTS:
HOLLAND & SHERRY
(Based in London's Savile Row, this English firm has supplied prestigious tailors and luxury brands with the finest cloth since 1836)
GLADSON LTD
. (Providing fine cloths from English and Italian mills to the custom tailoring trade for over fifty years. Its parent company, HMS, owns Huddersfield Fine Worsteds, the parent company of J. & J. MINNIS, maker of the Q Project cloth. J & J Minnis, holder of the Royal Warrant  -- by Appointment to Queen Elizabeth II -- is a favorite of Savile Row tailors. http://www.hfwltd.com/a-jjm.php) This perk is SOLD OUT

ISLES TEXTILE GROUP
(U.S. importers of the most extensive collection of premium English cloth like H. Lesser) This perk is SOLD OUT