My name is Lauren Adkins, and I'm an artist living in Las Vegas.
I need your help to fund my Master of Fine Arts final thesis exhibition, which will culminate in several performative events. 
The main performance will be a wedding ceremony in which I will marry the main love interest from the Twilight Saga, Edward Cullen, in the form of a cardboard cut-out in a real Las Vegas chapel. The ceremony will be recorded as well as broadcast live on the internet and shown at the following exhibition, which will function partly as our wedding reception, complete with receiving line, flowers, cake, and more. Reception elements will be accompanied by sculptural objects, photographs, video, and audio pieces that are evidence of the emotional and physical hurdles I've faced in undertaking this project.
This work focuses on the female escapist fantasy in its most popular forms-- primarily finding "true love"-- and the extent to which it seeps into our real lives. I've looked at this fantasy primarily through a pop cultural lens; that is I've used film & television's representations of the love story and female characters in general in an attempt to understand my own expectations of love. Because of personal attachment to and experience with this fantasy or quest, which took a particularly strong hold of me when I discovered the intensely popular Twilight Saga, my thesis is going to touch on romantic expectation primarily through the main love interest, Edward Cullen. (cont.)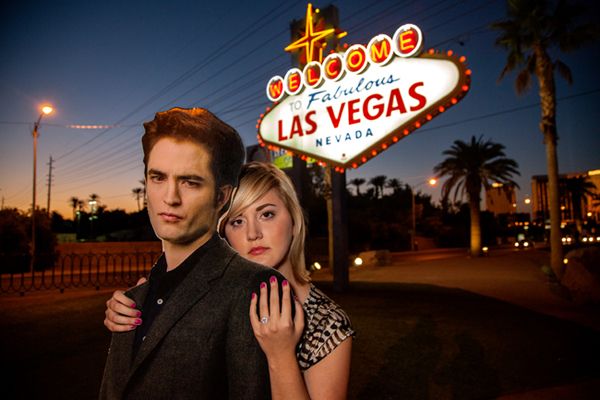 (photo by Krystal Ramirez)
So here's where you come in. Weddings are incredibly expensive! I'm using every means possible to find everything I need at the lowest prices, but I can't do it alone. Any funds I receive will be used to cover the costs of the wedding ceremony and the following reception, which will double as an art exhibition. 
Costs include:
ceremony and minister fee
wedding dress
veil
bouquet
rings (his & hers)
wedding invitations
wedding tent
wedding cake
tables and chairs
dinnerware
food & drink
candles and centerpieces
flower arrangements
guest book
photographic prints and framing
adhesive vinyl lettering for exhibition title
I graciously accept any donation you may be able to give. Even if you can't contribute, I would greatly appreciate your support! Please feel free to spread the word about the project if it interests you. <3