Love.Honour.Obey. a Raindance Feature Film is sponsored by Raindance Film Festival.
CAMPAIGN UPDATE - NEW GOAL £15,000
April 10th: NEW CAMPAIGN VIDEO UPDATE: SPECIAL FX - CLICK HERE TO VIEW

We are shooting the film now on RED and we need you to help us hire in lighting and grip equipment needed for shooting on this higher format plus we can bring on board a graphic design company to create the look of the publicity image to take to the film festivals and markets.
Watch: CAMPAIGN VIDEO UPDATE #01


+YOU 
The perfect formula:

+ A CULT DIRECTOR
+ RAINDANCE 
+ AN EXCITING ORIGINAL SCRIPT
= AN INDEPENDENT MOVIE THAT WILL PREMIERE AT THE RAINDANCE FILM FESTIVAL 2013
"Hi, this is Elliot Grove from the Raindance Film Festival and Raindance Film School. We are asking you to help us make a truly independent movie. We are raising £10,000 to go towards production costs so we can make this film in time for the Raindance Film Festival in the Fall.  We have an amazing script from a first time writer we are all excited about, an experienced cult director who has given up Hollywood budgets to work on this project and, of course... you. This film is what Raindance is all about - it's what indie films are all about.  I hope you will continue reading and finding our more about our film. Thanks... and don't forget to check out the perks!" - Elliot [CLICK HERE TO HEAR MORE FROM ELLIOT ABOUT THIS CAMPAIGN]

A home invasion irrevocably changes the lives of all involved, as the kidnapped couple's dynamic is revealed to the invader whose arrival begins with bad intentions.
Love.Honour.Obey., a thriller written by uber-talented first time screenwriter Mark Rogers, is the first film produced by Raindance Raw Talent, the film production arm of the Raindance Film Festival. For over 20 years Raindance has been championing independent film and filmmakers and now with crowdfunding we believe indie film has just got more independent. So we have brought together a team to make an exciting psychological thriller set in London.
We will shoot the film in April/May and it will have its world premiere at the 2013 Raindance Film Festival. 
We are excited that Ate de Jong will be directing this film. Ate has worked in the UK, USA and Holland producing and directing movies such as All Men Are Mortal (Stephen Rea, Irene Jacob), The Discovery of Heaven (Stephen Fry), Highway to Hell (Ben Stiller) Drop Dead Fred (Rik Mayall) and a truly memorable episode of Miami Vice (featuring guest stars James Brown and Chris Rock). He just finished an epic WWII drama The Blitz. 
With your contributions, you will be part of a sea-change in British independent filmmaking. As advocates for the indie filmmaker Raindance wants to show other independants what is possible in low budget filmmaking. Innovative scripts can mean unique, original, indie-spirited movies, and crowdfunding means the producer can always remain independent. The knowledge we garner from running this campaign will be passed onto other filmmakers who choose to crowdfund their films. 
For Love.Honour.Obey. he is going back to basics. Independently spirited, independently funded and independently produced. It's what Raindance Raw Talent is all about.
WHY WE NEED YOUR CONTRIBUTIONS:
We are looking to raise at least £15,000 which will go towards:
Cast and crew expenses and catering
Rental of HD cinema quality camera, sound and lighting equipment
Art direction and costume
Publicity and graphic design
Post-production costs and editing of the film
If we don't reach our goal, rest assured every penny we receive will be spent on screen in production value or to feed and cover expenses of our hard working cast and crew.
If we do go over our goal, we will spend more on production values (production design, costume, lighting), pay wages to cast and crew and for marketing of the film at film festivals around the world.
And for your contributions we are offering some unique perks that start at only £5 and includes getting a specially made video thank you from cult director Ate de Jong, a copy of the finished film, the chance to learn from the director in a special masterclass, an opportunity to walk alongside some of the stars of the film at the Raindance Film Festival and a full step by step behind the scenes of putting together an indie film from the point of view of the producer.
[Ate de Jong on the set of his previous film, The Blitz]
THE FILM IS IN GOOD HANDS:
Already news of the film has been picked up by the Dutch news agencies who have reported Ate de Jong is making a new movie [link].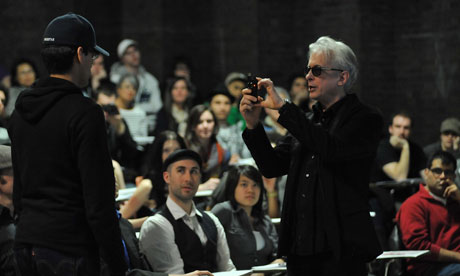 We know we can make a big impact with Love.Honour.Obey. Elliot Grove, executive producer, has been godfathering feature and short films for over 20 years as part of Raindance (including 2006's The Living & The Dead). There isn't anything he doesn't know about how to market a film through film festival attendance.
Producer Elisar Cabrera has both produced films and distributed films. For 10 years he has been distributing and selling independent and low budget movies just like this film. Already some distributors have expressed an interest in reading the script of Love.Honour.Obey. which is extremely exciting.
Cinematographer Zoran Veljkovic has been shooting films since 1985. He has shot films which have won prestigious awards at festivals in America, Italy, Spain, Japan, Holland and Yugoslavia. Continuously in demand as a DoP he has worked with directors such as Peter Howitt (Sliding Doors) on his award winning film Dangerous Parking. In his career Zoran has shot 10 feature films and numerous dramas, promos and commercials [Watch Zoran's Showreel]. We are especially excited that a DoP of Zoran's experience has agreed to work on this movie as it will give our film a truly cinematic look and feel.
WHAT ELSE CAN YOU DO TO HELP?
If you can't contribute, then you can still help our campaign. Please share our page with your own network and followers. Getting the name out of our film and campaign on any blog you write for will also be appreciated. If you run a film site and want an interview about our film and campaign then give us a shout.
All the tools are above. Just choose how you will share us!
Thanks very much!
The Raindance Raw Talent team