London Short Film Festival is gearing up for its 10th anniversary...
And we need you!
LSFF is an annual event that presents the best in UK short film-making talent. For a couple of weeks in January we take over London's best independent cinemas and venues to showcase some amazing short films. Oh, and we throw in a bunch of live music and parties too.
We've been called "The Best Short Film Festival in the World" by the Guardian Guide, Time Out described LSFF as "Too good a party to miss", while The Times called us "A London bastion of cutting-edge short films and multimedia."

Founded in 2003 by Philip Ilson and Kate Taylor, the London Short Film Festival was originally set up to deliver a regular, annual celebration of short films to audiences hungry for new experiences. Nine years on, the Festival has burgeoned in size and scope, with a grand total of more than 1,300 shorts and 10,000 audience members under its belt.
What's so important about short films?
Short films are traditionally seen a way for new filmmakers to get noticed and eventually make features or move into TV. Where once music promos and advertising were the place for new talent to show off their wares, budgets have fallen dramatically over the last few years, meaning that getting short films out to Festivals and online is now the best way forward for new talent. You never know where the next great auteur is going to emerge from, but you can guarantee they'll be making short films first.
Filmmakers we've supported over the years include Andrew Kötting (Ivul, Gallivant), Andrea Arnold (Wuthering Heights, Fish Tank, Red Road), Carol Morley (Dreams of A Life, Edge), Asif Kapadia (Senna), Alison Murray (Mouth to Mouth), Ruth Paxton (Little Red Hoodie, Paris/Sexy) and music video director Tim Hope (REM, Coldplay)
"LSFF is crucial to extending the audience for short film in the capital. Short films have always underpinned great feature length cinema – developing the very best talent and supplying fresh ideas and approaches - so they must be supported. LSFF has a very important role to play in this respect."
[Paul Welsh, DIGICULT]
What does London get out of it?
LSFF has a track record in delivering the best and most cutting-edge British short films to audiences all across London. In 2011 the Festival screened in more than 20 London venues across 12 boroughs, stretching from the centre to outer boroughs like Greenwich, Tower Hamlets and Stratford. This meant that wherever you were, you were never far from LSFF.
Our use of multiple venues in several London boroughs, diverse and creative content, and competitive prices (with many events and screenings either free, or priced at £5 or under) means that LSFF attracts an audience that might otherwise be excluded from film-going in London, be it on the grounds of location, cultural difference or budget.
We want to continue to provide a platform for the next generation of Britain's filmmakers during LSFF #10 and for the next 10 years!

How we're funded
The Festival has received regular funding and support from many key players in the film and TV industry over the years, including: Film London; the UK Film Council; Channel Four; BAFTA; the BFI; Shooting People; the London Film Academy, and Skillset. We've also secured corporate funding along the way - but with government funding cuts and corporate sponsors harder to come by, we're looking for supporters of the British film industry to donate and help us to not only sustain our efforts but to grow the festival. Any donation, large or small, will be received grateful and could make all the difference to the continued prosperity of LSFF!
How your money will be spent
Running a film festival is not only a costly affair, but one that is time-consuming and relies on a large number of staff. We presently operate with 3 core paid staff members, although even our volunteers during the festival (around 40 of them) require a budget for transport. On top of this there are marketing and printing costs, costs for hospitality for industry speakers, costs for performers at our wild and wonderful parties and concerts. Your money will also go into allowing us to staff the office all year round and get to work with creating an even bigger, better LSFF, with more industry speakers, more special events, more venues and more performances, once this one is over!
We understand that not everyone will be able to make a contribution to our campaign, but that doesn't mean you can't help in other ways! It's vitally important that we get the word out about our campaign - if you have a blog, mailing list, or are a keen Facebooker or Tweeter, we'd be hugely grateful if you'd shout from the rooftops about the LSFF 2013 & Beyond campaign! And remember, you can use the Indiegogo share tools to easily let your friends and contacts know about it!
An audience enjoying LSFF 2012: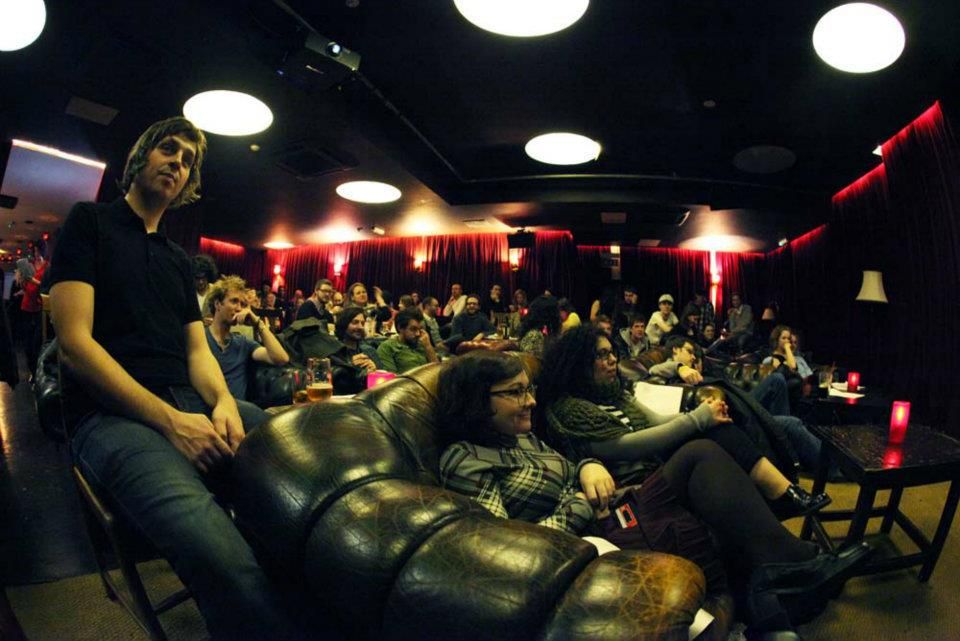 LSFF up in lights...