Current Merged Funding Total: $50,000
Current Merged Funding Goal: $50,000

Here is the reward for our current merged goal of 50k:

Backers of "Count" level and above will receive 1, while "Prince" level and above will receive 4.

Plus the grand super mystery prize for achieving the final goal of the campaign!
Indie GoGo Purpose
During our ridiculously successful crowdfunding campaign on that other popular site, we've received innumerable requests for Paypal payments, multi language support, and a way to bring friends in who missed the boat. This campaign will do just that.
We're now doing merged stretch goals, so you lucky Indie GoGo backers get to benefit from the previous pledges & prizes; and everyone (including backers from our other campaign) gets to unlock more Stretch Goal Prizes.
We're also wanting to implement as much multi language support as possible. Currently we have lined up: French, Japanese, Chinese and German.
If you're concerned this goal is too low to create a high calliber game, kindly note this is one part of our Merged Funding Campaign and take a look at what we've done so far; art, pledge and fan wise in just 30 days. :)
Core Gameplay Overview Video
http://www.youtube.com/watch?v=Jh1kuin7iOI
Indie GoGo Legendary Reward
Yes, this is an actual animated card in game. It's also the Legendary card you get as thanks for backing our project. 
(May take a little while to fully load)
Whether You Pledge or Not Come Like Us Here
and to stay in the loop after the Indie GoGo like our Facebook page:

Patient Zero is awarded to every "Count" and above ("Princes and above get 4 instead), for more stretch goals see far below.
Basic Information, Especially for PC and Mobile Gamers Video
0:00 - What is Infinity Wars?
1:25 - How often will you add new cards to the collection?
2:00 - Is it hard to learn?
2:32 - Favorite Feature?
3:00 - Art Theme
4:13 - IndieGoGo Rewards
4:55 - Thank You
Detailed Gameplay Commentary Video
Advanced Information, Especially for Trading Card Gamers Video
0:00 - So, who are you dudes?
1:38 - How long for a Trading Card Gamer to learn?
2:43 - About the World
3:48 - Free to Play & Updates
5:48 - Cloud Storage
6:34 - Card Re-Usage
7:05 - What if I don't have time for a full game?
7:41 - Simultaneous Turn-Based Multiplayer
10:15 - Card Mechanic Enhancements Over Major Trading Card Games
12:04 - Locations
12:50 - Trading, Tournaments and Prize Money
13:58 - Thank You Hardcore Gamers
Why You Will Love Our Game
Free to Play

 

– You could eventually acquire every card in-game by buying packets using earned currency, as long as you can keep up with our development team that is tasked with creating new ongoing content. This is the

 

good free to play, no "energy gates" or "exclusive to buying with real world cash" cards.
"Merged Deck" Mode -

 

We're designing an optional, casual mode specifically for anyone who thinks Trading Card Games are all "Pay to Win", Eurogamers or Board Game Strategists; that want a completely even playing field each match. The overall design revolves around merging the decks of both players into one huge deck, so no matter what cards each player has collected, it will only come down to skill and luck of the draw. 
Fully Animated Decks

 

- Every single card in Infinity Wars is animated; this is the true evolution of Trading Card Games to Digital.
Comprehensive Tutorial Quests

 

- Gamers new to trading card games are shown through "Beginner Quests": how to play and craft a winning deck.
Simultaneous Gameplay

 

- Each turn is taken at the same time allowing for near constant interaction and welcoming intriguing bluff & prediction tactics.
Remote Turn-Based Multiplayer

 

– Play games with anyone in the world, from anywhere with internet access.
Hardcore Strategy

 

- Most digital trading card games have oversimplified and gone all mainstream with their game mechanics. We've done the opposite and increased strategic depth

 

by including positioning, yet allowing unlimited cards on field.
Weekly New Releases

 

- New quests are created constantly providing new levels and

 

brand new cards to unlock each and every week.
Comprehensive Ever Changing Single Player Campaign

 

- We have an in depth Single Player Campaign, that will have side quests added to it each week. All cards unlockable without ever needing to play a human.
3D Transformable Battlefield

 

- The default 3D Battlefield can be changed by playing Location cards which transform the field of play.
Stretch Goals
Together, we can obliterate the initial merged campaign goal and get every "Count" and "Prince" more rewards. 
For every goal we pass:
Each "Count" (and "Duke") will get one of EVERY stretch goal prize unlocked by the end of the campaign.
Each "Prince" (and higher) will get 4 of EVERY stretch goal prize unlocked by the end of the campaign.
Note this is limited to one set of prizes for each backer, so ordering 2x "Counts" will NOT give you two of every card.
Here's the Prizes already unlocked thanks to our other crowdfunding campaign. Anyone funding here on Indie GoGo at the relevant level instantly gets ALL these cards as a bonus: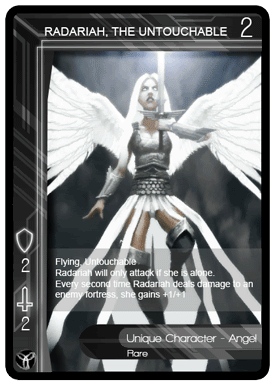 650 backers

40k achieved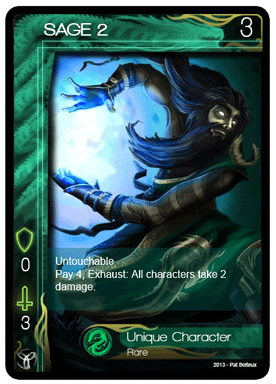 33k prize unlocked.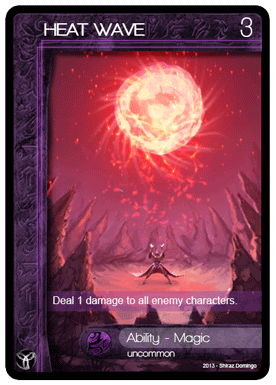 27k prize achieved

22k prize achieved, Hellmouth Location Card.

17k Prize Achieved
13k Prize Achieved (2 for "Counts" and "Dukes", 8 for "Princes" and above).
330 Backers Prize Achieved.
5k Prize Achieved.
120 Backers Prize Achieved.
7k Prize Achieved.
220 Backers Prize Achieved.
9.5k Prize Achieved.
And here's a snapshot of the achieved and announced goals:
Indie GoGo Rewards

What We've Done So Far
Gameplay Prototype Screenshot
Prototype Deck Editor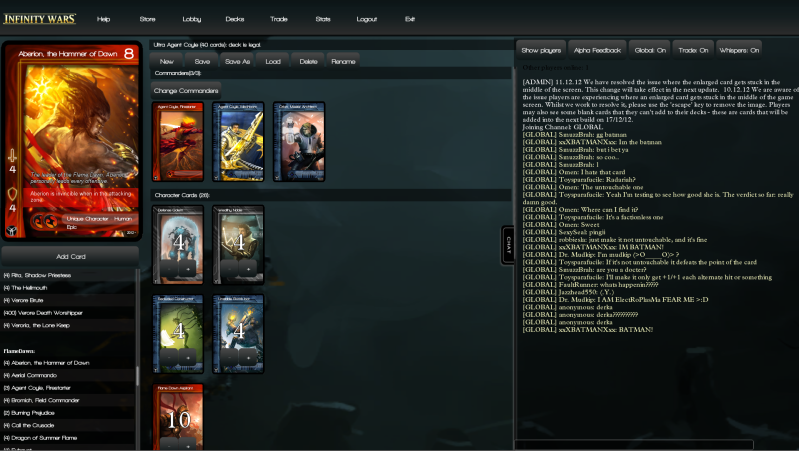 3 More Example Animated Cards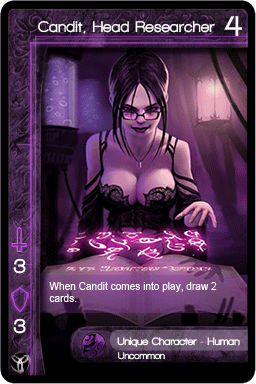 Currently we're midway through our Alpha stage, with most cards created and our standard multiplayer game mode fully working. We'll be heading into Closed Alpha on December 7th, so you won't have to wait long to start experiencing and influencing how the game will play when it goes public. Closed Beta will be around January.
Rest assured there's no chance the game won't make it to release as we have more than enough private funds to cover basic production; your pledges will allow us to bring extra features and get the game launched in as many countries as possible.
Why We Want To Do This
We've been waiting and waiting for a "proper" Digital Trading Card game to be made for a couple of years now; and whilst there are Digital Trading Card games out there, rarely are they truly strategic and deep, and we've found none have hit on all levels and made full use of this wonderful digital technology most of us have in our pockets. It felt like being hit in the face with a Kobold club when we realized the world was ready for one, and we are the guys to do it. 
We're an independently owned and funded studio, with talented artists and genius coders, who are in love with both video games and card games. Your pledges allow us to create an even better game than we would without it, and we get to thank you for causing that with exclusive rewards.
The First Five Factions
The Sleepers of Avarrach

Lore – On the world of Avarrach, cybernetic modifications were the norm, its citizens enhancing their bodies with nano technology. However, sleeping within their nanobot technology was a dangerous flaw: a backdoor which could rewrite any any nearby nanobot into a copy of itself. One day, centuries ago, a nanobot virus was unleashed upon the world: one that would take over the host's body, killing it, then aggressively spread to each nearby nanobot. The world of Avarrach turned into a nightmare. Within three days, 90% of the world turned into unthinking husks, the human host dead, but animated by the nanobot technologies embedded in their body. The survivors, those without augmentations, fought as best they could, but soon were overwhelmed. The nanobots took over their bodies and they too joined the undead horde.
The virus animated each body to seek out and feed on any living thing, and for years, the zombies went on a rampage, devouring all living things they could find, until eventually the planet was completely devoid of life. With nothing left to feed on, the undead stopped moving, sleeping, the virus waiting for new living to devour. There they laid for hundreds of years, unmoving. When the rifts opened to the Old World, the Sleepers of Ararrach slowly woke from their deep sleep, smelling new life to feed on.
As only the Sleepers closest to the rifts have awoken, few understand the true danger. However, in time the whole planet will awaken, and every world will face an incredible threat.
Mechanics - The Sleepers of Avarrach are relentless, and ultimately unstoppable. While a single zombie is of little threat, over time more and more zombies arrive, overwhelming the enemy. Killing a Sleeper of Avarrach is often only a temporary respite, as they are the best faction at using their graveyard, bringing many cards back from the dead, over and over until the enemy is overwhelmed. Furthermore, many of the Sleepers are infectious: when they kill an enemy character, that character gets turned into an undead, and the Sleepers gain control of it. To defeat the Sleepers, enemy players must manage keeping the undead under check, while simultaneously advancing their own plan swiftly enough to win before they are overwhelmed.
The Cult of Verore
Lore - The Cult of Verore delves deep into black magic, constantly perfecting their spells of death. It was they who opened the Hellmouth, unleashing the demons into Reish and covering their world in darkness. A corrupted Aleta, the leader of the Verore, cares little. 
Mechanics - The Cult focuses on character removal abilities, they are the masters of making things die. Sitting from the support zone, their unlimited character - the Verore Death Watchers - become stronger with each enemy that goes to the grave, until they are able to destroy the opposing player from the power they fed off. However, if their kill spells are successfully dodged by being moved into the support zone by a skilled player, the Verore can find themselves overwhelmed by their enemies. 
Genesis Industries 
Lore - Genesis Industries seeks to remodel the world with their highly advanced, hyper efficient technologies. Everything and anything can be improved to be bigger, faster, stronger. Orion, the leader of Genesis Industries, is a visionary who is on a mission to ensure the world is able to keep up with the accelerating demands of civilization, a mission in which nature's time has past, and anybody who stands in the way must be destroyed. 
 Mechanics - Genesis Industries cards are the masters of building up. With time and an influx of resources, the Industry can build up huge, overpowering characters that dominate the battlefield. Furthermore, they are the masters of reusing their resources, able to recur cards from their graveyard to continue their fighting effort. A Genesis Industries player must be find a fine line between power and greed however, as putting all their eggs in one basket with a single powerful character can be disastrous if they misread their opponent. 
The Flame Dawn 
Lore - The Flame Dawn is an organized, aggressive army. Their leader, Aberion, is said to be invincible in battle, and nobody has been able to prove it wrong. He leads an aggressive campaign to expand the borders of the Flame Dawn, to forge a great empire that will last for ages. When the rifts opened, The Flame Dawn immediately entered and began aggressively claiming territory under their flag. 
 Mechanics - Flame Dawn cards are very aggressive, aiming to win the game quickly with a swarm of characters before other, lumbering strategies can come fully online, or at least deal so much damage in the early turns of the game that the enemy is always on the back foot. The cost for their speed, however, is a lack of staying power, as their removal abilities are all temporary, providing a window for victory that they must quickly seize. 
The Warpath
Lore - The Warpath is not so much a faction as a collective understanding by the beasts of the Old World that they must fight back against the intruders. Named not by themselves, but by the invaders from the other dimensions upon seeing the horror of hundreds of massive beasts bearing down on them with killing intent, "being caught on the warpath" is a horror story passed between all the would-be conquerors of the Old World. 
Mechanics - Like the beasts of The Warpath, the cards of The Warpath are usually simple, but strong. There are no small beasts. Each beast is a large killer, often able to take on many characters from other factions in direct combat before dying. The beasts strengthen each other, and have the ability to breed together, able to create new beasts to destroy the opponent with. However, the Warpath's greatest strength is also their greatest weakness, as their focus on combat leaves them with limited options for dealing with complex strategies other factions may bring to the table.
Final Thanks
Every single one of us at Lightmare Studios is ultra thankful for your time, pledges and sharing of this Indie GoGo. We look forward to delivering an incredible product along with your incredible rewards.