Who are we?
ASI Conserva Chile is the only association of private and indigenous nature reserves in Chile, and one of the rising nature conservation organizations in South America. We promote biodiversity conservation, sustainable development, and community integration among our association members, businesses, government entities, and society at large.
What are we doing?
This August, ASI Conserva Chile is co-hosting the 10th Latin American Congress of Private Nature and Indigenous Reserves in the beautiful Patagonia region of Chile. Traditionally, indigenous organizations and their leaders are absent from conservation discussions in Latin America, despite possessing a significant entitlement of private lands. We want to bring the indigenous community's voice into the conversation. At this Congress, speakers will present on a variety of conservation themes, among which are voluntary reserve financing, sustianable community tourism, and research for small-scale conservation efforts. This Congress, like so many in the past, will  revitalize and catalyze conversations about conservation awareness and development in all types of communities across Latin America.
To promote participation and dialogue among Latin America's indigenous groups, ASI Conserva Chile hopes to offer five (if not more!) full scholarships to prominent indigenous leaders to attend our conference.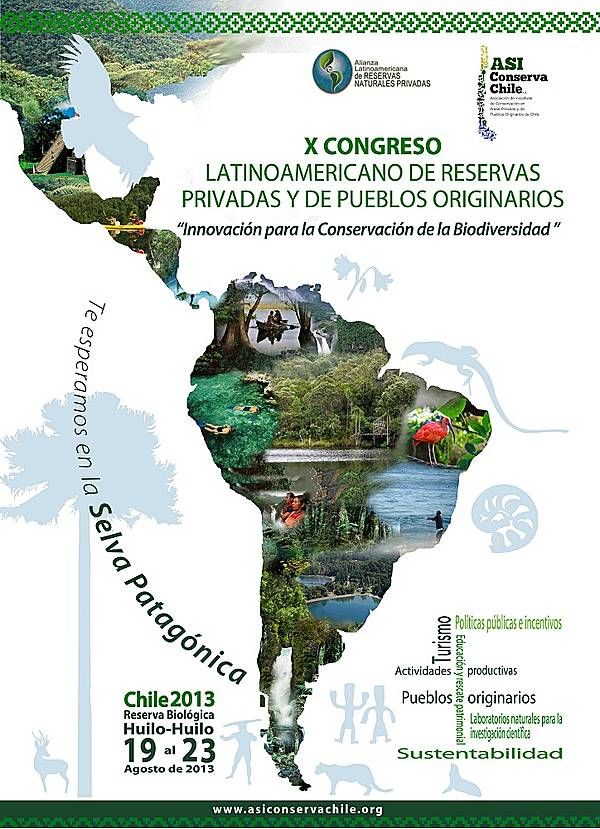 The Scholarship
Each scholarship will include conference registration with food and lodging for the duration of the conference, a cost of approximately $850. With the extra $150, we will offer transportation stipends for each recipient.
Five participants, at $1000 each, totals $5000. Why the extra $500 for a campaign total of $5,500? Being a foreign-based organization, we frequently encounter many fees in transfering funds and coordinating purchases between the many countries represented in this Congress. To ensure that each of our scholarship recipients receive their full award, we are raising an additional $500 to account for such administrative costs and the Indiegogo campaign fees.
Any funds raised above the campaign goal will be utilized to supply additional scholarships. We have a list of at least 17 indigenous leaders that we would like to invite, so there is plenty of room for extra donations!
The Impact
Private and indigenous land conservation is a largely unknown movement in Latin America, despite more than 1.6 million hectares of private land reserves in Chile alone. By supporting the participation of regional leaders in our conference, you expand the impact of our efforts and help bring our mission of environmental consciousness and sustainability to indigenous communities limited by financial or geographic obstacles
The primary objective of this year's congress is to exchange experiences that contribute to sustainable development based in "Innovation for the Conservation of Biodiversity." With this theme in mind, participants will determine how to strengthen  private-public partnerships that promote the rescue of our natural and cultural partimony, in a manner that sustains the wellbeing of society for future generations.
For quantitative examples of sustainable development objectives, here are a few goals that ASI Conserva Chile is working towards:
Receive congressional support for a law allowing donations and tax incentives for environmental groups in Chile. Currently, no such law exists!
Create an online commerical plaftorm for selling products and services from private and indigenous naturea reserves, using the government organization CORFO as a primary sponsor.
Aument participation in ASI Conserva Chile's conservation network from 600,000 hectares to 900,000 hectares of protected land  by 2015.
All conference sessions will be in Spanish. Due to the large number of presentations and sessions, and the small size of our team, most materials distributed will be solely in Spanish as well.
Other Ways You Can Help
You can also participate in our Congress! To learn more about event details, including speakers, location, and prices, please visit our website by clicking on the button below.
Also, please follow us on facebook, twitter, or google plus. Check out our Pinterest board for some stunning photos taken on the land reserves of ASI Conserva Chile members.
For questions, comments, or even suggestions for how to improve this campaign, please contact cary@asiconservachile.org, or visit our website and follow the contact instructions there.
OUR CAMPAIGN IS NOW ACCEPTING BITCOINS! All bitcoins will be publicly re-donated into the indiegogo platform by the campaign manager. For donor recognition and perks, please contact Cary at the address above.
1H8Sdng8dQwk7CmT7frs6GGLmfzs2gFwXH
From the ASI Conserva Chile staff and all ASI Conserva Chile members,
Thank you!