An old Cherokee chief was teaching his grandson about life...
"A fight is going on inside me," he tells the boy. 
"It is a terrible fight…between two wolves.

"One is evil - he is anger, envy, sorrow, regret, greed, arrogance, self-pity, guilt, resentment, inferiority, lies, false pride, superiority self-doubt, and ego.

"The other is good - he is joy, peace, love, hope, serenity, humility, kindness, benevolence, empathy, generosity, truth, compassion, and faith.

"This same fight is going on inside you - and inside every other person, too."

The grandson thought about this for a minute and then asked his grandfather, 
"Which wolf will win?"

The old chief simply replied, 
"The one you feed."
I

n the age of Reality Show sensationalism, stories about Rock Stars have become a virtual franchise.
Today's 'Rockumentaries' seem to follow a simple formula; they begin by tracing the rise and fall of a group's success, peppering in tales of excessive drug and alcohol abuse, womanizing, and destructive behavior, followed by irreconcilable differences which ultimately leads to the group's demise…Sound familiar?
In 2013, Flagday Productions will première, 

I'm your Captain - The Mark Farner Story

, on PBS, and in theaters and film festivals worldwide. 
"I'm Your Captain – The Mark Farner Story" promises to be an inspirational story of struggle and redemption. Yes, there is the rise and a fall from success. Yes, there is tragedy and tales of sex, drugs and rock and roll. Yet, where most stories end, this is where ours begins.
The above parable of the two wolves, speaks to Mark's own Cherokee soul.
This is the story about the one he feeds...
On July 3, 2010, Jesse Farner, Mark's youngest son, suffered a fall and injured his spinal chord, becoming quadriplegic. The Farner's, like many performing artists, were without medical insurance. 
ABOUT THE MOVIE
A passion and desire to ignite his career is now fueled by his love and devotion to his family. Guided by faith, country, and a deep commitment to his Native American roots, this is an intimate look into the life of an extraordinary American. 
This is not a reality show. It is a film of one man's personal and professional journey, through the alluring, unpredictable, exciting, chaotic and sometimes cruel world of the music industry, all the while attempting to remain true to his family, his faith and his music.
Truth is stranger than fiction. As a founding member of Grand Funk Railroad, he achieved stardom by the age of 20. With a music career that spans over 40 years and over 30 million records sold, he's lived the American dream and experienced the nightmares that followed.
For anyone who grew up in the 70's, the name Mark Farner resides alongside some of the most iconic names in rock music. With rare clips, live performances and a host of rock stars and friends appearing in the film, Farner journeys to take his rightful place in rock history. Upon its release, "I'm Your Captain - The Mark Farner Story" will be a feature length documentary, released theatrically worldwide prior to its PBS Broadcast, in 2013.
ABOUT THE FANS
It is important to us that the pledge amounts are realistic and affordable to Mark's fans. And what can we say about them...Mark's fans are incredibly devoted. They love this man; the artist, the musician, the humanitarian, the activist...the one and only Mark Farner. The first Perk is $25 and the Pledger can submit their photo for a slideshow that runs on the Official "I'm Your Captain - The Mark Farner Story" website. We loved the idea of this Perk so we could "meet" our supporters. To understand their adoration and devotion to their Rock Hero, see Pledge 11. One of Mark's longest fans, Phil Degracia, has pledged his Green Messenger guitar to raise funding for this movie. This model guitar is one that Mark has played many times and is captured in photographs all over the world. When you see this guitar you think, "Mark Farner", and Mark says, "When I see Phil Degracia I see an angel."
What We Need & What You Get 
Mark's fans are a huge part of his life and career. Being able to bring this project to "The People" and invite his fans to be a part of the making of this film is awesome to him...and to us. This is a team effort and we are honored that you've taken the time to read this. 
We've put together some terrific 'Perks', that we believe will really excite you. Anyone can get involved! Look at the list and pledge what you can. Every pledge gets us that much closer to our goal and comes with our deepest appreciation and gratitude. Know that we appreciate even the smallest pledge. Every dollar helps us bring this important story to life.
We invite all Mark Farner fans, Grand Funk Railroad fans, supporters of Cherokee nation, Indian Nation and music fans and Indie film enthusiasts to pledge! Anyone moved by Mark Farner's music and story can become part of this project by contributing financially to its production. Be sure to include your email address to assist us in providing you with your perks and know that this film could not be made without your support.
Please continue pledging even after we've reached our initial goal of $75,000, as this is only a portion of our budget. We will continue to award perks to anyone contributing to this film after we've reached our goal. Please pledge generously and join us in bringing this story to the big screen.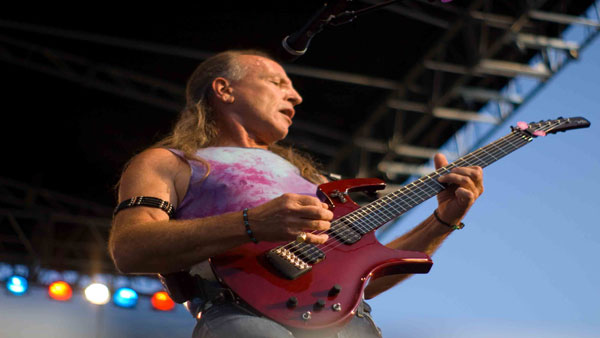 This is one man's story - a son, dad, husband, brother, friend - philanthropist, activist, and American rock hero.  This film has the potential to reach viewers all over the world; entertaining, inspiring, rallying, giving hope, spreading good will and sharing great music...it has the power to touch people's lives. The ending hasn't happened yet...with time and the cameras rolling...it will blow you away.
With over 30 years experience in Public Broadcasting, the producers recognize this projects enormous potential and audience appeal.  In fact, the demographics of Farner's audience and the PBS viewership are virtually the same. This gives this project the potential to become a Pledge vehicle for many of the larger PBS markets. As a Pledge vehicle the program will run several times over the course of one month, per each market. Along with your support, a strong promotional drive and international film festival support, this movie will bring Mark Farner's story, his love, his music, and his boundless energy to a multitude of adoring fans, past and present, worldwide.
Terms and Conditions
Stellar Entertainment Group will process and deliver all claimed Perks. Do to any act of nature, schedule changes, conflicts or cancellations; we reserve the right to substitute any Perk(s) involving dinner, hotel, live show, concert, gathering, premiere date and on-location shoot, to a similar Perk that is equal to or greater in value. 
All perks will be issued at the end of the indiegogo campaign with the exception of the Poster and the DVD, which will not be ready for delivery until after the completion of the film. Please allow 2-3 weeks delivery time for the other Perk's.
Other Ways You Can Help

You can help us get the word out and create interest and involvement by telling your friends and associates about our campaign. Use the share tools and spread the love! Help us reach beyond our goal! Thank you.