THANKS TO ALL WHO'VE CONTRIBUTED AND HELPED SPREAD THE WORD FOR HUNTRESS! WE'VE SURPASSED OUR GOAL OF $15,000!
Huntress has surpassed our Indiegogo goal of $15,000 on June 24, 2013 to help fund our run with the Rockstar Energy Drink Mayhem Festival! When asked about the crowd funding campaign, Huntress vocalist responded "What has been most rewarding for me is truly getting to connect with our fans…I've found a new respect for the power of the music enthusiast. There is a stigma that goes along with crowd funding, we were very careful in the presentation — we kept our humility. We aren't pretending to be more than we are, we've had some amazing opportunities handed to us. But Huntress is still in the infant stages of this business…The fans are lifting us to the next level. Napalm Records has been tremendous for Huntress, but they are an indie label and I can't bleed them dry. The fans are my blood, there's no end to the life they supply. I adore them. I live for them." Excerpt from Skull Fracturing Magazine.
Short Summary
We are Huntress, and we're about to embark on the biggest tour opportunity of our lives thus far; the Rockstar Energy Drink Mayhem Festival! But the kicker: it's also the most expensive and demanding tour opportunity of our lives too. When we found out our van couldn't take the heat and run our AC this summer, we realized we could be screwed.
What We Need & What You Get
We need to raise $15,000 and will be sharing a bus this summer on the Mayhem Festival with brothers of metal and fellow indiegogo campaigners Battlecross! We aren't bringing a merch person or sound guy. No crew. No help. Our 5 bunks alone on this bus cost $18,500, and that is just the beginning. The required insurance alone costs over $3,000. Tour insurance, what the hell is that?? And trust us; Blake the accountant did his research and our share of the bus IS cheaper than a Sprinter or pimped-out van with a generator. Huntress is new to this world of mosterous tours, but we plan to live through this one and conquer many more.
We're offering up some of our beloved oddity's and will be adding new perks weekly, so check back often!
The Impact
With your help, Huntress can survive the Mayhem Festival tour and become one step closer to developing the intergallactic harmony we aspire to create with our music. Just like Bill and Ted. It's really that simple.
Other Ways You Can Help
Post about it! Just get the word out and we will owe you big time.
 
[NOTE: ALL INTERNATIONAL PERKS ADD $10 FOR SHIPPING]
----------------------------------------------------------------------

NEW FEATURED PERKS!

~ SIGNED JACKSON GUITAR ~ $800

Jackson RR24XT Rhoads X Series guitar signed by the band!  Includes 2 packs of Dunlop "Heavy Core" strings that Blake and Ant use, a set of each of the guys custom Huntress Dunlop picks, signed CD DigiPak and Vinyl of our new album "Starbound Beast", signed limited-edition poster. AND in the US get two VIP tickets to receive the guitar at any Huntress show ON STAGE with the band! For international buyers, we will ship to you for free!
~ MICRO GPEN PARTY ~ $200

Two tickets to any 2013 Huntress show, meet the band, get a micro GPen set + "essential oil" packing lesson from Blake! Each microG set includes 2 microG portable vaporizers, G Keychain + more! CD DigiPak, Vinyl and limited edition Huntress poster signed by the band.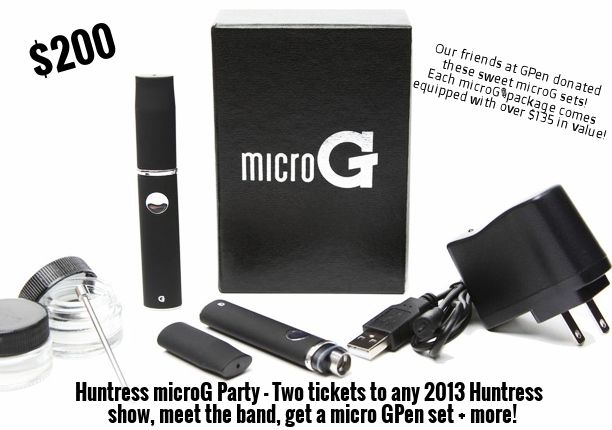 ~ ZENITH PACKAGE ~ $100

Own the DVD of the upcoming Huntress music video "Zenith" by award-winning director Phil Mucci (High on Fire, Stone Sour), featuring exclusive behind-the-scenes footage, limited edition "Zenith" t-shirt, signed CD DigiPak of our new album "Starbound Beast", limited edition "Zenith" vintage-style poster signed by the band and a handwritten note from Jill Janus.