View Our First Episode and Back Our New Campaign to Fund Further Episodes: http://igg.me/at/humbercity/x/527627

...is a British crime drama from the mind of writer/director Peter Goundrill.

In recent years, Peter has contributed to various online series including the award winning: Star Trek: Phase II.

In addition he has also directed and produced an English Audio Dub of a German Webseries, worked on several award nominated short films and has attained a Bachelor of Arts Degree in Television and Film.

With his debut short film in distribution (https://vimeo.com/43640804) plus webisodes of other series now online. Peter knows firsthand what it takes to attain high production values on a low budget.
WATCH INTERVIEWS WITH THE CAST AND CREW ON YOUTUBE:
The Cast Speak...
#1 Gemma Deerfield- http://www.youtube.com/watch?v=-x56mL9nnJ0
#2 Joseph Stacey - http://www.youtube.com/watch?v=aWoRFtPO9iE
#3 Victoria Connett - http://www.youtube.com/watch?v=Inns2OzQ9N8
#4 John Carrigan - http://www.youtube.com/watch?v=6eQUijRcZDg
#6 Paul Flanagan - http://www.youtube.com/watch?v=Mfc5xolrs28
#7 Tim Russ - http://www.youtube.com/watch?v=FuZaTBLndzM
The Creator Speaks...
#1 - http://www.youtube.com/watch?v=OrvXU5a9UZ8
#2 - http://www.youtube.com/watch?v=BLHEq7x92X0

Our Cast
John Carrigan - an actor who along with mainstream Film and TV is no stranger to webseries following guest appearances in Star Trek: Phase II, Star Trek Of Gods And Men, and the upcoming western drama, Cowboy Creedfrom Runic Films.

John is also an accredited Sifu in Bruce Lee's art of Jeet Kune Do, allowing him to provide all the exciting fight choreography Humber City requires.

Joseph Stacey - an actor whose credits include a wide variety of shorts and independent features.

Gemma Deerfield – With a very long CV, Gemma is an actress who has worked alongside the likes of comedian Dave Spikey and many others - whether it's television or film.

But it doesn't just stop there, you can also expect Guest Stars a plenty including: STAR TREK's, 'LT. TUVOK', TIM RUSS.
Enter a city like you've never seen before. Full of character, tension, suspense and action! Join the Humber City CID as they tackle a variety of cases intermingled with conspiracy and political unrest in a city that desperately needs hope and salvation.
CONCEPT ART
Our concept artist, James Avalos has been hard at work helping Creator/Executive Producer, Peter Goundrill, find his vision.
Here's a Concept Preview of how The City may eventually look.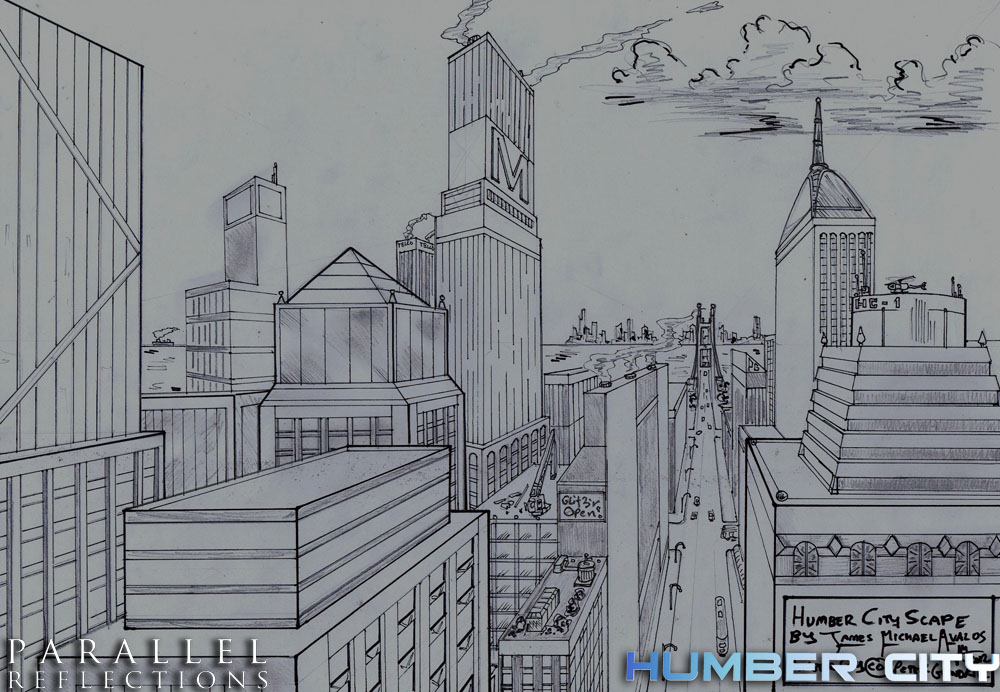 What We Need & What You Get
Humber City is a unique and ambitious series. We're telling huge character driven stories as you would expect to find from this genre. This isn't just for 1 episode... this isn't just for 2... If we reach our goal... our aim is to film 6-7 episodes of the First Season.
The money raised will be used for travel, pyrotechnics, props, costumes, actor costs, insurance and post production requirements. That makes YOU key to making this series on pare with anything you'll find on any major network.

We have some special incentives to offer you too, depending on your level of backing. Amongst these is a signed DVD or HD DIGITAL DOWNLOAD of the finished series, signed prints of the OFFICIAL POSTERS and much more
FOR ADDITIONAL INFORMATION - FIND US ON
Facebook: http://www.facebook.com/humber.city
Twitter: http://www.twitter.com/humbercity
YouTube: http://www.youtube.com/limitedfaith
Our Thanks
The Cast and Crew of Humber City