WHAT IS INDIEGOGO?
IndieGoGo is an online social marketplace connecting filmmakers and fans to make independent film happen.
Founded on the principles of opportunity, transparency, choice, and action, IndieGoGo launched in 2008 to address the fundraising challenges and market inefficiencies affecting independent filmmaking today.
IndieGoGo enables this "filmocracy" by providing filmmakers an open platform to pitch their projects to the world, and giving the fans a vehicle to experience and influence the once inaccessible world of filmmaking.
The platform provides filmmakers the tools for project funding, recruiting, and promotion, while enabling the audience to discover and connect directly with filmmakers and the causes they support.
Filmmakers get new resources to build and engage a loyal fan base to assist in making their projects happen. Filmmakers can raise money and awareness, find cast and crew, and gain credibility through the help of their number one resource: their fans.
Fans get the opportunity to discover and impact the films of tomorrow while getting insider access and VIP perks for their contributions. But beyond the VIP perks, fans get an everyday opportunity to support the people, films, or causes they believe in.

WHAT IS THIS DOCUMENTARY ABOUT?
Filmmaking has become immensely popular in the past decade, with new platforms such as YouTube allowing anyone with a video camera to produce, edit and publish their work of art. But for the majority of aspiring professional filmmaker, Hollywood is still the ultimate dream. That said, all we hear everywhere is how cruel, unforgiving and unwelcoming the community can be to newcomers, and how lucky you have to be in order to make it there. But how much truth is there to all these urban legends? How realistic is it for an unexperienced filmmaker to make it in Hollywood?

During the course of this movie, I will be asking many professionals, at different levels of their careers, questions that I want answered about making it behind the scenes in Hollywood. Viewers will experience first-hand both the challenges and excitements of the business, what success means to people in the industry, what it takes to get there, and much more. The camera will follow me and my experiences as I interview Editors, Cinematographers, Producers, Directors, but also the Agents representing them, distribution companies, and others involved in the process of making a movie. I will let the people I meet and the stories I hear take me to places where most people don't get to go, especially early in their careers, and gather inside information that can help kick-start a college graduate's career and at the same time bring fresh and interesting insights to the established professional.

I think this documentary is going to be an eye-opener for young filmmakers around the world, whose biggest dream is to move to Hollywood and build a successful career there. The people I reach through this film are experiencing first-hand what it's like to make films in Hollywood and their stories, insights and advice are priceless and rarely available to people who are just starting out.

This movie is also for all film fans out there, who sometimes know their favorite movie star better than they know they're best friend, but seldom know about the people behind the camera, who are the ones that make it all happen! I think it's very important to give them the deserved exposure and credit.

Check out the Gallery tab at the top of this page 
for excerpts from interviews.
WHO AM I?
Glad you asked! My name is Gilles Perez, I am a young filmmaker currently living in Israel. I was born in France, hence the french first name, and have spanish-jewish roots, hence the spanish last name. Growing up, my family moved back and forth between France, where my dad is from, and Israel, where my mom is from. So having to adjust very frequently to completely new environments and people, I developed quite an imagination. That later translated into movies when I first got introduced with the magic of films. I've loved movies since I can remember, but I was always fascinated by how they were made, even as a little kid. More often than not, what would make me buy a DVD was if it contained behind-the-scenes features and footage. So when the opportunity presented itself and I had to choose high schools, I chose the only one in the country, at that time, which had a cinema class in its program. But one thing led to another and before I could say "what the..?", I realized that I had let go of my dream of making films. Feeling utter disappointment at myself, I decided to grab a hold of that passion again and not let go until I make it my life! So I went back to study filmmaking at the equivalent of college in Israel, with emphasis on documentary, and here I am 3 years later.

This is my first independently made documentary, which is why I though it would be appropriate to make it about what it takes to start a career in Hollywood. There are millions of young filmmakers just like myself out there and I know everyone of them can greatly benefit from this film - not because I am such a genius filmmaker but because I asked the questions that all of us want answered, and got them answered..
This is me and what it will look like when Hollywood decide to give me my own star on Hollywood Blvd..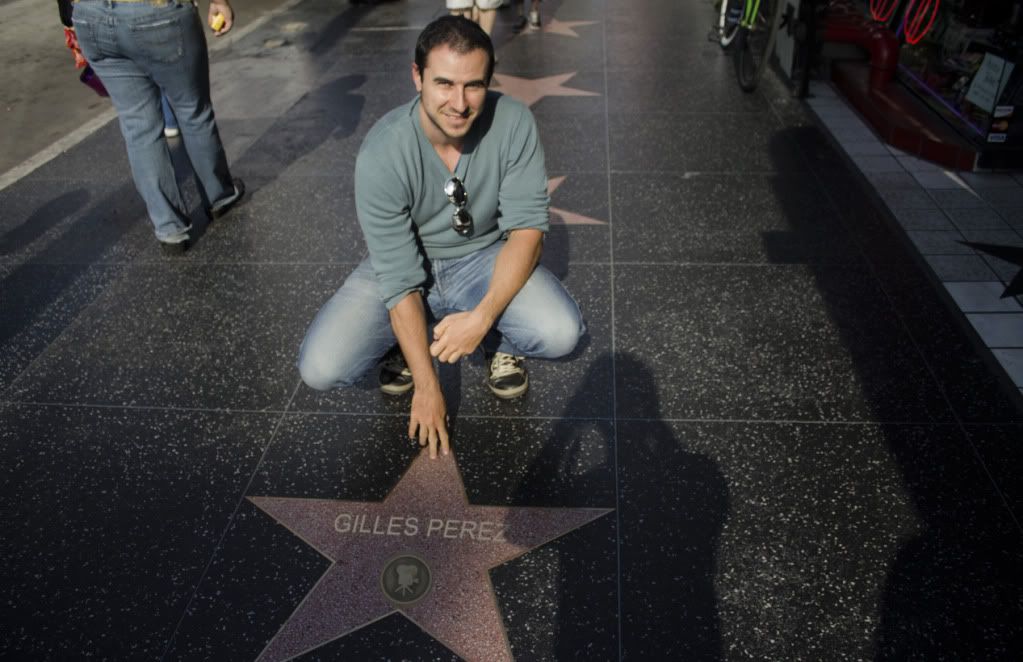 WHAT DO I NEED THE MONEY FOR?

Let me start by stressing out that I will finish making this film whether I reach the target amount or not, but it will take much longer if I don't. Simply put - the more money I raise, the quicker it will be at at theater near you!


So far, I am the only person financially involved in this project. That means that all the money that's been used to finance this film has been my own. I already shot part of the interviews for the film, but had to cut my trip short and come back to Israel, where I live, because I had exhausted all the film's funds. There are many more fascinating and highly experienced people that are waiting for me to go back and interview them.
I need the money for:
- Travel and accommodation to Los Angeles to finish filming the remaining interviews
- Post-Production, which includes editing the film and color correction
- Building a professional website for the film, when it's ready to hit the big screen
- Entry fees to worldwide film festivals
- Arrangements for the Premiere in Los Angeles
Contact me if you need a detailed breakdown of the production costs.
HOW TO PLEDGE?
Just click the green CONTRIBUTE NOW button in the upper right-hand corner. You will be asked to input your pledge amount and select a reward. From there, you will scroll down the page and fill in your details to finish checkout process. You must finish the checkout process for your pledge to be recorded. A new account will automatically be created for you on Indiegogo and you'll be able to check back and see the progress of this project in the future.
CAN I EXCEED MY GOAL?
Yes, and I need to!
CAN YOU DONATE IN ANOTHERS NAME?
Of course! Just fill in that person's details when checking out and a new account will be created under this person's name.
CAN YOU DONATE OUTSIDE OF THE UNITED STATES?
Yes and Yes! Just click on the CONTRIBUTE NOW Payment Button and you will see that you can pay with a credit card or PayPal from any country! But you must finish the checkout process for your pledge to be recorded. If you have any problems just contact me.
WANT TO HELP BUT CANT DONATE?
Help me promote my campaign! I am the only person involved in this project, and that means I am the only one spreading the word about it. I need all the help I can get in that field!! Id love to discuss partnering with you, your organization, your community to help get the word out about the film. Please contact me and we'll see how we can work together!
And of course I need your help broadcasting the Indiegogo campaign. Facebook it. Tweet it. Email it like crazy to anyone you know!